A good Monday to all. We're looking at a warm, breezy day along with some rain. Here are the weather details from the National Weather Service.
The Quad-City area is under a Hazardous Weather Outlook for the day. It reads, "Strong south winds this morning will become west this afternoon. Wind gusts up to 35 mph can be expected today.
"A cold front will arrive late tonight bringing strong northwest winds to portions of eastern Iowa. Wind gusts up to 35 mph can be expected.
"Tuesday through Sunday: Strong northwest winds are expected Tuesday with gusts up to 45 mph possible."
Look for rain before 1 p.m. with a high near 55 degrees. It will be breezy with a south wind 15 to 20 mph becoming west in the afternoon. Winds could gust as high as 30 mph. The chance of precipitation is 100 percent with new precipitation amounts between a tenth and quarter of an inch possible.
Tonight will be mostly cloudy with a low around 36 degrees with west winds gusting as high as 20 mph.
Tuesday will be partly sunny and windy with a high near 40 degrees. West winds between 15 to 20 mph will increase to 25 to 30 mph in the morning. Winds could gust as high as 40 mph.
Tuesday night will be partly cloudy and breezy with a low around 18 degrees.
2. Mamma Mia! 'Rhapsody' upsets 'Star Is Born' at Globes
Thunder bolt and lightning rocked the 76th Golden Globes where a string of upsets culminated with the Freddie Mercury biopic "Bohemian Rhapsody" winning best picture, drama, over another movie about musicians: Bradley Cooper's much more heavily favored "A Star Is Born."
"A Star Is Born" came into Sunday's ceremony at the Beverly Hilton Hotel in Beverly Hills, California, as the presumed heavyweight and Oscar favorite. But Cooper's remake went home with just one award, for the song "Shallow." Instead, the night's final two awards went to "Bohemian Rhapsody" — the popular but poorly reviewed drama about Queen's frontman, a movie that wrapped after jettisoning its director, Bryan Singer — and best actor-winner Rami Malek for his full-bodied, prosthetic teeth-aided performance as Mercury.
"Thank you to Freddie Mercury for giving me the joy of a lifetime," said Malek. "This is for you, gorgeous."
Few nominees were considered more of a sure thing than Lady Gaga as best actress in a drama. But Glenn Close pulled off the shocker in that category, too, for her performance in "The Wife," as the spouse of a Nobel Prize-winning author. Met with a standing ovation, Close said she was thinking of her mother, "who really sublimated herself to my father her whole life."
"We have to find personal fulfillment. We have to follow our dreams," said Close, drawing still louder cheers from women in the crowd. "We have to say I can do that and I should be allowed to do that."
It's Close's second Globe in 14 nods. She's never won an Oscar. Read more.
3. Clinton, Charlotte mourn fallen firefighter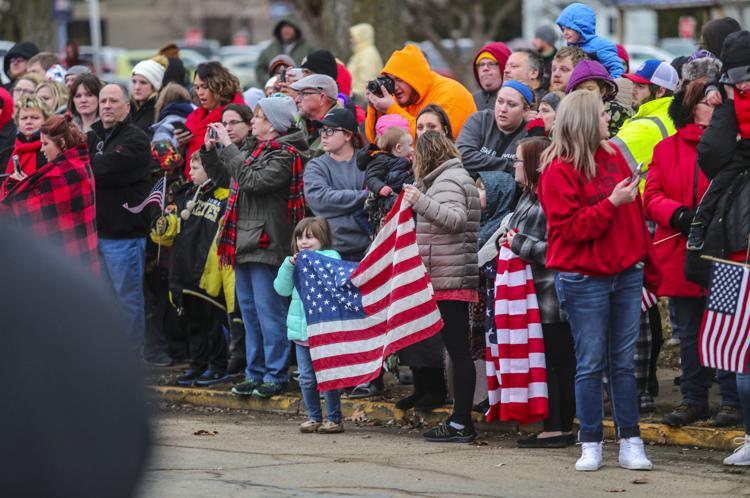 For a couple of hours Sunday morning, the stream of red-eyed mourners seemed endless.
Hundreds gathered outside of Clinton's Central Fire Station to honor fallen Clinton firefighter Lt. Eric Hosette. The procession paused in front of the fire station for a moment before continuing to the funeral home. @qctimes pic.twitter.com/5nmrHzdWY2

— Andy Abeyta (@andy_abeyta) January 6, 2019
The flag flew at half staff outside the Clinton Fire Department's central station as dozens from the city's fire-service family closed ranks inside. Shock had graduated to grief over the death early Saturday of Lt. Eric Hosette, who perished while fighting a fire at the ADM grain facility. About three hours after firefighters arrived on scene, an explosion claimed Hosette's life and seriously injured another man.
Firefighter Adam Cain, 23, remained in critical condition Sunday at University Hospitals in Iowa City.
As family, friends and fellow firefighters prayed for Cain, they remembered Hosette. The 33-year-old's commitment to the fire service went beyond Clinton. He was elected in December to serve as chief of the volunteer fire department at Charlotte, which is about 20 miles northwest of Clinton.
The flag at the Charlotte station also flew at half staff, and a memorial to Hosette was on display outside the fire department, which also serves as city hall for the town of about 400.
In the driveway of the small station, Hosette's fellow firefighters set up a memorial, displaying his turnout gear in front of a fire truck, which was draped in black. A firefighter in Clinton for 12 years, Hosette leaves behind his wife, Kelly, and young daughter, Addy. Read more.
4. More CBD specialty stores opening across the Q-C
With hemp now legal under federal law, more stores selling cannabidiol — or CBD — are popping up across the Quad-City region and eastern Iowa.
Last month, President Donald Trump signed the new Farm Bill into law, which reclassified hemp as an agricultural product, rather than a controlled substance. Hemp can be grown as a fiber or be harvested for CBD, which proponents argue has therapeutic properties.
The new classification has paved the way for the commercial growing of hemp and an expansion of the growing CBD industry.
That was welcome news for some Quad-City business owners, such as Becky and Nate Ramker, who opened Your CBD Store in Davenport, at 2824 W. Locust St., this past fall. Now, the franchisees have opened stores in Moline, Iowa City and Clinton, with plans to expand to Cedar Rapids and Bettendorf next.
In opening the Davenport business, the owners argued the CBD products can act as a natural pain reliever and alternative to opioids. Read more.
5. Bakery, restaurant coming to Bettendorf's Crow Creek, Middle roads

The first commercial building in what previously was an all-residential area of Bettendorf is under construction at the southeast corner of Crow Creek and Middle roads, bringing a kitchen-and-bath store, bakery and restaurant.
The 8,000-square-foot building is being built by Advance Homes Inc., which also is building six, one-story, four-plex townhomes on the property, vice president Adam Seitz said.
High Point Kitchen and Bath will be a subsidiary of Northwest Carpet, offering kitchen and bath design as well as cabinets and countertops for new or remodeling construction, he said.
Small Town Pastry, a start-up business to be operated by Janice Hubbard, will specialize in wedding cakes, but also will offer pastries and coffee in a small café setting. Seitz described it as a "Parisian" bakery.
Both are expected to open around June.
The third space in the building is being marketed to restaurants. "We're hoping for a local grill," he said. "We'll take a chain, but we're really trying to push local."
This will be the only food outlet on Middle Road between the TBK Bank Sports Complex near Interstate 80 and Whitey's Ice Cream at Devils Glen Road, he said. Read more.
6. Restaurants we remember
The new year started off with several Q-C eateries closing their doors. Check out the latest closures in our Restaurants We Remember and More Restaurants We Remember galleries.