A good Wednesday to all. A little morning fog, a flood warning expires and dangerous heat is on the way. That pretty much sums up the weather in the Quad-Cities. Here are the weather details from the National Weather Service.
1. Fog early, heat this weekend
Hazardous Weather Outlook: "Potentially dangerous heat will develop over the outlook area Friday through Monday. Hot and humid conditions are expected with daytime highs in the 90s to possibly near 100 and overnight lows in the 70s. Resulting heat-index readings will reach 100 to 105, in the afternoon and evening hours. There is the possibility that heat-index readings could reach potentially dangerous levels above 105 Saturday and Sunday.
Thunderstorms are possible Thursday morning over eastern Iowa and northeast Missouri. Severe weather is not expected. Thursday night into early Friday morning, there is a marginal risk for severe thunderstorms with large hail and damaging wind over the northern half of the outlook area."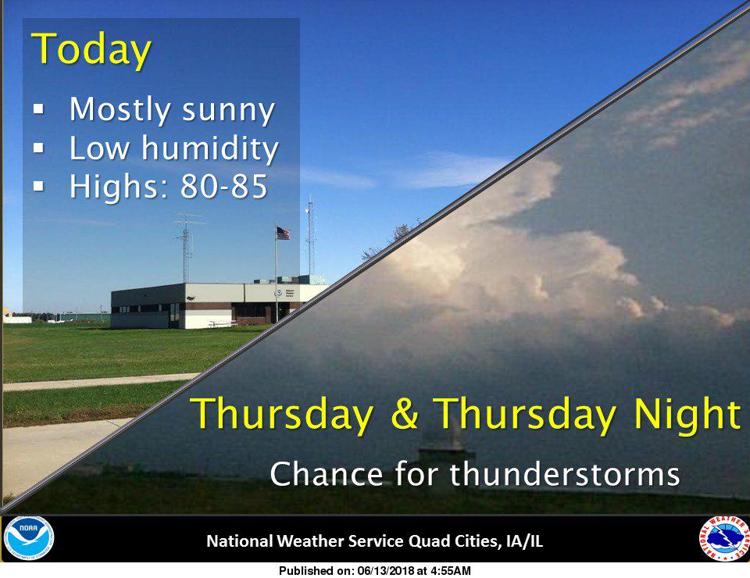 Look for areas of fog before 10 a.m. today. Otherwise the day will be sunny with a high near 83 degrees and a low around 59 degrees
Thursday will be partly sunny with a high near 84 degrees and a low around 67 degrees. There's a 30 percent chance of overnight showers and thunderstorms.
A flood warning continues for the Wapsipinicon and Cedar rivers.
The flood warning for the Wapsi near DeWitt is in effect until further notice. Earlier today, the Wapsi was at 10.6 feet and rising. Flood stage is 11 feet. No flooding is occurring and moderate flooding is forecast. The river is expected to rise above flood stage today and continue rising to 12 feet Friday evening.
At 12 feet, water affects residences along the river between Wheatland and Calamus. Water also affects businesses along the river near Calamus.
The flood warning for the Cedar River near Conesville is in effect until Sunday. Earlier today, the Cedar was at 11.6 feet and rising. Flood stage is 13 feet. No flooding is occurring and minor flooding is forecast. The Cedar is expected to rise above flood stage Thursday morning and continue rising to 14.3 feet Friday. The river will fall below flood stage Sunday.
At 14.2 feet water affects Lindle Avenue and Keokuk Avenue, both near Saulsbury Park.
A flood warning for the Rock River near Moline has expired as the river level has dropped below flood stage.
2. Lane closures begin today on the Avenue of the Cities

The Illinois Department of Transportation reports that there will be lane closures beginning today on the eastbound lanes of Avenue of the Cities.
The lane closures are necessary for pavement patching from Kennedy Drive in East Moline to Hospital Road in Silvis. Work is expected to be completed by  June 20, weather permitting.
3. Sprinters Lindsey, Porter headline QCT All-Metro boys track team
Rock Island's Courtney Lindsey and Bettendorf's Darien Porter created plenty of buzz on the track this spring with their exploits. 
Lindsey ran a sub-21 second 200 at the Illinois Class 3A sectional meet. Porter recorded 46-second splits in the 1,600 relay. 
The only two boys in the metro to come home from their respective state meet with a maximum four medals highlight this year's Quad-City Times All-Metro team. Read more.
4. Reward of up to $5,000 offered in shooting death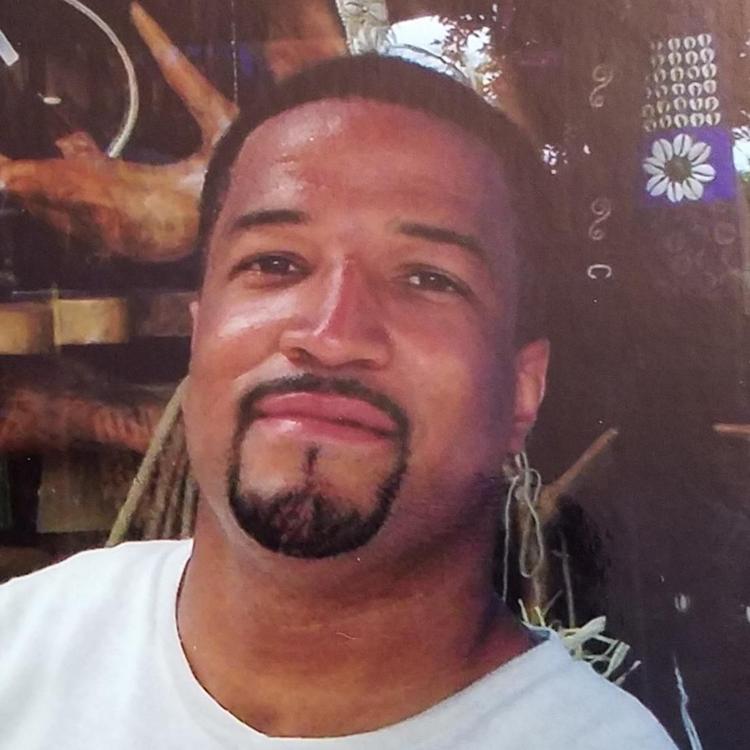 Crime Stoppers of the Quad-Cities is offering a cash reward of up to $5,000 for information leading to the arrest of the person or persons responsible for the fatal shooting of Jason Blair Roberts.
Davenport Police responded to a disturbance and shots fired call at 2:06 a.m. in the 800 block of West 4th Street, where they found the 46-year-old Davenport man suffering from life-threatening injuries.
Officers provided first aid services to Roberts until medical personnel arrived on the scene, which is close to Lafayette Park, two blocks north of the foot of the Talbot Memorial Bridge.
Medic EMS transported Roberts to Genesis Medical Center-East Rusholme Street, Davenport. He was pronounced dead shortly after arriving at the hospital.
Police ask that anyone with information regarding the death of Roberts call the Davenport Police Department at 563-326-6125 or the Crime Stoppers of the Quad-Cities tip line at 309-762-9500.
5. Longtime KWQC anchor announces he is leaving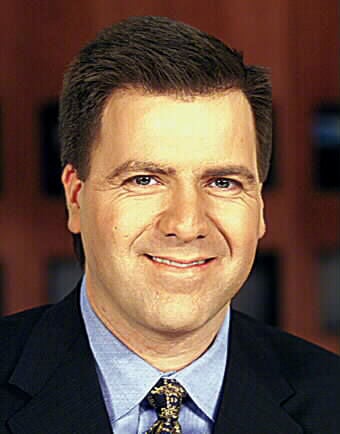 Longtime KWQC-TV anchor Gary Metivier said Tuesday that he is leaving the station. Metivier made the announcement on the 6 p.m. newscast, which he referenced on his Facebook page.
According to the KWQC website, he joined the news team in 1998. He earned multiple state and regional awards.
Present and past members of the Quad-City area media who have come and gone over the years.
Metivier has a "strong personal commitment" to children's literacy issues and veterans organizations, including the Honor Flight of the Quad-Cities. Proceeds from the four children's books he has written support veterans initiatives.
When he arrived in the Quad-Cities, he "immediately fell in love with the people and the area," he said during the broadcast. He, his wife and two sons had opportunities to move to bigger markets, "but we decided as a family this was home."
Now that their sons "are preparing to go off on their own journeys," he said, "it is time for us to begin a new journey too. To take a leap of faith. To explore and pursue new opportunities. To share inspiring stories and share our talents. We feel God has a plan for us."
For two decades, he told viewers, "You have blessed us with your loyalty, your kind words and your caring sense of community. It has been such an honor to be able to be your news guy."
6. Community members speak out against Davenport school-closing options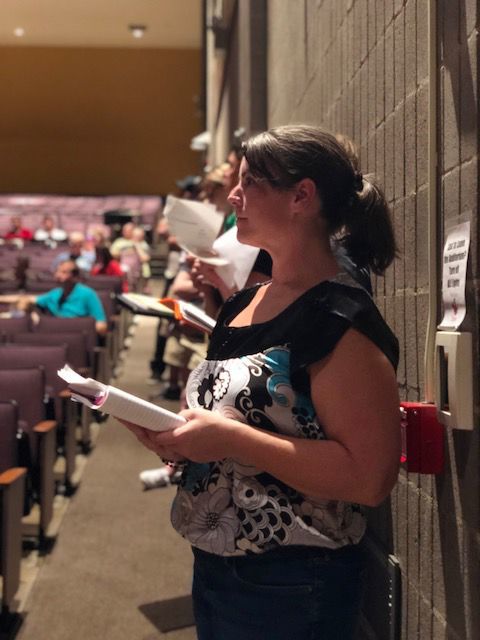 Parents, teachers and other community members opposed school-closing options Tuesday at the second Davenport School District forum organized for the public to air concerns.
Speakers voiced opinions directly to Superintendent Art Tate, who responded to questions and comments. Read more.
6 plus one. Former Davenport Housing manager pleads guilty to invasion of privacy charges
Roy DeWitt, the former housing programs manager for the city of Davenport, admitted Tuesday that he placed a hidden camera in a locked employee-only bathroom at the city-owned Heritage High Rise apartments in March.
The 46-year-old Pella, Iowa, man did so "knowing that others would be recorded when staff had reasonable expectation of privacy" for the purpose of "arousing/satisfying sexual desire of any person, without victims' consent," according to a written plea of guilty filed through his attorney, Steve Hanna, in Scott County District Court. Read more.
Today's photo gallery:

Savannah to Sabula Ferry opens