A good Friday to all. While we are not out of the woods yet as far as wet weather is concerned, flash flood watches for the Q-C metro area have expired. More rain is likely today; and area rivers are still above flood stage. Here are the weather details from the National Weather Service.
1. More rain likely today
Keep the umbrella handy as showers and thunderstorms are possible throughout the day and overnight. You also might want a sweatshirt today as skies will be cloudy with a high near 70 degrees and a low around 58 degrees. The chance of precipitation is 60 percent during the day and 50 percent overnight. New rainfall amounts between a quarter and half of an inch are possible.
Saturday will be mostly cloudy with a high near 70 degrees and a low around 56 degrees. Northeast winds between 10 to 15 mph will gust as high as 25 mph.
Sunday will be mostly sunny with a high near 73 degrees and a low around 52 degrees.
2. Rock to rise to major flood stage today
The Rock and Mississippi rivers continue to rise as rain remains in the Quad-City region.
Meteorologist Peter Speck, with the National Weather Service, Davenport, said the Rock at Moline measured 13.85 feet Thursday night, nearing major flood stage at 14 feet. The river is expected to crest around that level on Friday.
At Joslin, Illinois, the Rock measured 16.5 feet Thursday night, and is expected to crest overnight into Friday at 16.6 feet, past major flood stage of 16.5 feet.
At Lock and Dam 15, Rock Island, the Mississippi was past its flood stage of 15 feet at 15.21 feet and rising Thursday night. It is expected to reach 16.2 feet on Sunday.
In August, Davenport received 6.58 inches of rain, and Moline had 6.62 inches of rain, but neither rank as being in the top 10 wettest for that month. Read more.
Looking at other area rivers:
• A flood warning continues for the Wapsipinicon River near DeWitt until further notice. The Wapsi is at 12.2 feet and slowly rising. Flood stage is 11. Moderate flooding is occurring and major flooding is forecast. The river is expected to rise to 13.6 feet Tuesday morning then begin falling. At 13 feet, water affects many residences along the river.
• A flood warning continues for the Cedar River near Conesville until further notice. The Cedar is at 15.4 feet and rising. Flood stage is 13 feet. Moderate flooding is occurring and major flooding is forecast. The Cedar is expected to rise to 16.5 feet Saturday morning then begin falling.  At 16.5 feet, water affects County Road G28.
• A flood warning continues for the Iowa River at Columbus Junction until further notice. The Iowa is at 21.3 feet and rising. Flood stage is 19 feet. Minor flooding is occurring and major flooding is forecast. The Iowa is expected to rise to 25 feet Saturday, then begin falling. At 23 feet, water affects residential property along the river south of the Iowa 92 bridge.
3. Judge sides with Davenport in dispute with ex-fire chief
A Scott County judge has sided with the city of Davenport in a lawsuit challenging the reinstatement of a former fire chief who has accused the city of firing her over a workplace harassment complaint.
Former Fire Chief Lynn Washburn spent nearly six years at the helm of the department until she was abruptly fired last year by City Administrator Corri Spiegel. As she contested the firing, Washburn brought her case to Davenport's civil service commission, a panel that reviews public employee complaints.
The commission ordered that Washburn be re-instated as a district chief with the department, a decision the city challenged in Scott County Court.
In his ruling, Scott County District Court Judge Stuart Werling said the commission "lacked jurisdiction to hear her appeal and was without authority" in its action. He also said the arguments presented on Washburn's behalf regarding civil service "may be well-founded," but would rely on the Iowa Legislature to change state law.
Mike Carroll, the ex-chief's attorney, said they plan to file an appeal, saying that outcome was likely "no matter which side won at this level." Read more.
4. Tremayne Thomas gets life for 2017 slaying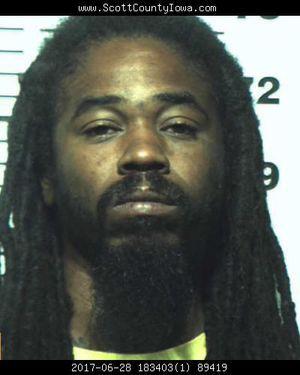 A man accused of killing another in 2017 and leaving his burning body on a Davenport street received a life sentence without parole Thursday. In July, a Scott County jury convicted Tremayne Thomas, 43, of Davenport, of first-degree murder and abuse of a corpse.
The charges were related to the killing of Brandon Brooks, 35, of Rock Island. Brooks' body was found May 30, 2017. It was on fire in front of a home at 3010 W. Dennison Ave. Later examination showed Brooks had been shot in the arm and suffered blunt-force trauma. There also was evidence of strangulation. His body was badly burned, but there was no evidence that he was alive when he was set on fire. Read more.
5. Work underway to fix troubled Davenport special-ed program
An adviser with expertise in special education is working with the Davenport School District as it aims to correct problems identified by the state.
Sandy Schmitz is helping Davenport meet state-issued deadlines for compliance on several inadequacies identified in a spring audit by the State Department of Education. Along with Patti Pace-Tracy, director of special education for the district, Schmitz gave a presentation this week to the Davenport School Board. Read more.
6. Muskies stave off spirited Falcons
Minutes after Davenport West's football team broke its postgame huddle Thursday night, Jacob Milem sat on the team's sideline with his helmet still strapped on. The senior was in disbelief.
For four quarters, Milem and the Falcons poured every ounce of effort they had into this one. They went jab for jab with Muscatine and were on the cusp of a breakthrough victory. It just couldn't get over the threshold.
Muscatine came up with a defensive stop on fourth and inches inside its own 20-yard line in the final four minutes to escape with a 14-13 win over West at Brady Street Stadium. Read more.
Today's photo gallery: Muscatine at West football