A good Tuesday to all. Most of us area digging out from yesterday's snowstorm. And some area schools are starting the day later than normal because of the weather. Roads are still snow-covered, so allow extra travel time this morning. Also, a water main break at 3rd and Marquette streets in Davenport is affecting traffic this morning. Drivers are advised to take another route this morning.
1. A cold start, fog early and more snow
First off, a special weather statement from the National Weather Service: "Northwest winds of 5 to 10 mph will produce wind chills from 10 below to more than 20 below zero at times through mid morning. The wind chills will improve after 10 a.m. If venturing out this morning, be sure to dress in layers and be prepared for the cold. In addition to the biting wind chills, patchy areas of dense fog will occur in river valleys and low lying areas through mid morning. This fog will produce sudden reduced visibilties down to a quarter mile or less in short distances. The fog may also deposit an icy coating and create slick surfaces, especially on bridges and overpasses."
With that, here's the latest forecast from the National Weather Service.
There will be patchy fog before 7 a.m. Otherwise, we'll see increasing clouds with a high near 13 degrees. Wind-chill values will be as low as -15 degrees.
Snow is likely tonight after 8 p.m. The low will be around 6 degrees with wind-chill values as low as zero. Northeast winds around 5 mph will become northwest after midnight. The chance of precipitation is 80 percent with new snow accumulation of around 2 inches.
Wednesday will be partly sunny with a high near 16 degrees and wind-chill values as low as -5 degrees. The low will be around -3 degrees with wind-chill values will be as low as -10 degrees.
2. Is your school delaying the start of classes today?
Some area schools are delaying the start of classes today because of the weather. Check out the list.
3. Person pulled from Mississippi River in Muscatine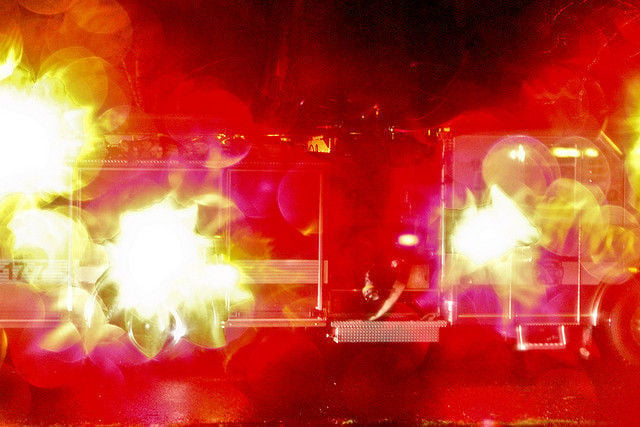 MUSCATINE — One person was taken to the hospital in critical condition after being found in the Mississippi River near Muscatine's riverfront Monday afternoon.
At 4:26 p.m., the Muscatine Joint Communications Center received a 911 call of a person in the Mississippi River. Upon arrival, emergency responders found a subject in the open water, according to Assistant Fire Chief Mike Hartman.
He said the subject was located and tracked by personnel on shore while the water rescue team came to the scene. Once a boat arrived, crews had to clear an opening in the ice large enough to fit the rescue boat. Hartman said ice had to be cleared for around 15 feet prior to reaching floating water.
Once the ice was cleared, a boat was launched with rescue personnel and paramedics. The subject was reached and brought into the rescue boat and medical care began immediately, Hartman said.
The subject was transferred to a waiting ambulance and transported to UnityPoint-Trinity Muscatine in critical condition, according to Hartman.
Three responders were taken to the hospital in private vehicles for assessment due to exposure to the extreme cold and wet environment. None of the responders showed any medical distress on scene, Hartman said, and the assessment was done as a preventative measure.
The incident is being investigated by the Muscatine Police Department.
Around 30 first-responders from the Muscatine Police Department, Muscatine Sheriff's Office, Muscatine Search and Rescue and the Muscatine Fire Department were on the scene, as well as the county emergency manager.
4. What's in a name? New Bettendorf brewery recognizes 5 Quad-Cities
Three 60-inch flat-screen TVs cover the wall above the bar at what could be the newest brewery in the Quad-Cities, but the real production will happen in the next room over.
That's where head brewer and co-owner Matthew Welding will be working on the latest batch of craft beer at Five Cities Brewing, 2255 Falcon Ave., Bettendorf. Patrons may watch the process through the glass windows below the TVs.
The name of the new business recognizes the five cities in southeast Iowa and northwest Illinois that make up the metro Quad-Cities, including East Moline, which often is not mentioned. Read more.
5. Snow can't slow Iowa caucuses
Deb Sperry had a plan for Iowa's caucuses, and a snow storm wasn't going to stop her.
The rural Scott County woman got on the road early, got a hotel room for the night so she wouldn't have to drive home. Then, she went to Davenport North High School, where about 300 Democrats gathered in the cafeteria  for the 2018 precinct caucuses.
It was Sperry's first caucus ever, and she was determined to show up.
Iowa's caucuses, even in non-presidential years, are a key event in the state's political calendar. Read more.
6. Klipsch proclaims Davenport "thriving, vibrant and strong"
As Mayor Frank Klipsch came to the end of his annual state of the city address,he summed up the city of Davenport in a few words: "thriving, vibrant and strong."
Despite the winter storm bearing down on the Quad-Cities, Klipsch recapped the past year Monday afternoon at the Rhythm City Casino Resort and lauded the city's ability to meet every one of its goals it put in place last year.
"Things are coming," Klipsch said. "People are wanting to move here. Events are coming here. The financial situation is really good. Our economy is growing, and it's continuing to grow."  Read more.