A good Friday to all. Light snow is in the forecast for some parts of the Quad-City region. When, where and how much? Check out the weather details from the National Weather service.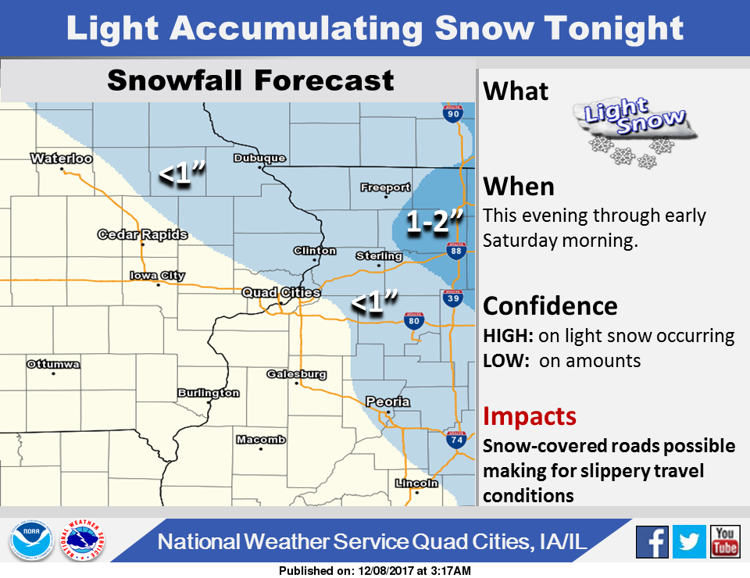 Today will be partly sunny with a high near 35 degrees.
Tonight there's a 20 percent chance of snow between 9 p.m. and 3 a.m. Light snow is likely north and east of the Q-C. Skies will be mostly cloudy with a low around 21 degrees. Southwest winds between 10 to 15 mph will become northwest after midnight. Winds could gust as high as 25 mph.
For the weekend, Saturday will be mostly sunny with a high near 26 degrees. Northwest winds between 10 to 15 mph will gust as high as 30 mph. The evening will be partly cloudy with a low around 16 degrees.
Sunday will be mostly sunny with a high near 40 degrees and a low around 26 degrees.
2. Doxsie's after-thoughts from Hawkeye-Cyclone game
It was a case of good news, bad news Thursday night at Hilton Coliseum — good news if you are a Cyclone fan, not-so-good if you favor the Hawks. Read Don Doxsie's after-thoughts from Iowa's 84-78 loss to Iowa State. Read more.
3. Davenport teacher pleads guilty to child porn charges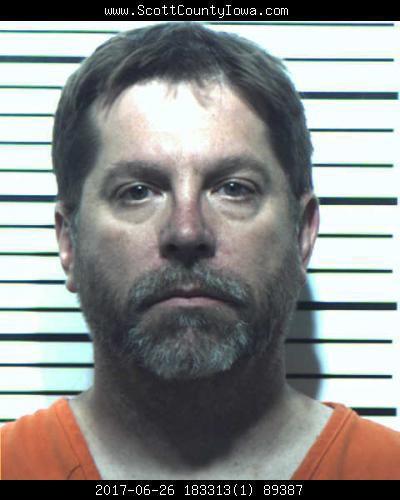 A Davenport elementary school teacher pleaded guilty to receiving and distributing child pornography charges Thursday in U.S. District Court, Davenport.
Michael Loren Ross faces a minimum federal prison sentence of five years, and a maximum prison sentence of 20 years. He also faces a minimum term of supervised release of five years, with the possibility of being on supervised release for the remainder of his life.
 Ross admitted he used his cellphone and laptop to receive and distribute child pornography and state he did so for his own sexual gratification. He also admitted to trading child pornography in "trading groups" wherein he would send a Dropbox link to child pornography he possessed in exchange for an image or link to another person's images or videos of child pornography. Read more.
4. Developers offer sneak peek of Bettendorf's latest upscale apartment complex
Two elevator shafts rising above the riverfront is all that exists of what by summer will be downtown Bettendorf's new upscale apartment complex, The Bridges.
For potential residents, it still takes some vision to imagine what life will be like in the new development. So Thursday, developer Newbury Living invited the tenants it has already signed as well as prospective ones, real estate representatives and Bettendorf community representatives for a "sneak peek."
The Bridges will hug the Interstate 74 corridor with a front-row view of the bridge now under construction. With all the bridge construction, the apartment project's own construction is hard to distinguish. Read more.
5. 3 charged when stolen weapon found in vehicle
Three people are facing weapons charges, including a parolee out of Illinois, after an Iowa State Patrol officer recovered a stolen weapon out of a vehicle he stopped for speeding Wednesday night.
Marcheal Shaniece Brooks, 19, of 3539 Heatherton Drive, Davenport, is charged with one count of trafficking in stolen weapons, a Class D felony under Iowa law that carries a prison sentence of up to five years. She also is charged with carrying weapons, an aggravated misdemeanor that carries a prison sentence of up to two years.
Joseph Jamaal Johnson, 33, of 301 W. 6th St., Davenport, and Michael Sanchez Davis, Jr., 28, of 534 S. 1st St., Eldridge, each are charged with one count of trafficking in stolen weapons and possession of a firearm by felon. Each of the charges carries a prison sentence of up to five years. Read the details.
6. Davenport will challenge ex-fire chief's reinstatement
The city of Davenport plans to continue to pursue an appeal of the reinstatement of former Fire Chief Lynn Washburn.
The Davenport City Council met in executive session Wednesday night to discuss the potential litigation. On Thursday, City Attorney Tom Warner confirmed the city will appeal the Civil Service Commission's order to reinstate Washburn to the department.
Washburn's employment was terminated July 27, three days after she was placed on administrative leave for not attending a pre-disciplinary meeting. Read more.