A good Wednesday to all. Did you wake up early today to view the "blue moon" moon in the sky? Today will be another mild one, then things will turn considerably more winter-like.
Here are the weather details from the National Weather Service.
1. A high near 45 degrees, then falling temps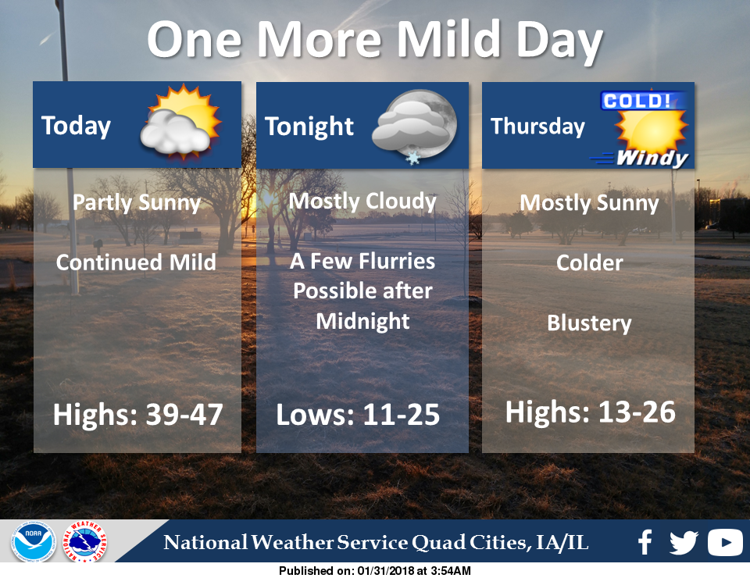 Today will be partly sunny with a high near 45 degrees. Southwest winds between 5 to 15 mph will become northwest in the morning. Winds could gust as high as 20 mph.
Tonight will be mostly cloudy with a low around 19 degrees.
Thursday brings a chance of flurries before noon. It will be sunny with a temperature falling to around 14 degrees by 5 p.m. Wind-chill values will be as low as zero. Northwest winds around 15 mph will gust as high as 25 mph.
Thursday night will be clear with a low around 3 degrees and wind-chill values as low as -10 degrees. Northwest winds will gust as high as 20 mph.
2. Trump calls for optimism in spite of warnings of danger
Addressing a deeply divided nation, President Trump summoned the country to a "new American moment" of unity in his first State of the Union, challenging Congress to make good on long-standing promises to fix a fractured immigration system and warning darkly of evil forces seeking to undermine America's way of life.
Trump's address Tuesday night blended self-congratulation and calls for optimism amid a growing economy with ominous warnings about deadly gangs, the scourge of drugs and violent immigrants living in the United States illegally. He cast the debate over immigration — an issue that has long animated his most ardent supporters — as a battle between heroes and villains, leaning heavily on the personal stories of White House guests in the crowd. He praised a law enforcement agent who arrested more than 100 gang members, and he recognized the families of two alleged gang victims. Read more.
3. Site plan for new Governor's Pub location headed to Bettendorf Council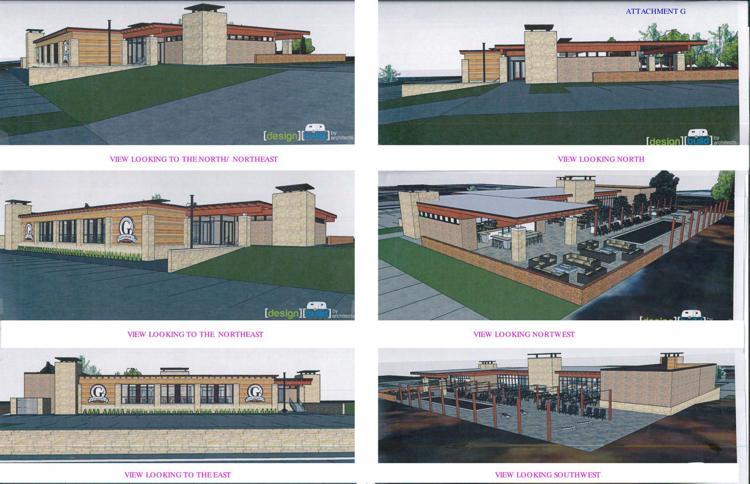 The site development plan for the new Governor's Pub and Grill location is headed to the Bettendorf City Council for approval on Feb. 6. The Bettendorf Plan and Zoning Commission voted to pass a recommendation of approval to the City Council during its Jan. 17 meeting.
Governor's intends to construct a 9,200 square-foot, single-story building at 3610 Tanglewood Road, Bettendorf, so it can relocate from its existing location at 3470 Middle Road.
In September, both Hy-Vee and Governor's announced their intentions to expand their respective businesses. Read more.
4. Former student alleges disability, age discrimination in lawsuit against Palmer College
A disabled military veteran has filed suit against Palmer College of Chiropractic alleging discrimination and harassment due to his age and disability.
Darren Petro, who was a student at Palmer, filed suit Jan. 16 in Scott County District Court after the Davenport Civil Rights Commission issued him a right to sue letter in November.
In court documents, Petro alleged that "Palmer engaged in a continuing pattern of aggravating and egregious conduct," which eventually led to him withdrawing from school on Feb. 14, 2014. Read more.
5.  Duwa's overtime buzzer-beater lifts PV past West

It was not exactly how Pleasant Valley's boys basketball team drew the play up in the huddle. The result could not have turned out any better.
After Davenport West's Trey Sampson buried a go-ahead 3-pointer with 6.2 seconds left in overtime, junior Carter Duwa retaliated with a 25-foot jumper at the buzzer to propel Class 4A fifth-ranked PV to a thrilling 52-50 triumph Tuesday night at West High. Read more.
6. Government Bridge closed until 7 p.m.
The Government Bridge over the Mississippi River between the Rock Island Arsenal and the city of Davenport remains closed until 7 p.m. so the U.S. Army Garrison Rock Island Arsenal Directorate of Public Works can perform repairs.
There will be a second closure beginning Wednesday, Feb. 7, from 8:30 a.m., through Friday, Feb. 9, at 7 p.m.
The bridge remains open to pedestrian traffic. Watch out for signs and barricades during the closure.