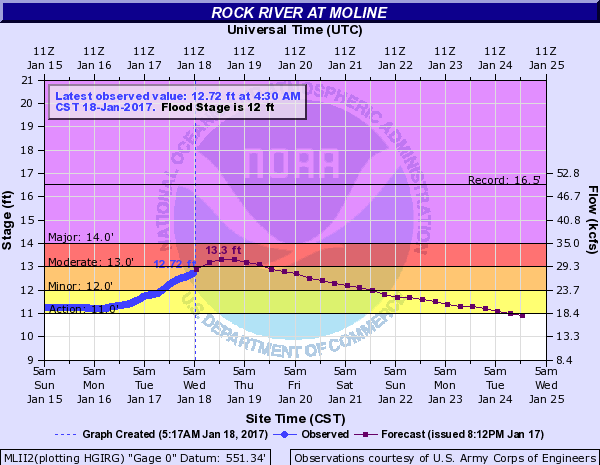 1. Today brings break in the rain
A good Wednesday to all. Some patchy fog is possible this morning then things gradually begin to clear up with a high in the mid-40s. All-in-all not a bad day in the QCA.
Here are the weather details from the National Weather Service. 
Today will be cloudy through mid-morning then gradually clearing with a high near 44 degrees. Some patchy early morning fog is possible. Winds will be from the southwest between 5 to 10 mph.
Tonight will be partly cloudy with a low around 29 degrees.
Rain is likely (60 percent chance of precipitation) after noon on Thursday. Skies will be mostly cloudy with a high near 46 degrees.  New precipitation amounts of less than a tenth of an inch are possible.
Thursday night the rain continues with a low around 36 degrees. New precipitation amounts between a tenth and quarter of an inch are possible.
2. Rock River at Moline now under flood warning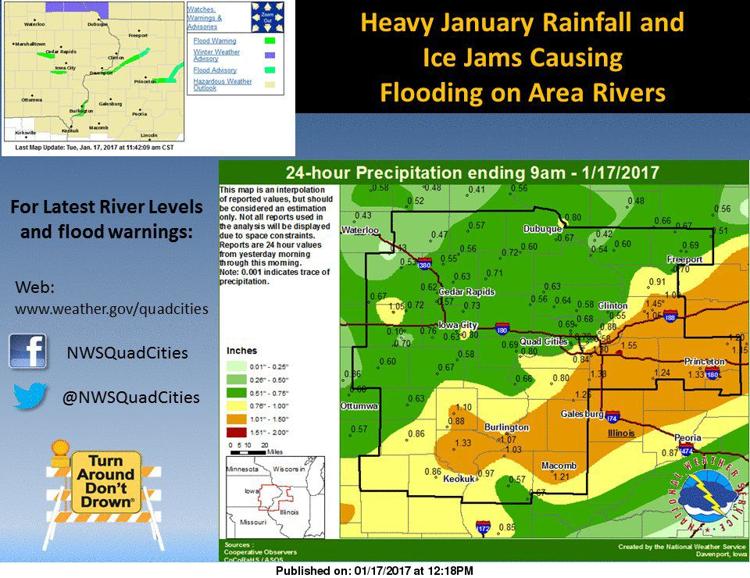 The National Weather Service has issued a flood warning for the Rock River at Moline until Saturday night.
Earlier today the river was at 12.7 feet and rising. Flood stage is at 12 feet. Minor flooding is occurring and moderate flooding is forecasted.
The river is expected to rise to 13.3 feet tonight. It is expected to fall below flood stage Saturday night.
Mild temperatures over the next several days will produce ice jam erosion downstream which may allow for sudden drops in river levels from the expected forecast.
At 13.2 feet water affects 60th Street south of John Deere Road in Moline, 75th Avenue from Green Valley Park to 48th Street. Water is on Canal Road in Big Island and Smith's Island is also affected. Also some residences in the lower Friendship Farm area, 60th Street south of the Green Valley Sports Complex and 56th Street along the north side of the river are under water.
• A flood watch has been issued for the Iowa River in Columbus Junction until Monday.
The river is currently at 18.6 feet. Flood stage is 19 feet with minor flooding possible.
The river is expected to rise above flood stage later today and continue to rise to 20 feet by Friday morning. The river is expected to fall below flood stage Monday.
You have free articles remaining.
• A flash flood watch continues until 9 a.m. for the Green River in Henry County as rising river levels due to recent heavy rain and ice jams near the mouth of the Green River has led to high water that was threatening a levee southwest of Colona. Flash flooding is possible if this levee fails.
 3. One of Q-C's last Pearl Harbor survivors dies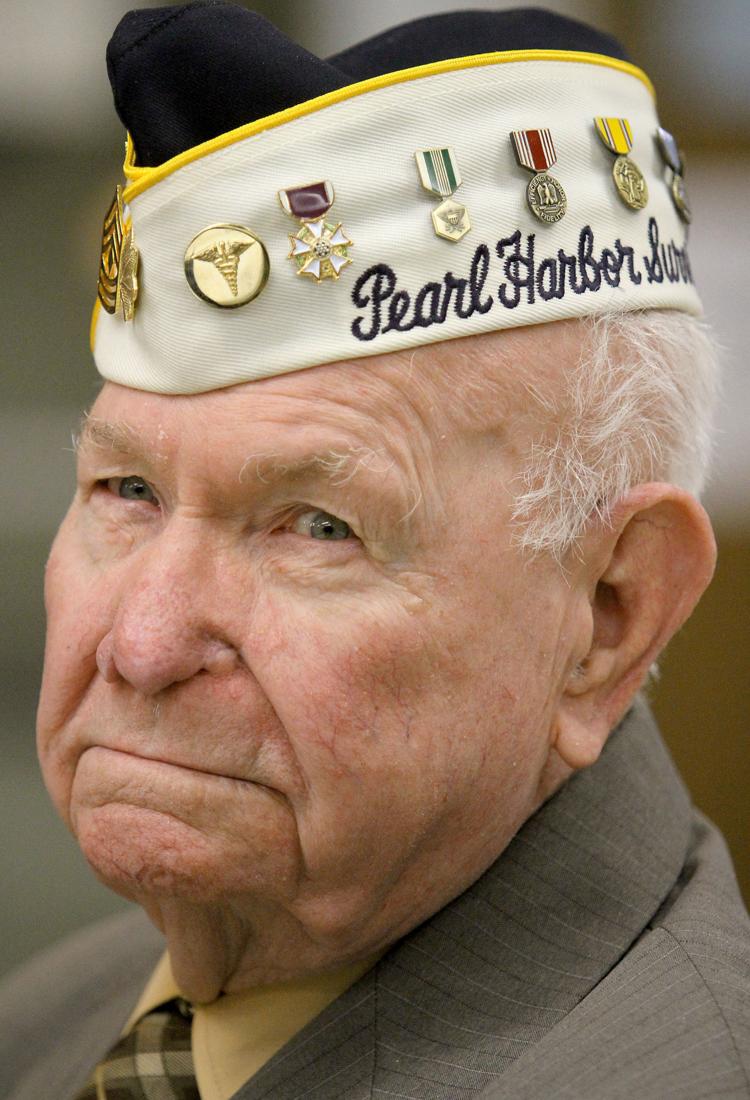 One of only two known Quad-City survivors of Pearl Harbor has died. Alvis "Al" Taylor was 93.
For many years, the Davenport veteran declined to speak of his memories of Dec. 7, 1941. Late in life, however, he shared many details, especially with his family. Read more.
4. 5 foodie events to attend this month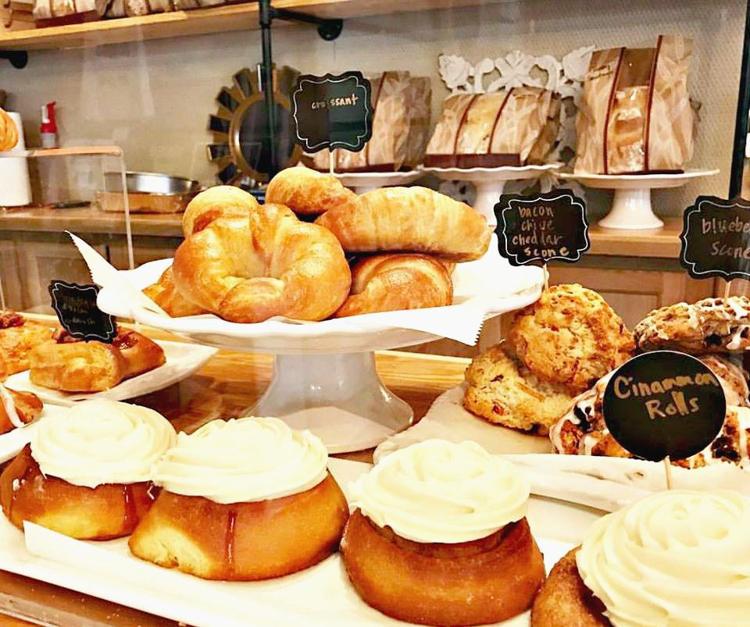 Our resident "foodie" Amanda Hancock serves up five must-attend food events this month for foodies. Read more.
5. Street closure today in Clinton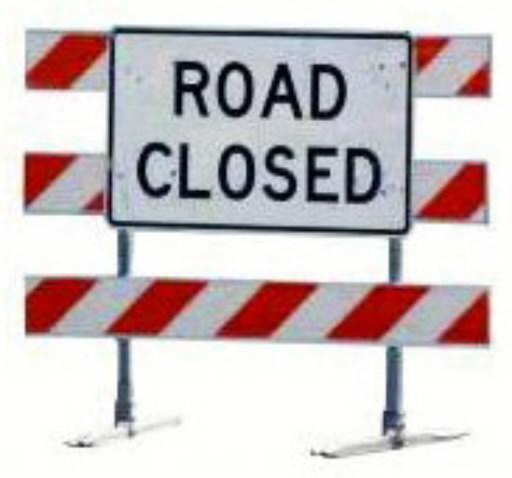 The city of Clinton reports that beginning at 8 a.m., the intersection of North 4th Street and 4th Avenue North will be closed to all traffic.
In addition North 4th Street from 4th Avenue North to 7th Avenue North will be closed to all through traffic.
Access will not be restricted to any properties on North 4th Street.
The detour route will be 7th Avenue North to Bluff Boulevard, then to 2nd Avenue South.
6. A first timer at Ross': A mountain of food, surprises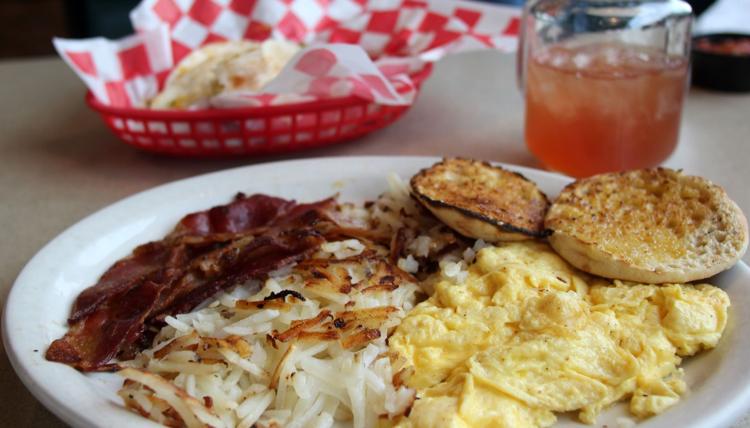 Last month, Amanda Hancock launched a series in the Quad-City Times Food section with the mission of reaching and writing about the far corners of the Quad-City dining landscape. So far, she's enjoyed going "On the Road" and visiting places such as Kalmes Restaurant in St. Donatus, Iowa, and Maple Street Grille in Orion, Illinois. She's looking forward to more of these miniature road trips, in search of hidden food treasures.
This week she decided to explore a Quad-City treasure that's not so hidden. In fact, it's pretty obvious. Read more.