A good Thursday to all. Sunshine and temps in the 30s are on tap for the Quad-Cities today, while the Rock River in Moline has finally dropped below flood stage. Here are the weather details from the National Weather Service.
1. Sunny with northwest winds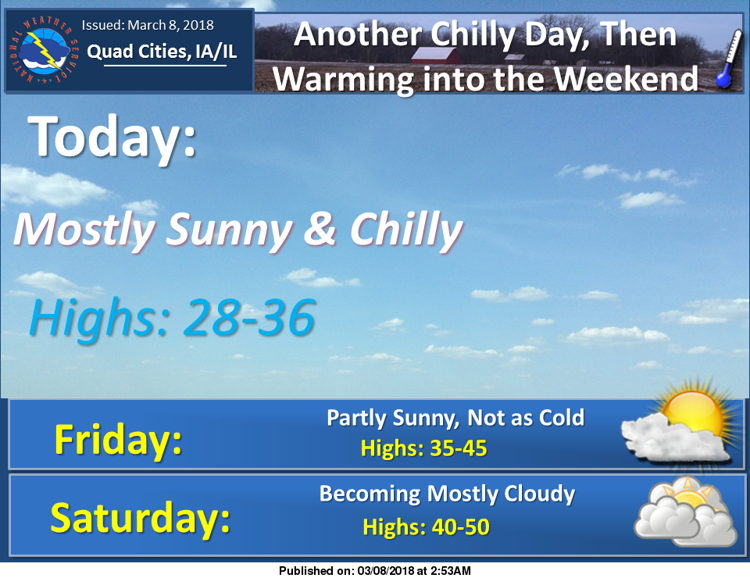 It will be sunny today with a high near 33 degrees and a low around 18 degrees. Winds will be from the northwest at 10 to 15 mph.
Friday will be partly sunny with a high near 39 degrees and a low around 24 degrees.
The flood warning for the Rock River at Moline has expired as the river level has dropped below flood stage. Early today, the river was 11.9 feet and slowly falling. The river is expected to fall below the "action" stage of 11 feet on Sunday.
2. Ickes: Clinton County dog case takes good turn
The story would have been completely different two weeks ago. Instead of a rage-inducing account of animal neglect, the animals themselves are turning their tale into an unlikely display of trust and healing.
Eight dogs — four female and four male — are recovering at the Clinton Humane Society from an almost unspeakable existence. If they had not been rescued from their cold, dark, bloody captivity in a Clinton home on Feb. 21, they may very well have died miserable deaths. A ninth dog was found dead in a garbage can at the home where police, Humane Society workers and volunteers were called to remove them. Read more.
3. New I-74 bridge using U.S. steel
A Quad-City Times reader wanted to know whether contractors were using steel manufactured in the U.S. on the new Interstate
The Quad-City Times has been following construction of the new I-74 bridge across the Mississippi River since day 1 capturing hundreds of imag…
4. Bringing back the Augie slough
The sudden and dramatic draining of Augustana College's beloved slough last summer has turned into a blessing in disguise for the landmark campus water feature.
On June 3, a Rock Island sanitary sewer pipe under the slough developed two holes about 18 inches apart, allowing slough water to rush into the pipe and, under great pressure, go whooshing down the hill where it found a "relief point" in an abandoned, opened-ended lateral pipe where it burst forth.
The force of the water washed away soil, causing a parking lot driveway to collapse, and it gushed up through manholes, throwing 100-pound covers into the air, and into basement drains, sinks and toilets in several buildings.
The initial cleanup and repair was accomplished within weeks, but once done, campus administrators decided it was time to make improvements to be better stewards of the slough. Read about the improvements being done.
5. New store opens in the Village Shopping Center
A new Pet Supplies Plus store wants to leave its mark on its Davenport neighborhood. Located in the Village Shopping Center, 902 W. Kimberly Road, the store is the fourth Iowa-based Pet Supplies Plus for business partners Suzy Schares and Jeff Stickfort.
Their company, Eight Mile Pets, also owns franchises in Des Moines, Altoona and their Cedar Falls hometown.
The store, which had its soft opening Friday, not only welcomes dogs with their owners, but also offers a self-serve pet wash station — with dryers to blow them fluffy dry. Read more.
6.  DeSalvo hopes school equity legislation absolves Davenport school chief
Gov. Kim Reynolds plans to sign legislation today committing $14.1 million to begin addressing funding inequities among Iowa school districts in the hometown of the superintendent her own administration is faulting with pressing the issue.
The bill signing will take place at a high school in the Davenport school district. There, the funding level is set at the state's lowest level. In a stand against funding inequity, Superintendent Art Tate has jeopardized his superintendent license by openly spending beyond his district's authorized amount.
While the new legislation is not directly related to the superintendent, Davenport school board member Julie DeSalvo said she is hopeful it will bode well for Tate, who is the subject of a state ethics investigation. Read more.