A good  Thursday to all. Beware of changing weather conditions as we could see it all — freezing drizzle, sleet, snow and cold — the next few days.
Let's start off with a National Weather Service Winter Weather Advisory for the Quad-City region which is in effect until9 a.m.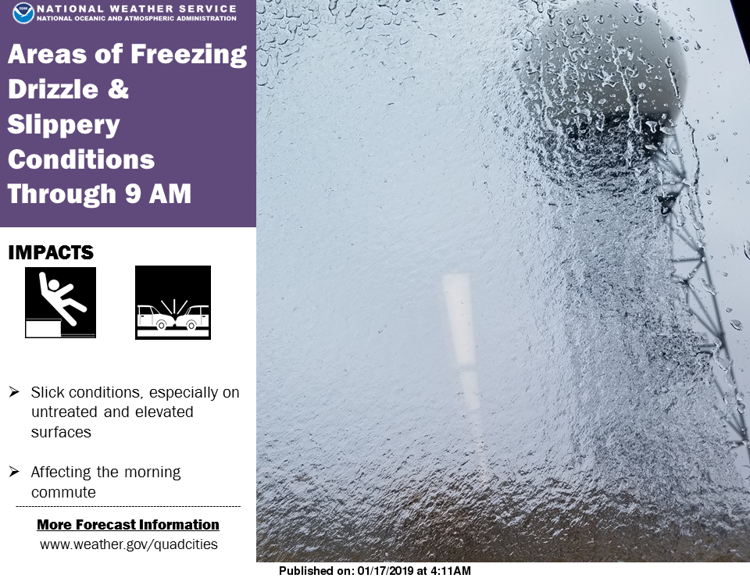 The advisory warns that "a storm system will spread a mix of light freezing drizzle and light snow across portions of southeast Iowa, western Illinois and northeast Missouri overnight. The mixed precipitation will gradually change over to light snow before ending Thursday morning. With temperatures in the upper 20s, roads and sidewalks may become become slick. Untreated roads, bridges and overpasses will be especially vulnerable."
• WHAT: Mixed precipitation with snow and freezing drizzle. Additional snow accumulations of up to one inch and ice accumulations of a light glaze.
• WHERE: Portions of east central and southeast Iowa and north central and northwest Illinois.
• WHEN: Until 9 a.m., Thursday.
• ADDITIONAL DETAILS: Plan on slippery road conditions. The hazardous conditions could impact the morning commute.
A Winter Weather Advisory means that periods of snow, sleet or freezing rain will cause travel difficulties. Expect slippery roads and limited visibilities, and use caution while driving.
In addition to the Winter Weather Advisory the NWS also has issued a Hazardous Weather Outlook for the region.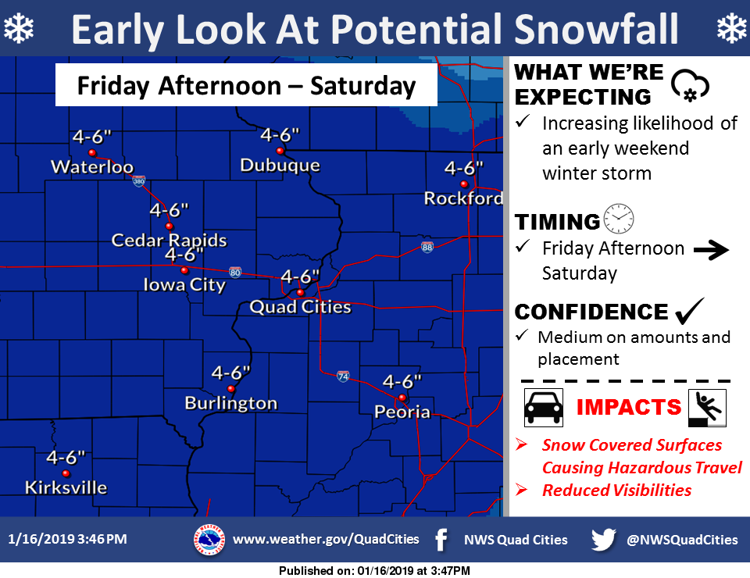 It states: "Mainly light snow will continue Thursday morning with additional light accumulations possible, which may continue to produce some slick spots on untreated surfaces especially south of Interstate 80.
"A larger storm system will likely produce widespread accumulating snow across the area from Friday afternoon through Saturday. Several inches of snow accumulation will be possible with this system along with strong gusty winds by Saturday, which could produce blowing and drifting snow adding to the hazard. The exact track and strength of this system is still somewhat uncertain at this time, thus snowfall amounts and placement of the higher totals are also uncertain. Stay tuned for later forecasts and updates concerning this potentially significant winter storm system at the end of the week.
"Bitterly cold temperatures and wind chills are expected to follow in behind the departing storm system for Saturday night through Monday."
1. Snow, cold heading our way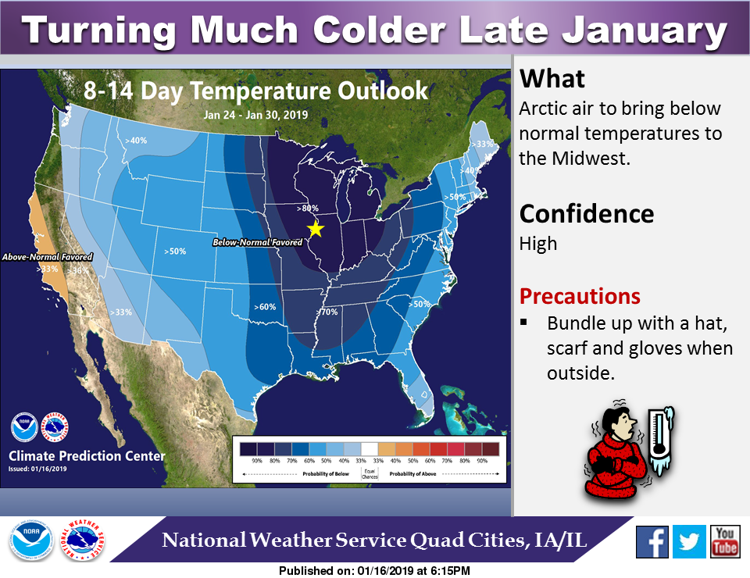 There's a 30 percent chance of snow before 7 a.m. Skies will be cloudy with a high near 32 degrees and a low around 18 degrees.
Friday will see a 20 percent chance of snow after 3 p.m. with a high near 27 degrees.
Friday night snow is likely with a low around 21 degrees. The chance of precipitation is 90 percent with new snow accumulation of around 4 inches possible.
Saturday brings a 50 percent chance of snow before noon. Skies will be mostly cloudy with a high near 23 degrees. New snow accumulation of less than a half inch is possible.
Saturday night will be mostly cloudy with a low around 8 degrees.
Sunday will be mostly sunny with a high near 13 degrees and a low around -1 degree.
Water main break slows River Drive traffic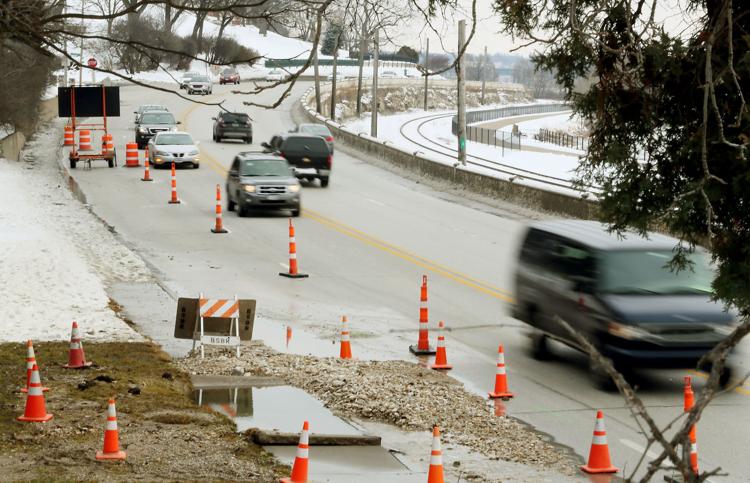 Iowa American Water is estimating to have repairs made by midnight to a water transmission main that burst Wednesday in the 2400 block of River Drive in Davenport.
Crews began shutting down one late of westbound River Drive at about 10 a.m. Wednesday. Crews then shut down both westbound lanes in the area so that one eastbound lane could be used for westbound traffic. That cut eastbound traffic in the area to one lane.
Iowa American Water spokeswoman Lisa Reisen said that excavation on the broken 16-inch water transmission main began about 4 p.m.
Crews were hoping to have the main repaired early today.
Reisen said that water was rerouted so that no customers were affected by the broken main.
2. Uncertain future of Davenport schools — What comes next in Phase II?
When the state begins its Phase II visit of Davenport schools at the end of the month, the district will be the largest in Iowa to receive such a visit; historically, the process has assessed small, rural districts that might not have enough students to sustain themselves.
"The requirements we need to look at are the same," said Amy Williamson, chief of the state bureau of school improvement. "The scale is different, certainly, because Davenport is so much larger."
From Jan. 29 through Feb. 1, up to 20 state workers will go through documents, conduct interviews, and work with district leadership to study general and special education, treatment of minorities, and district finances. Even though the process is largely reflective of what's happened in other districts — most recently the Farragut and Hamburg districts in 2015 — the Davenport visit is unprecedented. Read more.
3. Judge reverses gag order ruling in North Scott gun case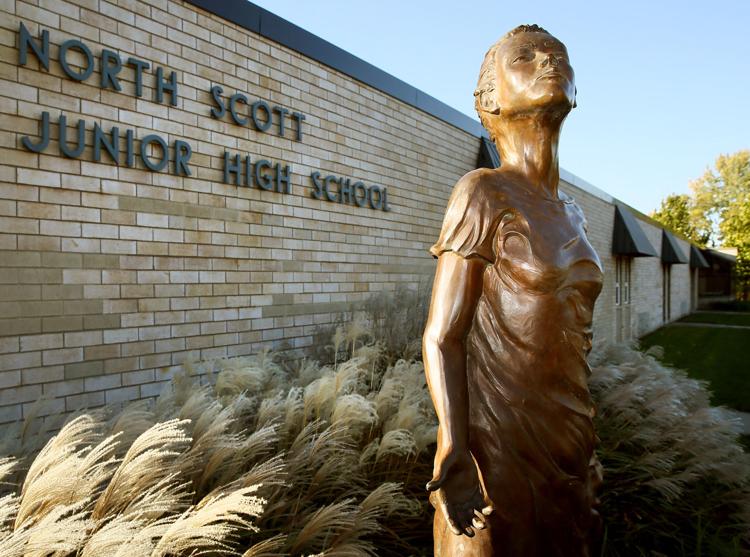 A Scott County judge has reversed his Dec. 26 ruling barring media from naming or photographing a 12-year-old boy accused of trying to shoot a teacher at North Scott Junior High School teacher in late August.
In a written order filed Wednesday, Judge Patrick McElyea said media also will not be prohibited from naming or photographing minor witnesses that may testify at trial "until further order of this Court."
According to state law, a criminal complaint that alleges a child at least 10 years old has committed a delinquent act that would be a forcible felony if committed by an adult, is a public record and shall not be confidential.
The law further states the court, the court's "designee," or law enforcement officials may release the complaint, including the identity of the child named.
The boy is charged in Scott County District Court with attempted murder, a forcible felony, assault while using or displaying a deadly weapon and carrying weapons on school grounds. Read more.
4. Niabi Zoo welcomes new baby monkey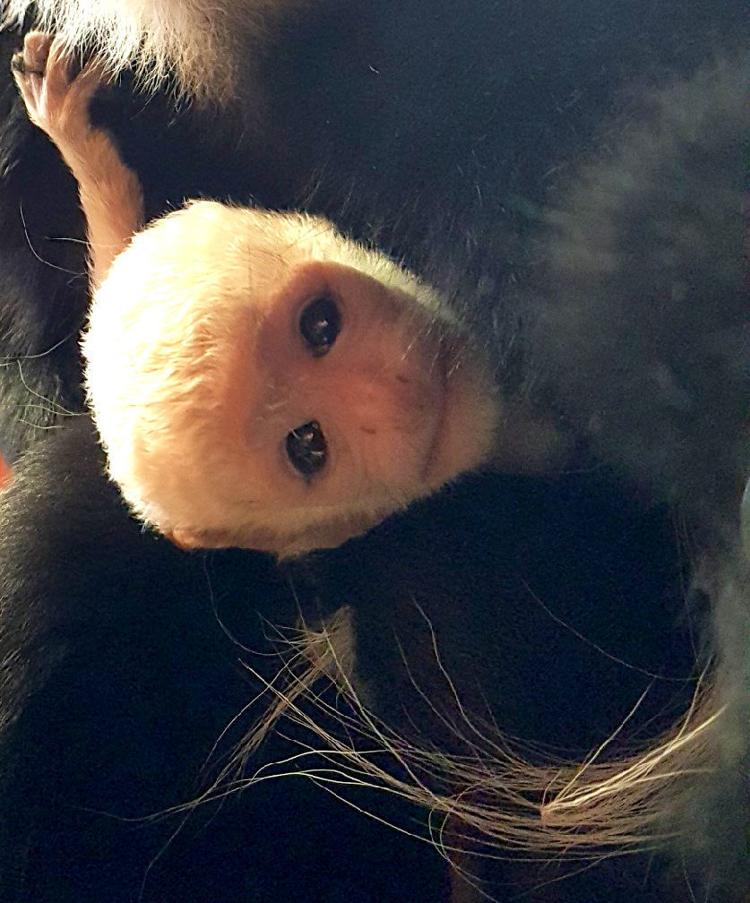 Katavi, An Eastern black and white colobus monkey has been born at Niabi Zoo.
According to a news release from the zoo, Eastern black and white colobus monkeys are found in the woodlands of tropical Africa, and the primates are favorites with zoo visitors.
Katavi, a male, was born Dec. 9, the release said. His parents are Shirati, a 16-year-old female, and Tuli, a 12-year-old male. Read more.
5. Amanda's Picks: Your weekend guide to things to do in the Q-C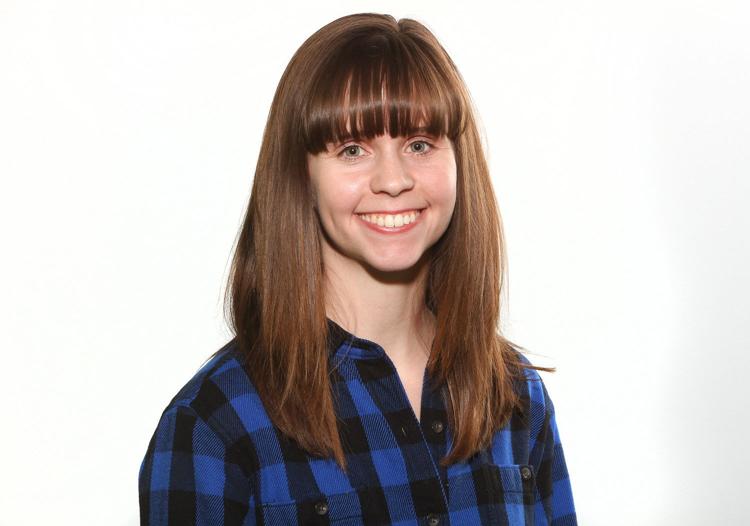 Check out entertainment reporter Amanda Hancock's list of six fun things to do this weekend in the Quad-Cities. Read more. 
6. Got a question? Ask the Times.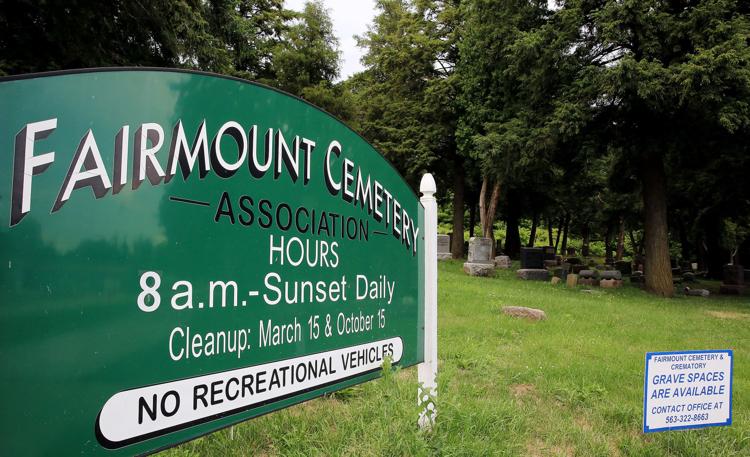 In today's edition of "Ask the Times," columnist Roy Booker fields questions about unclaimed bodies, a possible 53rd Street extension to Fairmount Street and leaving garbage carts curbside. Read his answers.
Today's photo gallery: Midwest 8-Ball Championships at the RiverCenter

American Cue Sports Championships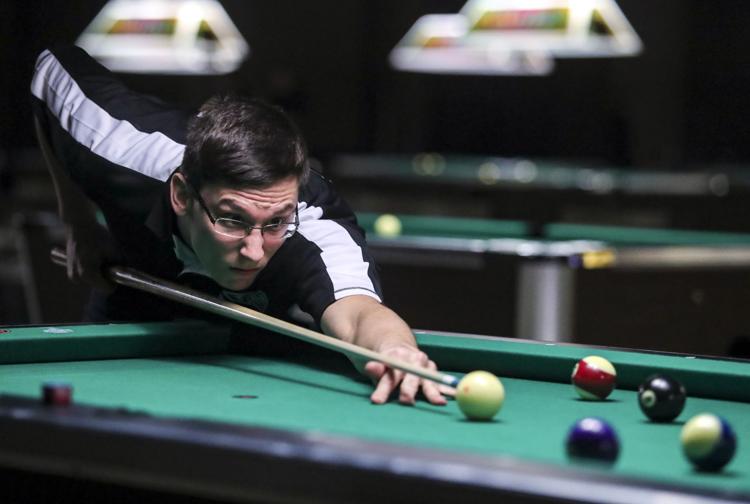 011719-qct-qca-billiards-002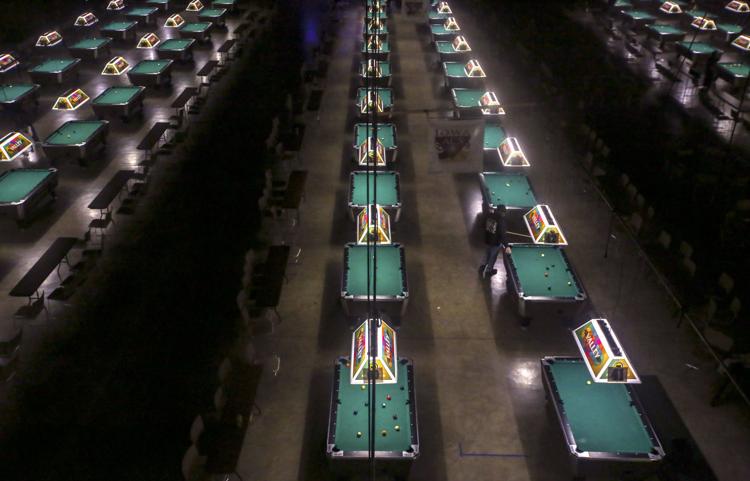 011719-qct-qca-billiards-003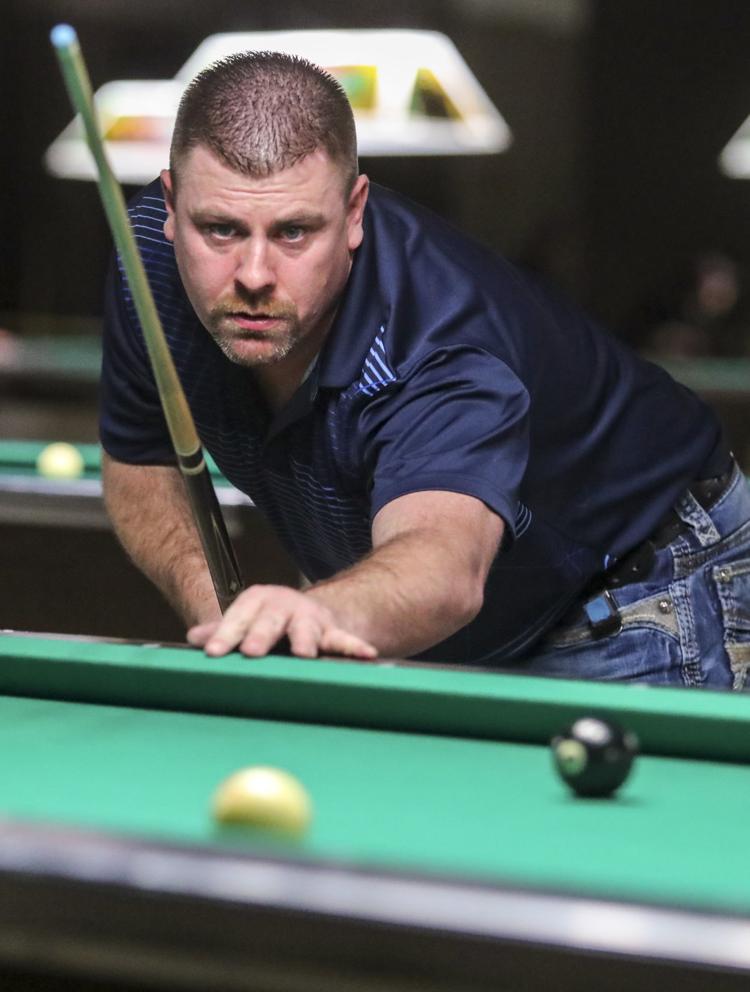 011719-qct-qca-billiards-004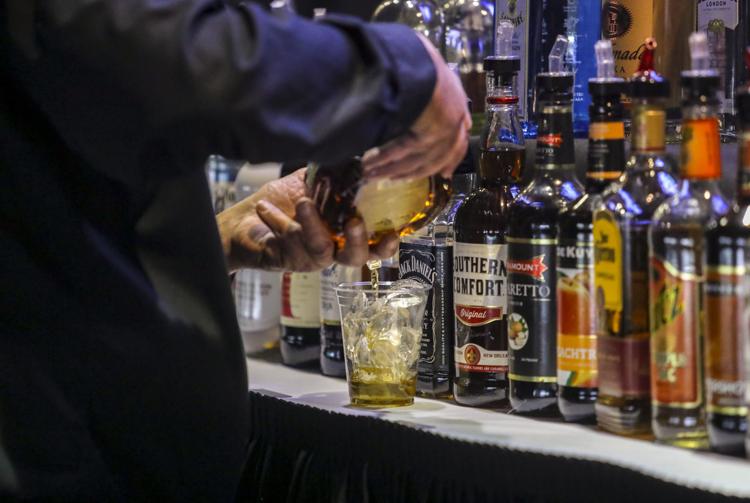 011719-qct-qca-billiards-005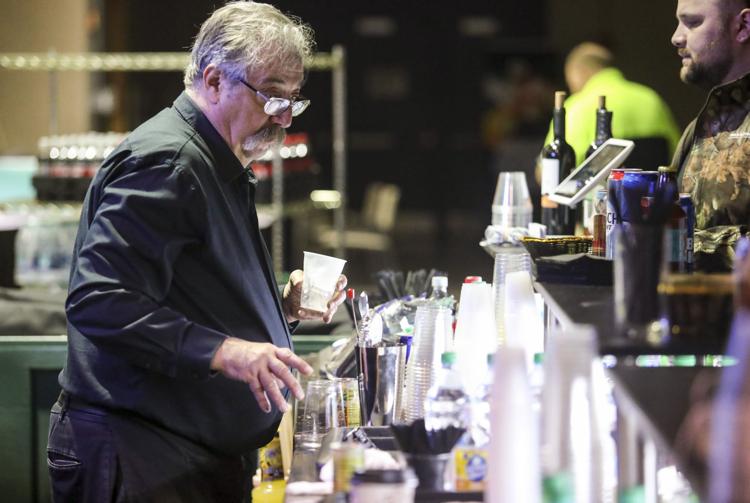 011719-qct-qca-billiards-006
011719-qct-qca-billiards-007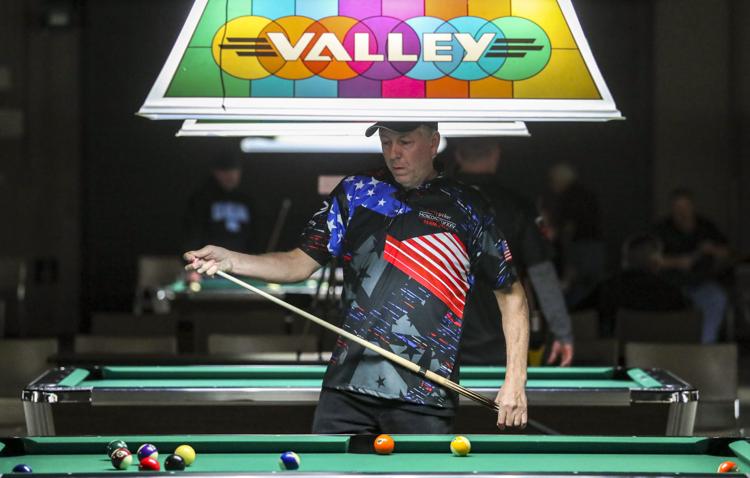 011719-qct-qca-billiards-008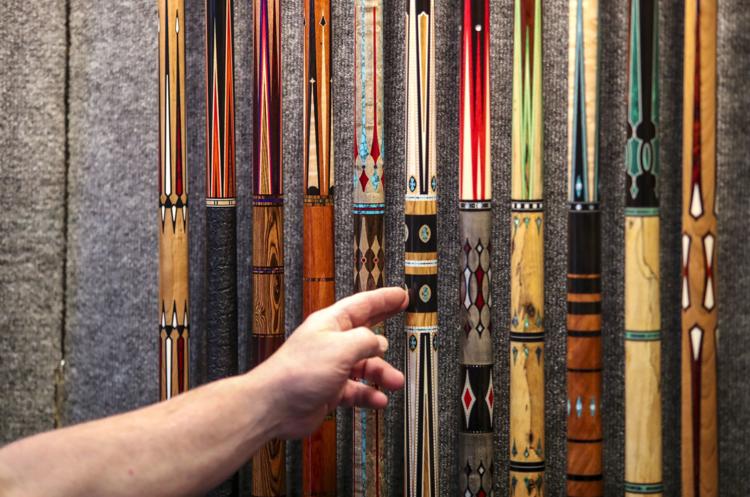 011719-qct-qca-billiards-009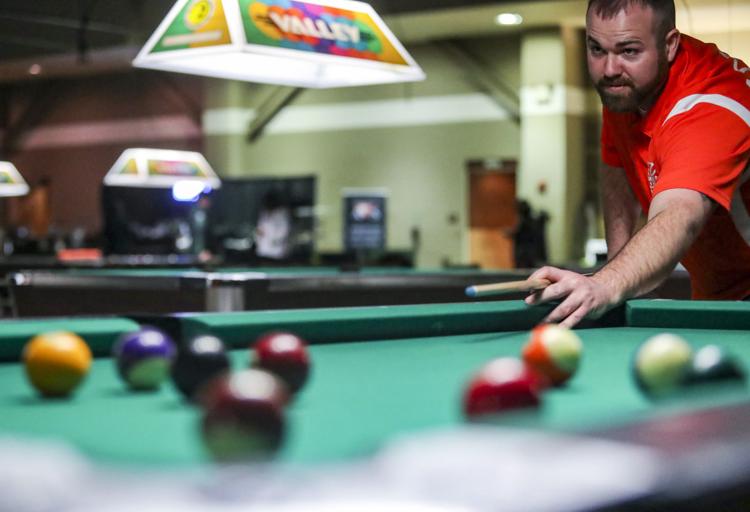 011719-qct-qca-billiards-010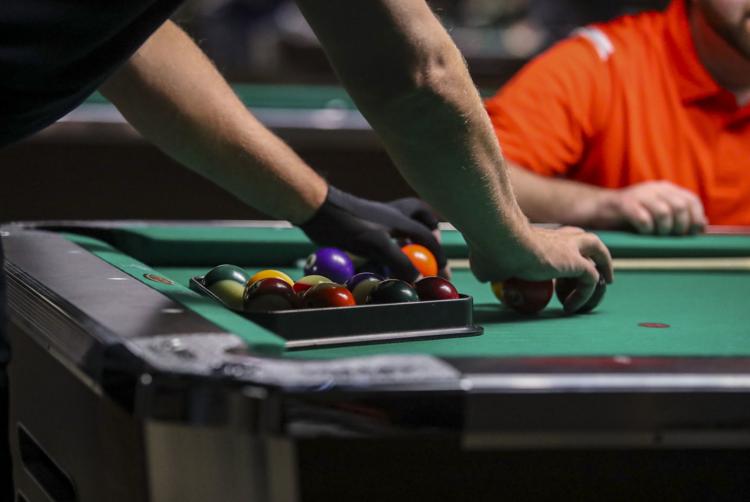 011719-qct-qca-billiards-011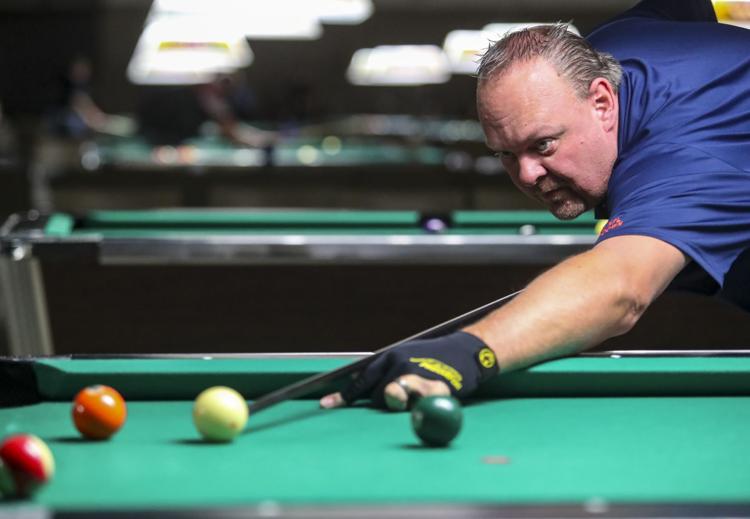 011719-qct-qca-billiards-012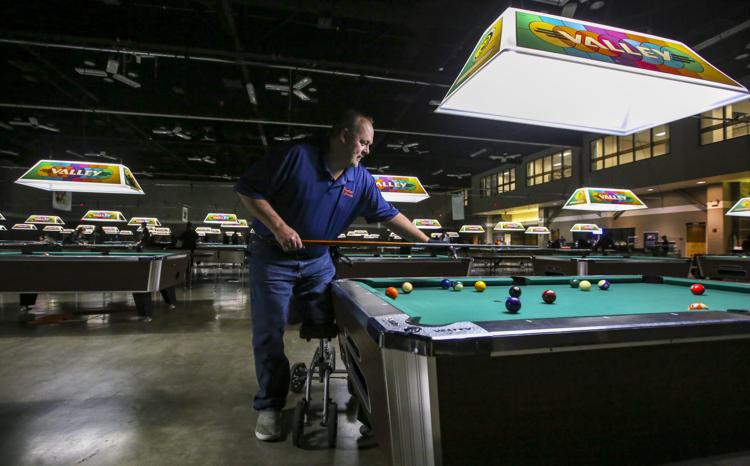 011719-qct-qca-billiards-013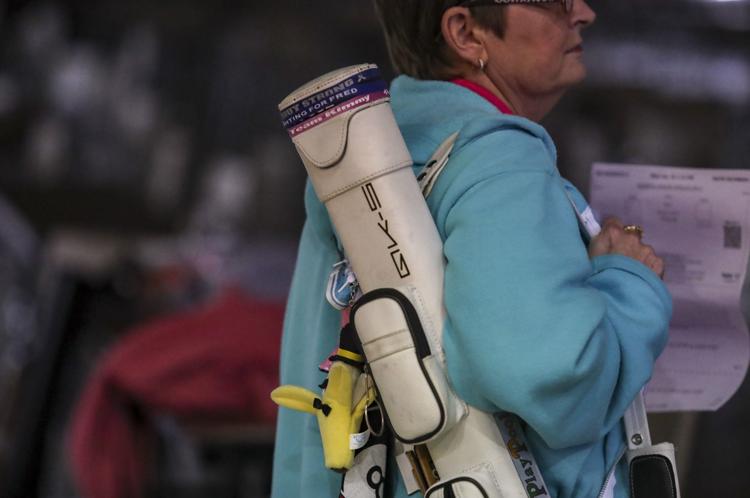 011719-qct-qca-billiards-014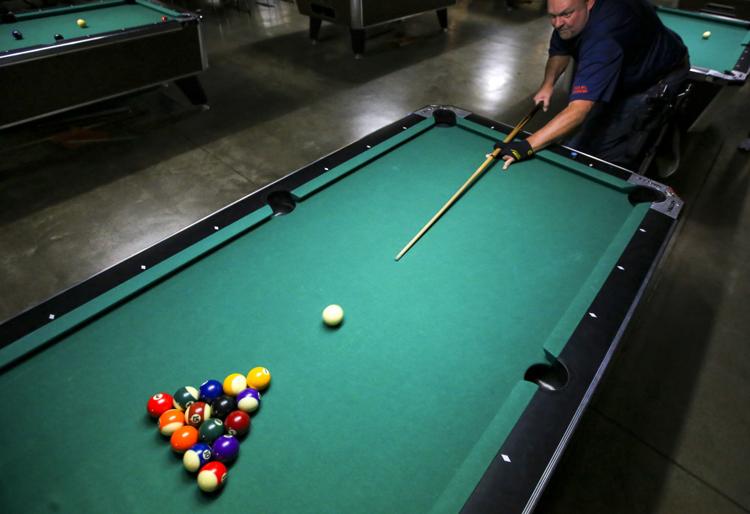 011719-qct-qca-billiards-015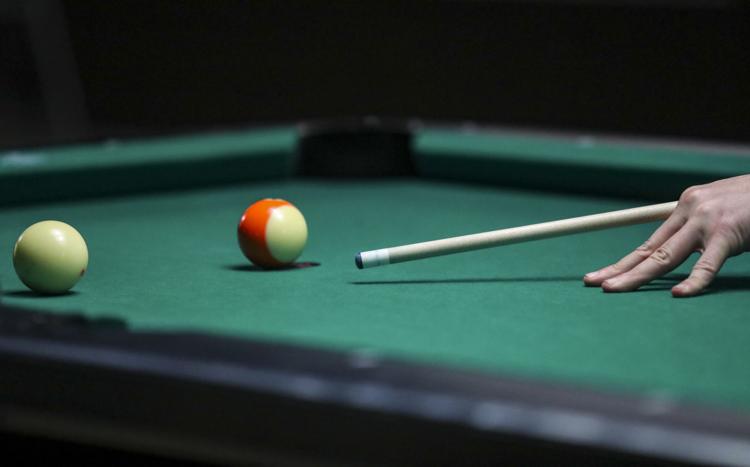 011719-qct-qca-billiards-016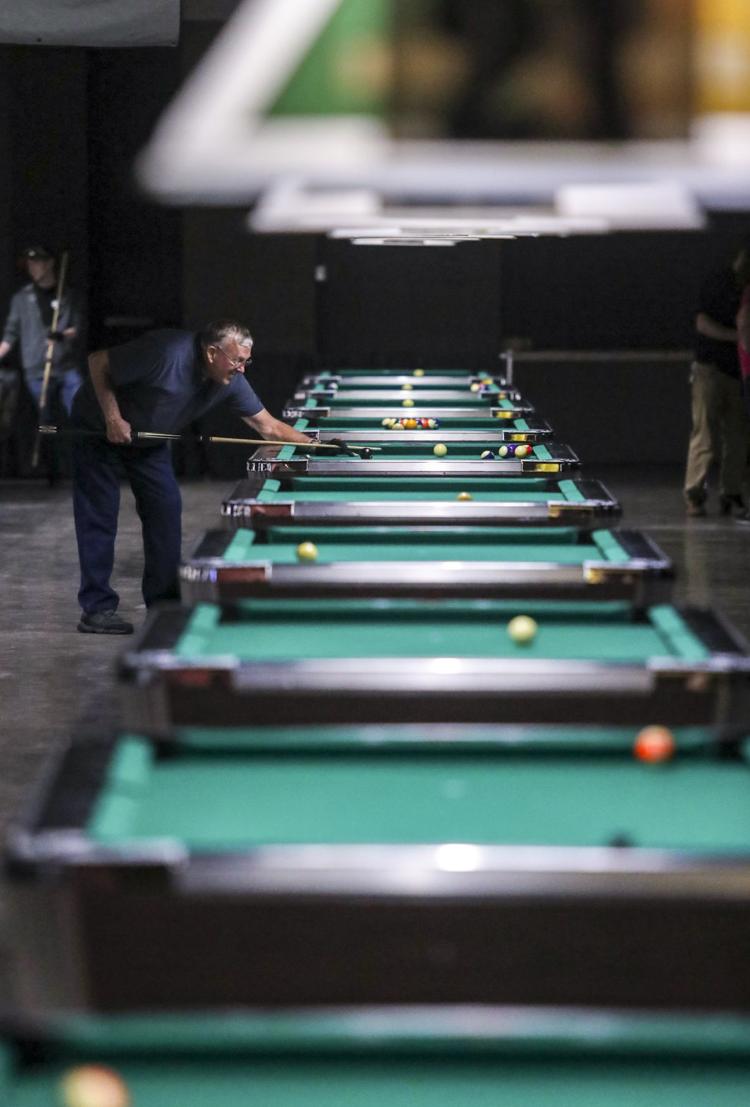 011719-qct-qca-billiards-017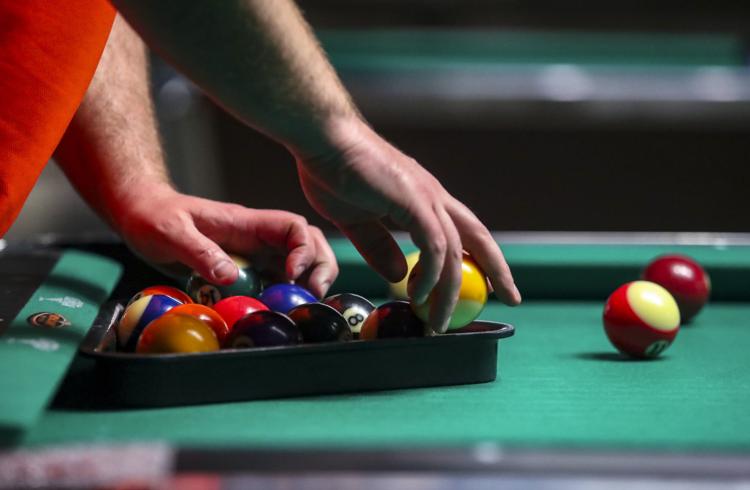 011719-qct-qca-billiards-018