A good Friday to all. We'll start the day off with a little fog and drizzle before skies become mostly sunny. The weekend brings chances of snow, freezing rain and rain. Here are the weather details from the National Weather Service.
1. Patchy fog early today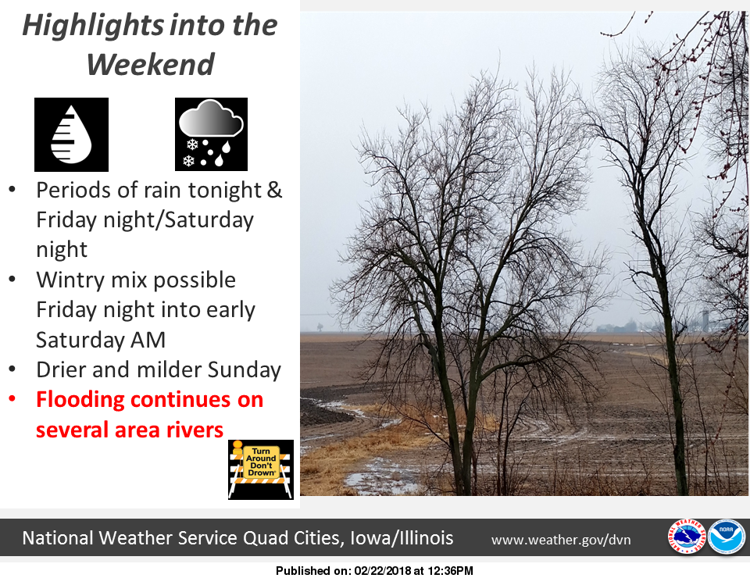 Be alert for patchy fog before 7 a.m. Otherwise the day will be cloudy then gradually becoming mostly sunny with a high near 42 degrees and a low around 27 degrees.
Saturday will see a chance of snow before 9 a.m., a chance of snow and freezing rain between 9 a.m. and 11 a.m, and a chance of rain after 10 a.m. The chance of precipitation is 50 percent with little or no ice accumulation expected and new snow accumulation of less than a half inch. Skies will be cloudy with a high near 44 degrees. East winds will gust as high as 20 mph.
Saturday night will bring rain before 3 a.m. with a slight chance of snow. The chance of precipitation is 90 percent with little or no snow accumulation expected. The overnight low will be around 29 degrees. 
Sunday will be sunny with a high near 43 degrees and a low around 25 degrees.
2. Rock River crest now estimated at 14.8 feet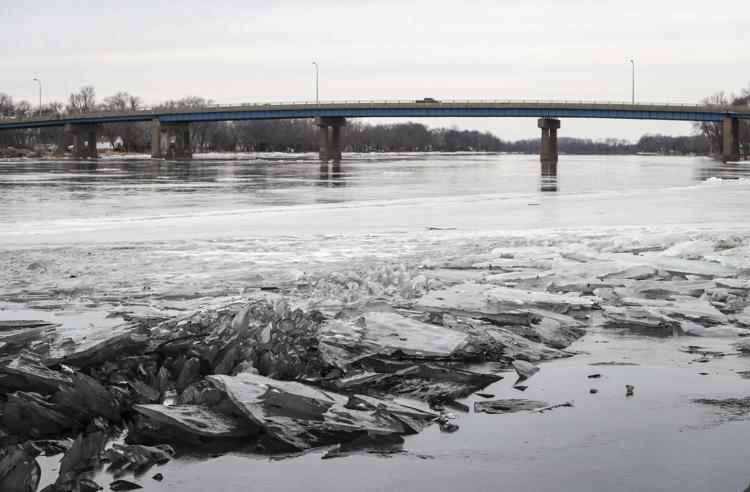 Residents along the Rock River should prepare for major flooding, "because we're going to be there," meteorologist Andy Ervin of the National Weather Service, Davenport, said Thursday night.
Ervin said the crest as of Thursday night is forecast at 14.8 feet, and is expected late tonight or early Saturday, maybe some time around midnight. Read more.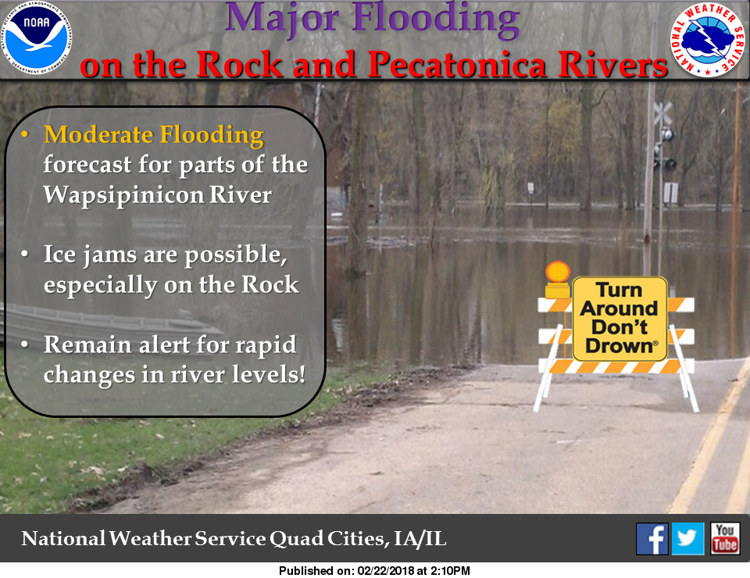 The flood warning for the Rock is in effect until further notice. Early today, the Rock was at 14.1 feet and rising. Flood stage is 12 feet.
Movements of ice and possible break up of ice jams near Joslin through Prophetstown may result in variable river levels with possible rapid rises and falls causing river levels to fluctuate.
Water is affecting South Shore Drive and North Shore Drive in Moline west of the 27th Street bridge. Water is limiting access to homes on South Shore Drive east of the I-74 bridge and portions of 60th Street south of John Deere Road.
Meanwhile up the river in Joslin,  the Rock River is at 18.1 feet and rising. The river is expected to crest this morning at 18.2 feet.
To the north, a flood warning will expire today for the Wapsipinicon River near DeWitt. Early today the Wapsi was at 11.9 feet and falling. Flood stage is 11 feet. Floodwaters are affecting homes along old U.S. 61.
3. Assumption gets over second-round hump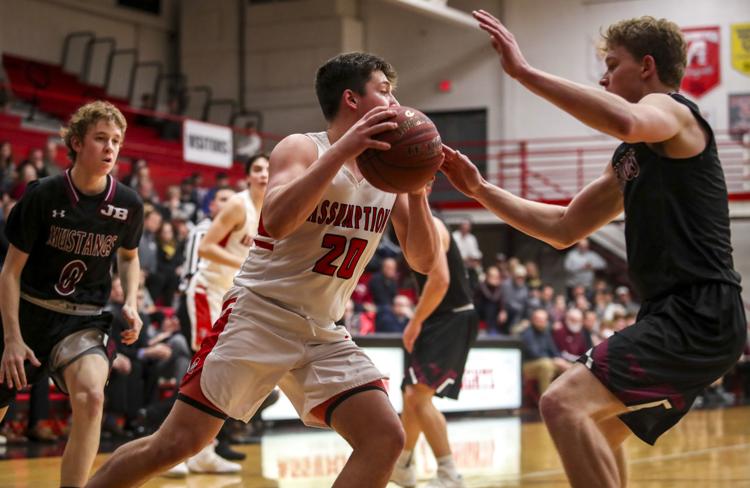 The second round of the postseason has been a nemesis for Davenport Assumption's boys basketball program the past several seasons. Dubuque Wahlert, Solon and Mount Vernon have knocked the Knights out of the playoffs each of the past three years in that round. Assumption wasn't going to allow that to happen again.
Powered by four players in double figures, a stifling defensive performance and an overwhelming 36-14 rebounding advantage, Assumption rolled past Mount Vernon 57-36 in a Class 3A substate semifinal Thursday night in its gymnasium. Read more.
4. Davenport felon walks away from Work Release Center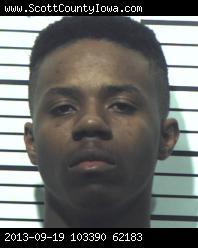 A Davenport teen who was sentenced to a total of 25 years in prison on multiple felony convictions — that includes his role in the May 7, 2011, shooting death of 19-year-old Michael Elijah Gabriel Williams in front of the Col Ballroom on West 4th Street in Davenport — has walked away from work release.
The Iowa Department of Corrections announced Thursday that Cazmiere Deshawn Graves, 22, did not report back to the Davenport Work Release-OWI Center as required. Graves is now wanted on a charge of escape. Read more.
5. Ickes: New buyers for old Scottish Rite Cathedral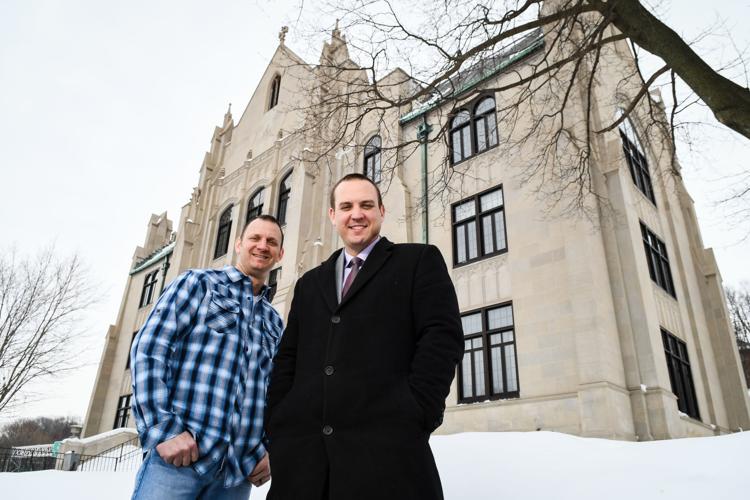 You have free articles remaining.
A pair of longtime buddies are — literally and figuratively — turning the lights on at the Scottish Rite Cathedral in Moline.
The 88-year-old stone mammoth and its parking lots take up the entire block between 7th and 8th avenues and 18th and 19th streets, just west of Interstate 74. The building spent most of its life as a primarily private space for Masonic and related fraternal organizations. While the exterior is iconic, its interior has been left largely to the imagination. Read more.
6. Davenporters share pothole beefs
Yesterday the city of Davenport tweeted out this message on social media.
Public Works crews will be working 10-hour shifts and on Saturdays for the next several weeks to reduce the number of potholes. Residents are encouraged to report potholes at https://t.co/RuC8oRfIFE or by calling 563.326.7923.

— Davenport Iowa (@cityofdavenport) February 22, 2018
That's music to the ears of many Davenport drivers who have had their teeth rattled by some massive potholes across the city. Yes, pothole season is in full swing in the Q-C
The Quad-City Times asked Davenport residents on the social network Next Door, a  free, private social network where users share news, messages and updates with their neighbors, about the worst potholes they've seen so far in Davenport.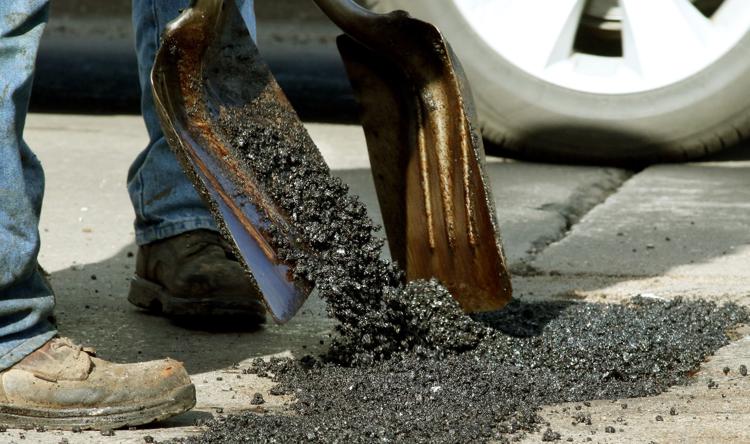 Here's a sampling of their comments.
Kelli A.: "In front of Save A Lot on Locust. Repair guys have been out so may be temporarily filled by now as I passed it last night."
Cassie V.: "Locust in general is really bad with pot holes. Especially as you are heading down by West and the Fairgrounds."
Kristopher O.: "They are terrible. Maybe the plow trucks need to stop skimming the toad after they've plowed..."
Amanda P.: "Locust for sure, stay out of the right hand lane when heading from Davenport to Bettendorf. They were out filling them the other day but it really doesn't appear that anything helped."
Abbie G.: "Agreeing with everyone, Locust is bad. Right where Davenport and Bettendorf meet are terrible, I got a new tire last Friday as a result.
Keri M.: "The neighborhoods around Adams Elementary are a beast!"
Terry N.: "3700 Harrison in front of Lujacks. It looks like a minefield. All the ditches they filled last fall are wide open again... Some of them have either steel rebar or pipes showing in the holes! Also look at Brady between 38th and 42nd St. numerous large ones!"
Tom C.: "Wasn't all that great patching the City did on East Locust great !! Sure nice to know they are spending OUR money wisely !!"
Kathy S.: "East bound Locust between Forest and Bettendorf border is really bad. Another really bad pothole in East Central Davenport is at Central Park Place and Forest Rd. You also need to be aware of the concrete pavement heaving in this area due to a collapse in the concrete around a storm water opening. Please contact our 6th ward Alderman (Rich Clewell). We need road repairs & replacements."
Patty S.: "Right in front of the entrance to the Putnam !!"
Chris E.: "NW Blvd between Kimberly and LuJack's Honda is horrible."
Hope C.: "Hit some bad ones on Hocory grove between Central Park and Locust."
MaryJo D.: "It may not be the worst but it sure looks like a war zone at 56th and Oakbrook Road."
Peggy P.: "Locust near Bettendorf. Terrible.
Mary D.: "Marquette south of Kimberly on both sides of the street."
Kurt J.: "Locust locust locust!!! I hit one Monday that I'm pretty sure went straight to China. Did I get a flat tire? No, but I would have gladly taken that over the broken harmonic pulley that broke off my crank!"