A good Friday the 13th to all. Break out the rain gear as you might need it tonight for prep football or Saturday for youth soccer. Here are the weather details from the National Weather Service.
1. Rain tonight, Saturday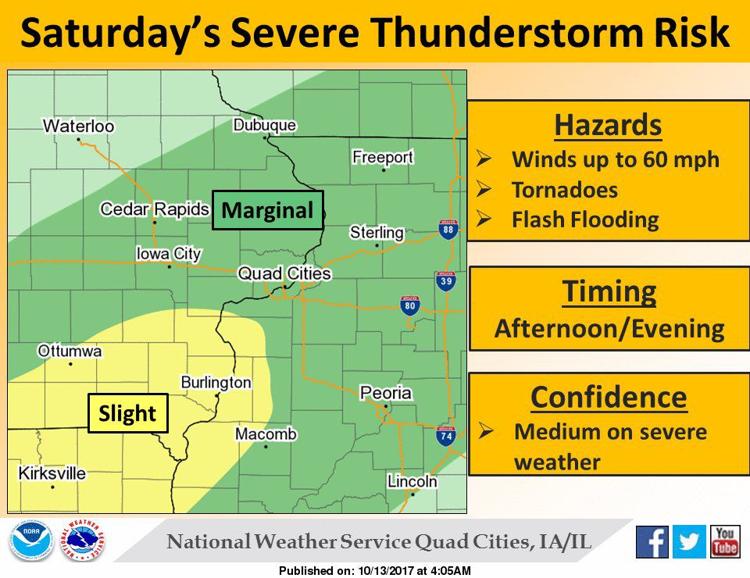 There's a slight chance of showers this afternoon. Skies will be mostly cloudy with a high near 69 degrees.
Showers and thunderstorms are likely overnight with a low temp of around 60 degrees. The chance of precipitation is 80 percent with new rainfall amounts between a quarter and half of an inch possible.
Showers and possibly a thunderstorm are likely Saturday. The high will be near 74 degrees. The chance of precipitation is 90 percent with new rainfall amounts between a half and three quarters of an inch possible.
Showers and thunderstorms are likely overnight with a 90 percent chance of precipitation and new rainfall amounts between three quarters and one inch possible.  The overnight low will be around 49 degrees with wind gusting as high as 30 mph.
Sunday will be mostly sunny with a high near 57 degrees and a low around 37 degrees.
2. Fly the W, Cubs win! Cubs win! Cubs win!
The Chicago Cubs win whenever they need to, with whatever it takes, even a seven-out save by Wade Davis to preserve a shrinking lead and a "Did that really happen?" four-run inning against Washington's Max Scherzer in a thriller of a Game 5.
That wild, bat-around fifth inning Thursday night for Chicago included Addison Russell's go-ahead two-run double, a bases-loaded hit-by-pitch, and a disputed dropped third strike followed by a throwing error, helping the defending World Series champion Cubs come back — and then hold on — to edge the Nationals 9-8 and reach the NL Championship Series for the third year in a row. Read more.
3. Woman with concealed permit chases would-be kidnapper from car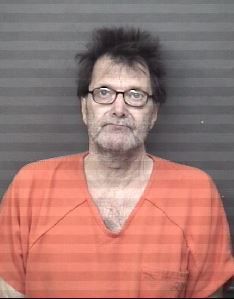 A woman with a valid permit to carry a concealed weapon was able to chase a would-be kidnapper out of her vehicle after he forced his way into it, Moline Police Detective Michael Griffin said.
Griffin said that Moline police responded Sunday afternoon to Genesis Medical Center, Silvis, for the report of an incident that occurred in the 4500 block of 27th Street, Moline.
A woman reported that a man armed with a knife forced his way into her car. During a struggle the woman received a laceration to her arm. The man then forced the woman to drive him to a rural Rock Island County location.
When they stopped in rural Rock Island County, the woman was able to reach her firearm. Read more.
4. More Q-C students than ever in agriculture classes
Hundreds of students in the North Scott School District are involved with its agriculture program, even though the number of Iowa farms is dwindling.
But that's partly the point: You don't have to live on a farm to pursue a career in agriculture.
Changing times translates into changing curriculum at North Scott, and a brand new educational component to ag — biology — has many eyes in Iowa watching to see the results. Read more.
5. Are stink bugs trying to get into your home?
You may have seen them on your window screens or even inside your house — shield-shaped, brown bugs about the size of your little fingernail. These may be the brown marmorated stink bug, a recently introduced, invasive insect from Asia that was first detected in the Quad-Cities in 2012.
The insect has joined the boxelder and Asian lady beetles as pests that like to come into homes in the fall. Read more.
6. Tonight's prep football storyline: Win ... and you're in
For three Iowa Quad-City metro programs, they can assure themselves a spot in the Class 4A playoffs with a victory Friday night. 
Bettendorf (6-1), North Scott (6-1) and Davenport Central (5-2) will be in the statewide field of 16 with victories. 
If Bettendorf beats Iowa City High and Central knocks off Muscatine, they'll clash for the district title and a home playoff game next Friday at Brady Street Stadium.
If Muscatine were to clip Central, the Blue Devils would have to upset the Bulldogs in Week 9 to have any postseason chance.
North Scott, which travels to Dubuque Senior, is aiming for a 10th straight playoff appearance. The Lancers close with Davenport West in Week 9. Read more.