1. Rain, snow, wind and thunder today for the Q-C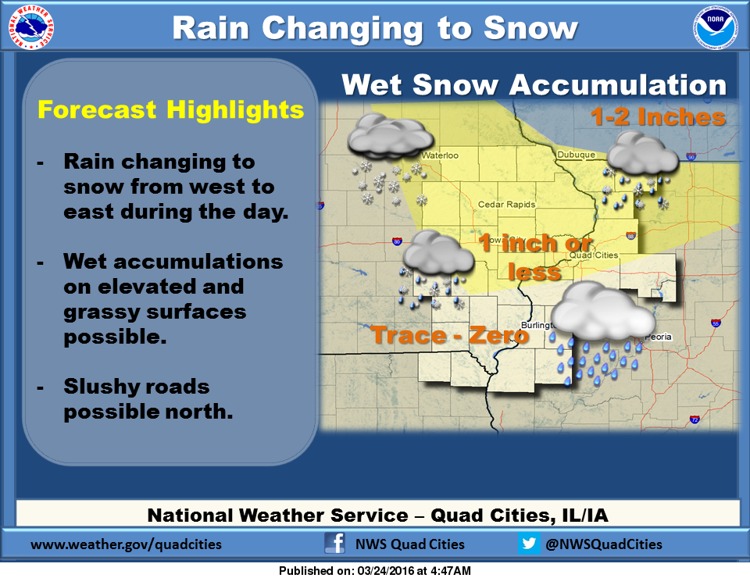 Lots of weather is on tap today for the Quad-Cities. Hang on to your hats and let's get at it.
The National Weather Service is calling for rain before 1 p.m. followed by snow with some thunder also possible. Temperatures will fall to around 33 degrees by 5 p.m. Northeast winds between 10 to 20 mph will gust as high as 30 mph. The chance of precipitation is 90 percent with new snow accumulation of less than a half inch possible.
Tonight brings a 10 percent chance of snow before 7 p.m. Skies will be mostly cloudy then gradually becoming mostly clear with a low around 24 degrees. Northwest winds between 15 to 20 mph will decrease to 5 to 10 mph after midnight. Winds could gust as high as 25 mph.
Friday will be sunny with a high near 50 degrees. Friday night brings a slight chance of rain after 1 a.m. The overnight low will be around 38 degrees.
2. Severe Weather Preparedness / Awareness Week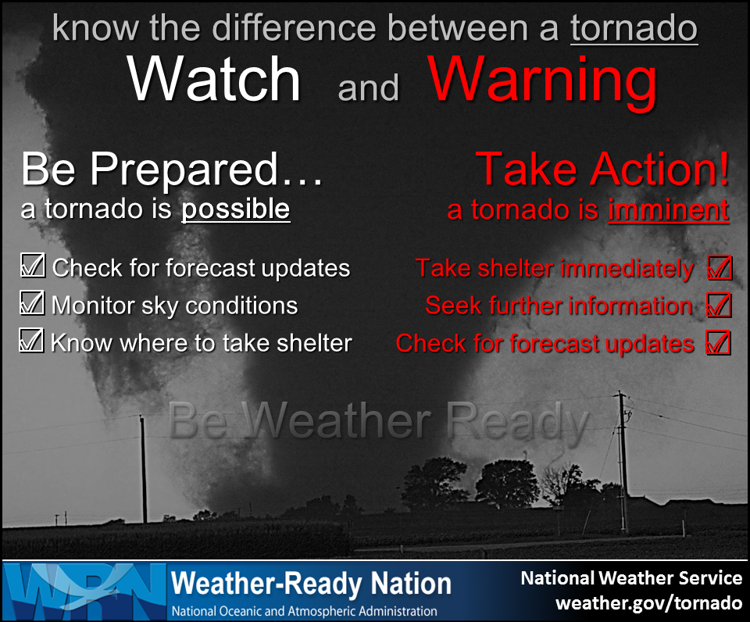 It's Severe Weather Preparedness/Awareness Week in Iowa. They're typically scheduled in the spring before the spring severe weather "season" begins. Illinois had theirs earlier in the month. Today a tornado drill will be held from 10-11 a.m. So remain calm when you hear the sirens go off. Just keep telling yourself, "It's only a drill."
3. Q-C naturalists rescue bald eagle
Scott County Conservation naturalists are crediting a good Samaritan with helping save an ailing bald eagle Wednesday. A Bettendorf woman had been observing the eagle in her tree not far from Interstate 74 for several days. She noticed something was wrong with the eagle when it came down out of the tree and fell as it waddled across the street. That's when Dave Murcia of the Wapsi River Environmental Education Center in Dixon and two other naturalists went to work. Click here for Times reporter Thomas Geyer's  story.
4. Pavement repairs on East 53rd St. in Davenport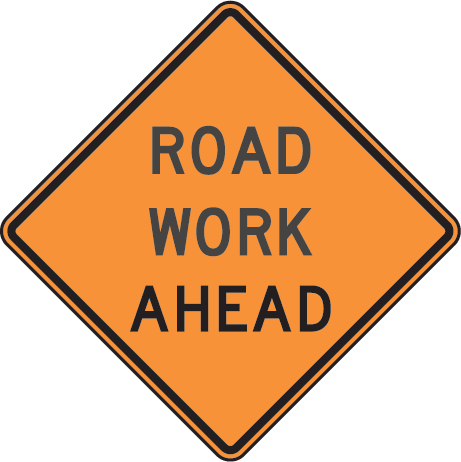 Drivers who using East 53rd Street in Davenport should be on the lookout for lane closures beginning today. The city of Davenport's website is reporting that the northern two lanes between Grand Avenue and Ekstein Drive will be closed beginning Thursday for pavement repair.
The closure is expected to be completed by April 9, depending on weather.
The closure won't affect driveway access to businesses, but you could see some traffic backups. A suggested alternate route to businesses located on the south side of East 53rd Street in this  vicinity is East 46th Street to Grand Avenue.
5. John Deere Pavilion is 'hatching' a good time
Looking for some family fun? The folks at the John Deere Pavilion, Deere & Co.'s visitor center in downtown Moline, are taking the term "nesting" to a whole new level this week as they prepare to hatch dozens of ducklings. Today, Friday and Saturday visitors to the Pavilion can see ducks hatching, sprouting their feathers and having fun in their pond and playground. And on Friday and Saturday visitors can take spring photos with the ducklings.
"Not only are the ducklings incredibly cute to see, but it is a fantastic educational opportunity for children to watch the process as it happens. It's not something you get to see everyday," said Brigitte Tapscott of the John Deere Pavilion.
6. 'I Will Survive,' dirty words routine added to U.S. registry
Did you read, or should I say, hear this? A Gloria Gaynor disco anthem, George Carlin's seven dirty words routine and coverage of Wilt Chamberlain's 100-point game are among 25 sound recordings that have been selected for preservation at the Library of Congress. Who would have thunk?