A good Thursday to all on this first day of March. Let the Madness begin. Here is the latest from the National Weather Service.
1. Scattered showers early, then gradually clearing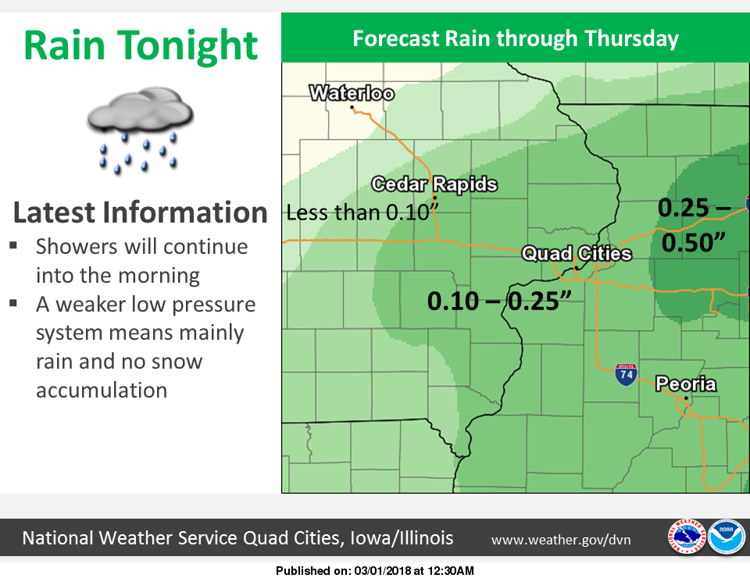 Look for scattered showers before 7 a.m. with cloudy skies through mid-morning. Skies will gradually clear with a high near 49 degrees and a low around 25 degrees. North winds around 15 mph, will gust as high as 25 mph. The chance of precipitation is 40 percent.
Friday will be mostly sunny with a high near 47 degrees and a low around 28 degrees.
Saturday will be sunny with a high near 51 degrees and a low around 32 degrees.
Sunday will be sunny with a high near 55 degrees and a low around 41 degrees. There's a 60 percent chance of overnight precipitation.
2. Sudlow student removed after making threat against school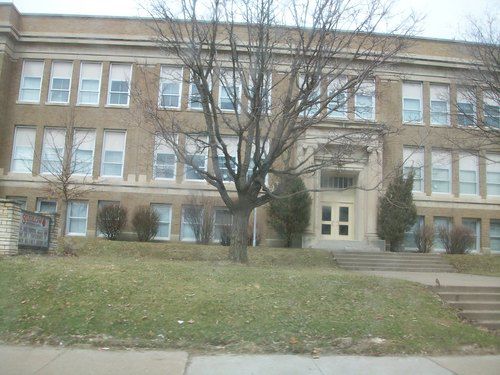 A student at Sudlow Intermediate School has been removed from school after making a verbal threat against the Davenport school earlier this week. 
The student made the threat Monday and the school sent an email to parents on Tuesday stating that Sudlow's police liaison and the Davenport Community School District administration "are working on this situation," according to Dawn Saul, a spokesperson for the Davenport School District.
Here is the full email that was sent to parents on Tuesday: 
"Sudlow administration is aware of a verbal threat against the school made by a student yesterday. The student who made the threats has been removed from school. Our Police Liaison and District Administration have been notified and are working on this situation. We take all threats seriously and the safety of our students is always out top priority."
As of Wednesday afternoon, Saul had no further comment.
3. Davenport passes first consideration of Palmer rezoning
Despite unanimously passing the first consideration of Palmer College of Chiropractic's request to rezone almost 38 acres around the school to a Planned Institutional District, the Davenport City Council recognized there are still some things about the college's development plans that need to be addressed.
The boundary of the PID roughly is 12th Street on the north; Pershing Avenue on the east; Harrison Street on the west; and 6th Street on the south, including the Perry Hill Student Residences, which are not contiguous but now are part of Palmer's campus and its growing student housing.
Under Palmer's proposal, several city streets would be vacated including: closing the blocks on 7th and 8th streets between Main and Brady streets; closing Palmer Drive between Brady and Perry streets; and closing 10th and 11th streets between Perry Street and Pershing Avenue. Read more.
4. Off Limits at John Deere Corporate Archives
Raise your hand if you knew John Deere, the inventor of the steel plow, wore a two-piece wool bathing suit. The swimwear is one of thousands of relics in a collection that comprises the John Deere Corporate Archives, housed in East Moline.
Times columnist Barb Ickes takes us inside places in the Quad-Cities that we pass by everyday in her occasional series, Off Limits Places.
Quad-City Times columnist Barb Ickes was invited to tour the archives for her occasional series, Off Limits Places. She and Times photo editor Kevin Schmidt were permitted access to the high-tech storage area where thousands of documents are maintained and frequently fetched for reference purposes today.
The archives also has two warehouses, which contain important tractors and other John Deere machinery with stories to tell. One giant row of shelves contains nothing but John Deere Gators, beginning with one of the first ever made.
But about that swimming suit: Neil Dahlstrom, manager of the archives, said Deere would have worn it when traveling to places such as Hot Springs, Arkansas, where he was known to soak in the springs. The suit was donated to the company's keepers of history by William Hewitt, who was the last member of John Deere's family to serve as CEO.
The provenance for the piece is solid, because another family member gave the suit to Hewitt before he passed it down.
Also in the collection is the first or one of the first pieces of licensed merchandise to use the slogan "Nothing Runs Like a Deere." The slogan appears on a snowmobile helmet that is part of the archive, and Dahlstrom says the slogan was created for the snowmobile line, later expanding to other products.
For a rare glimpse inside the archives, check back later this week online at qctimes.com and in Sunday's print editions of the Quad-City Times.
5. Couple seeks annexation of 400 acres into Princeton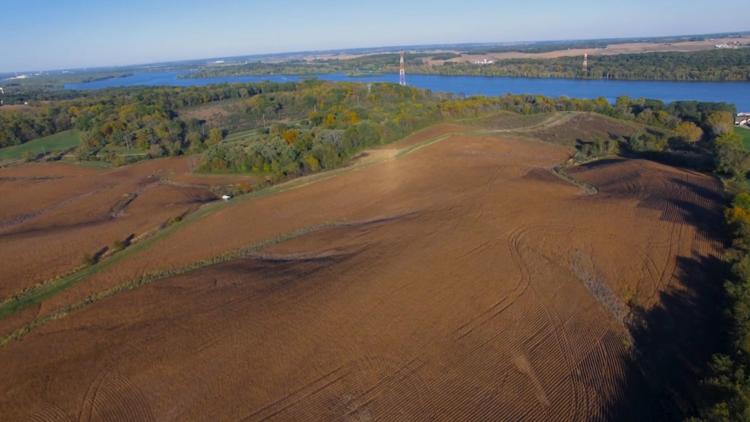 The owners of a 400-acre farm just outside of Princeton are asking the property be annexed by the city with the long-term goal of turning it into a green business park.
The proposal comes from Paul and Marijo Anderson, who farmed the land between 1970 and 1990. Paul grew up there, and that's where the couple raised their family before moving to Ohio. The land currently is rented to a relative, and the Andersons live in Solon, north of Iowa City. Read more.
6. When will Firehouse Subs open?
Quad-Citians loves their fast food. A couple weeks ago, A Times reader wanted to know when the Long John Silver's was going to reopen on Brady Street. Now a reader wants to know about Firehouse Subs on Division Street in Davenport that was supposed to open in February. Ask the Times Columnist Roy Booker carries out the answer.