A good Wednesday to all. Warmer temps and drier conditions finally return to the Quad-Cities for today. 
Here are the weather details from the National Weather Service.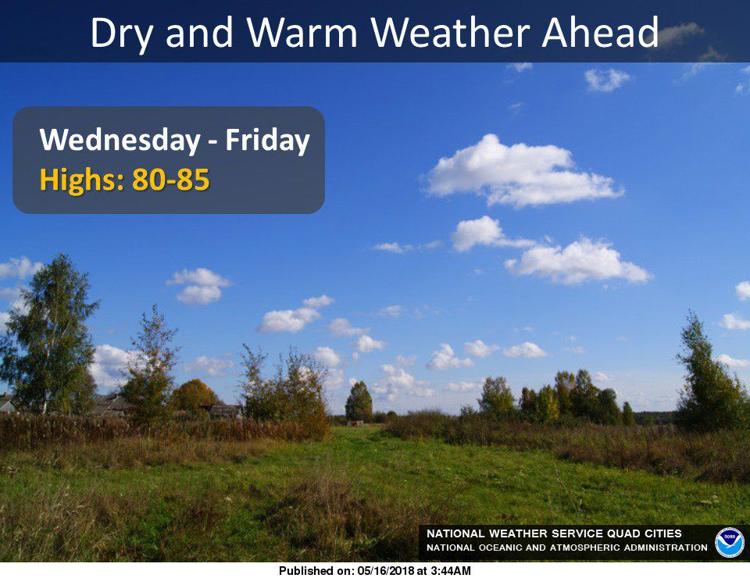 Today will be sunny with a high near 83 degrees and a low around 58 degrees.
Thursday also will be sunny with a high in the mid 80s and a low around 58 degrees.
2. Flood update: River Drive reopening in Davenport
The Mississippi River remains more than a foot over flood stage, but is receding and is expected to fall below flood stage (15 feet) by Sunday.
Davenport has reopened most of River Drive with the exception of the stretch located between Iowa and Perry streets. That stretch is expected to reopen later today.
• S. Concord Street is closed between Utah Avenue and River Dr. Wapello and Miller avenues are closed between Railroad Avenue and S Concord. These roads will be reopened after river levels recede to 13 feet and debris can be removed from the roadway.
• Beiderbecke Drive is fully closed, and is expected to reopen later this week.
• Gaines Street is closed south of River Drive. The road will reopen once the floodwalls at Modern Woodmen Park are removed. Removal should take place early next week.
• Credit Island is closed. The island will not reopen until sometime after May 21, after the river recedes below 15 feet, and roads can be cleaned.
• The riverfront recreational trail between Credit Island and LeClaire Park is closed due to water over the road. Portions may reopen later this week.
• The boat docks at Marquette Landing have been removed. The docks may remain out of the water for two to three more weeks. When re-installed, new docks are being placed.
3. Salute to Academics celebrates 300 area high schoolers
At age 17, Collin Solorzano, of Rock Island and a senior at Alleman High School, already knows which way his career is going to take him.
The son of an Army first sergeant who spent 21 years in the military, Collin is going to be following in his dad's footsteps. Except, Collin will be going through ROTC at Western Illinois University in Macomb, where he will major in business supply chain management and spend his Army career in logistics.
Collin was one of more than 300 students honored Tuesday at the Quad-City Times Salute to Academics & Achievements held at North High School, Davenport. Read more.
4. Cedar County's Clarence is on the upswing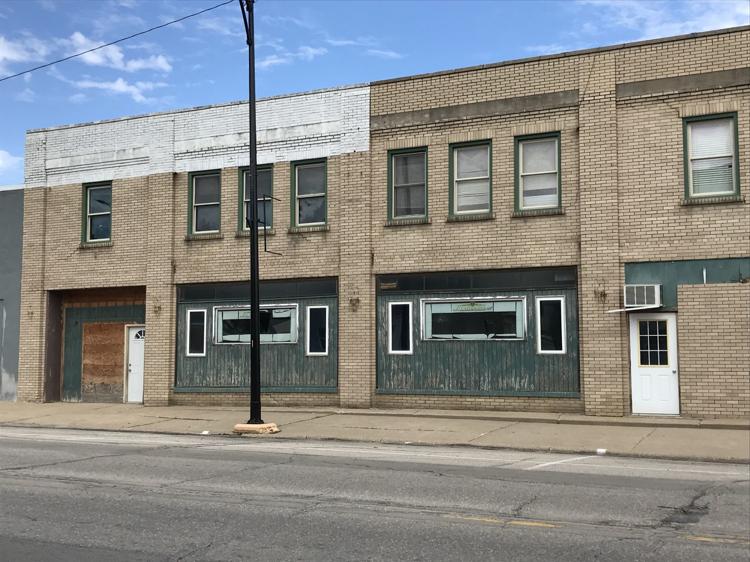 The small Cedar County, Iowa, town of Clarence — like many small communities — has to work to survive. But recent indications are that this effort is paying off.
In August, Clarence was designated as a Main Street Iowa community — the smallest in the state at 974 residents — with a mission of energizing the town. 
And in April, the town received a $100,000 grant from the Iowa Economic Development Authority to make improvements to the Clarence Motor Co., a long-vacant building that takes up about one-third of a block in the downtown. Read more.
5. Where to celebrate craft beer week in the Q-C
That includes trying out Crawford Brew Works, the microbrewery that opened on Friday at 3659 Devils Glen Road, Bettendorf, as well as the other dozen or so nano- or micro-breweries in the Quad-City area between Muscatine, Iowa, and Geneseo, Illinois.
If you need a reminder of where all the breweries are, check out our Q-C brewery map attached above.
Area breweries are hosting events this week, like Great River Brewery's ongoing Wax Wednesday's and Radicle Effect Brewerks' annual Quad-Cities Tap Takeover, which is held each year during Craft Beer Week. Read more.
Today's photo gallery: Salute to Academics red carpet