1. Showers return to the Q-C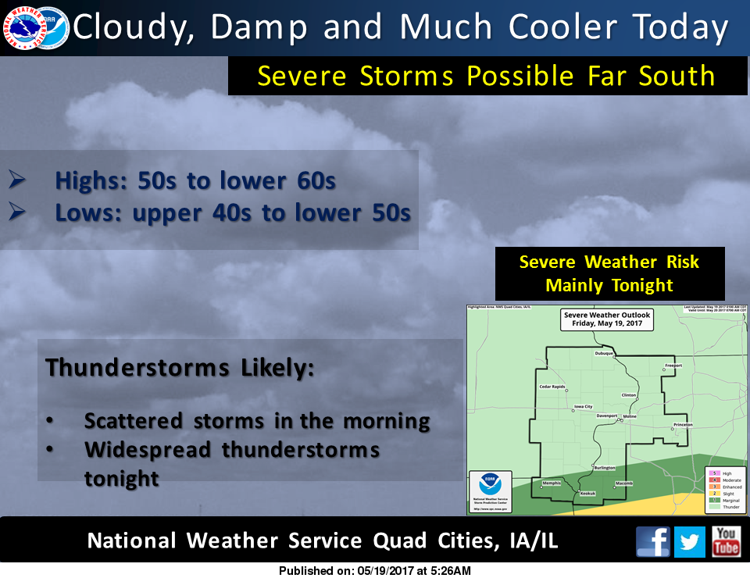 A good Friday to all. A jacket and umbrella are the equipment of the day with much cooler temps and rain on the horizon.
Here are the weather details from the National Weather Service.
Showers and thunderstorms are likely before noon. The chance of precipitation is 80 percent with new precipitation amounts between a quarter and half of an inch possible. The high for the day will be near 53 degrees. East winds will gust as high as 25 mph.
Tonight there's a chance of showers and thunderstorms, then occasional showers after 1 a.m. The chance of precipitation is 80 percent with new rainfall amounts between a half and three quarters of an inch possible. The low will be around 51 degrees.
Saturday: Showers and possibly a thunderstorm likely before 1 p.m., then a chance of showers in the afternoon. The chance of precipitation is 80 percent with new rainfall amounts between a half and three quarters of an inch possible. The high will be near 75 degrees. Winds could gust as high as 25 mph.
Saturday night: There's a chance of showers until 1 a.m. Skies will be mostly cloudy with a low around 50 degrees.
Sunday: Skies will be partly sunny with a high near 62 degrees and a low around 48 degrees.
2. Planned Parenthood closing its Bettendorf clinic
Planned Parenthood of the Heartland announced Thursday that is it closing four of its clinics in Iowa, including the one in Bettendorf.
Suzanna de Baca, president and chief executive of the organization, said the closures are directly attributable to the budget bill signed last week by Gov. Terry Branstad, which change the state's family planning network. The legislation gives up federal Medicaid funding for the network and replaces it with state money, thereby allowing the state to prohibit funding from going to Planned Parenthood. Read more.
3. Palmer College planning $50 million in campus improvements
Palmer College of Chiropractic unveiled preliminary plans Thursday for more than $50 million in campus improvements, including new student housing, athletic fields, and classroom and building upgrades, which it plans to make over the next 10 years.
The long-term master plan includes a $14 million project already underway that will is adding a new athletic facility and will improve the northwest gateway to the campus, said Aaron Christopher, Palmer's vice chancellor. Read more.
4. Trimble family sells historic Moline home
After seven years of trying, Moline's Trimble family has sold what is believed to be the city's oldest home. Located east of the Interstate 74 bridge, at 6th Avenue and 21st Street, the Wilson House was spared the wrecking ball that took down neighboring properties in the path of the new bridge.
The Trimbles wanted to make sure the old brick house continued to escape demolition. Read more.
5. Q-C United Way defends new approach to allocations
The United Way of the Quad-Cities Area will spread out $3 million in community investment to 38 different organizations next year, but the decision to leave out several funded in previous years has caused confusion.
Organizations such as the CASI, the American Red Cross of the Quad-Cities Area, Friendly House, Boy Scouts of America, Girls Scouts of Eastern Iowa and Western Illinois were left with little to no United Way funding, forcing them to scramble as the current fiscal year comes to a close. Read more.
6. Davenport cuts ribbon on new play area at Fejervary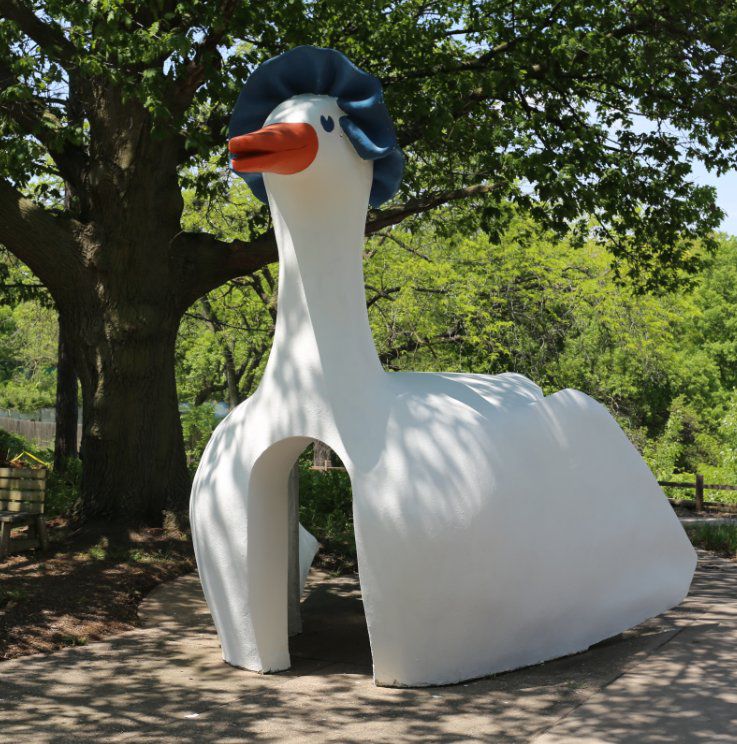 The city of Davenport Parks and Recreation Department is hosting a ribbon  cutting for Fejervary Learning Center's new natural play area.
Saturday's ceremony begins at noon, according to the city's website. Along with the unveiling of the new play features, there will be bounce houses, a petting zoo, and nature crafts available for the free Fejervary Family Fun Day event.
Davenport Parks and Recreation's long-term goal is to bring all of its current play areas within the park together around the Mother Goose nursery rhyme theme.
The new play area ties into the nursery rhyme theme, with the children's story Itsy Bitsy Spider, and uses storybook imagery to explain water conservation concepts.
The play area includes a life-sized water table interactive play area, where parkgoers can pour 'water down the waterspout'. It will also include interactive signage that allows visitors to hear the sounds of water, an Itsy Bitsy Spider crawler in which visitors can climb in the web and learn about the importance of water habitats and ecosystems, and environmental themed play elements modeled after water nature areas (logs, boulders, dragonflies and more).