A good Friday to all. First things, first.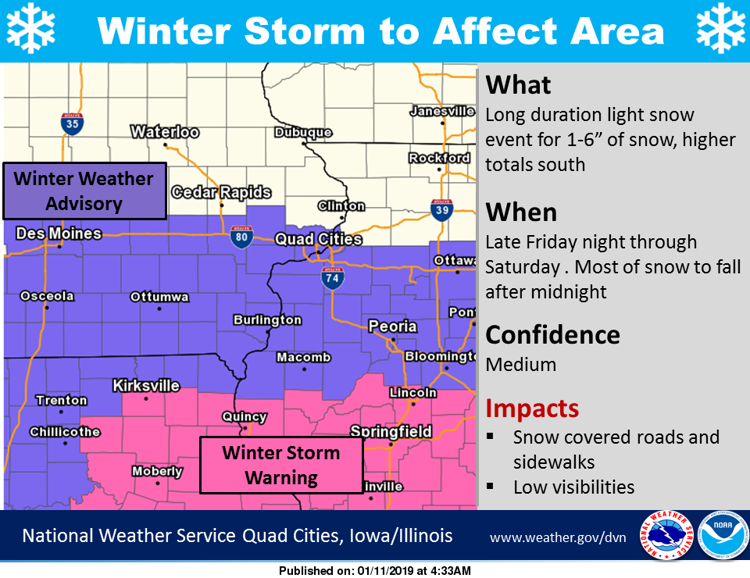 The National Weather Service has issued a Winter Weather Advisory for the Quad-City region from midnight to 6 p.m. Saturday.
The advisory states that a "developing storm system over the southern Plains will move across the lower Mississippi River Valley today through Saturday. This system will spread light to sometimes moderate snow across much of the Mississippi River Valley beginning this evening, which may create travel difficulties into the early weekend.
Snowfall totals will range from around 2-4 inches along the I-80 corridor, to 4-6 inches along and south of the Iowa 34 corridor.
• WHAT: Snow expected. Total snow accumulations of 2 to 5 inches expected, with the highest amounts south of Interstate 80.
• WHERE: Portions of east central and southeast Iowa and northwest Illinois.
• WHEN: From midnight Friday night to 6 p.m. Saturday.
• ADDITIONAL DETAILS: Plan on slippery road conditions.
A Winter Weather Advisory for snow means periods of snow will cause primarily travel difficulties. Expect snow covered roads and limited visibilities, and use caution while driving. Additional information can be found at www.weather.gov/quadcities
1. Snow's arrival expected overnight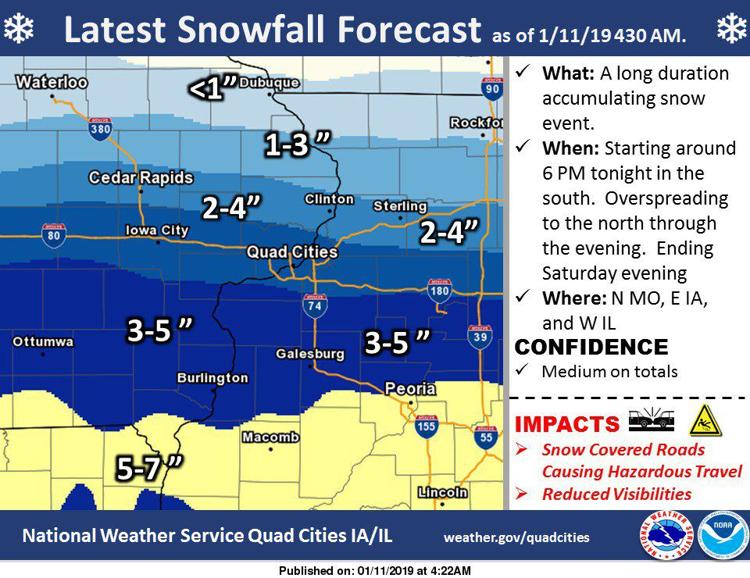 Today the Quad-Cities will see increasing clouds with a high near 33 degrees.
Then comes the snow. Snow is expected to hit the Quad-Cities after 1 a.m. The chance of precipitation is 90 percent with new snow accumulation of around an inch possible.
Saturday will see more snow. The high for the day will be near 33 degrees. The chance of precipitation is 100 percent with new snow accumulation of around 2 inches.
Saturday night brings a 20 percent chance of snow before midnight. Skies will be mostly cloudy with a low around 24 degrees.
Sunday will be partly sunny with a high near 33 degrees and a low around 19 degrees.
While we're not expected to get much snow, such is not the case in central and southern Illinois which has prompted this item from the Illinois Emergency Management Agency:
Illinoisans encouraged to prepare for cold, snow this weekend
With the threat of accumulating snow this weekend, the Illinois Emergency Management Agency (IEMA) has begun coordinating with other state agencies on response capabilities if assistance were to become necessary.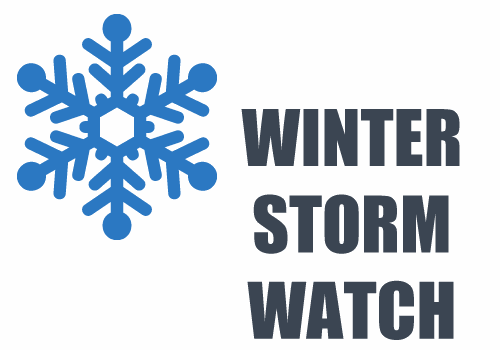 The National Weather Service (NWS) has issued multiple winter storm watches throughout the state as a way to notify the public of the impending weekend weather. According to the National Weather Service, heavy snow is likely over portions of central and southwest Illinois, with accumulations of six inches or more. State and local emergency officials urge the public to take time now to prepare family, home and vehicle for everything from a dusting of snow to a major winter storm.
Preparedness tips include:
• Familiarize yourself with the various weather alert definitions, so you know how to keep your family safe;
• Winterize your home and take steps to prevent frozen water pipes;
• Make an emergency plan for you and your family;
• Build a home emergency kit with items such as food, water, medications, NOAA weather radio, flashlight and spare batteries;
• Stock your vehicle with the emergency items such as a phone charger, blankets, extra clothes, jumper cables, kitty litter or sand, a flashlight and snow scraper in the event you must travel;
• If you lose power, seek out a warming center in your area until the power can be restored.
2. Davenport firefighters battle blaze at Concord Street home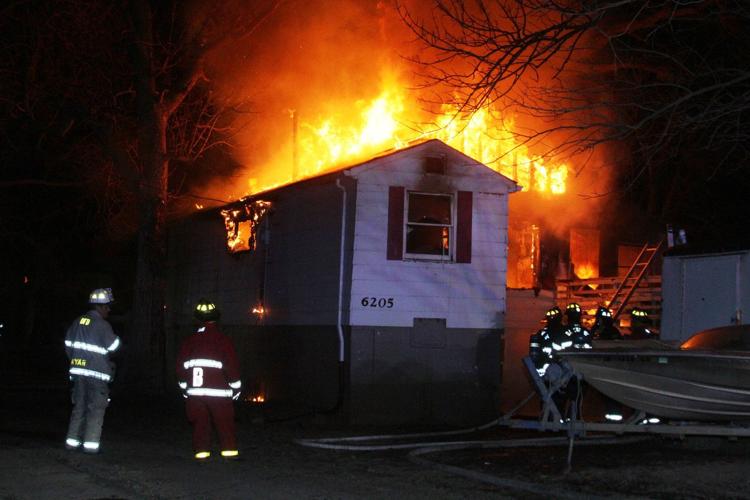 Davenport firefighters battled a fire at 6205 S. Concord St. Thursday night. Firefighters were dispatched to the home at 10:56 p.m.
The fire engulfed the one-story, single-family, pressed-board house that was built in 1940, according to the online records of the Scott County Assessor.
Officials report one person suffered minor injuries working to get others out of the house. Officials did not know how many people were in the home when the fire broke out. The injured person was taken to Genesis Medical Center-East Rusholme Street, Davenport, for treatment.
As there are no fire hydrants in that area along the Mississippi River, Davenport firefighters called for mutual aid from Blue Grass and Buffalo fire departments which responded with tanker trucks. Read more.
3. Couple facing burglary, assault charges after attacking would-be burglar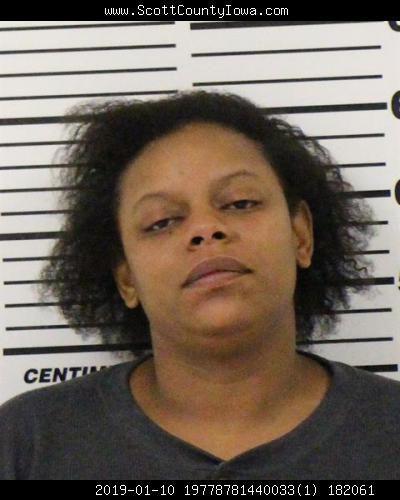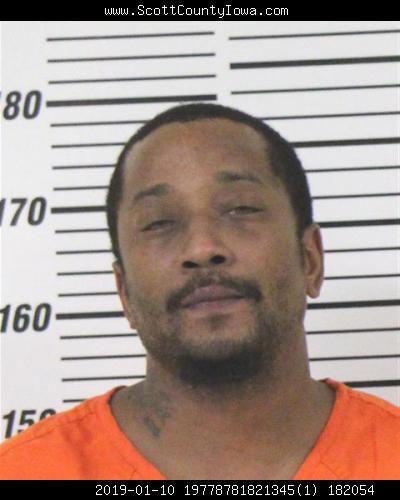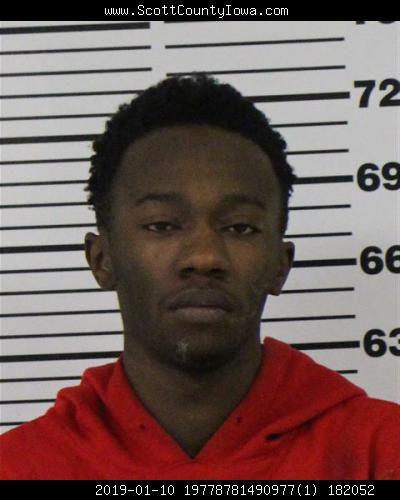 A Davenport couple each are facing burglary and assault charges after they chased a would-be burglar from their apartment and broke into his to assault him with a knife and a baseball bat.
Jessica Elaine Cosby, 33, and Shawn DuJuwan Palm 37, both of 1316 E. 37th St., Apt. 3, are each charged with one count of first-degree burglary. The charge is a Class B felony that carries a prison sentence of up to 25 years.
Each person is also charged with one count of assault while displaying a dangerous weapon and third-degree criminal mischief. Each of those charges is an aggravated misdemeanor that carries a prison sentence of up to two years.
According to the arrest affidavits filed by Davenport Police officer Austin Ryckeghem, at 11:42 p.m. Wednesday patrol officers were sent to 3805 Bridge Ave., Apt. D, for a disturbance.
Ryckeghem said in the affidavit that Cosby and Palm were at home when Labarian Tray Tripplett, 19, of the Bridge Avenue address, attempted to break in to their apartment.
Cosby and Palm caught Tripplett as he was trying to get into their apartment and an argument ensued. Read more.
4. Plea for prayers from firefighter's dad: 'My son needs them'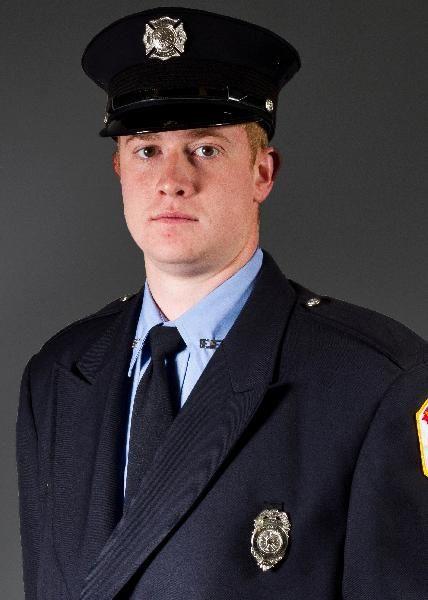 The father of critically injured Clinton firefighter Adam Cain is "begging" for prayers for his son.
Kevin Cain wrote Thursday his son's condition remains critical, and "He is literally fighting for his life now."
The younger Cain sustained life-threatening injuries early Saturday in a grain-silo explosion at the ADM plant in Clinton. The blast killed Lt. Eric Hosette, 33, who left behind a wife and young daughter. A public visitation for Hosette is planned for Friday.
Meanwhile, Cain's father said his family is doing its best simply to "function" as Adam battles for survival. Read more.
5. Recognize these people?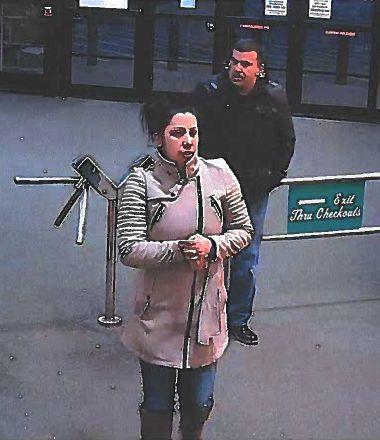 CrimeStoppers of the Quad-Cities is seeking the public's help in identifying the pictured people.
According to CrimeStoppers,
"On December 22, the victim made a return at Menards in Moline and accidentally dropped the merchandise return card for $123 that he received back. Video surveillance shows this male suspect pick up something after the victim walked away from the register. The man then used the card three different times and used all the money on the card. He was with a woman who is described as Hispanic with dark hair, wearing a long tan coat, blue jeans and brown boots. The man is described as Hispanic with dark hair, wearing a black coat, blue jeans and black dress shoes.
"The suspects purchased a Christmas tree with the stolen/lost card."
Anyone with information about the identity of these suspects are asked to call the CrimeStoppers tip line 309-762-9500 or submit your tip using the free app P3 Tips. It could mean a cash reward.
6. Fake perches don't fool eagles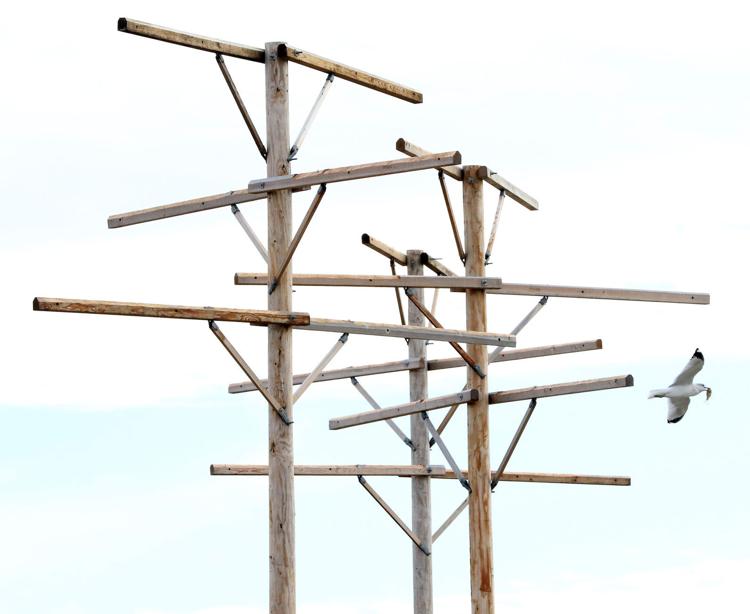 So far, wintering bald eagles aren't much using the three wood perches installed in the fall of 2017 at Lock & Dam 14 near LeCLaire to replace two trees that were cut down.
The trees — the go-to perches for eagles fishing in the open water below the dam — were cut down in January 2017 by the U.S. Army Corps of Engineers because they were storm-damaged and dying and deemed a hazard to visitors.
Their removal caused immediate concern among eagle watchers such as Jay Brooks, of the Quad-City Photography Club, because the site was "probably the best place in the country to see eagles fishing in the river."
As a possible substitute, the club spearheaded a cooperative effort involving the Corps and MidAmerican Energy Co. to install artificial perches: three 40-foot utility poles, each with six, 8-foot "branches" braced onto the poles, sticking out like spokes.
A few eagles used them last February, toward the end of the season, but mostly they were ignored, said Kyle Slifka, who works near the lock and dam as a natural resources specialist for the Corps' Mississippi River Project office.
In an effort to attract more eagles, a MidAmerican maintenance crew subsequently returned with a bucket elevator and, using a grinder, roughed up the spokes to make them more like real branches, Slifka said. The crew also narrowed the circumference so eagles could get a more comfortable grip with their talons, he said. Read more. 
Bald Eagle Days in the Quad-Cities kick off today and runs through Sunday. It will be open to the public from 4-8 p.m. Friday, 10 a.m. to 8 p.m. Saturday and 10 a.m. to 5 p.m. Sunday at the QCCA Expo Center, 2621 4th Ave., Rock Island. Admission costs $6 for adults and $1 for kids ages 6-15. Admission is free for kids 5 or younger. From 4 p.m. to 8 p.m. on Friday, kids under the age of 15 get in for free. You can buy passes at the door or by visiting qccaexpocenter.com/bald-eagle-event.html.
Today's photo gallery: Bettendorf beats Central 61-50

011019-Central-Bett-010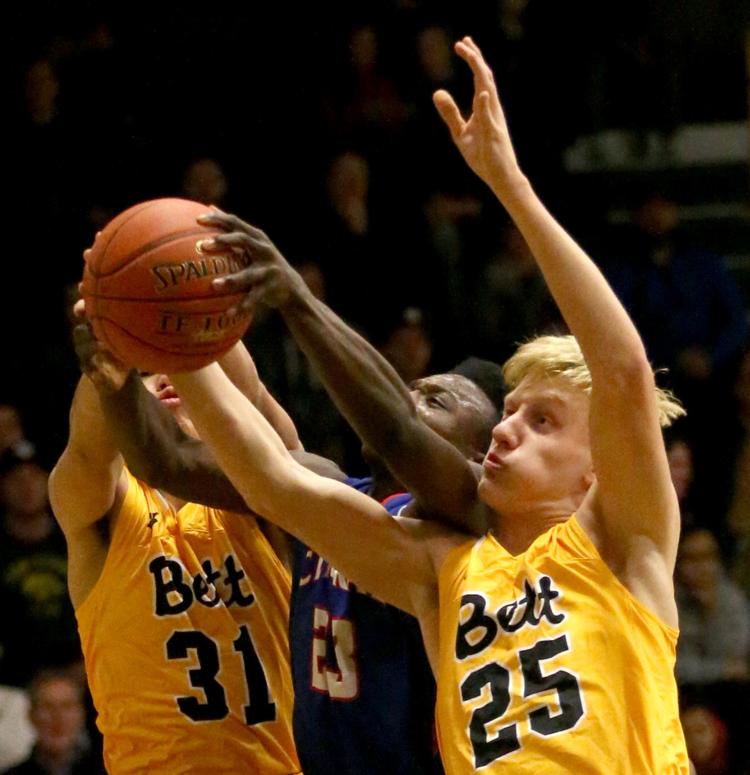 011019-Central-Bett-001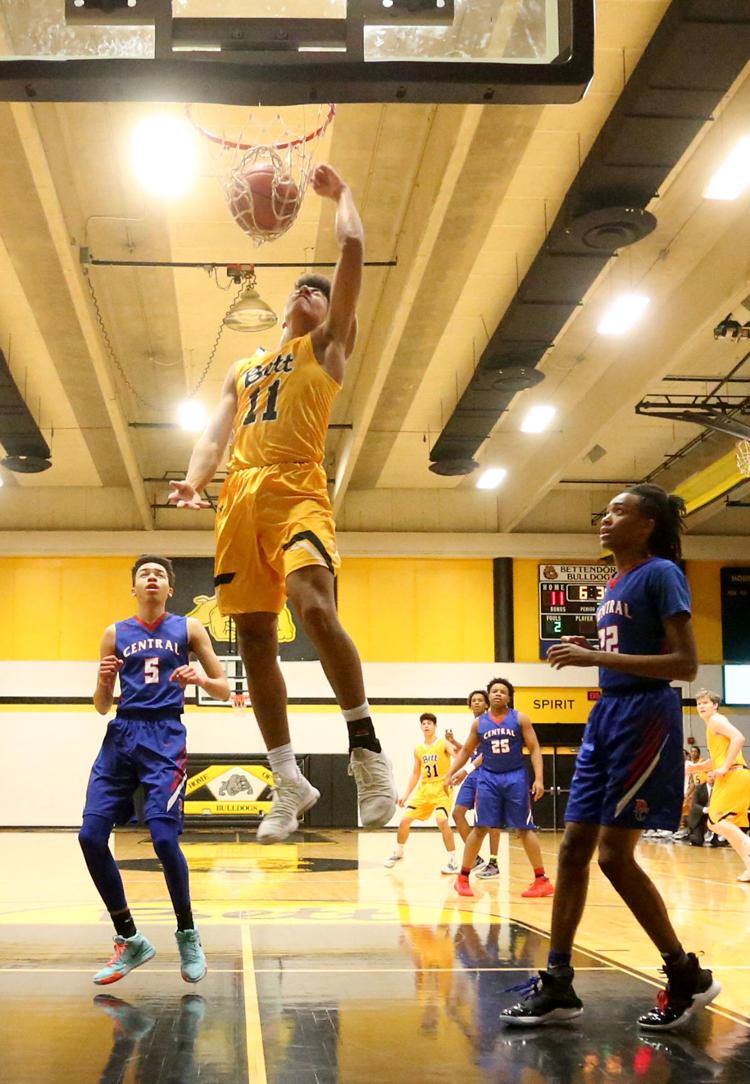 011019-Central-Bett-002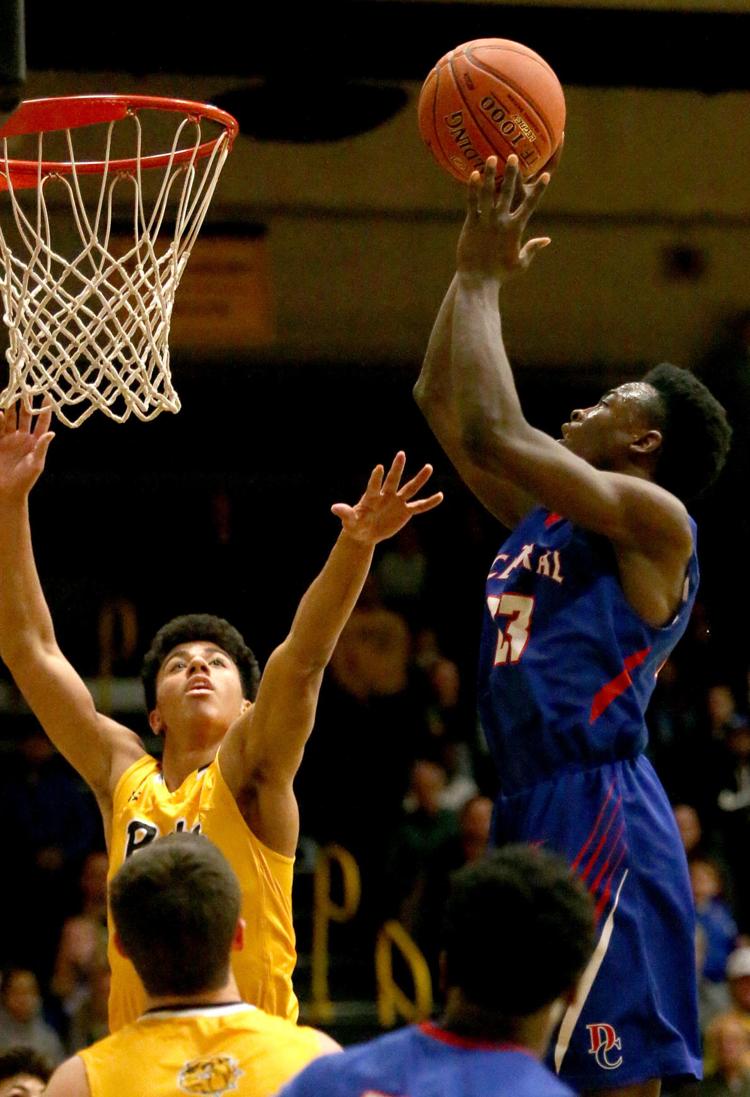 011019-Central-Bett-003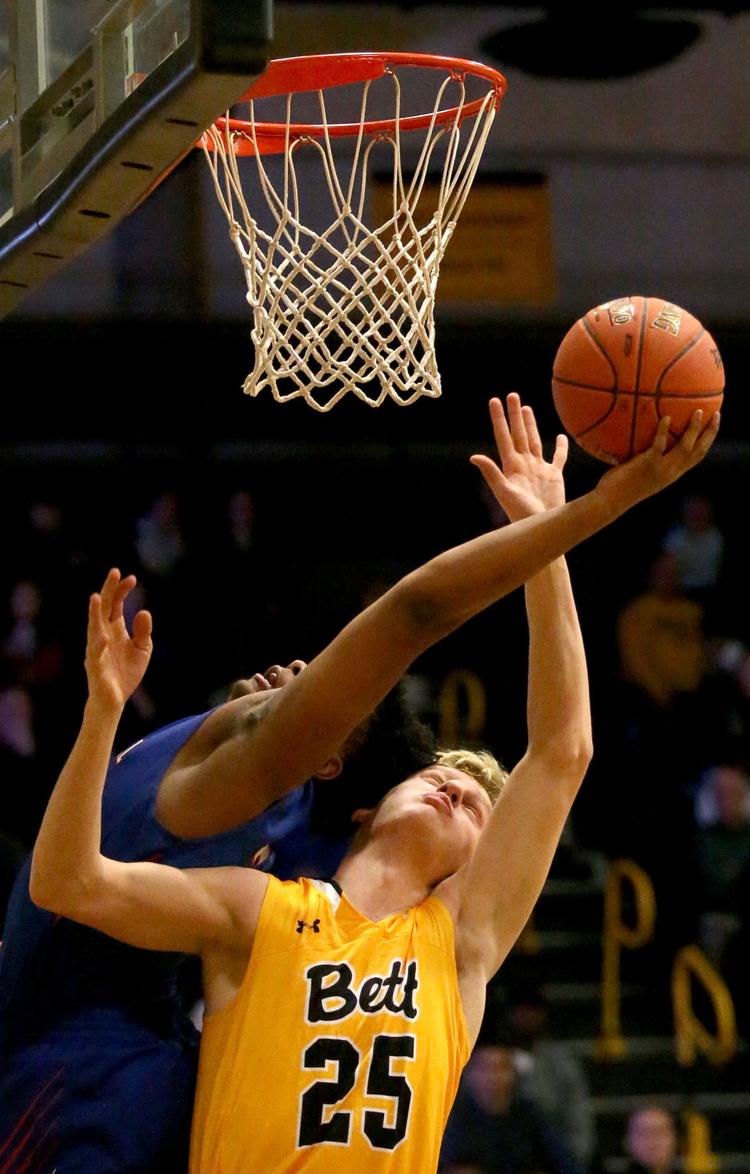 011019-Central-Bett-004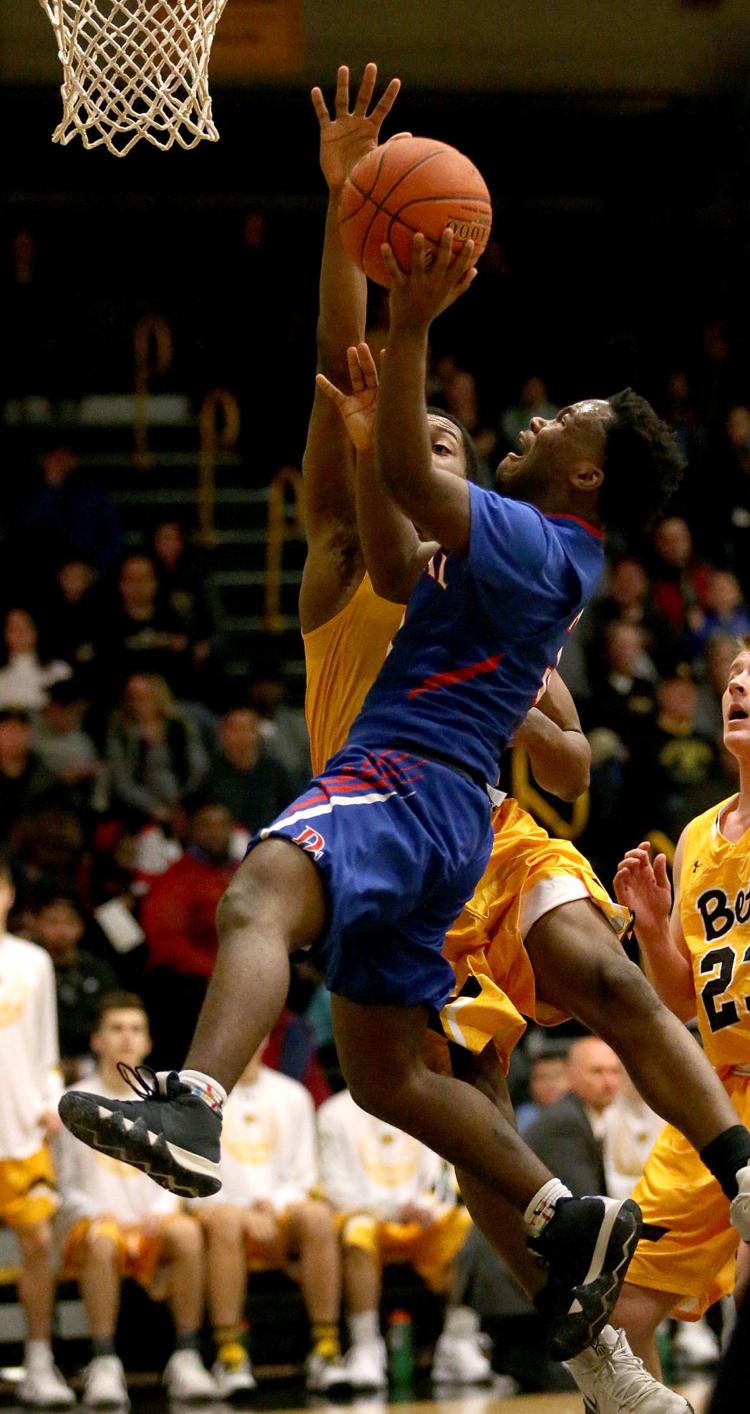 011019-Central-Bett-005
011019-Central-Bett-006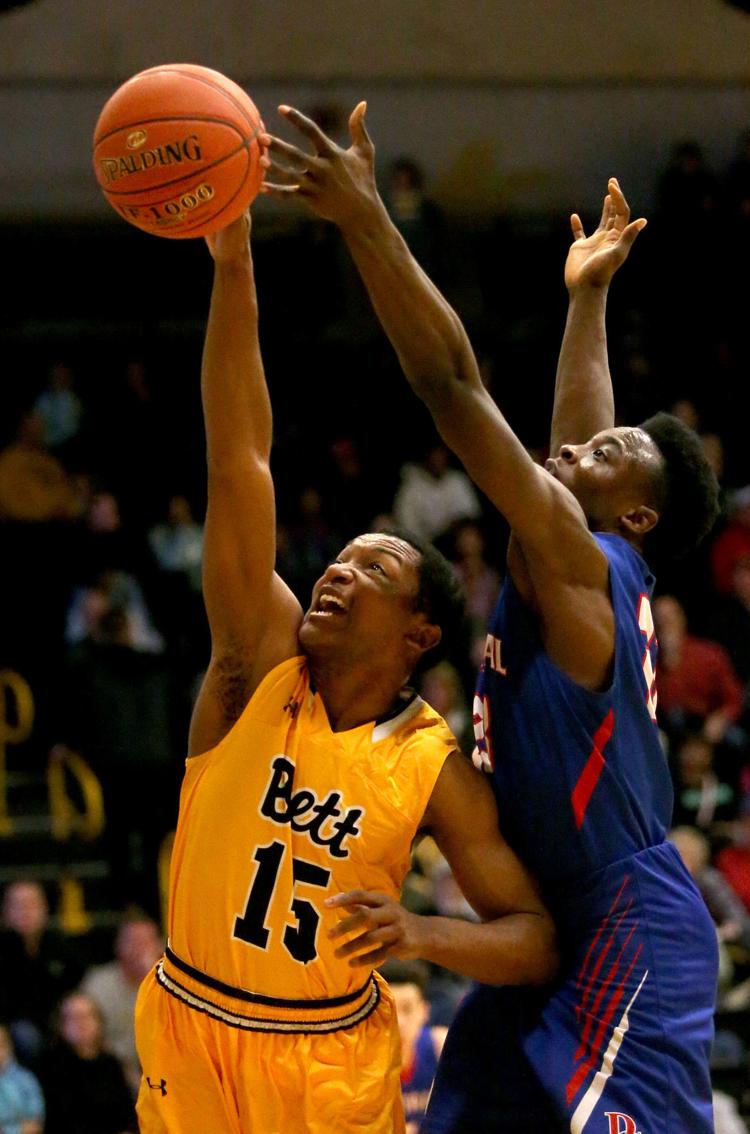 011019-Central-Bett-007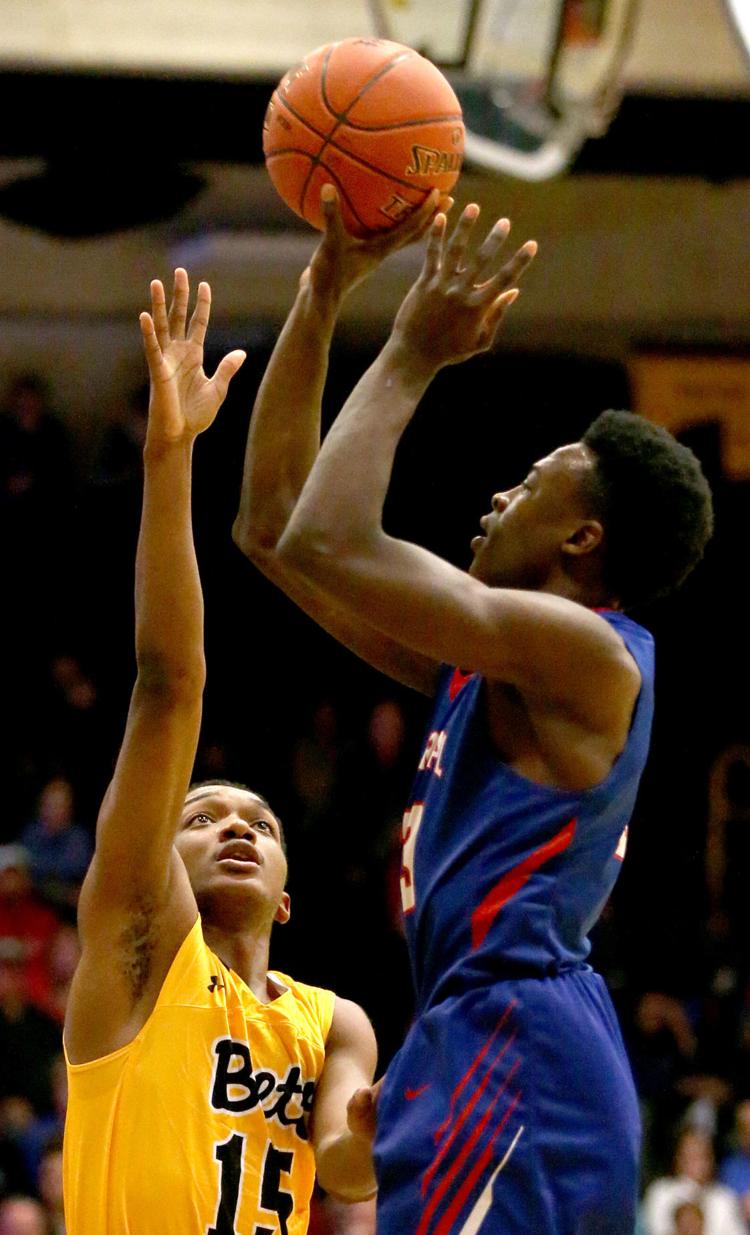 011019-Central-Bett-008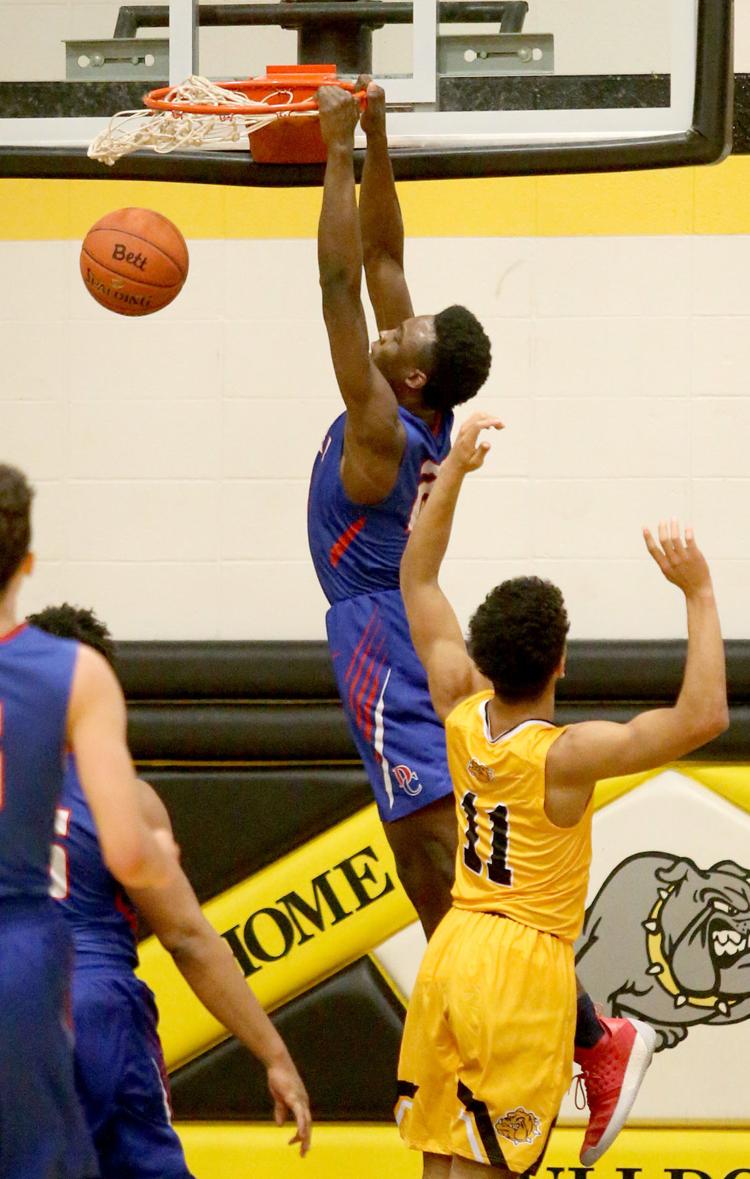 011019-Central-Bett-009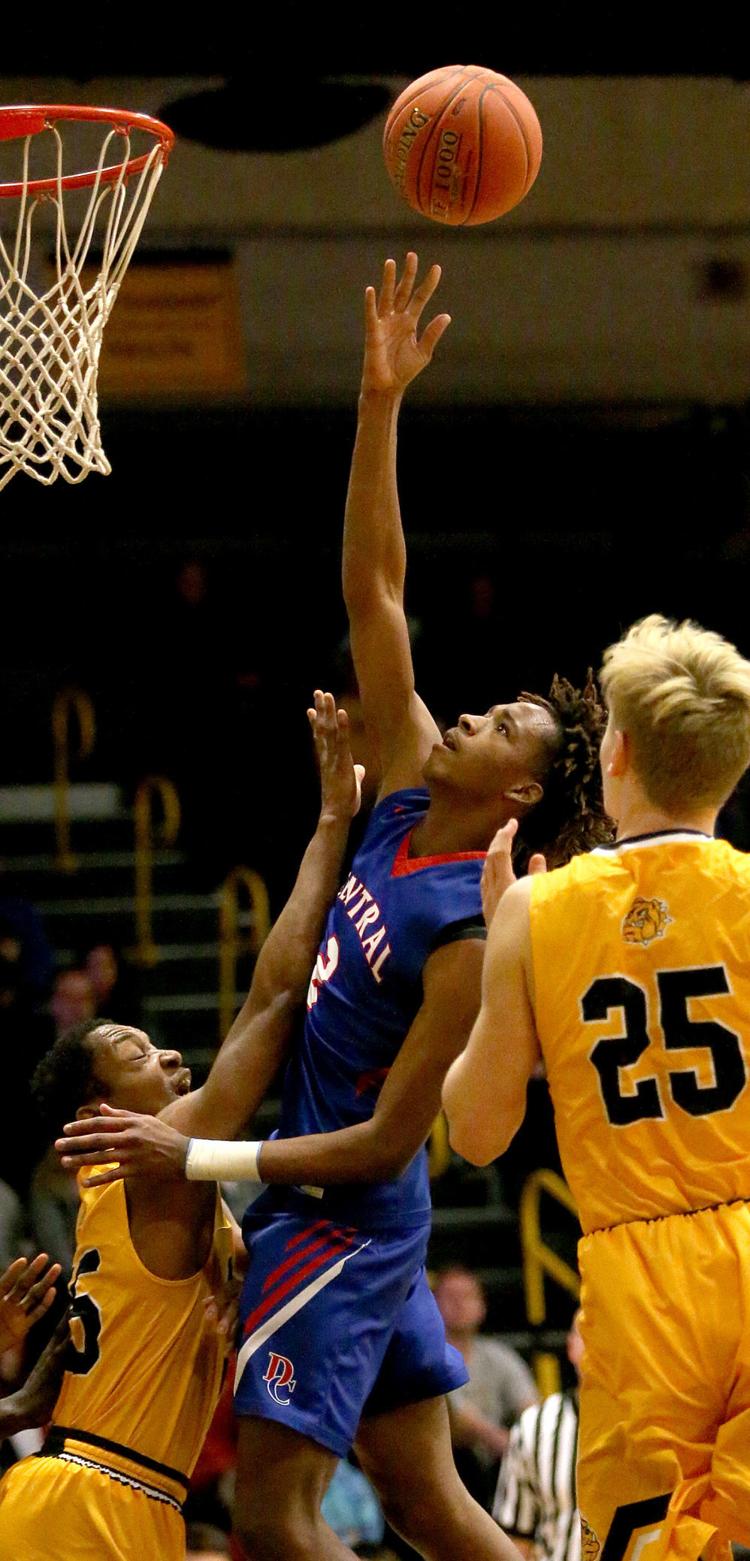 011019-Central-Bett-011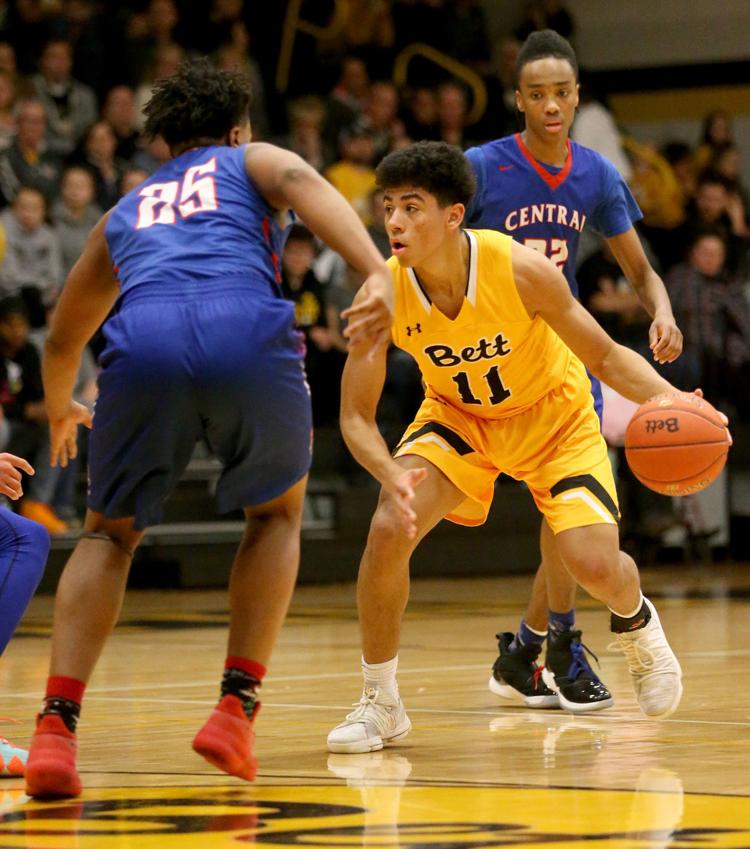 011019-Central-Bett-012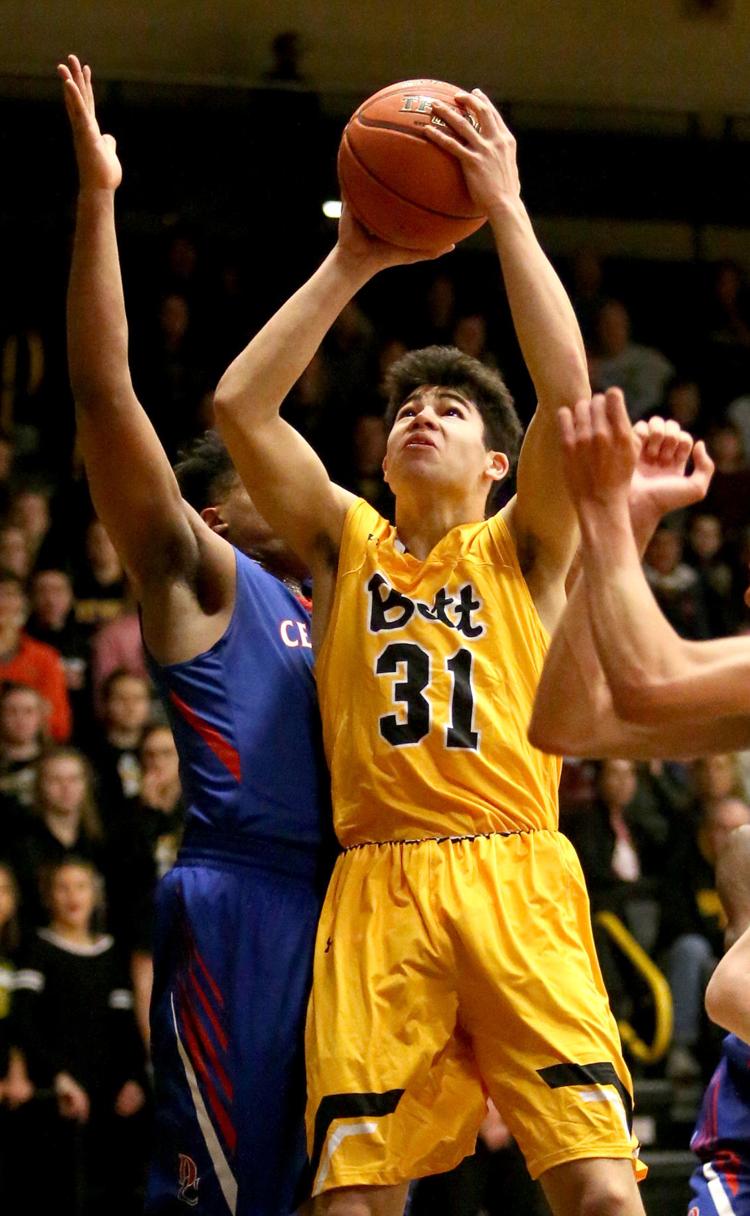 011019-Central-Bett-013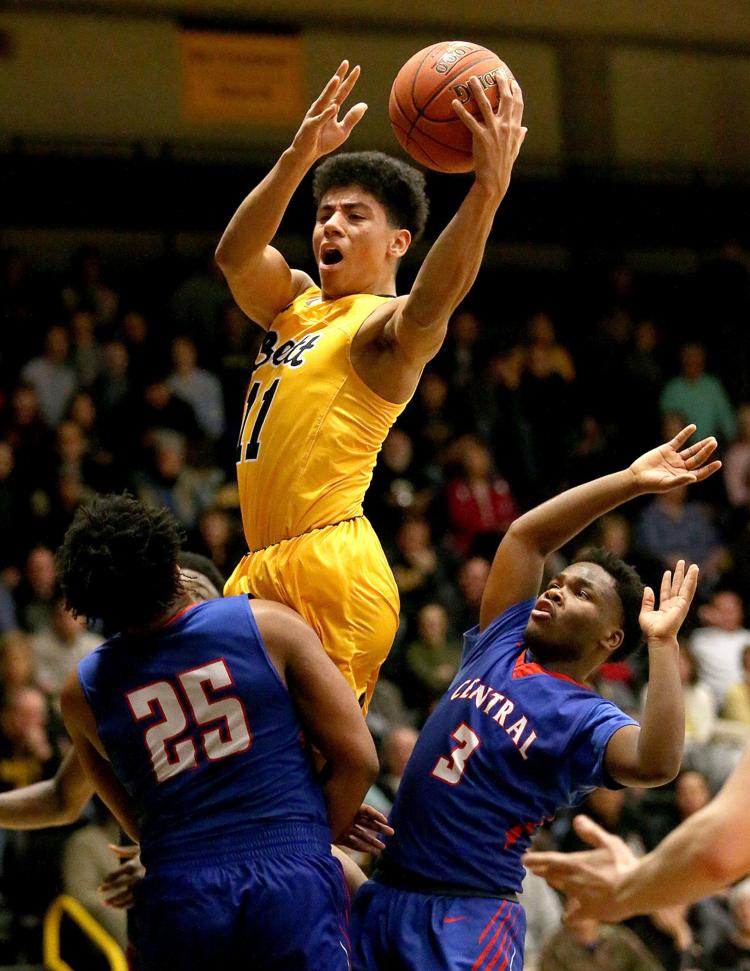 011019-Central-Bett-014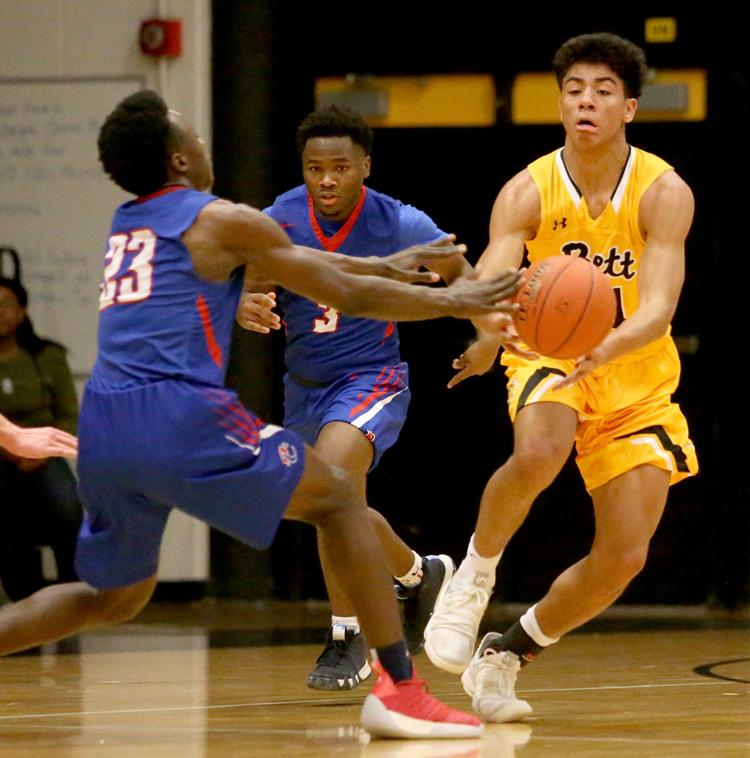 011019-Central-Bett-015