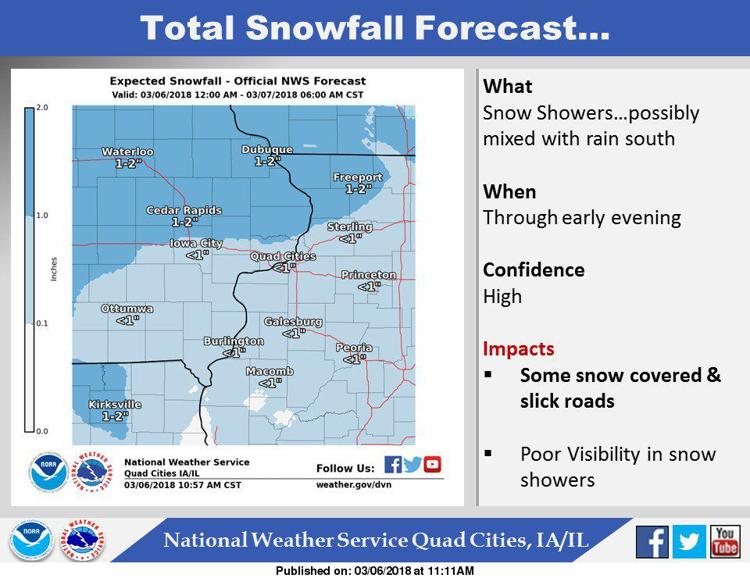 A good Tuesday to all. A little rain, a little snow or maybe a little bit of both. That's what we can expect from Mother Nature today. Here are the weather details from the National Weather Service.
1. Scattered snow showers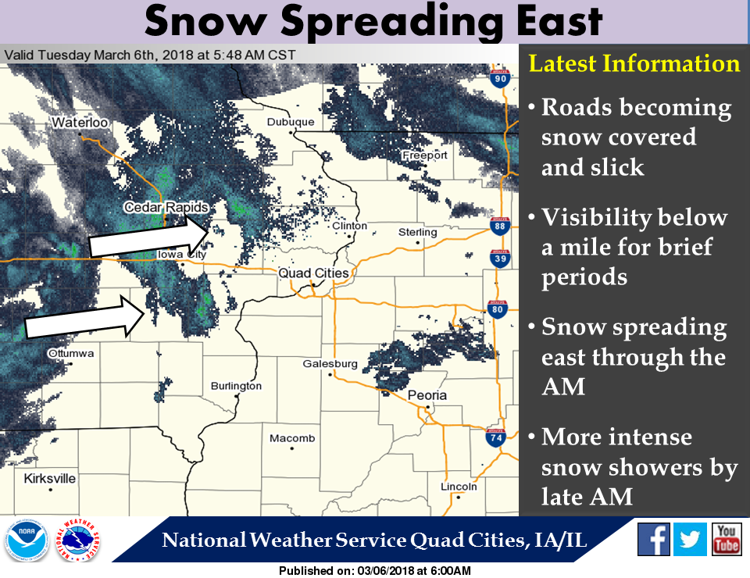 A Hazardous weather outlook from the National Weather Service states: "Scattered snow showers will increase in coverage across the outlook area as the day progresses. The more vigorous snow showers will temporarily produce heavy bursts of snow and drop visibilities down to a half mile or less. These sudden heavy snow showers will also produce quick localized snow accumulations of an inch or two and create slick road conditions. These heavier snow bursts area expected mainly during the midday and afternoon, but may linger long enough in spots to affect the evening commute.
"Away from the heavier snow bands, general snow accumulations of 1 to 2 inches are expected along and north of Interstate 80. Most areas south of Interstate 80 will receive and inch or less of snowfall."
The forecast for the Q-C metro area calls for a chance of rain and snow before noon, rain likely between noon and 4 p.m., then a chance of rain and snow after 4 p.m. Skies will be cloudy with a high near 37 degrees. The chance of precipitation is 60 percent with new snow accumulation of less than a half inch possible.
Today brings a chance of rain and snow before 9 p.m., then a chance of snow between 9 p.m. and midnight. Skies will be mostly cloudy with a low around 22 degrees.  Northwest winds will gust as high as 25 mph. The chance of precipitation is 30 percent.
Wednesday will b partly sunny with a high near 32 degrees and a low around 19 degrees. Northwest winds will gust as high as 20 mph.
That flood warning for the Rock River in Moline remains in effect until Saturday morning.
Earlier today the Rock was at 12.9 feet and falling. Flood stage is 12 feet. The river is expected to fall below flood stage Saturday morning.
2. Bettendorf OKs elementary school plan
Under a new facilities plan approved Monday by the Bettendorf School Board, Thomas Jefferson Elementary School will undergo infrastructure updates and a new, larger facility will be built on the Mark Twain Elementary School property.
The board voted 6-1 in favor of the plan recommended by Superintendent Mike Raso, who called it the "best short- and long-term plan for the district."
A previous plan suggested closing both schools and constructing a three-section replacement, an estimated $14 million project that drew opposition from residents in recent months. It failed to pass in February. Read more.
3. John Deere Road construction resumes with I-74 ramp closure
Work is set to resume on the John Deere Road/Illinois 5 road project, the Illinois Department of Transportation said Monday.
Beginning March 12 the westbound I-74 to eastbound John Deere Road ramp will be closed.
A posted detour route, the same as the 2017 construction season, will be utilized for traffic to access eastbound John Deere Road from westbound I-74, according to a news release from the DOT.
Within about two weeks, westbound John Deere Road traffic will be shifted onto the eastbound lanes, with a concrete barrier separating the two-way traffic.
This will be the third year of the $51 million contract to expand the 2.5-mile section of John Deere Road to six lanes from 38th to 70th streets in Moline.
During the 2016 construction season, the 41st Street intersection was reconstructed and preliminary widening was done along the north side of John Deere Road.
The 2017 construction season included the removal and replacement of the eastbound lanes of John Deere Road, along with several intersections on the south side between 38th and 70th streets.
During the 2018 construction season, the westbound lanes will be removed and replaced, along with several intersections on the north side of John Deere Road between 38th and 70th streets.
The 2.5-mile section of John Deere Road is scheduled is be open to six lanes at the end of the 2018 construction season.
4. Quad-Citian ready for bigger role in upcoming Paralympics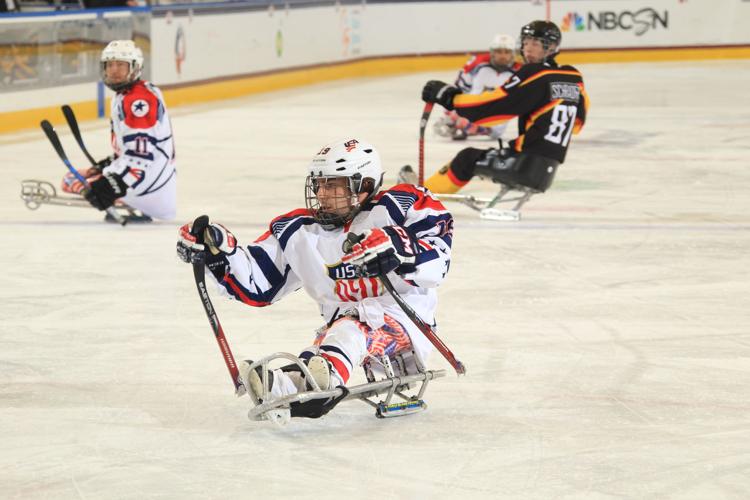 Kevin McKee has spent the past four years using a gold medal as motivation. The Davenport native had to sit in the stands at the 2014 Paralympic Games and watch as the U.S. sled hockey team defeated Russia 1-0 in the gold medal game in Sochi, Russia.
As one of 17 players in the country selected to be on the team, he was already one of the best in the world but when crunch time came, McKee wasn't one of the 15 players dressed as the U.S. won its second straight gold medal and third overall.
He was on the ice for the medal ceremony but vowed to be there when it mattered most four years later. Read more.
5. TSA rolls out screening changes at Quad-City airport
Passengers at the Quad-City International Airport will notice stronger screening procedures for carry-on baggage as part of changes implemented by the Transportation Security Administration, or TSA.
Under the new procedures, travelers now are required to place all electronic devices larger than a cell phone in bins for x-ray screening at the security checkpoint. Electronics should be placed in a bin with nothing on top of or below them — similar to how laptops are screened. Read more.
6. Save-A-Lot closing could spur efforts for a downtown grocery
The impending closure of Save-A-Lot on downtown Davenport's west edge could boost efforts to attract a full-service grocer to downtown, the head of the Downtown Davenport Partnership said Monday. 
The store's closing "puts that much more pressure on us to get a grocery store downtown," said Kyle Carter, executive director of the Partnership — an initiative of the Quad-Cities Chamber of Commerce.
According to Carter, Save-A-Lot sits outside the boundaries of the special downtown taxing district served by the Partnership, but its closing is "not good news, that's for sure." Read more.