Wednesday greetings to all. It's going to be another day of sun and mild temperatures in the Quad-Cities. Enjoy it while you can. Many of the alternatives — snow and bitter cold — are not particularly pleasant.
Here are the weather details from the National Weather Service.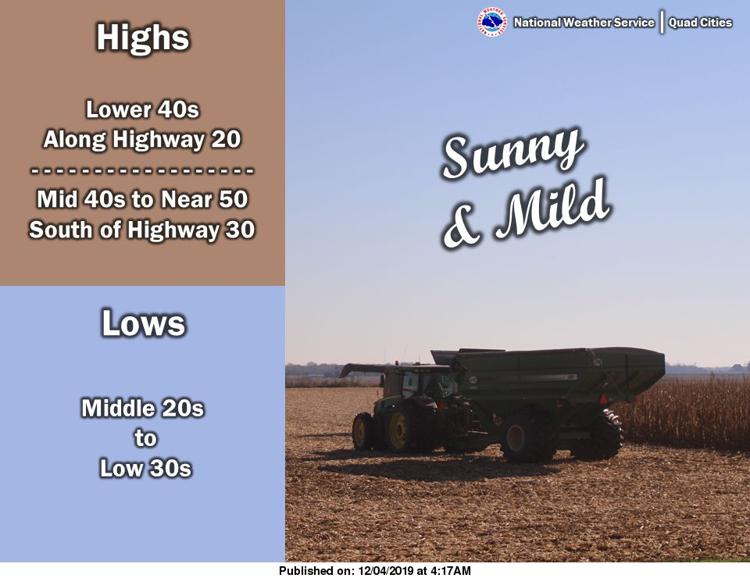 Today will be sunny with a high near 44 degrees and a low around 28 degrees. West winds between 10 to 15 mph could gust as high as 25 mph.
Thursday will be mostly sunny with a high near 47 degrees and a low around 28 degrees.
2. How to stay safe in the extreme cold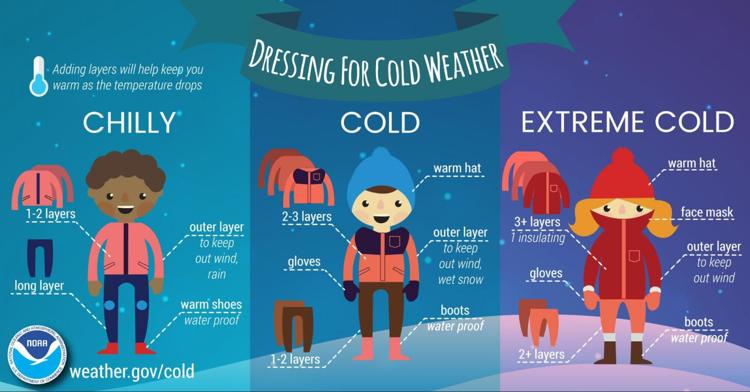 2019 was a record-setting year in many ways, including the cold.
At points in January, it was minus 33 degrees, and as we approach wintertime it's set to get cold again. There's been snow on Halloween already, and winter is rapidly approaching.
So how do you stay safe in the cold and wet of winter, at home and on the go? Be prepared and check out these tips. 
3. Pleasant Valley High School shares threat information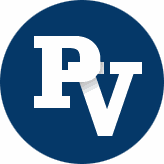 Pleasant Valley High School administrators shared information Tuesday about a possible threat.
According to a notification sent to all parents of Pleasant Valley High School students, a "non-specific statement was posted on the wall of one of the high school's restrooms "prior" to Nov. 22.
The possible threat read "Don't come to school on December 4th."
The release to parents said; "We are sharing this information should you be hearing about this statement and to inform you we continue to actively work with the Scott County Sheriff's Department to identify the individual(s) who might be responsible for the threat and statement appearing in the bathrooms."
Officials at PVHS are encouraging parents to speak with their children — and if they have information to contact the high school's administration, school resource officer, or submit a tip on the high school P3 campus safety app. According to Pleasant Valley School officials, that app is available through your cell phone's app store.
A cash reward is being offered in conjunction with Quad City Crime Stoppers for tips that lead to the identification of the individual or individuals.
Other crime, courts and public safety headlines
You have free articles remaining.
4. Running community mourns death of Running Wild owner Steven Kilburg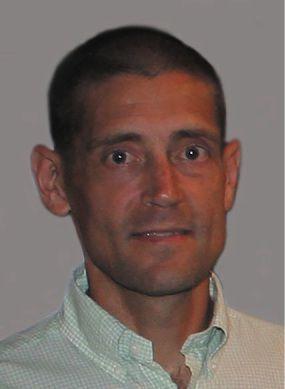 Steven Kilburg is remembered as devoted to the running community of the Quad-Cities. 
Kilburg, the founder of the Davenport-based running and fitness store Running Wild, died Nov. 30 at age 56. 
"When I first moved to the Quad-Cities, I trained for the Chicago Marathon, and Running Wild was the store we all went to," Quad-City Times Bix 7 Race Director Michelle Juehring said Tuesday. "He was always there." 
Founded in 1991, Running Wild is the official running store of the Quad-City Times Bix 7 and the TBK Bank Quad-Cities Marathon, as well as the corporate sponsor of the Cornbelt Running Club.
Juehring remembers Kilburg as a passionate family man. "He was such a gift to the community, and not just the store itself," she said. "If you were part of the Cornbelt Running Club or training for the Quad-Cities Marathon or part of the Bix and somebody wanted to get you shoes, it was comforting to see the same faces and to know you're talking with somebody that that's their passion." Read more.
5. Quad-Citians distance themselves from far-right speaker at Bettendorf immigration forum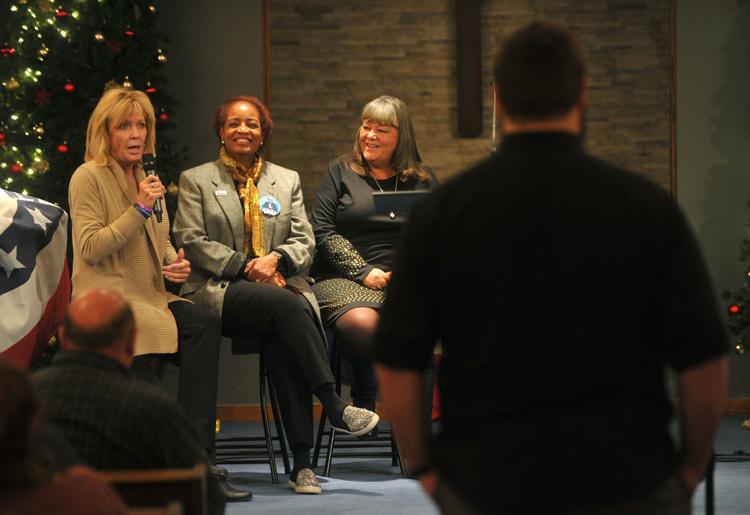 Quad-City residents are distancing themselves from an incendiary far-right activist who delivered racist remarks Monday at a forum hosted by the Scott County Teenage Republicans.
Nick Fuentes, a far-right provocateur from Chicagoland known for espousing racist and anti-Semitic views, spoke for about 20 minutes at the end of the Quad Cities Immigration Forum, hosted at the Pleasant View Baptist Church in Bettendorf.
Fuentes told the crowd about the "drastic consequences" of immigration from non-European, non-white countries. He said that driving around majority non-white neighborhoods of cities like Chicago shows how racial and ethnic diversification is "not good."
6. Warm up with soups from area spots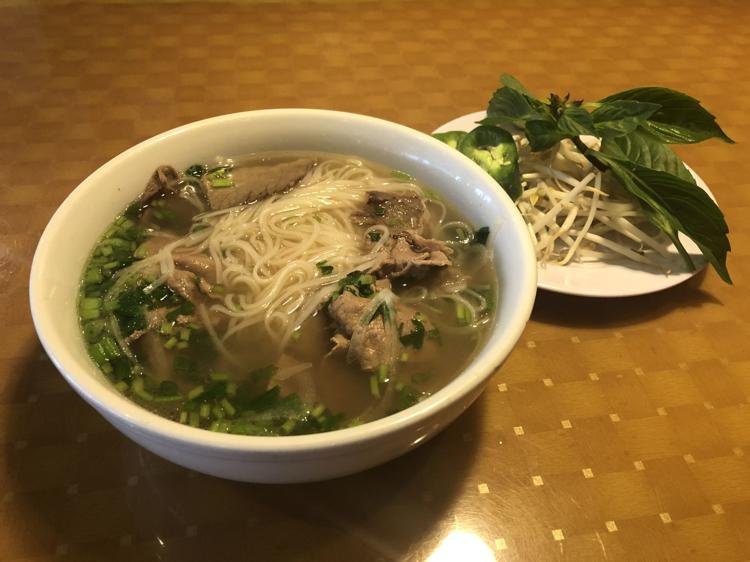 On chilly days, nothing warms you up quite like a bowl of piping hot soup. There's the standard varieties such as potato, tomato and chicken noodle soups but sometimes you're in the mood for a little something more.
Thankfully, the Quad-Cities area is rife with options! It doesn't take long to craft a lineup any soup lover would enjoy. Check out these picks from both sides of the river. Read more.
Today's photo galleries
Happy Joe's annual party

Happy Joe's annual parties for children with special needs at the TaxSlayer Center in Moline, Illinois Tuesday, December 3, 2019. The events host approximately 1400 children with their aids from the Quad Cities and surrounding areas Tuesday, December 3 and Wednesday, December 4. Along with Happy Joe's pizza and ice cream, Joe's special kids enjoyed an all out dance party with Happy Joe's Hip Hop Dancers, Happy the Dog, and Santa Claus. Children attending the party received a special gift of a book provided by Books a Million (BAM). Volunteers helping with the party included area Optimist Clubs, Pieler Productions, North Scott High School students, Pepsi, Kemps Ice Cream, Goodwill, MSpark, Burke Corporation, and many others.