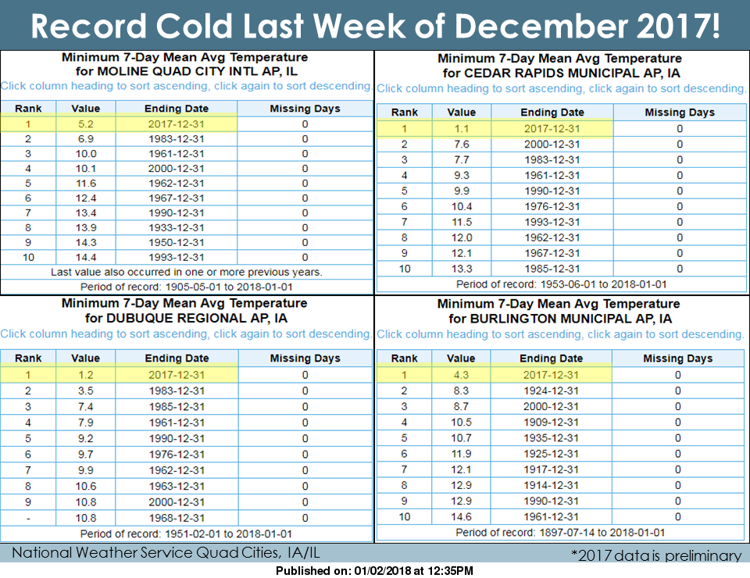 A good Wednesday to all. Get up and enjoy today's "warm" weather while you can because temps will fall fast today. It's currently 17 degrees in the Q-C, the warmest it has been here this year. Here are the weather details from the National Weather Service.
1. Another wind chill advisory for tonight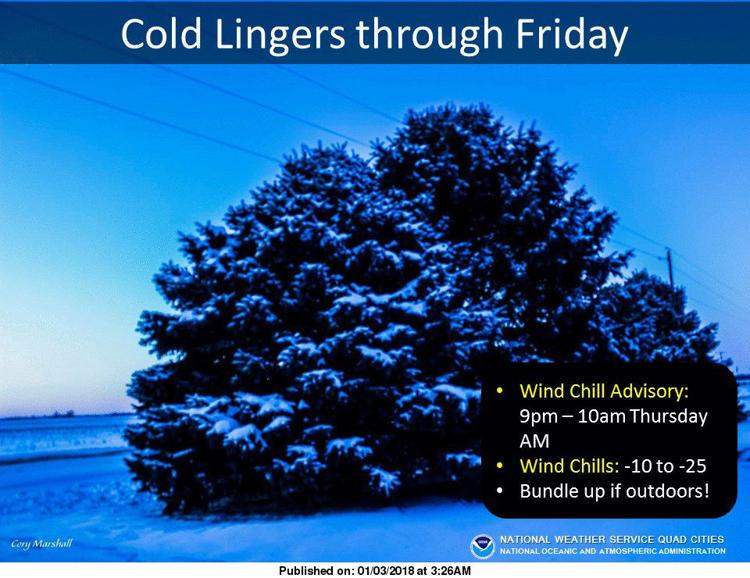 Today will be mostly cloudy gradually becoming sunny and cold with a temperature falling to around 6 degrees by 9 a.m. Northwest winds around 15 mph could gust as high as 30 mph. Wind-chill values will be as low as -10 degrees.
Tonight will be mostly clear, with a low around -7. Wind chill values as low as -20. Northwest wind 5 to 10 mph.
A National Weather Service wind chill advisory will be in effect from 9 p.m. tonight until 10 a.m. Thursday as very cold temperatures combined with northwest winds will create wind-chill values in the -20 to -25 degree range.
The cold wind chills will cause frostbite in as little as 30 minutes to exposed skin.
A wind chill advisory means that cold air and the wind will combine to create low wind chills. Frost bite and hypothermia can occur if precautions are not taken. Make sure to wear a hat and gloves before venturing outdoors.
Thursday will be sunny and cold with a high near 6 degrees and a low around -8 degrees. Wind-chill values will be as low as -20 degrees.
2. Extreme cold makes bridges treacherous
The continued cold weather is causing bridges over the Mississippi River to ice up from below, catching motorists off-guard and prompting accidents as was the case Tuesday morning when relatively warm air rose from the river, then froze as it hit the cold bridge decks and ramps.
Slick conditions caused numerous crashes involving dozens of vehicles that led to traffic tie-ups on the Interstate 80 and 74 bridges as well as the Talbot Memorial (formerly Centennial) bridge between Davenport and Rock Island.
Quad-City temperatures aren't expected to rise above freezing until Sunday, according to the weather service forecast. If that prediction holds true, the area will have gone 16 days below freezing. The last above-32-degree-day was Dec. 22 when the high was 39 degrees. Read more.
3. Doxsie's after-thoughts from Iowa-Michigan
Check out Times sports columnist Don Doxsie's impressions following Iowa's 75-68 loss to Michigan in Big Ten Play. Read more.
4. Oh Christmas tree ... it's time to say goodbye
Oh, Christmas tree, oh, Christmas tree …. What do we do with you now? Now that the new year is here, thoughts turn to disposing of that tree — and most cities have a process to make this easy. Read more.
5.  Two new St. Patrick's Day parties coming to the Q-C
The home of the Mississippi Valley Fair is entering the St. Patrick's Day game. The Mississippi Valley Fairgrounds will throw its first St. Patrick's Day party on March 16-17, the venue announced on Tuesday.
Fair general manager Shawn Loter said he got the idea after hearing about the August closing of Kelly's Irish Pub & Eatery, the Davenport establishment that had hosted a St. Patrick's Day festival for 13 years.
But as it turns out, Kelly's turn as party host isn't over. Dan Kelly, who owned the business that shared his name, is planning his own St. Patrick's Day festivities.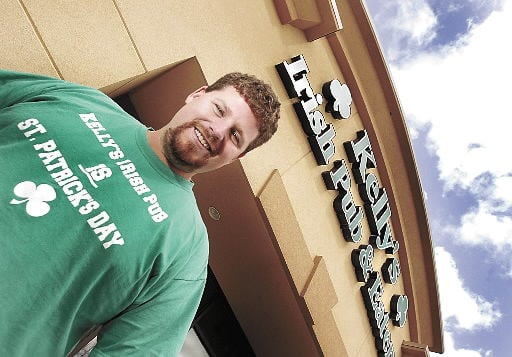 Just before noon Tuesday, shortly after the Mississippi Valley Fairgrounds sent a press release announcing its two-day bash, Kelly created a Facebook event for a St. Patrick's Day party to be held in partnership with Front Street Brewery at the Freight House in downtown Davenport.
While the details are "still up in the air," Kelly said the March 16-17 party is "shaping up to be the biggest one I've ever had."
"That weekend was my favorite part of my job," he said. "It just makes sense to keep doing it."  Read more.
6. Intersection nears completion in Milan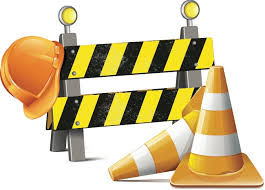 The Illinois Department of Transportation reports that work to replace the traffic signals at the intersection of U.S. 67 with 92nd Avenue in Milan is nearing completion.
The new traffic signals are expected to be operational this week.
Drivers should be alert for a new type of treatment of the left-turn phasing. This installation features flashing yellow arrows. Vehicles turning left are permitted to turn on a flashing yellow arrow but are required to yield to oncoming traffic.
Use caution as lane workers will continue with removal of existing signal equipment and repair of island surfaces as weather permits.