A good Friday to all. Unseasonable temps continue for the Quad-Cities — as least for the next few days. But hang on to your hats, today will be quite breezy.
Here are the weather details from the National Weather Service. 
1. Mostly sunny and breezy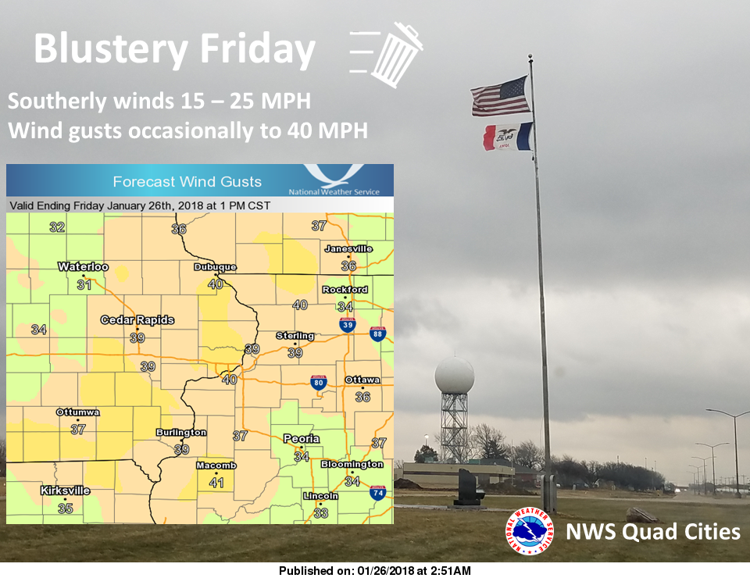 Today there is a slight chance of rain between 11 a.m. and noon. It will be mostly sunny and breezy with a high near 54 degrees. South winds between 15 to 25 mph will gust as high as 40 mph.
Tonight there is a 30 percent chance of rain between 9 p.m. and midnight. Skies will be mostly cloudy then gradually becoming mostly clear with a low around 32 degrees. It will be breezy with a south wind between 10 to 20 mph becoming west after midnight. Winds could gust as high as 30 mph.
Saturday will be sunny with a high near 46 degrees and a low around 25 degrees.
Sunday will be mostly sunny with a high near 31 degrees and a low around 15 degrees.
2. Rock rises above flood stage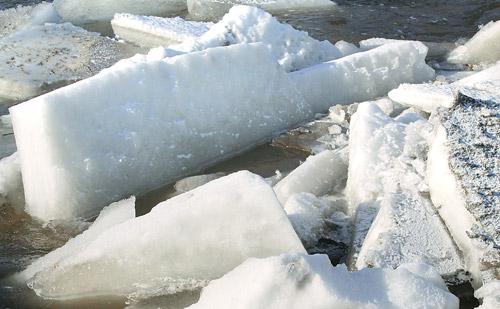 A flood warning for the Rock River at Como in Whiteside County has been extended to Sunday night because of ice jams on the river.
Early today the Rock was at 12.8 feet and holding steady. Flood stage is 10 feet.
The river is forecasted to fall below flood stage by Sunday night, but ice activity could cause rapid fluctuations up to at least two feet from the expected stage.
3. Duerson Act would ban pre-teen tackle football in Illinois
Organized tackle football would be banned for Illinois children younger than 12 years old under a bill unveiled Thursday.
The Dave Duerson Act to Prevent CTE is named for the Chicago Bears defensive back who was diagnosed with chronic traumatic encephalopathy after he killed himself at the age of 50. Duerson shot himself in the chest so his brain could be studied for signs of the disease that has been linked to concussions or repeated head trauma.
"Thanks to increased attention and research on brain trauma, we know that part of the solution is to guard young children's developing brains from the risks of tackle football," Tregg Duerson said in a statement.
CTE is a degenerative disease known to cause memory loss, violent moods and other cognitive difficulties in football players, members of the military and others who have endured repeated head trauma. It can only be diagnosed after death. Researchers believe the severity of the symptoms is increased for those who began playing football at a younger age.
After years of denials, the NFL has acknowledged a link between head blows and brain disease and agreed in 2015 to a $1 billion settlement with former players.
"This isn't about an act to ban tackle football," Chris Nowinski, the head of the Concussion Legacy Foundation,i said. "This is about an act to prevent children from being hit in the head hundreds of times through sports each season." Read more.
4. McCaffery gets contract extension
As if this Iowa basketball season wasn't distressing and puzzling enough, now we have this.
We just now are learning that the university gave head coach Fran McCaffery a two-year contract extension in late November that more than doubles the amount of money it would need to pay him if it decides he isn't the right man for the job.
There was no announcement from the university about this, perhaps because it wouldn't have looked very good at that moment. The Hawkeyes had just lost to Virginia Tech by 24 points the night before and had lost to Louisiana-Lafayette and South Dakota State in a tournament in the Virgin Islands the previous week. Read more.
5. St. Ambrose adds health majors; fills local jobs
Colleges have been choosing their curriculum — or areas of study — since higher education began. But successful schools have to be flexible and tailor their areas of study to meet changing demands of the job market.
Today's state of health care has gaps: Local specialists are in demand, and the pool of family doctors (general practitioners) is shrinking. In response, St. Ambrose University in Davenport has created a curriculum that seeks to fill those gaps.
From its main campus on Locust Street, the university has graduated 2,152 nurses, therapists, social workers and, most recently, physician assistants. It's our big story of the week. Read more.
6. New I-74 bridge construction: Hundreds of images
The Quad-City Times has been following construction of the new I-74 bridge across the Mississippi River since day 1 capturing hundreds of images. Take a look.