A good Wednesday to all. Another nice day is on tap for the Quad-Cities. Maybe not quite as warm as yesterday, but a far cry better than it has been the past few weeks.
Here are the weather details from the National Weather Service.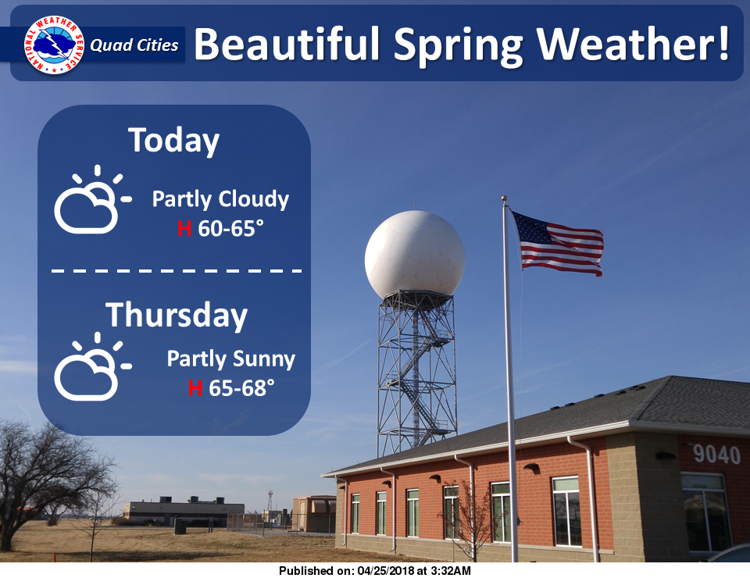 Today will be sunny, with a high near 64 degrees and a low around 38 degrees.
Thursday also will be sunny with a high near 67 degrees and a low around 40 degrees.
The weather service is reporting rising river levels along the Mississippi River. While concerns now center around river levels in Wisconsin and Minnesota, what happens up north usually ends up in the Quad-Cities.
Here's what the NWS is saying: "The Mississippi River will be rising through the first part of May as snowmelt runoff from areas upstream moves through the river system.
"Heavy snow fell over the upper portions of the Upper Mississippi River basin in April, which added to the snowpack from the winter months. Warm spring weather has caused the majority of the snow to melt and start it's path downstream into the Mississippi River.
"The potential is high for several locations to approach or rise above flood stage, while it is not out of the question for at least a few sites to reach moderate flood stage.
"There remains uncertainty as to how high the river will get, especially as any precipitation could impact the eventual crest heights and timing of the rise of the river. Crests currently look to occur during the first two weeks of May.
"Additional information will be provided as the forecast becomes more clear later this week into next week."
2. The Q-C's first mac and cheesery set to open this summer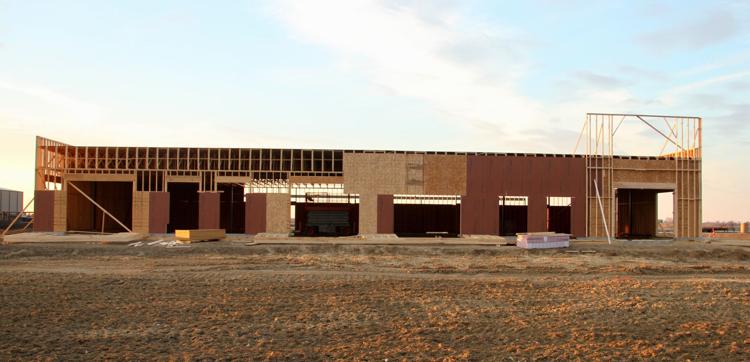 The couple who brought the Coffee Hound franchise to the Quad-Cities are ready to introduce the area to something else.
Beth and Greg Aronson, who opened the original Coffee Hound, a drive-thru cafe on Brady Street in Davenport, in 1999, are planning to open a gourmet macaroni and cheese and grilled cheese restaurant in Bettendorf.
The eatery, called Cheesy Cow Mac & Cheesery, is slated to open its doors in mid-August at the intersection of Middle and Forest Grove roads, nearby the soon-to-open TBK Bank Sports Complex, the $45 million campus widely known as BettPlex. Read more.
3. Sunday meals continue despite founder's absence
You have free articles remaining.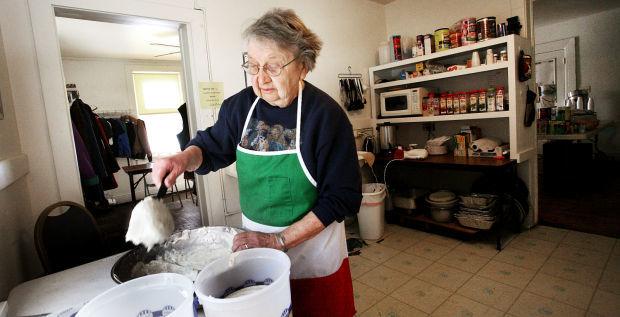 It's been seven weeks since Sister Ludmilla Benda has cooked the free noon meal served on Sundays in downtown Davenport, but her faithful volunteers are carrying on to make sure the hungry get fed.
Sister Ludmilla Benda is the driving force behind Sunday meals to the needy served at Father Conroy's Vineyard of Hope in downtown Davenport. …
Health problems landed the 91-year-old member of the Religious Sisters of Mercy in a hospital in March. When she was released on Sunday, April 15, she was transferred to the sisters' home in Chicago for recuperation, Carol Gehrmann, one of the volunteers, said.
Contacted in Chicago, a determined Benda told a reporter that she is working on her rehab and is ready to "get back to work." Her goal is early summer.
Meantime, volunteers are continuing what Benda established at Father Conroy's Vineyard of Hope at 4th Street and Pershing Avenue, the only place in the Quad-Cities where people in need can get a free breakfast and noon meal on Sundays and holidays.
Between 100-125 come for the meal and about 50 for breakfast, Bill Ashton, vice-president of the Vineyard board, said. Read more.
4. Clinton woman pleads guilty in pickaxe attack
A Clinton woman who police say attacked a Clinton shop owner with a pickaxe in February 2017 has pleaded guilty.
Cassandra Rae Doran, 26, pleaded guilty Monday to willful injury causing serious injury-use of a dangerous weapon, a Class C felony, and three counts of second-degree criminal mischief, a Class D felony. Read more.
5. New falcons come to nest in Davenport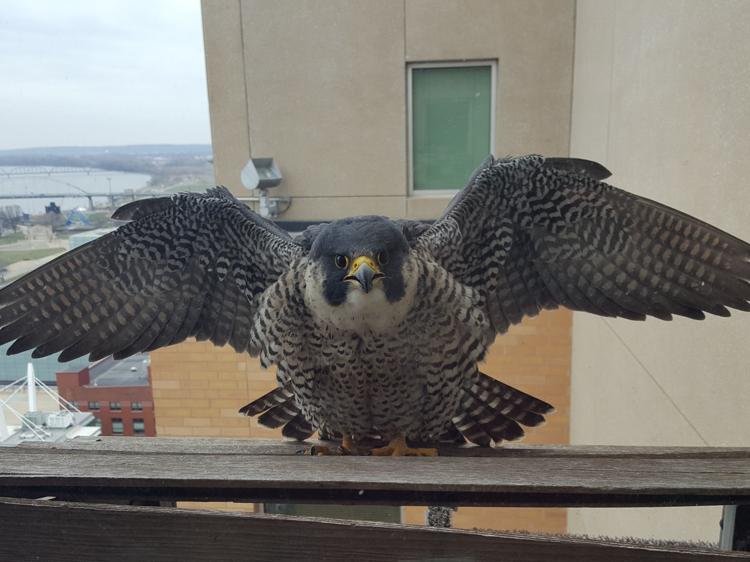 After 15 years of nesting atop the MidAmerican Energy Co. building in downtown Davenport, the female peregrine falcon Scorpio did not return this spring and may have died, said Dave Sebben, the employee who watches over the birds.
"But it's 'the circle of life,' as they say," Sebben wrote in an email. "She would have been 19 years old this year, and that's getting to be elderly for them."
The good news is that the nest has attracted two new falcons, and the pair is sitting on four eggs. Read more.
6. Salute to Sports Athlete of Year finalists reveal
The Quad-City Times will be revealing two athlete of the year finalists each day for the next 12 days leading up to the May 7 Salute to Sports program at the Bettendorf High School Performing Arts Center. The first finalists are ...
Rock Island's Gloire Luwara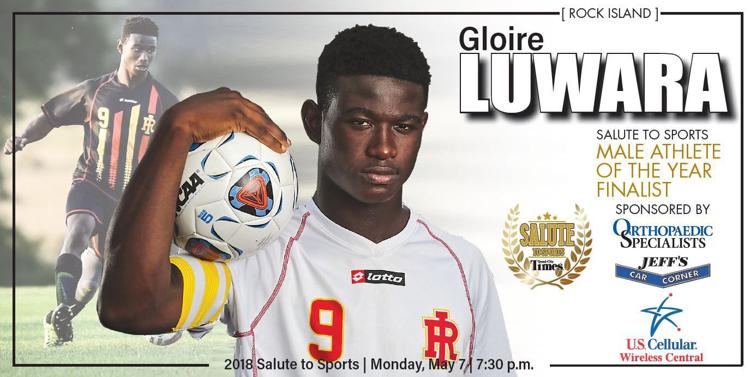 West Liberty's Macy Akers
PV's Ellie Spelhaug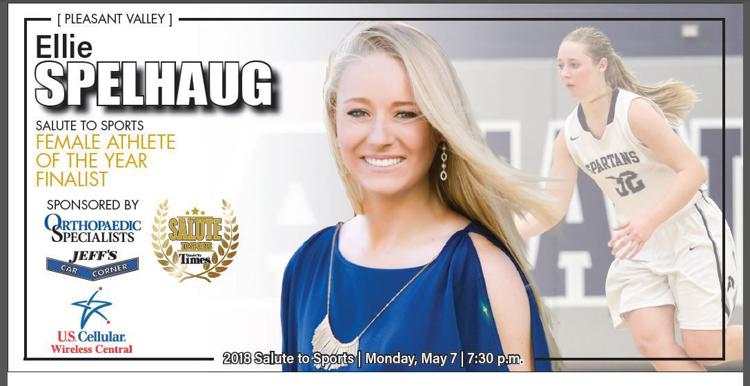 Kewanee's Lewis Robinson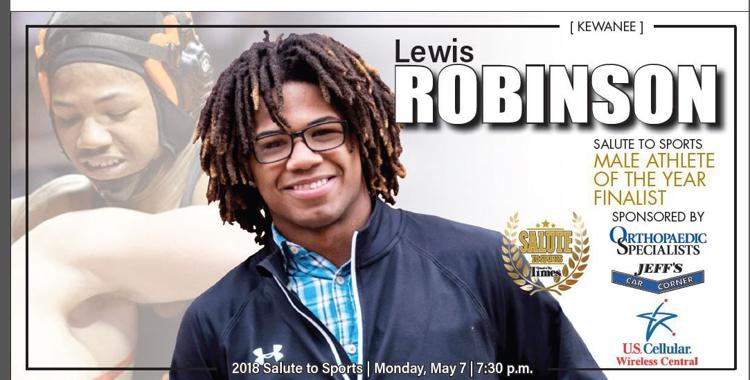 Assumption's Julien Broderson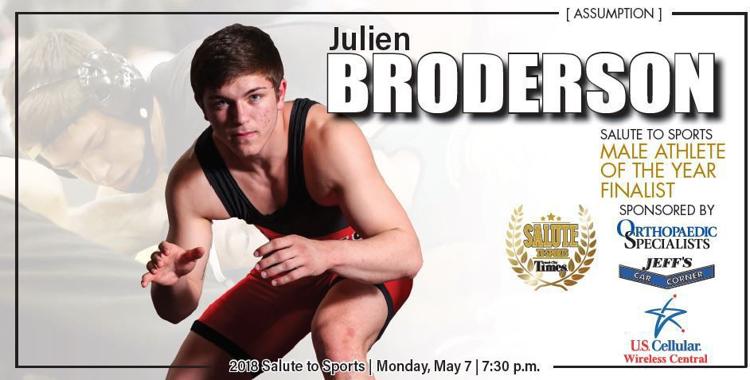 Geneseo's Erika Furbeck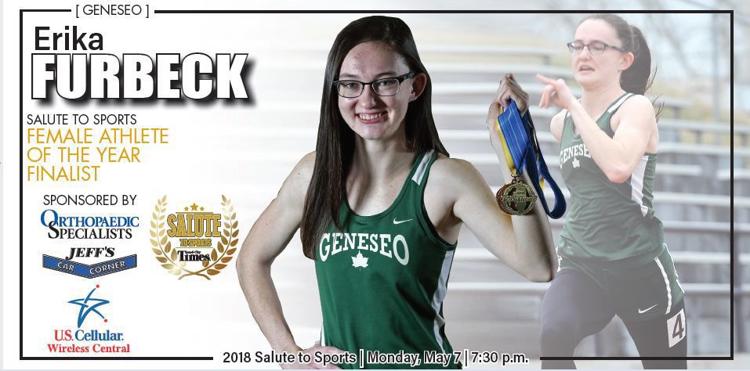 Annawan's Ben Buresh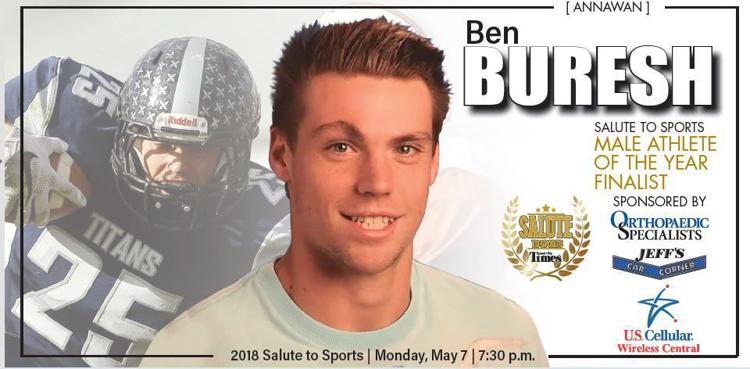 Pleasant Valley's Carli Spelhaug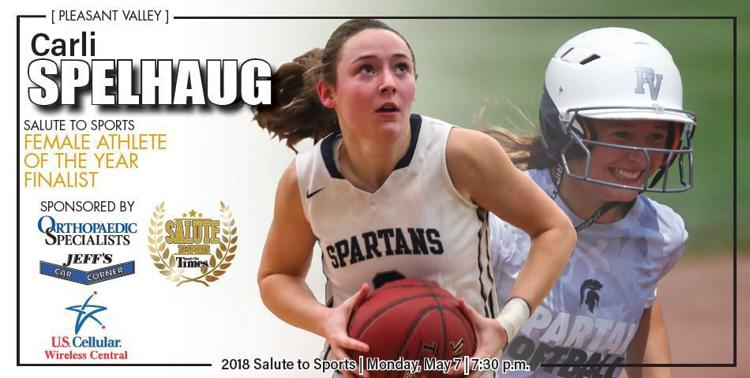 North Scott's Zach Petersen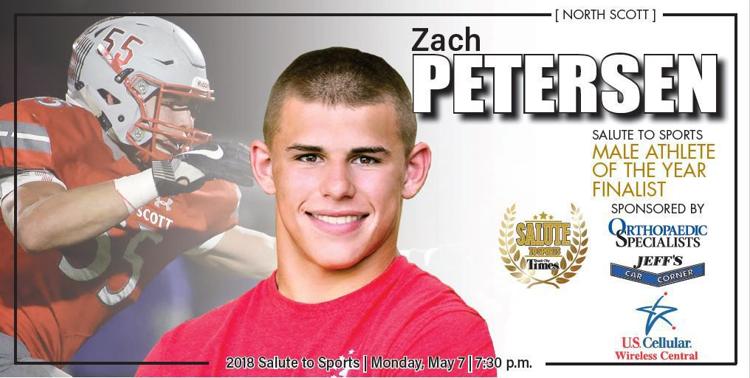 Kewanee's Mitrese Smith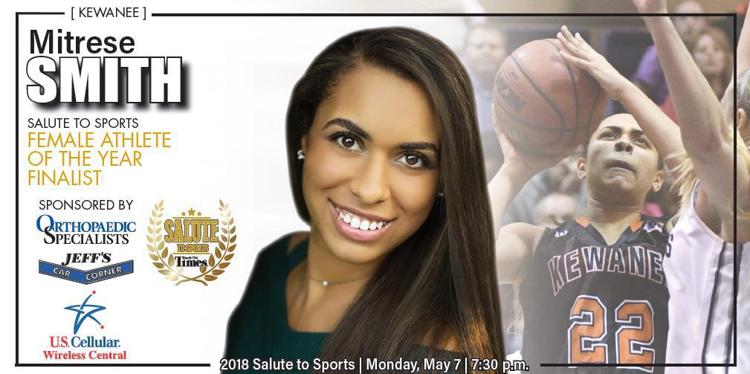 Camanche's Madi Parson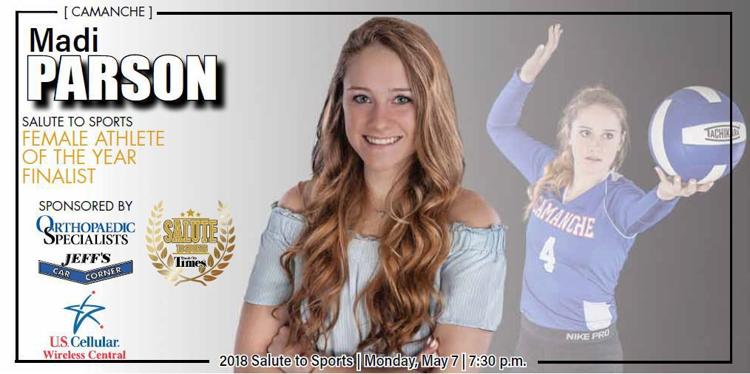 Orion's Logan Lee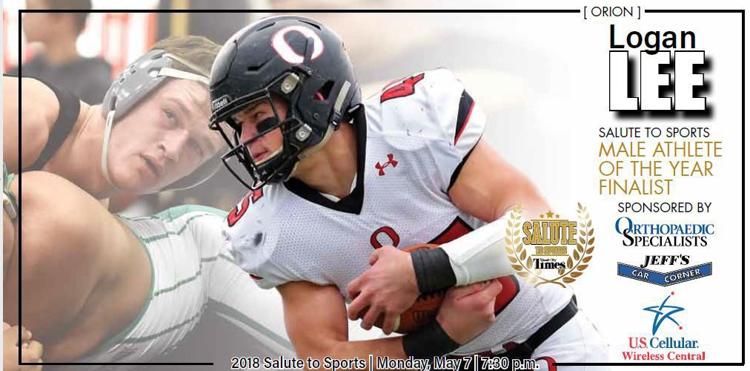 Annawan's Jayde VanHyfte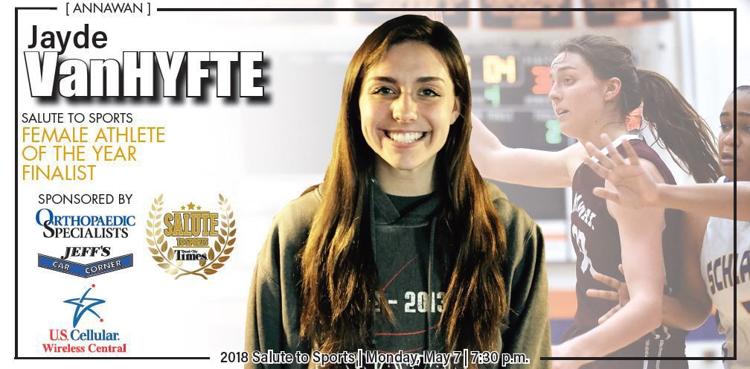 Bettendorf's Carter Bell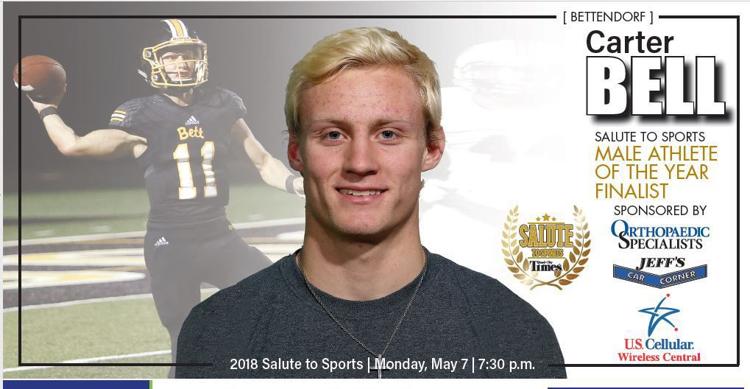 Assumption's Carly King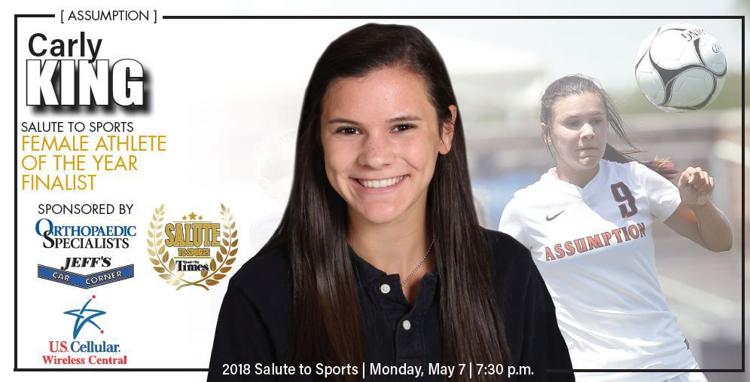 Muscatine's Joe Wieskamp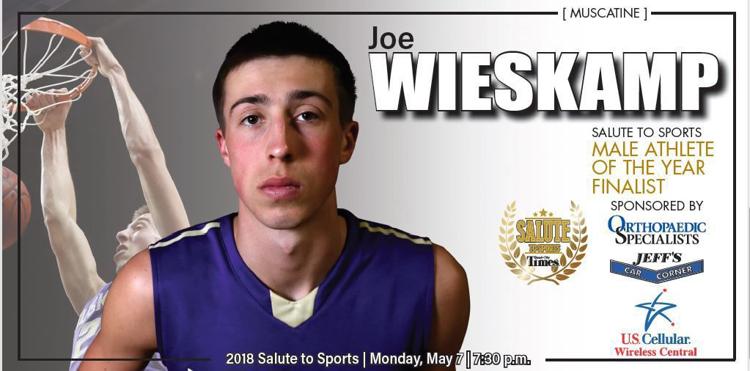 United Township's Ryleigh O'Brien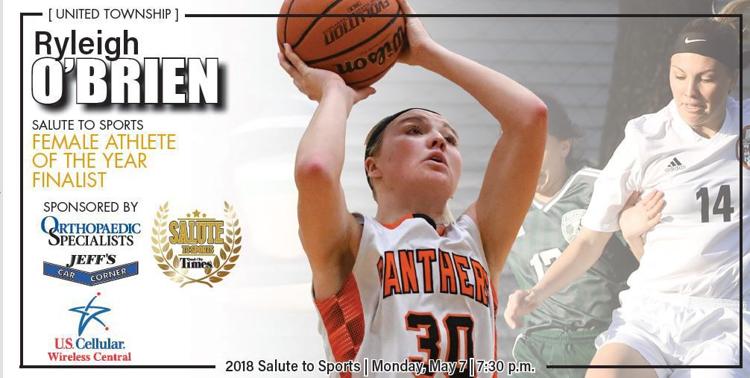 Bellevue's Cade Daugherty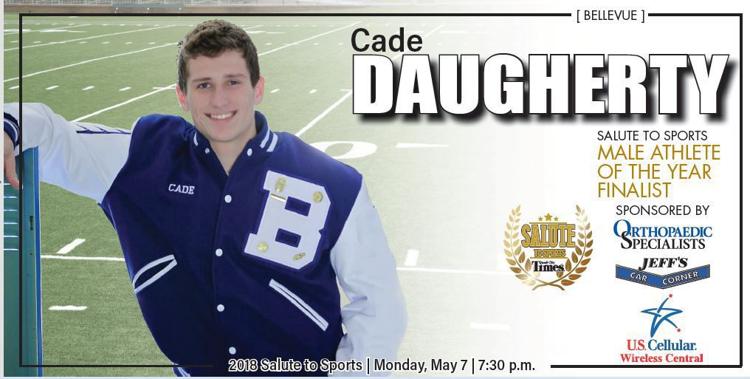 Rock Island's Brea Beal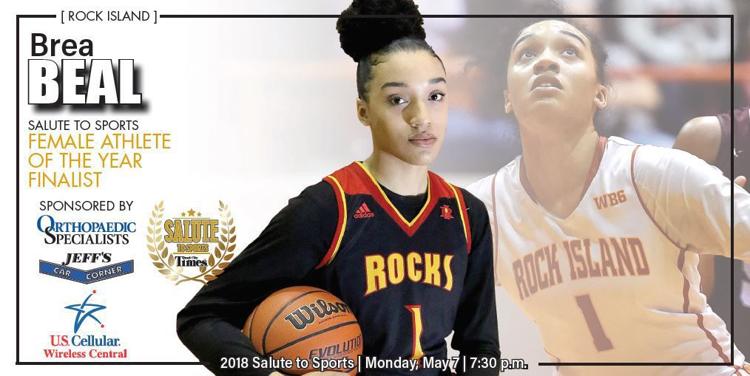 West Liberty's Bryce Esmoil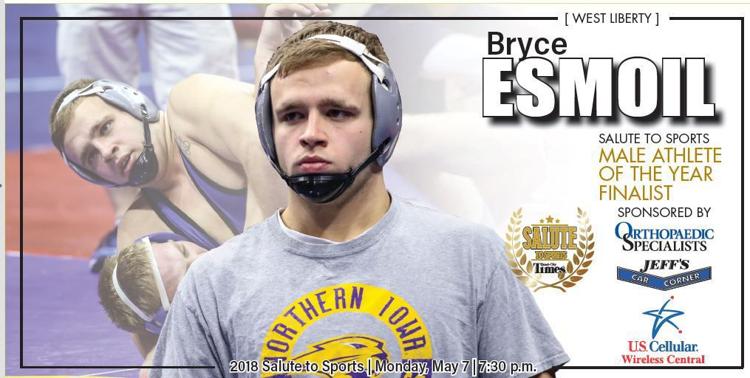 Wethersfield's Brittney Litton
Northeast's Luke Empen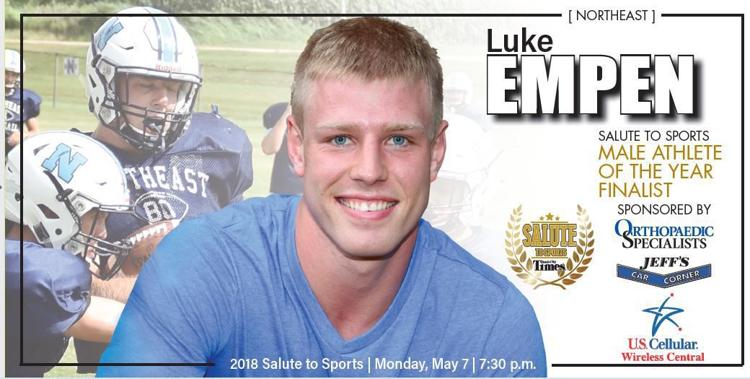 Bellevue's Becca Schroeder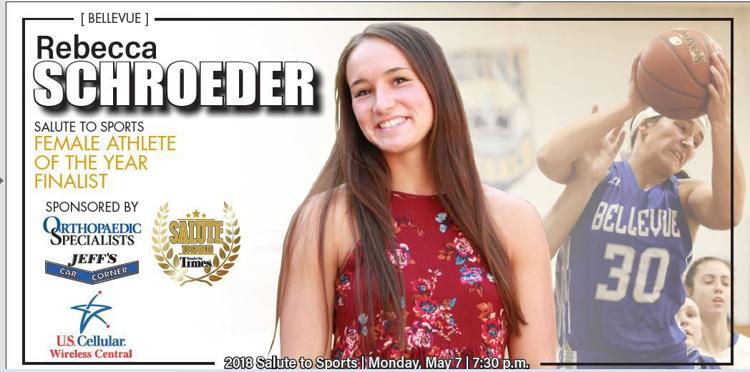 Bettendorf's Caleb Aman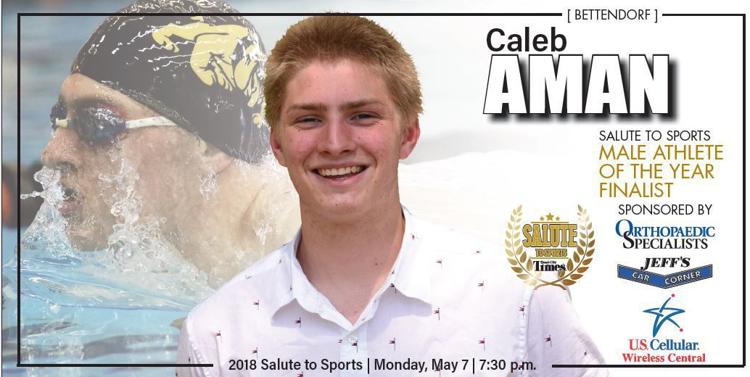 The next two finalists will be revealed at 8:15 a.m. online at qctimes.com. 
Today's photo gallery: Prep tennis

Pleasant Valley hosted Bettendorf, Tuesday, April 24, 2018, in a boys tennis duel match at the school. Here are some images from that event.
042418-Bett-PV-Boys-Tennis-001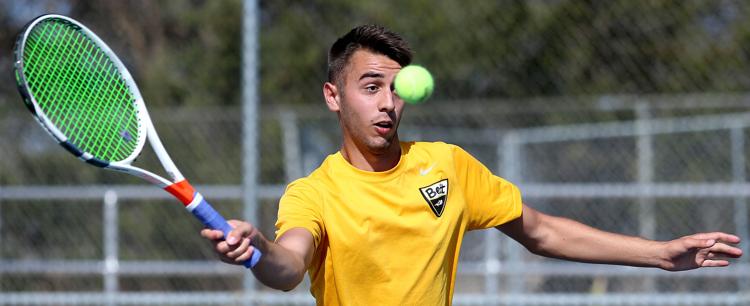 042418-Bett-PV-Boys-Tennis-002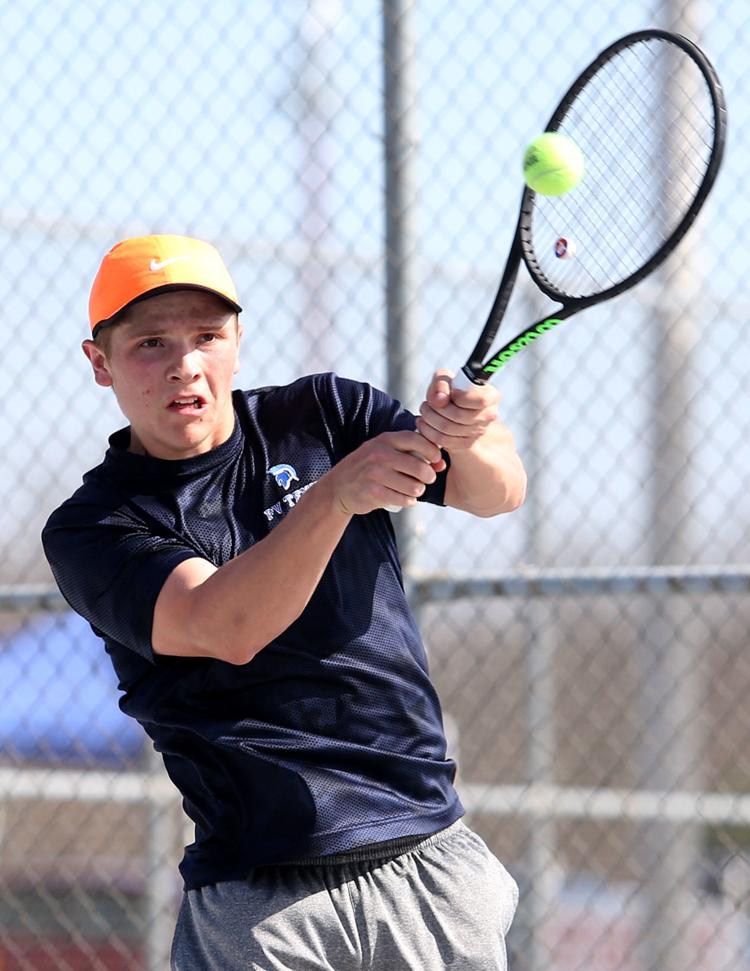 042418-Bett-PV-Boys-Tennis-003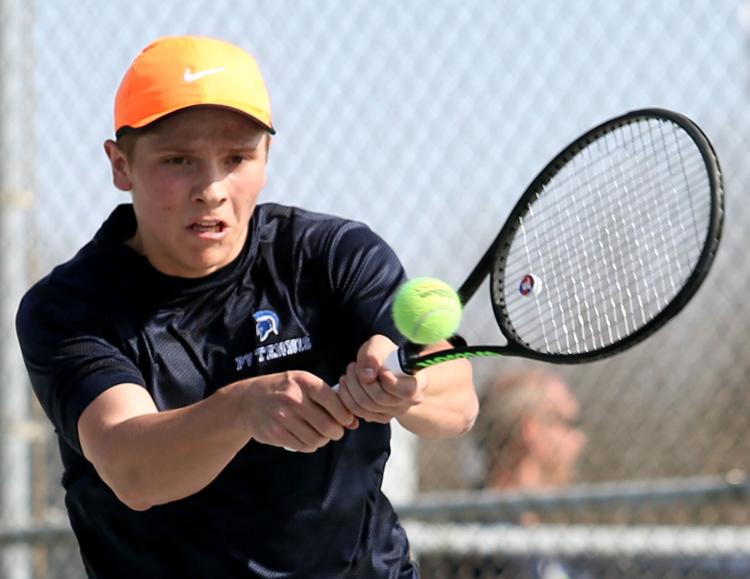 042418-Bett-PV-Boys-Tennis-004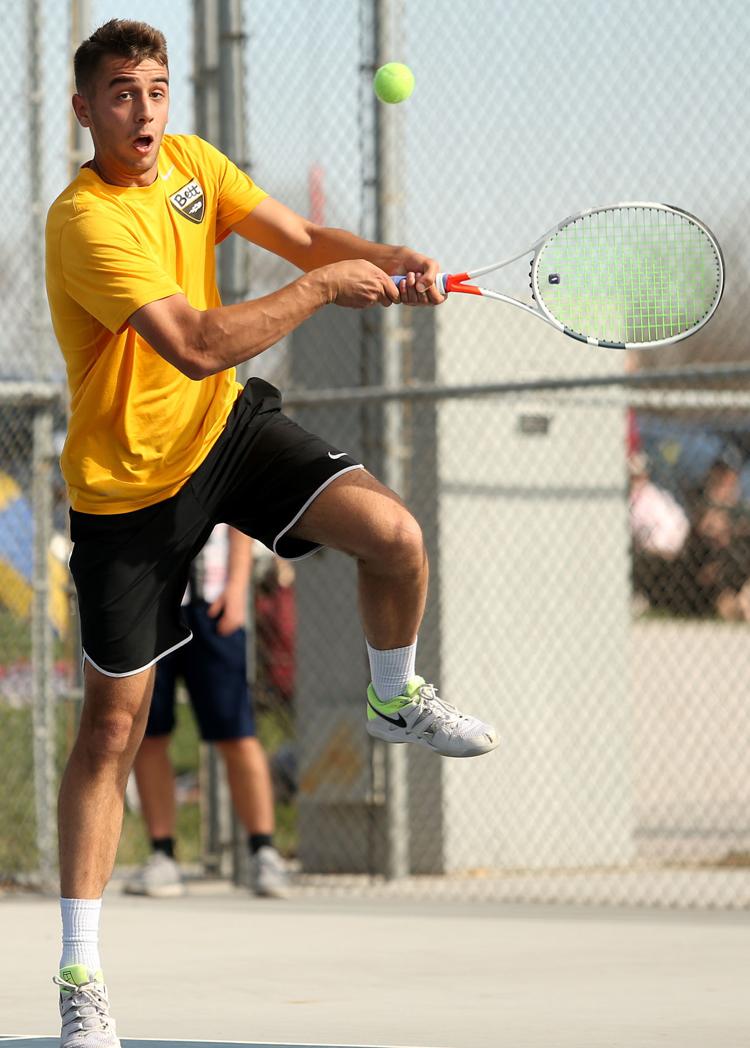 042418-Bett-PV-Boys-Tennis-005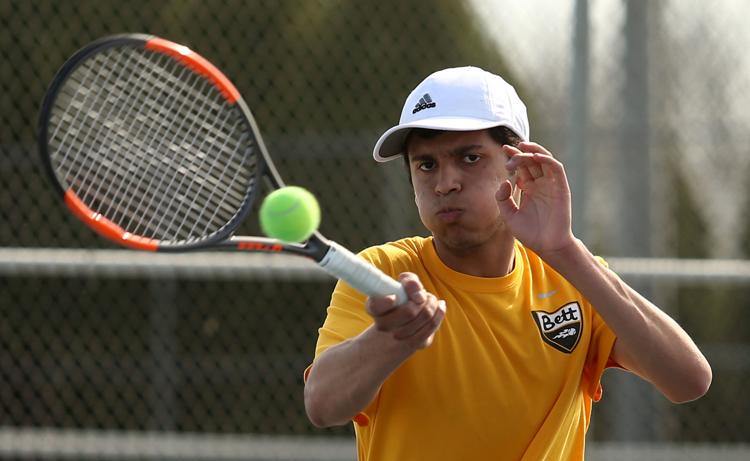 042418-Bett-PV-Boys-Tennis-006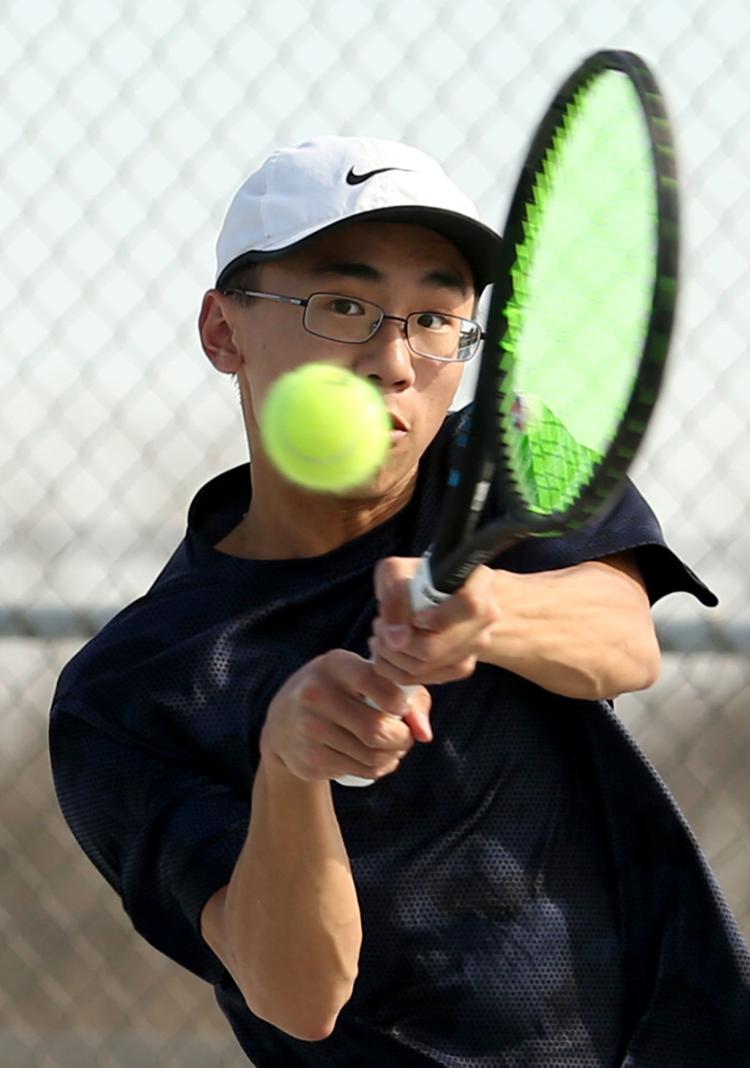 042418-Bett-PV-Boys-Tennis-007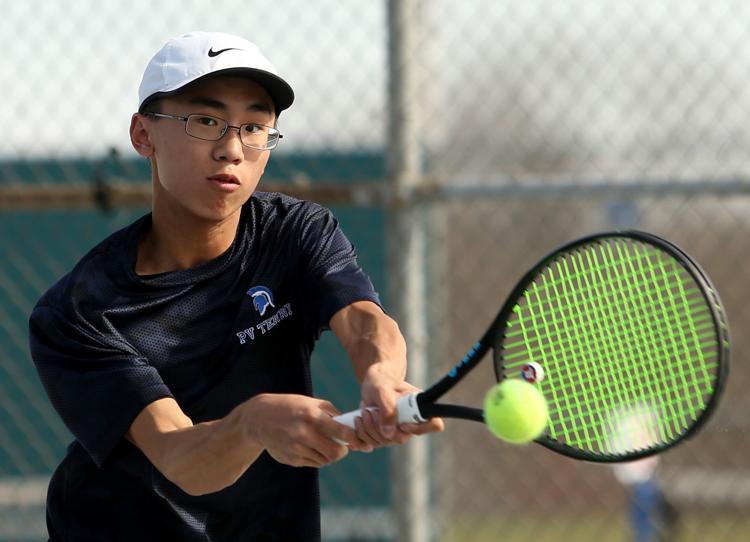 042418-Bett-PV-Boys-Tennis-008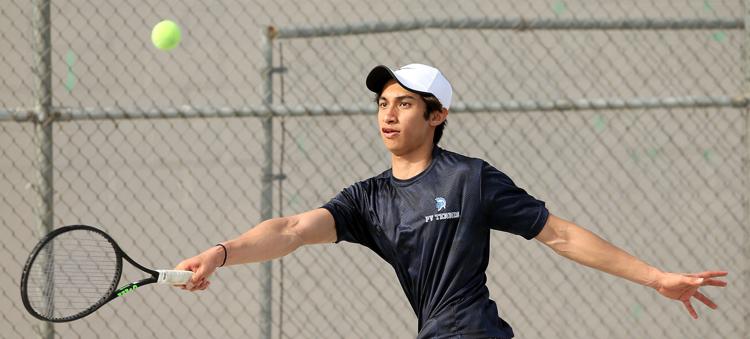 042418-Bett-PV-Boys-Tennis-009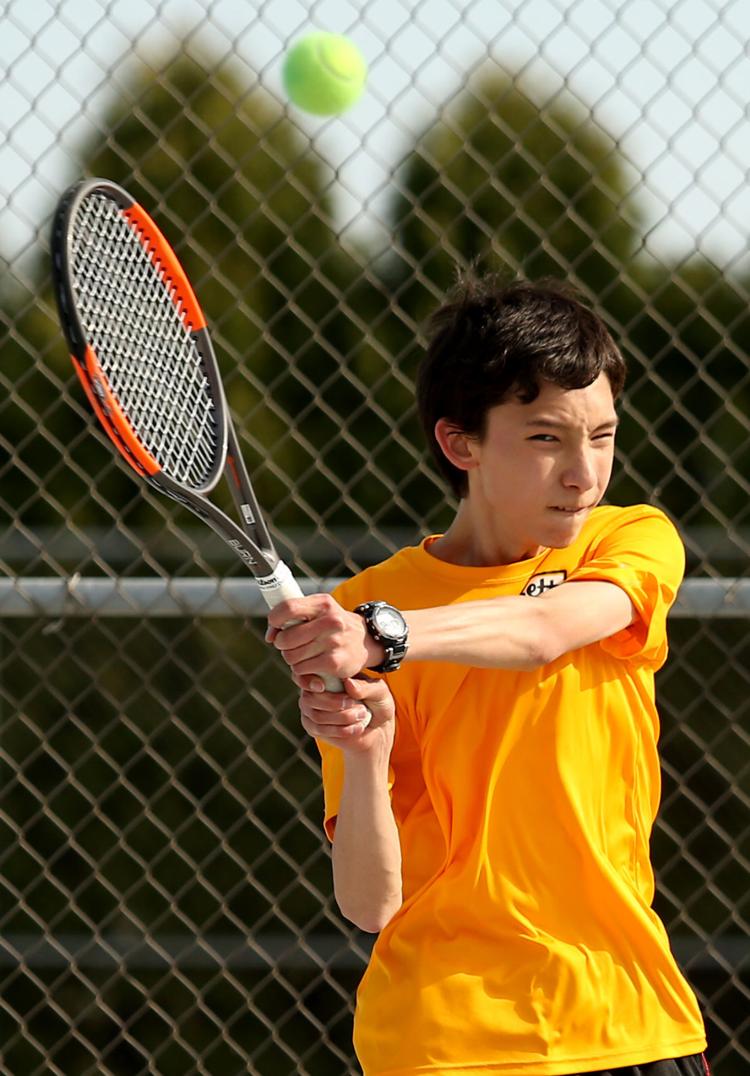 042418-Bett-PV-Boys-Tennis-010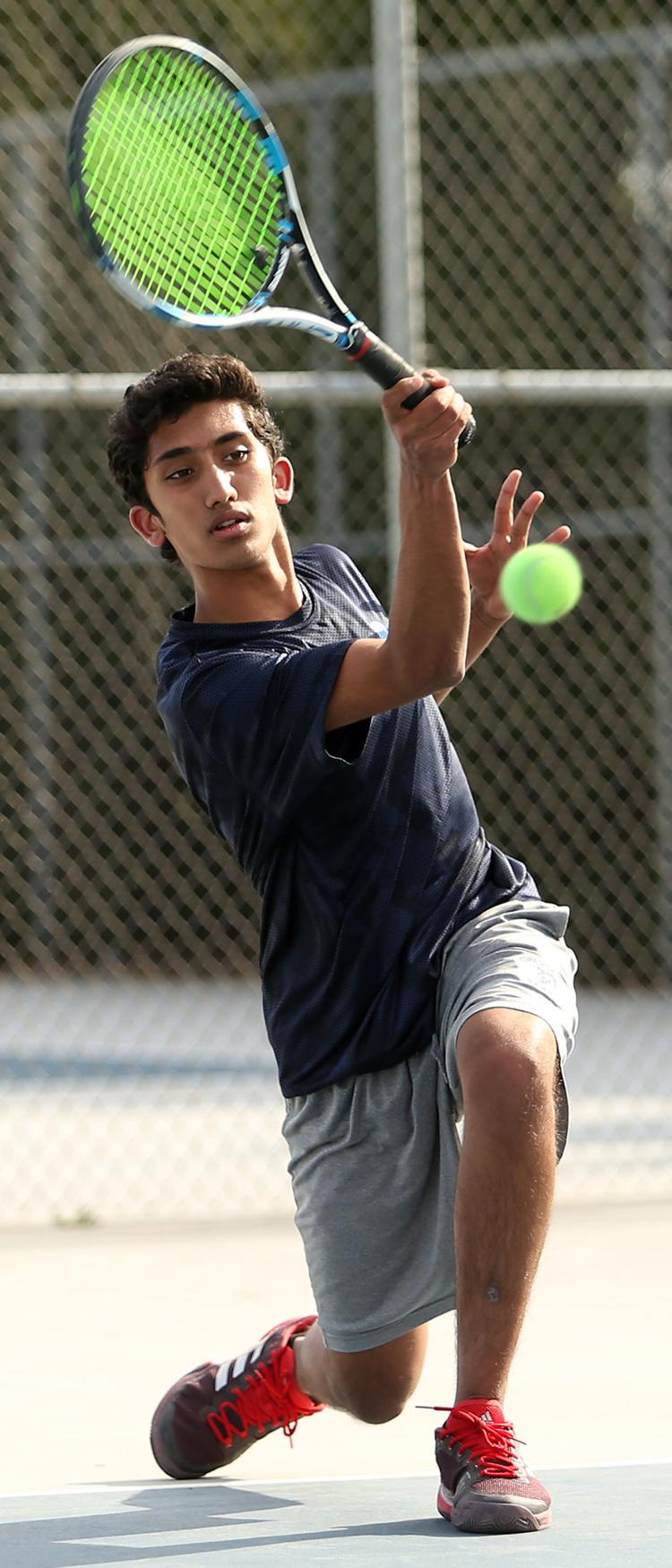 042418-Bett-PV-Boys-Tennis-011
042418-Bett-PV-Boys-Tennis-012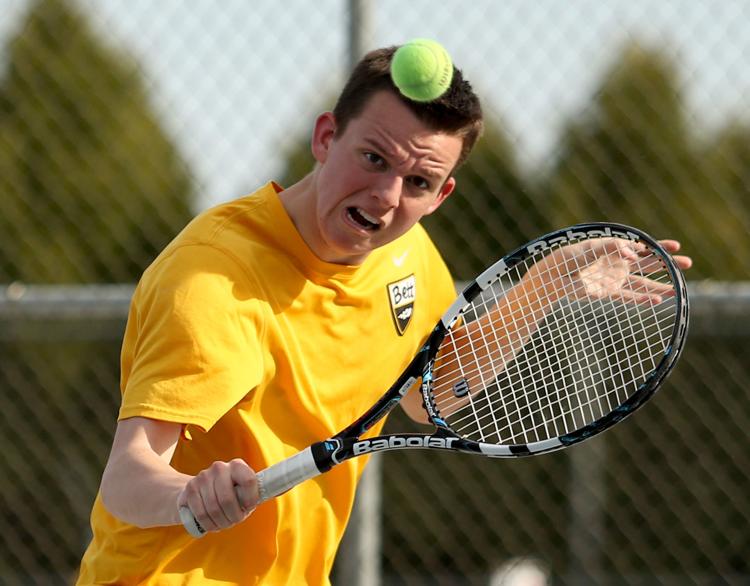 042418-Bett-PV-Boys-Tennis-013