A good Wednesday Valentine's Day to all. Things warm up today so the snow will begin to disappear. The down side? The warm temps will bring fog later today.
Here are the weather details from the National Weather Service.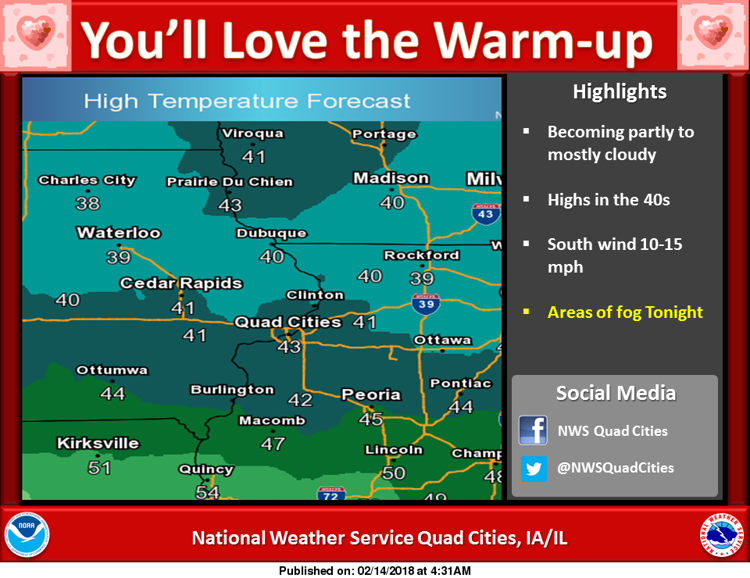 There's a slight chance of drizzle and patchy fog after 3 p.m. Otherwise the day will see increasing clouds with a high near 42 degrees.
Tonight there's a slight chance of drizzle before midnight along with areas of fog. Otherwise it will be mostly cloudy with a low around 35 degrees.
Thursday brings a 30 percent chance of rain between 9 a.m. and noon. Look for areas of fog before 3 p.m. Otherwise it will be cloudy with a high near 43 degrees.
Thursday night will be mostly cloudy with a low around 20 degrees. Northwest winds between 10 to 15 mph will gust as high as 30 mph.
2. Don't forget the roses and candy today
Today is Valentine's Day. But how much do you really know about Valentine's Day? Take our quiz and find out.
3. Civil Rights Commission considering litigation against Palmer College rezoning
The Davenport Civil Rights Commission is considering legal action against the rezoning tied to Palmer College of Chiropractic's campus improvement plan.
Last week, the Plan and Zoning Commission voted 9-0 in favor of recommending Palmer's application to rezone more than 38 acres to a planned institutional district.
Two outside fair housing experts had found the plan could impact a protected group disproportionately, something called disparate impact. Read more.
4. 2 dead, 4 injured in 5-vehicle crash in Rock Island County
Two people are dead and four others seriously injured in a five-vehicle crash  that occurred at 6:48 p.m. Tuesday in the 13500 block of U.S. 67, the Rock Island County Sheriff's Department said.
The preliminary investigation shows that a northbound vehicle entered the southbound lane and struck a southbound vehicle head-on. The drivers of both vehicles were pronounced dead at the scene.
Three other vehicles became involved in the crash at or near the initial head-on collision.
Sheriff's deputies said that four people were transported to a local hospital with serious injuries, while two other people declined additional medical treatment after being checked at the scene by paramedics.
The names, ages, and hometowns of those killed and injured will be released after families are notified.
The crash remains under investigation by the Rock Island County Sheriff's Department.
5. Bettendorf school facilities plan fails
The Bettendorf School Board in the coming weeks will be re-evaluating its proposed facilities plan, which included consolidating Thomas Jefferson and Mark Twain elementary schools and building a new school, after it failed to win approval during Tuesday's school board meeting.
Board members voted 4-3 against the plan.
Then, after a motion to vote on a plan that did not include the Thomas Jefferson and Mark Twain consolidation or pool improvements at Bettendorf High School, board members voted 3-3 with one abstention, essentially sending the plan back to district administration. Read more.
6. Bakeries celebrate anti-Valentine's Day with less lovestruck cookies
This time of year, the shelves inside Oh So Sweet by Tiphanie, the oh-so-cute bakery in downtown Davenport, are filled with cookies resembling engagement rings and pinks hearts inscribed with "I love you" written in cursive, red velvet cakes and pink cupcakes topped with pink macaroons. In other words, the bakery has been going all out for Valentine's Day. 
Oh So Sweet opened its doors on Monday, which is typically one of its two off days of the week, to accommodate Valentine's-related orders and held a "Galentine's Day" cake decorating class on Tuesday. Bakers have kept extra busy filling orders from a special Valentine's menu, featuring chocolate covered strawberries, heart-shaped peanut butter cookies and strawberry cheesecake, with a pressing deadline: Today. 
But, the eatery has also made room on its heart-shaped cookies for those who love to hate the holiday.
Almost two weeks after hosting a Valentine's Day cookie decorating class, the eatery hosted a sold-out Anti-Valentine's Day cookie decorating class on Sunday, describing it on Facebook  this way: "Not feeling all warm and fuzzy when you think of Valentine's Day? Then we have the perfect class for you!" Read more.