A good Tuesday to all. Sunny skies return to the Quad-Cities. And on Wednesday, so does the threat of snow. Here are all the weather detail from the National Weather Service.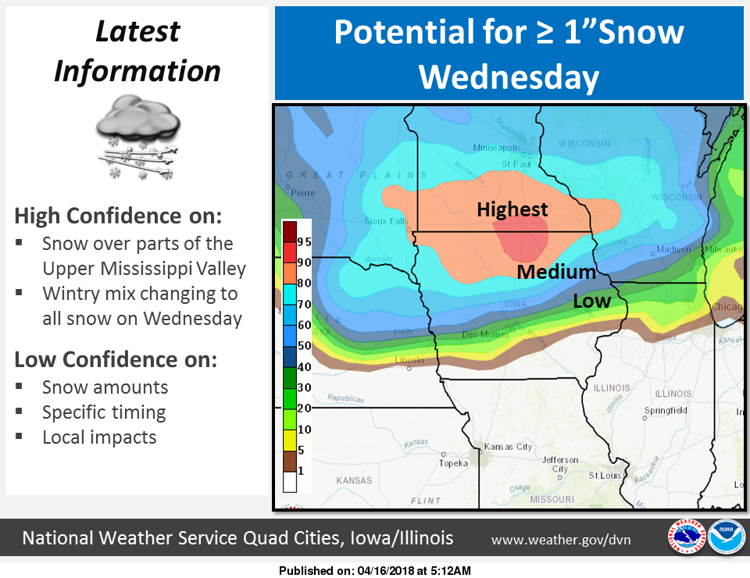 Today will be mostly sunny with a high near 47 degrees. Tonight brings a 10 percent chance of showers and thunderstorms after 5 a.m. Skies will be partly cloudy with a low around 33 degrees. East winds will gust as high as 20 mph.
On Wednesday we can expect rain and thunderstorms before 10 a.m., with rain likely throughout the rest of the day. The chance of precipitation is 80 percent with new rainfall amounts between a tenth and quarter of an inch possible with higher amounts in thunderstorms. The high will be near 42 degrees with winds gusting as high as 25 mph.
Wednesday night brings a 40 percent chance of precipitation in the form of rain and snow after midnight. Skies will be cloudy with a low around 30 degrees with northwest winds gusting as high as 25 mph.
2. Suspects sought after two-state chase
Two suspects in a stolen vehicle eluded Moline police on Monday afternoon, allegedly entered a home in the 170 block of 19th Avenue and fled, despite police calling in a CCU (crisis containment unit).
Moline police were investigating car thefts in the area of 19th Street and Avenue of the Cities around 1:30 p.m. when they received word about another car theft in which the car was headed their way over the I-74 bridge from Iowa.
Despite efforts to stop the vehicle near the Avenue of the Cities, the car swerved and nearly hit a police car and an officer and continued on to within a few blocks of the Rock Island border. The occupants eventually got out and police, using surveillance video from nearby businesses, saw that it appeared two black males entered a home in the 170 block of 19th Avenue in Moline. The car was abandoned in the 1700 block of 2nd Street in Moline. Read more.
3.  Davenport adds gates along rec trails, addresses riverfront drainage issue
Cyclist Jeff Cozad remembers exactly when rainwater began pooling on Davenport's riverfront trail next to Iowa American Water's water treatment plant, disrupting his commute to work.
"It's been that way ever since they put the floodwall in to protect the water company," said the now-retired Cozad, who biked every day for more than seven years (2009-2016) from his home in Bettendorf to his Deere & Co. job in downtown Moline.
The U.S. Army Corps of Engineers completed construction of the 2,200-foot flood protection system in October 2013. It separates the plant's property from the riverfront trail, and Cozad believes the grade of the recreational path was not properly adjusted when the floodwall was built. After heavy rains, he said, "There's nowhere for the water to go."
Davenport Parks and Recreation workers last week installed bright yellow swing gates along the trail near the eastern and western ends of the floodwall to alert users when rains inundate that area. The city is installing 12 identical gates in four other flood-prone areas along the riverfront trail and Duck Creek Parkway, and news of the additions has sparked pushback from cyclists familiar with the drainage issue. Read more.
4. Today is Tax Day — What if you owe the IRS money?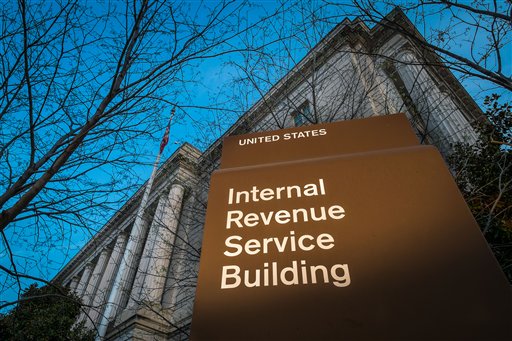 Tax Day is finally here once more. If you haven't filed, you better hop to it. If you're getting a refund, lucky you. But if you owe the government money, you may be worried that you have to pay the amount due by the filing deadline of April 17 — even if you asked for an extension.
Owing the IRS — especially when you don't have the funds to pay — can cause major stress. But before you let the anxiety get the best of you, know this: The Internal Revenue Service, believe it or not, understands. In addition, you may qualify for a collection alternative to pay off your debt gradually or at a substantially reduced amount.
Most taxpayers, particularly those who may have more difficulty paying an unexpected tax debt, usually aren't aware that these options exist. Read more.
5. Go to jail, go directly to jail ...
6. From the Times archives, 'Let's go to the movies.'
Fifty years ago today, "Bonnie and Clyde' and "Planet of the Apes" headlined Quad-City movies theaters. For your viewing please, here's a page full of movie advertising straight from the April 17, 1968, edition of the Quad-City Times. How many of these movie theaters do you remember?
BONUS 6: Let's play in the Q-C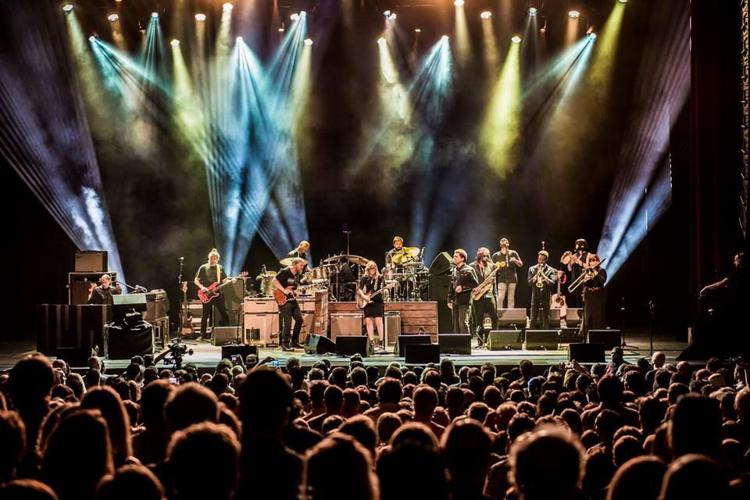 Photos gallery of the day: North Scott boys vs. Davenport North

North Scott shows off youth in win over Davenport North on the soccer pitch.