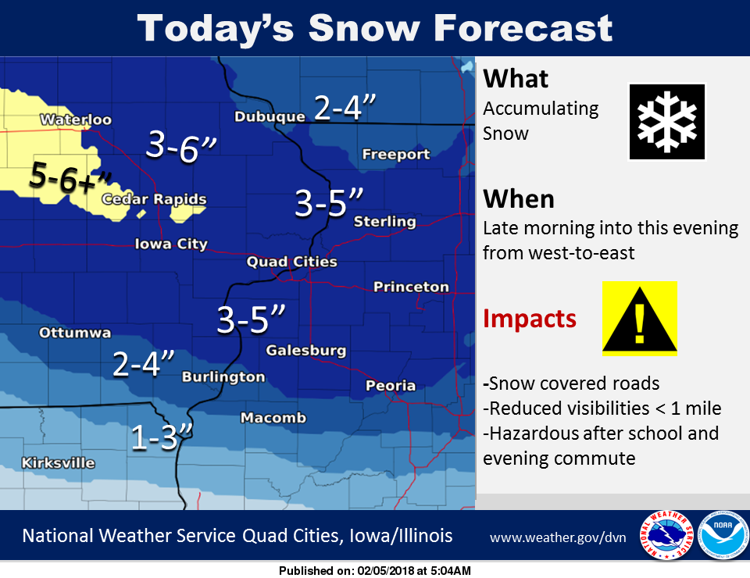 A good Monday to all. Catch the Super Bowl last night? The Philadelphia Eagles dethroned Tom Brady and the Patriots by a 41-33 score. What was your favorite Super Bowl commercial?
Now to the weather, which can be summed up in one word — snow. Snow IS on the way. Anywhere from 3-5 inches of snow is coming, making it the biggest snowstorm of the month. It's expected to arrive sometime this afternoon, so parents be alert for possible early school dismissals.   
Here are the weather details from the National Weather Service.
1. Winter weather advisory from the NWS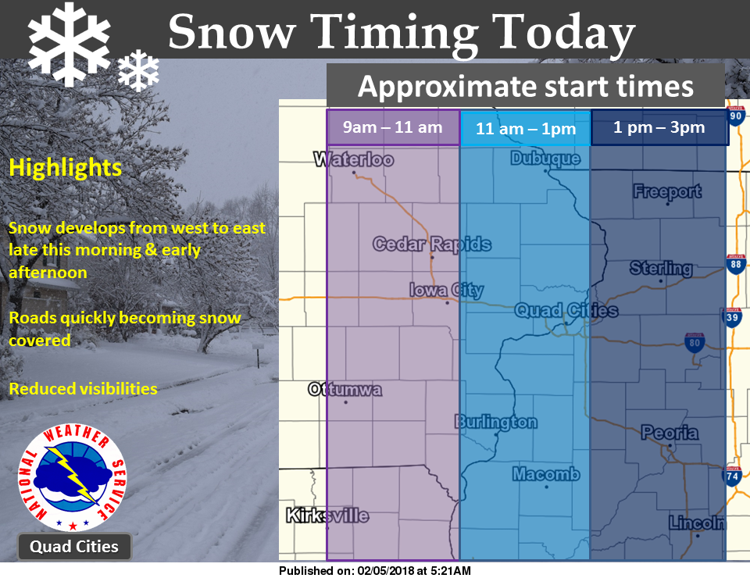 A National Weather Service winter storm advisory will go into effect at noon and continue through 8 p.m.
According to the weather service, "A storm system will bring snow accumulations of 3 to 6 inches to the region. The snow should enter eastern Iowa by late morning and then spread eastward into northwest and western Illinois early this afternoon. Very cold temperatures in the teens to lower 20s will allow the snow to quickly accumulate and cause snow covered roads and hazardous driving. Visibilities will be frequently less than a mile in the heavier snowfall."
"A Winter Weather Advisory for snow means periods of snow will cause primarily travel difficulties. Be prepared for snow covered roads and limited visibilities, and use caution while driving.
2. Wind-chill values around -10 degrees
As previously mentioned, we can expect snow, mainly after noon. The snow could be heavy at times. The high for the day will be near 18 degrees with wind-chill values as low as -10 degrees. The chance of precipitation is 100 percent with total daytime snow accumulation of around 5 inches.
Snow also is likely tonight before 9 p.m. It will be cloudy during the early evening then gradually clearing with a low around 1 degree. Wind-chill values will be as low as -10 degrees. The chance of precipitation is 70 percent with new snow accumulation of less than a half inch possible.
Tuesday will be mostly sunny with a high near 16 degrees and wind-chill values as low as -10 degrees. 
Tuesday night more snow is likely before midnight. Skies will be cloudy with a low around 8 degrees. The chance of precipitation is 60 percent with new snow accumulation of around an inch possible.
3. Davenport declares snow emergency
With the National Weather Service forecasting 4 to 6 inches of snow today, the City of Davenport has declared a snow emergency.
The snow emergency will go into effect at noon today and will expire at noon Tuesday.
Crews are prepared to respond when snow begins.
Vehicles parked on posted snow routes during active snow emergencies will be ticketed and towed. As an alternative to on-street parking in the downtown, visitors may park free in any one of the city's three parking ramps during the snow emergency.
4. ICYMI: Inside Old Main
It was our big story from this past weekend. Times columnist Barb Ickes takes us on a trip inside places in the Quad-Cities that we pass by everyday in her occasional series, Off Limits Places. This time Barb takes us inside Old Main dome at Augustana College and the trip did not disappoint. Read more.
5. Moline man arrested after standoff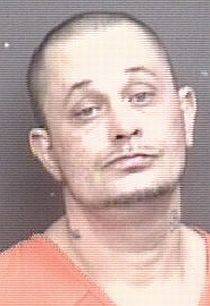 A 37-year-old Moline man with a long criminal history in Rock Island County was arrested early Saturday after a six-hour standoff that began late Friday.
Roderick Allen Crawford, who was wanted on several outstanding warrants, was charged with being a felon in possession of a firearm after the standoff ended. Read more.
6. Rhythm on the Riverbend Show Choir Competition
Bettendorf hosted its 2nd Rhythm on the Riverbend Show Choir competition this weekend with four local and area schools participating. Check out these images.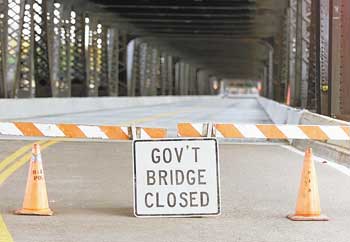 The Government Bridge to the Arsenal Island will be closed Wednesday at 8:30 a.m. through Friday at 7 p.m. for repairs.