A good Monday to all. Did you watch the Academy Awards last night? Did your favorites take home an Oscar? Switching to weather, a mixed bag is on tap for the Quad-Cities this morning in the form of rain, sleet and snow. Here are the weather details from the National Weather Service. 
1. NWS special weather statement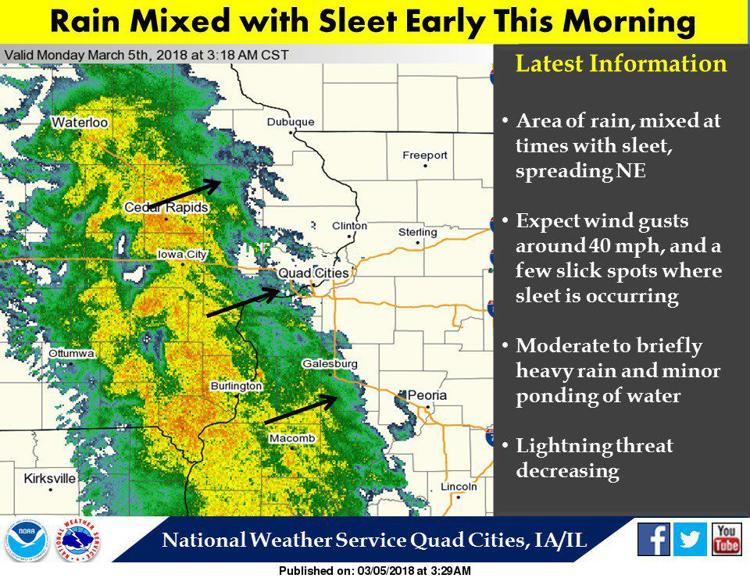 The National Weather Service has issued a special weather statement this morning for the Quad-City area.
It states that early this morning a leading edge of an area of mixed precipitation was from Manchester, through Tipton and Moline, to Galesburg.
The precipitation was spreading northeast at 25 mph.
The wintry mix of rain, sleet, and snow will be common northeast of a line from Vinton, to Muscatine and Galesburg, with mainly rain to the southwest of that line. Motorists should be prepared for ponding water on roads, and possibly some slushy sleet accumulations. Wind gusts around 40 mph are also possible.
Today's forecast calls for showers and possibly a thunderstorm with a high near 39 degrees. The chance of precipitation is 100 percent with new rainfall amounts between a half and three quarters of an inch possible. East winds between 15 to 25 mph will gust as high as 35 mph.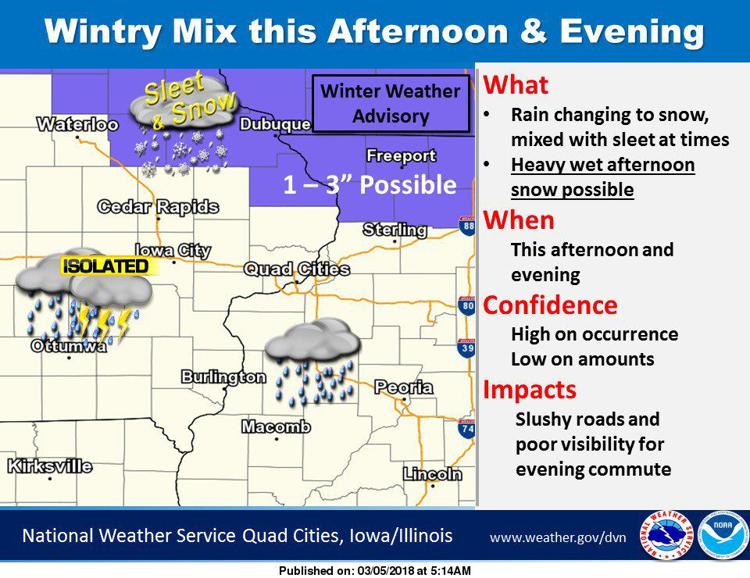 Tonight there's a  40 percent chance of rain before 8 p.m. Skies will be mostly cloudy with a low around 29 degrees.
Tuesday will see a chance of rain and snow before noon with rain likely between noon and 4 p.m., then rain and snow likely after 4 p.m. Skies will be cloudy with a high near 38 degrees. The chance of precipitation is 60 percent with new snow accumulation of less than a half inch possible.
Tuesday night brings a 30 percent chance of snow before midnight with an overnight low of 23 degrees.
2. 5th Avenue in Moline to permanently close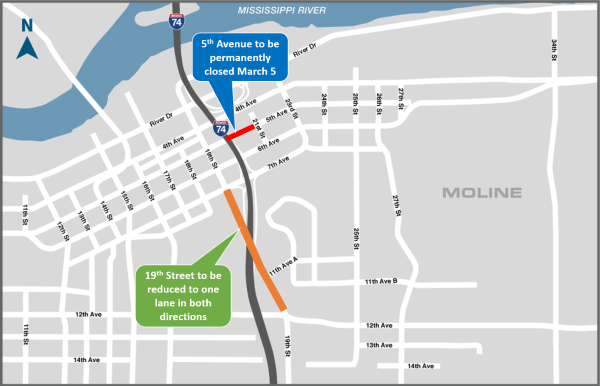 Beginning today, the Illinois Department of Transportation will permanently close 5th Avenue between Interstate 74 and 21st Street in Moline, weather permitting.
The closure of 5th Avenue is required for the reconstruction and realignment of the I-74 Mississippi River Bridge.
Drivers should use suggested alternative routes using 4th, 6th or 7th avenues.
• As 5th Avenue in Moline will be permanently closed,19th Street will be reduced to one lane in both directions.
The Quad-City Times has been following construction of the new I-74 bridge across the Mississippi River since day 1 capturing hundreds of imag…
• Also beginning today, 19th Street in Moline will be reduced to one lane in both directions between 7th and 12th avenue for utility work. This work is anticipated to be completed in early May.
• Shoulders on I-74 will be closed between 7th Avenue and one mile south of Avenue of the Cities in Moline to allow construction equipment access and to prepare for the expansion of the roadway.
An important part of the I-74 River Bridge project includes reconstructing and widening I-74 to three lanes in each direction.
Auxiliary lanes, or entrance/exit lanes, will be added in select locations. The additional lanes and auxiliary lanes will improve traffic flow and safety in the area.
3. 'Shape of Water' triumphs at an Oscars full of change
The 90th Academy Awards crowned Guillermo del Toro's monster fable "The Shape of Water" best picture at an Oscars that confronted the post-Harvey Weinstein era and sought to pivot to a vision of a more inclusive movie business.
4. Rain may delay the fall of the Rock River
The start of the Quad-City work week will be cold and blustery, according to Andy Ervin, meteorologist for the National Weather Service, Davenport.
While Quad-Citians button up their coats, the Rock River will continue to recede.
"The Rock has been falling for a little over a week," Ervin said.
Rain will arrive in the Quad-Cities Monday morning, with precipitation continuing Tuesday, he said.
"if anything, that rain may delay the fall (of the Rock) a little bit," he said. Flood stage for the Rock is 12 feet, which measured 13.3 feet Sunday evening.
Rain from a "pretty good band of showers" will start early Monday, Ervin said. Highs will be in the upper 30s, markedly cooler from weekend temperatures, with possibly a little snow in the afternoon.
Tuesday will bring a mix of snow and rain to the area, with mainly rain for the Quad-Cities, he said.
5. Q-C hungers for HomeGoods

Retailer HomeGoods will open its first store in the Quad-Cities later this year and round out Elmore Marketplace in Davenport, developer Heart of America Group announced.
The off-price home fashions retailer will locate in a new 22,000-square-foot store to be built between Beauty Brands and the J Bar, part of Heart of America's Holiday Inn & Suites. The hotel/retail development sits between Elmore Avenue and Interstate 74. Business reporter Jennifer DeWitt has more on the HomeGoods store as well as updates on Jersey Mike's and American Family Insurance in her weekly column, "Bizbytes." Read more.
6. New Bettendorf elementary school rises on hillside
The Bettendorf Community School District's new $16.7 million Grant Wood Elementary School is taking shape on the hillside just south of the existing school, and is expected to be substantially completed by July 1, said Jeff Michels, senior project manager for Estes Construction, Davenport, the general contractor. Read more.