A good Friday to all. Our last three-day holiday weekend of the season will be mild and pleasant with a chance of rain thrown into the mix. Here are the weather details from the National Weather Service.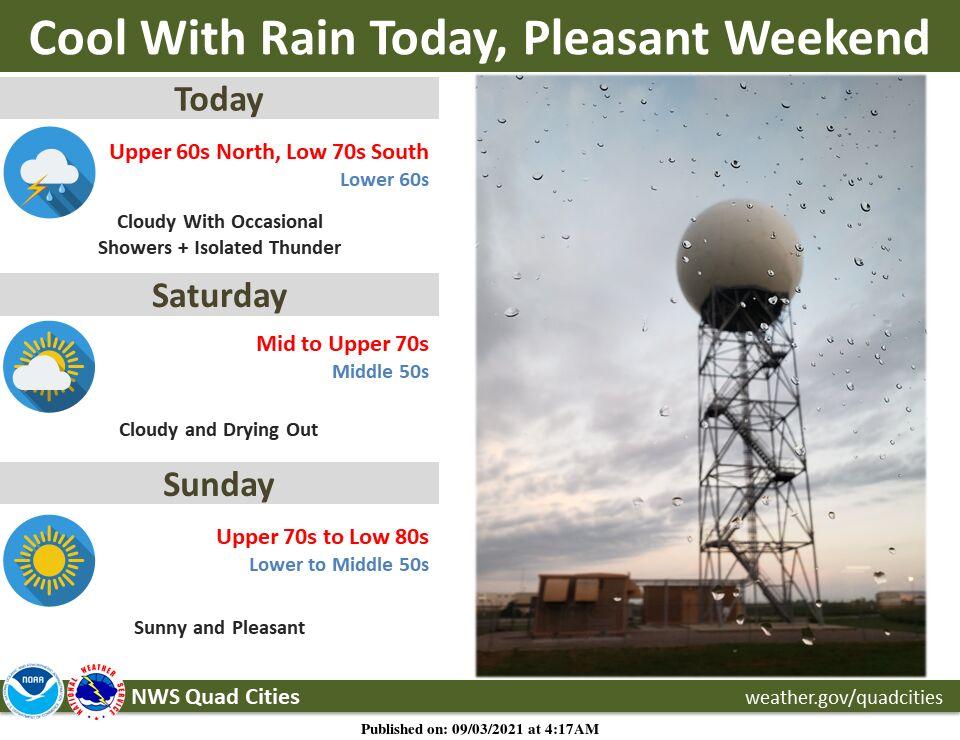 Showers and thunderstorms are likely before 4 p.m., then there's a chance of showers. Skies will be mostly cloudy with a high near 70 degrees. South winds will gust as high as 20 mph. The chance of precipitation is 60% with new rainfall amounts between a quarter and half of an inch possible.
Tonight there's a chance of showers and thunderstorms before 4 a.m., then a slight chance of showers. Skies will be mostly cloudy with a steady temperature around 67 degrees. The chance of precipitation is 40%.
For Saturday there's a 20% chance of showers. Skies will be mostly cloudy with a high near 76 degrees and a low around 57 degrees.
Sunday will be sunny with a high near 81 degrees and a low around 56 degrees.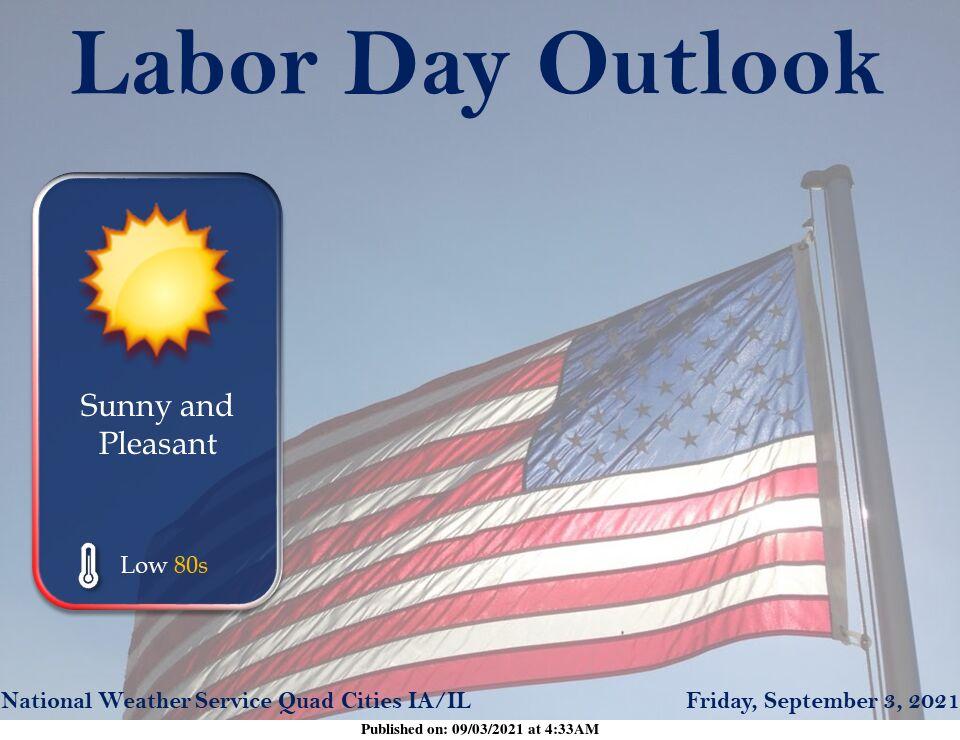 For Labor Day Monday it will be sunny with a high near 82 degrees and a low around 63 degrees.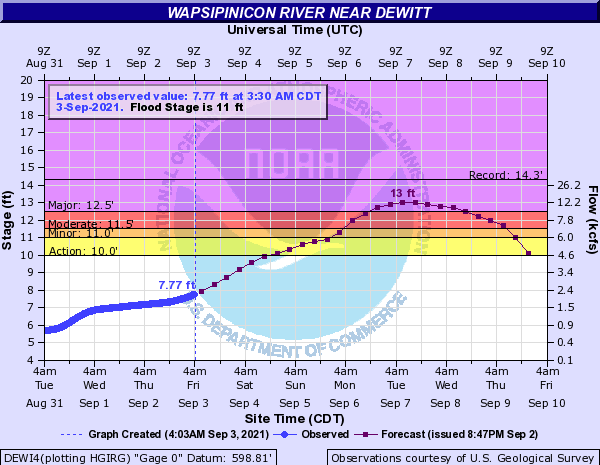 The Flood Warning continues for the Wapsipinicon River near DeWitt. Earlier today the Wapsi was at 7.7 feet. Flood stage is 11 feet. The river is expected to rise above flood stage Sunday night to a crest of 13 feet Tuesday night. It will then fall below flood stage early Thursday afternoon.
At 12.5 feet, water affects old U.S. 61 near the river.
At 13 feet, water affects many residences along the river.
2. Quad-Cities Jewish congregations join under one roof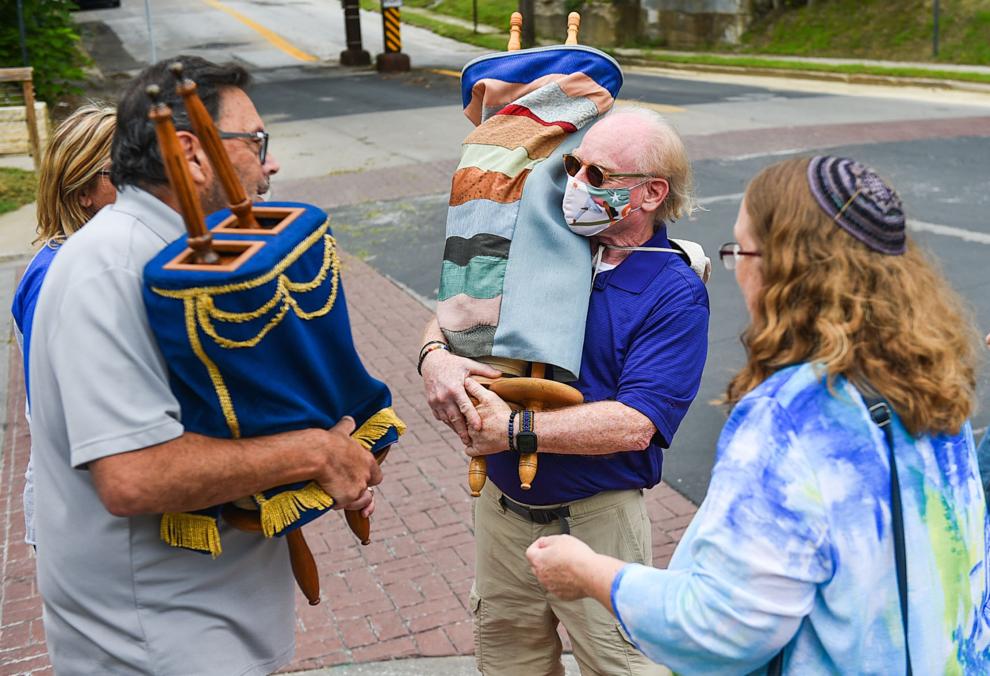 The Tri-City Jewish Center sat empty Thursday afternoon, save for a small group of people and the Torah. Rabbi Linda Bertenthal spoke a blessing of gratitude for the building congregation Beth Israel at the Tri-City Jewish Center has used for services for years. Then, they picked up the Torah, closed the doors one last time and began a miles-long trek to their new home.
Giving a blessing for the building wasn't just to profess gratitude, Bertenthal said, but to bring forward the hope that it may become a spiritual home and house of learning for all of Rock Island, as it was for them.
Congregation Beth Israel — along with Temple Emanuel of Davenport, who left its building a couple hours later — took that hope with them as they walked the Torah to both the congregations' new home at 2215 E Kimberly Road. Read more.
3. Father, son bring frights and fun to Q-C with Midwest Monster Fest
Horror-loving father-and-son duo Jeff O'Neil and Ryker O'Neil are ready to invite people to share in the scares at the Midwest Monster Fest this weekend after canceling the festival in 2020. 
The Midwest Monster Fest will fill the Rust Belt, 533 12th Ave., East Moline, with frighteningly exciting vendors, artists and celebrity guests Friday through Sunday.
Horror lovers will have the chance to interact with big names in the horror genre, watch scary movies at the event's independent film festival and participate in costume, F/X makeup, and horror-themed pinup contests. Read more.
4. Knights christen Bush Stadium with lopsided win over Golden Eagles
It was an evening of firsts as Davenport Assumption stripped the shrink wrap from its brand, spankin' new turf football field at Jack and Pat Bush Stadium. Thanks to three second-quarter touchdowns, Assumption opened in style at its new digs Thursday with a 48-14 victory over Dubuque Wahlert in a non-district contest. Read more.
5. Rock Island County courts facing 33,000 open cases with looming deadline for trials to resume
Overwhelmed Rock Island County prosecutors say they've stopped charging people for some minor crimes and are pleading for additional funding to deal with a backlog of 33,000 cases, including 27 open homicides.
There are simply too many crimes and not enough prosecutors, says State's Attorney Dora Villarreal.
The backlog is also due largely to an Illinois Supreme Court ruling that suspended defendants' right to a speedy trial during the COVID-19 pandemic, since social distancing measures prevented juries from being formed and hearings from being held in-person. That suspension is set to be lifted on Oct. 1, meaning defendants will have the right to demand their case be brought to trial within 120 days if they're being held in jail, and within 160 days if they're out on bond. Read more.
Today's top videos
Today's photo galleries