A good Wednesday to all. The forecast for today in a nutshell — cloudy. Here is today's dreary forecast from the National Weather Service.
1. Cloudy with some drizzle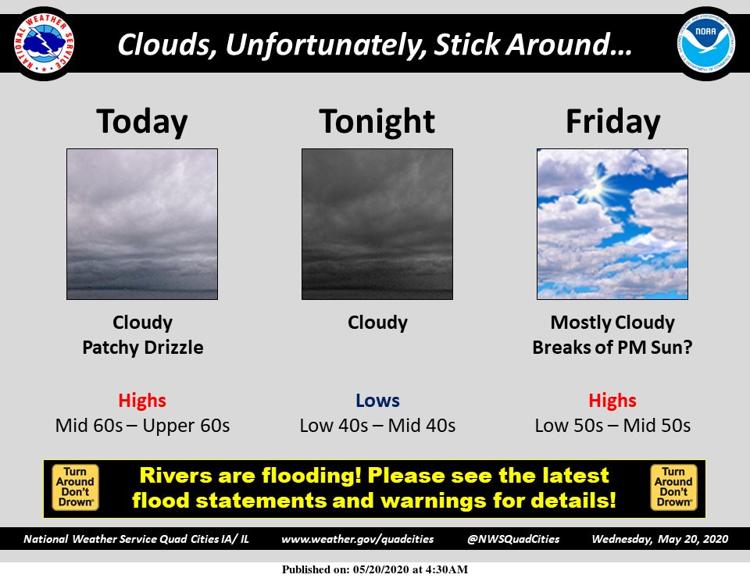 Today will be cloudy with a chance of drizzle before 7 a.m. The high will be near 65 degrees and a low around 52 degrees. East winds will be between 10 to 15 mph.
Thursday will be mostly cloudy with a high near 68 degrees and a low around 57 degrees.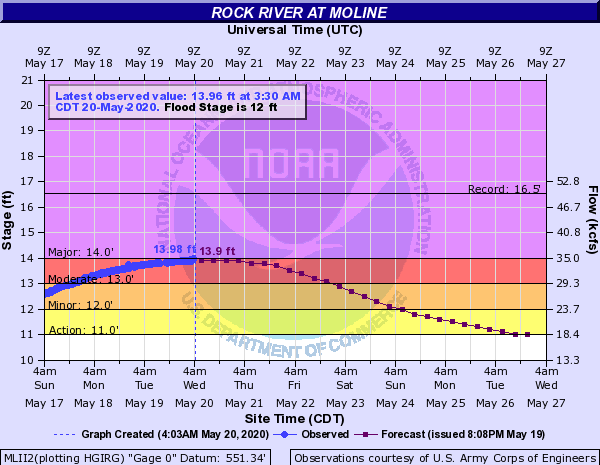 The Flood Warning for the Rock River in Moline has been extended until Sunday. Early today the Rock was at 13.98 feet and holding steady. Flood stage is 12 feet. Moderate flooding is occurring with the Rock expected to fall below flood stage Sunday morning. At 13.2 feet, water affects 60th Street south of John Deere Road in Moline and 75th Avenue from Green Valley Park 48th Street. Water is on Canal Road in Big Island. Smith`s Island is affected by floodwaters.
2. Pier 1, Kay Jewelers to permanently close Davenport locations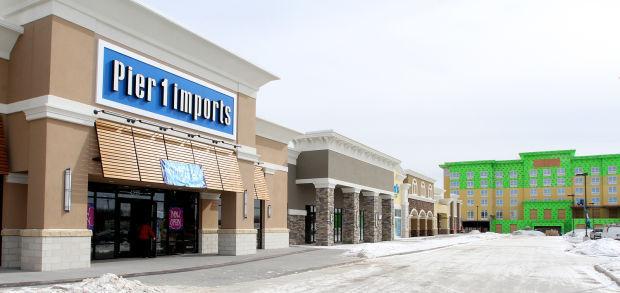 Closure announcements are beginning to trickle in as COVID-19 has slammed the retail and business sectors in the past two months.
Pier 1 Imports announced Tuesday that it was unable to find a buyer to continue operating the stores while it filed for Chapter 11 Bankruptcy protection.
That means it is seeking bankruptcy court approval to start store closing and liquidation sales once stores are able to safely reopen. The Texas-based home goods retailer has yet to reopen its Davenport store at 4235 Elmore Ave., but sales have continued online.
Kay Jewelers, within the NorthPark Mall in Davenport, announced to customers in recent days that its Davenport location is closing permanently after 18 years. The Kay Jewelers within SouthPark Mall in Moline will continue to operate in the Quad-Cities.
3. Rock Island County records youngest death yet
A man in his 30s has died of COVID-19, the youngest Rock Island County resident yet to succumb to the new coronavirus, and an infant is among the latest to test positive.
The county health department reported the death Tuesday.
"Today we are reporting the youngest person to die from COVID-19 in the county," said Nita Ludwig, administrator of the Rock Island County Health Department. "We are saddened by every one of our residents who have lost their life to this illness. We send our deepest condolences to their families and friends."
In total, the department reported four new COVID-19 cases, bringing the tally to 645. Fourteen of those are hospitalized.
In Scott County, officials did not report any new data. Figures from the state database listed the county with 309 cases and eight deaths, unchanged since Monday. Read more.
More on the coronavirus and its impact on the Quad-Cities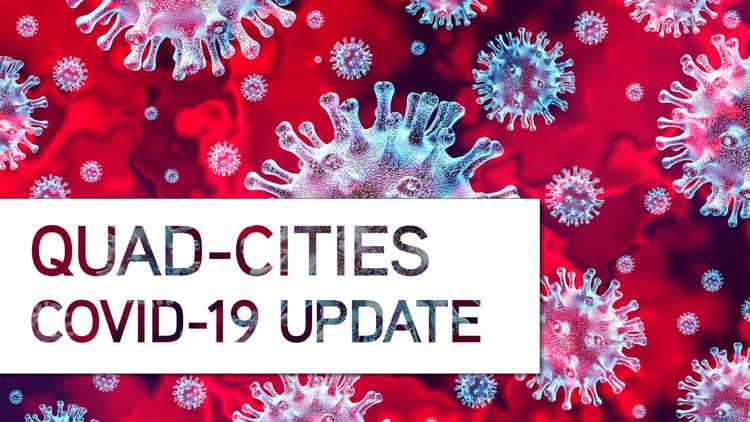 4. Bettendorf city administrator: Cancel parade, sell Life Fitness Center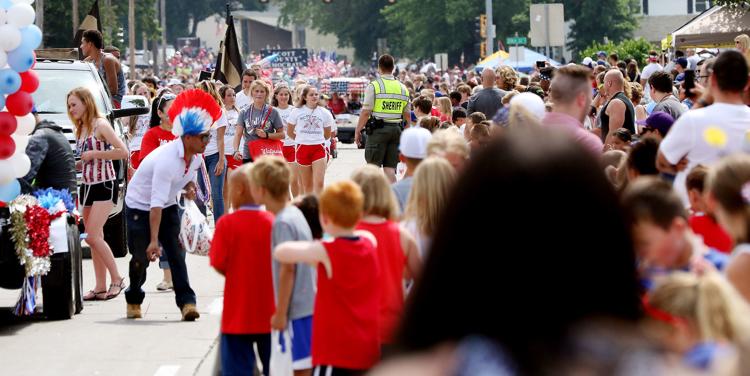 Keep the Bettendorf swimming pool closed, sell the Life Fitness Center and cancel the Fourth of July parade.
Those were among recommendations Tuesday night from City Administrator Decker Ploehn, who presented the Committee of the Whole budget reductions to offset revenue loss from the COVID-19 pandemic.
Ploehn anticipates a loss of $2 million to $4 million during the fiscal year beginning July 1. Read more.
5. Backwater Gamblers lose ski season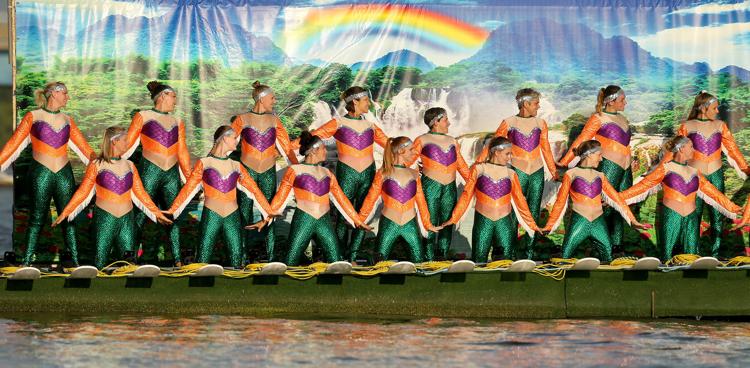 The coronavirus has claimed another Quad-Cities staple.
Citing health and safety of its show-team participants and its legion of fans, the nationally recognized Backwater Gamblers Ski Team has postponed its 35-show season for 2020.
"Where the state of Illinois stands and the guidelines set in place, we cannot guarantee the safety of our performers and of the fans for this season,'' said Elisabeth Cross, show director for the 100-member squad, which annually opens its local season Memorial Day weekend. Read more.
Today's photo gallery: Gone fishing

Concerned about COVID-19?
Sign up now to get the most recent coronavirus headlines and other important local and national news sent to your email inbox daily.