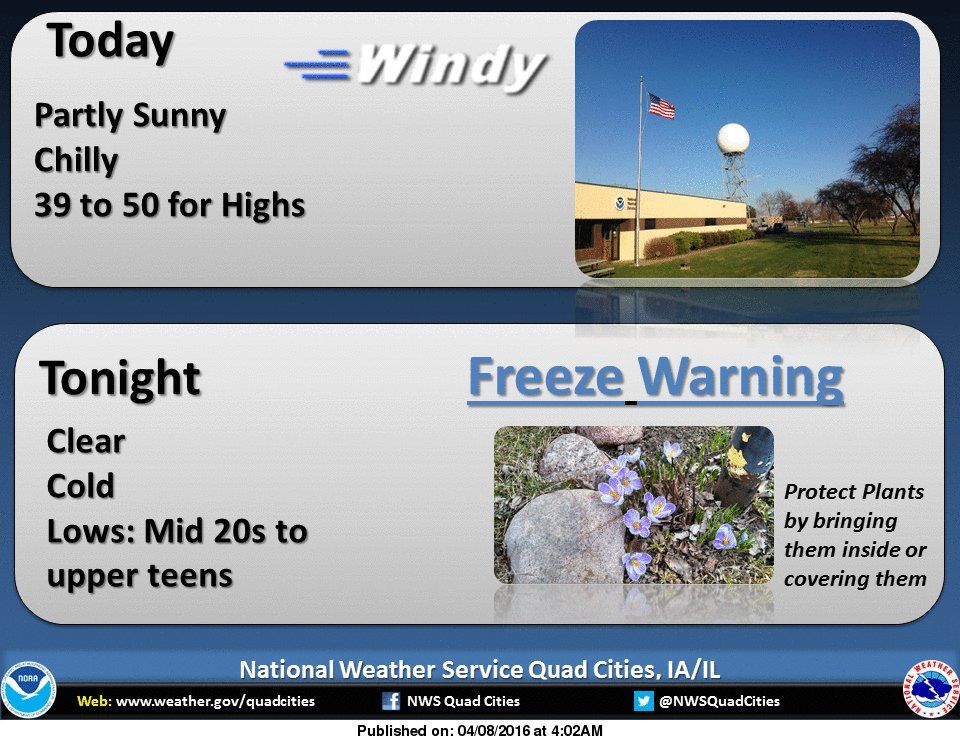 1. Wind, rain and frost for the weekend
It's beginning to sound like a broken record — breezy, chilly and rain — but that's the way the weather rolls for the Q-C this weekend. We're even looking at some below-freezing temps tonight.
Today there's a 20 percent chance of showers after 3 p.m. Otherwise the day will be partly sunny and breezy with a high near 43 degrees. Northwest winds between 15 to 20 mph will increase to 20 to 25 mph in the afternoon and could gust as high as 35 mph.
Tonight there's a slight chance of showers before 7 p.m. Skies will be mostly clear and blustery with a low around 23 degrees. Northwest winds will decrease after midnight but still could gust as high as 25 mph.
For Saturday it will be sunny with a high near 46 degrees. 
Saturday night will see a slight chance of showers with thunderstorms also possible after 1 a.m. Skies will be mostly cloudy and breezy with a low around 38 degrees.
For Sunday look for more showers and possibly a thunderstorm. The chance of precipitation is 60 percent with new rainfall amounts between a tenth and quarter of an inch likely with higher amounts possible in thunderstorms. Skies will be mostly cloudy with a high near 61 degrees.
Sunday night brings a 50 percent chance of showers before 1 a.m. and a low around 39 degrees.
2. Eastbound lanes of I-80 bridge to close Saturday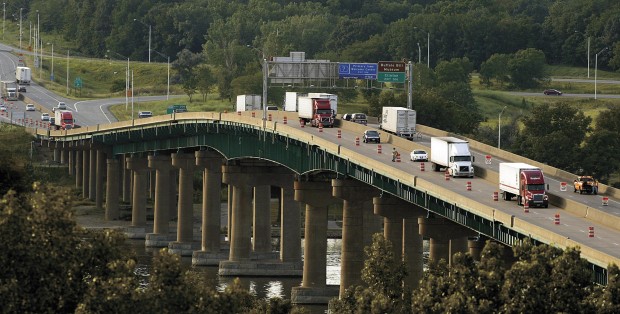 Another heads up from the traffic department. This from the Illinois DOT: The eastbound lanes of Interstate 80 will be closed at the Mississippi River from 7 a.m., Saturday, to noon Sunday.
Eastbound I-80 traffic will be detoured to Interstate 280 during the closure, but local drivers might find Interstate 74 in Moline or U.S. 30 in Clinton to be closer options, depending upon destinations.
Illinois Department of Transportation workers will be removing and replacing expansion joints near the north end of the bridge. The joints extend across both lanes in each direction, so the work requires that the lanes be closed.
Also, before you head out this morning, check out bridge cam to stay on top of traffic flow on the I-74 bridge. Share your stories on Twitter using the hashtag #qctraffic and don't forget to zipper merge.
3. Take a visual tour of the QCT Bix 7 course
4. Follow the Hawkeyes on Hawkmania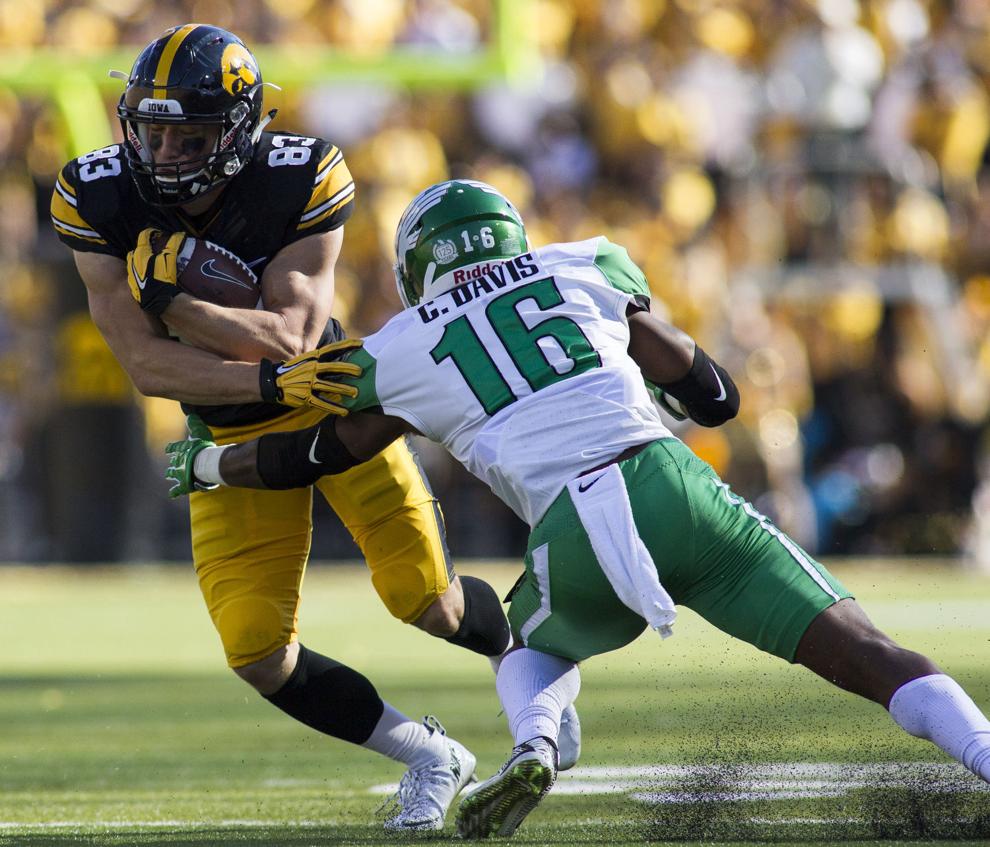 Times reporters  Steve Batterson and Don Doxsie have you covered when it comes to the Iowa Hawkeyes and Hawkmania is where you'll find it. In Batt's latest report from Iowa's spring practices, he looks at wide receivers.   
5. Both a cop and weight coach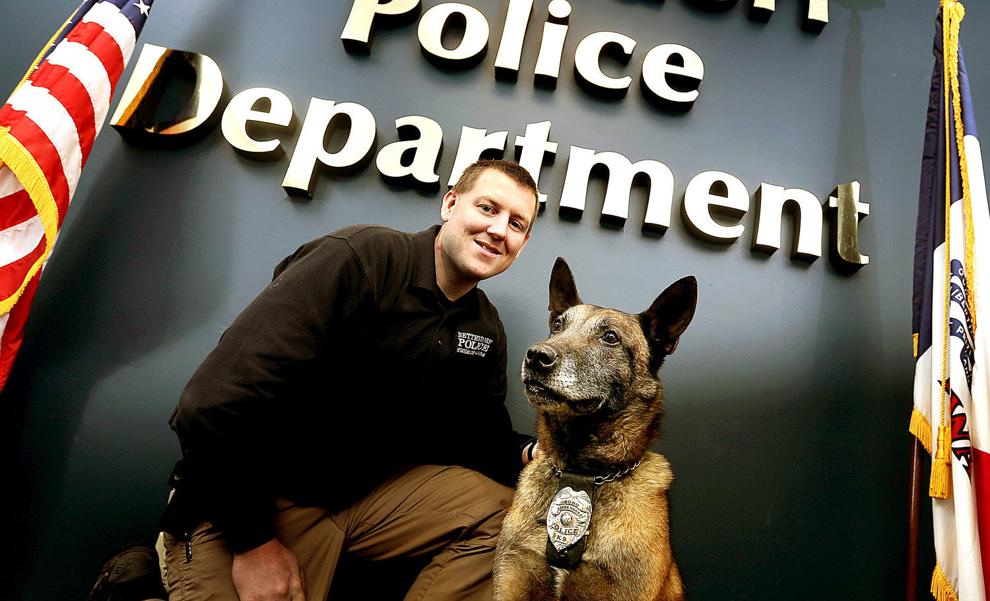 When Bettendorf Police Detective Josh Paul felt himself getting short of breath after climbing just one flight of steps, he knew life was getting too sedentary.
Five years later, a couple hundred Quad-Citians have lost a combined 5,811 pounds, because of Paul's commitment to helping others get healthy.
The results have been life changing for many of those who signed up and stuck it out with Paul's take on a
"Biggest Loser Challenge."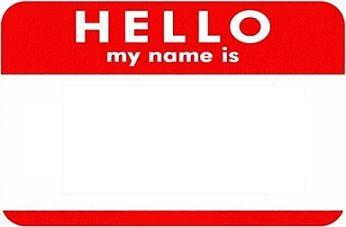 Michael Liendo looked beyond the comparison of mothers to dogs and cats with the word "litter," and pulled research to answer these questions: Is there truth to what this reader was claiming? Does a name given at birth have a direct effect on how that person will grow as a member of society? Even more directly, does a name deemed too unique, too urban, negatively impact the life of an individual?  Later today you'll be able to check out his findings on qctimes.com.