A good  hot and humid Tuesday to all. We'll be under a National Weather Service Heat Advisory today from noon until 8 p.m. so prepare accordingly. 
According to the advisory:
•  Heat-index values up to 105 are expected over portions of northeast Missouri, east central and southeast Iowa and north central, northwest and west central Illinois.
• These hot temperatures and high humidity may cause heat illnesses to occur. Dangerous levels of heat and humidity also are possible through much of this week and additional headlines may be needed.
• Drink plenty of fluids, stay in an air-conditioned room, stay out of the sun, and check up on relatives and neighbors.
• Young children and pets should never be left unattended in vehicles under any circumstances.
• Take extra precautions if you work or spend time outside. When possible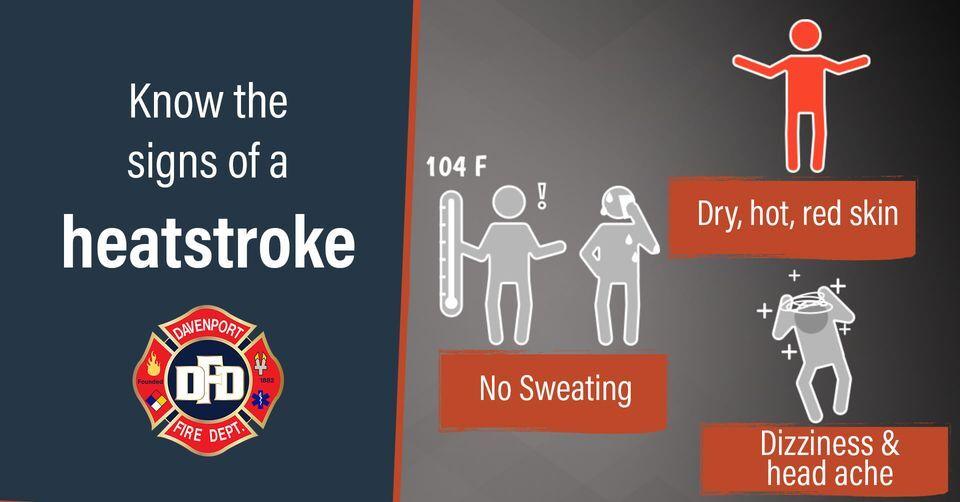 reschedule strenuous activities to early morning or evening. Know the signs and symptoms of heat exhaustion and heat stroke. Wear lightweight and loose fitting clothing when possible.
• To reduce risk during outdoor work, the Occupational Safety and Health Administration recommends scheduling frequent rest breaks in shaded or air conditioned environments.
• Anyone overcome by heat should be moved to a cool and shaded location.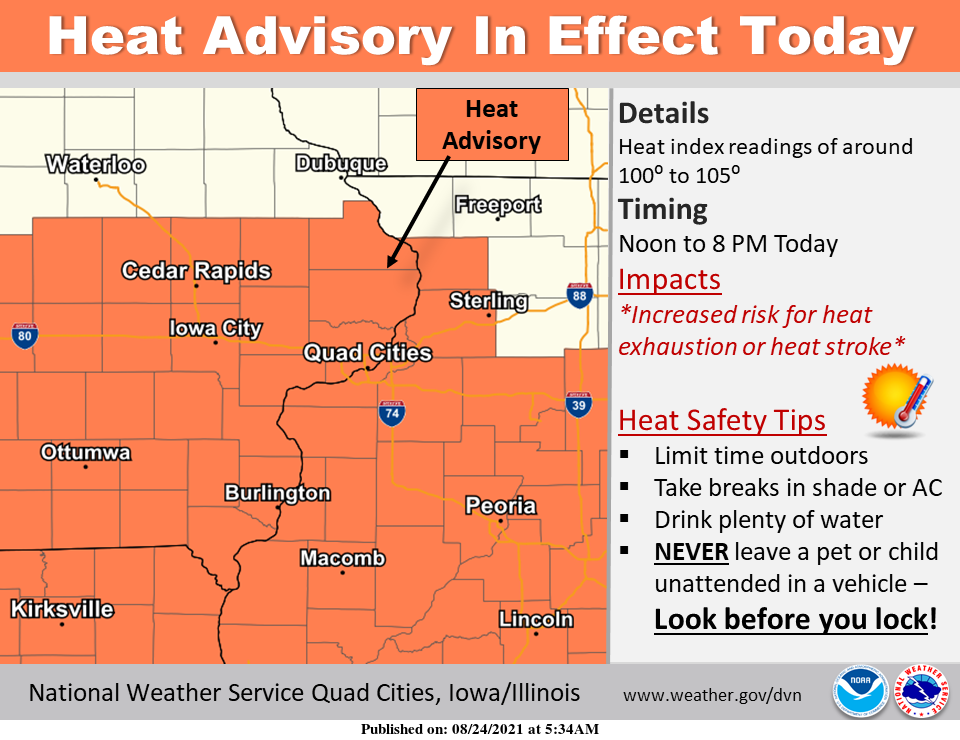 Today will be sunny with a high near 94 degrees. Heat-index values will be as high as 102 degrees.
Tonight there is a 30% chance of showers and thunderstorms after 4 a.m. The overnight low will be around 74 degrees.
Wednesday there's a 30% chance of showers and thunderstorms before 10 a.m. Skies will be partly sunny with a high near 92 degrees. Heat-index values will be as high as 100 degrees.
Wednesday night there's a 20% chance of showers and thunderstorms after 1 a.m. Skies will be mostly clear with a low around 72 degrees.
2. Lane closures on Devils Glen Road in Bettendorf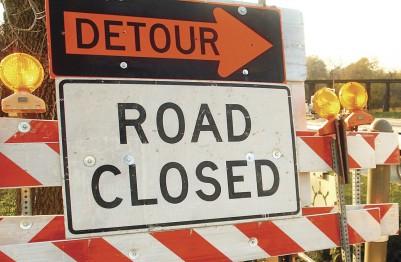 The outside northbound and southbound lanes of Devils Glen Road in Bettendorf are closed at Tanglefoot Lane for water main installation.
The contractor for Iowa American Water will be boring a new water main under the Road.
Traffic will be directed to the inside lanes of Devils Glen Road in each direction.
Expect delays in this area for about two weeks.
3. Blue Grass man charged with growing marijuana, psilocybin mushrooms pleads not guilty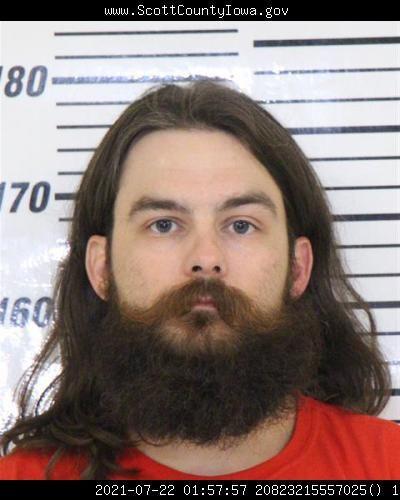 A Blue Grass man arrested with his girlfriend in July for allegedly growing marijuana and psilocybin mushrooms in their house pleaded not guilty in an arraignment filed last Tuesday.
Timothy Owen Doyle, 33, was arrested after police reportedly found marijuana and mushrooms growing in the house he shared with his girlfriend, Ilana Sylvie Poulin, 43.
Poulin was also arrested and pleaded not guilty on July 22. On Aug. 18, she was granted an order of protection against Doyle in Scott County Court.
According to court documents, Poulin came to the police station with her daughter at about 1:30 p.m. Wednesday, July 21, to report an incident. The nature of her claim wasn't made clear in police documents, but authorities obtained a warrant to search her home as part of their investigation. At the house, officers noticed a strong marijuana smell and drug paraphernalia in almost every room. Read more.
4. It's August and a perfect time for a St. Patrick's Day parade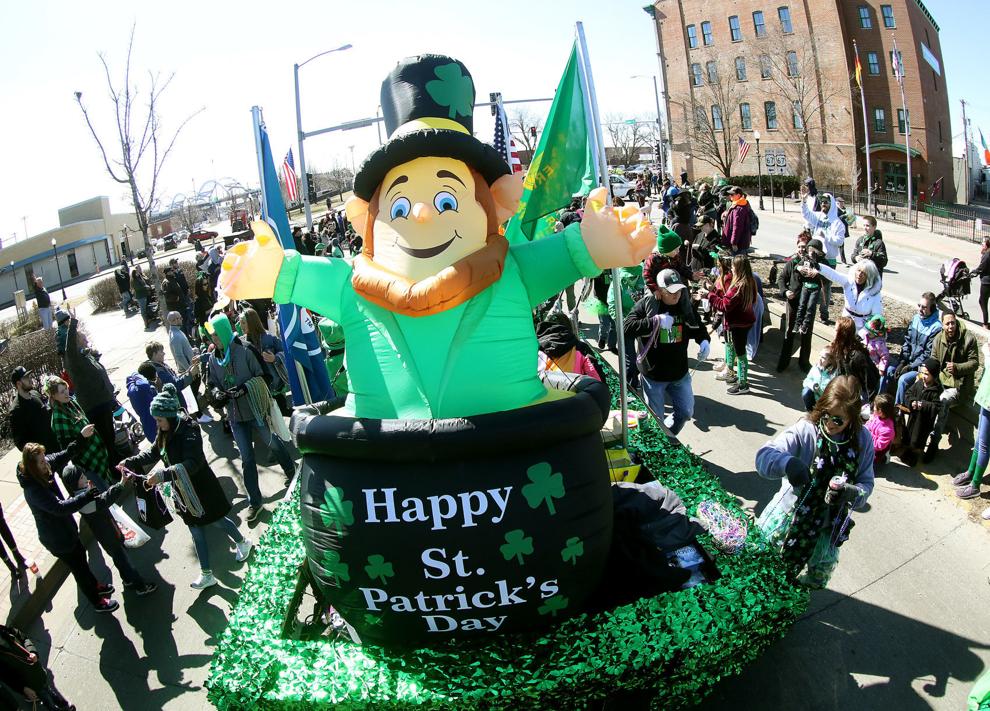 It's been two-and-a-half years since floats and groups bearing the Irish flag last marched across the Mississippi River, but now the St. Patrick Society Quad Cities is ready to take a second turn at its 35th-annual Grand Parade.
The St. Patrick Society Grand Parade XXXV.2 will start at 11:30 a.m. Aug. 28 at 4th Avenue and 23rd Street in Rock Island. Floats and marching groups will cross the Centennial Bridge after traversing downtown Rock Island and head onto E 3rd Street, where it will end by the RiverCenter.
"I'm looking forward to getting out and rolling," St. Patrick Society President Joe Dooley said. Read more.
5. COVID-19 hospitalizations on the rise in the Quad-Cities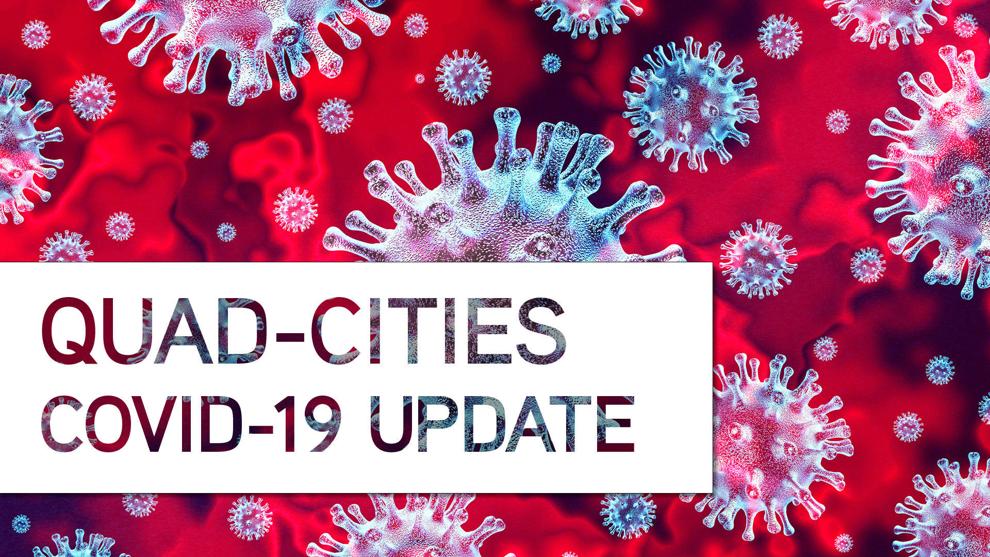 There are 84 COVID-19 patients in local hospitals throughout the Quad-Cities, according to UnityPoint Health-Trinity and Genesis Health System.
That's a sharp increase since last Thursday, Aug. 19, when health officials from Trinity and Genesis reported a combined 70 COVID-19 patients.
Of the 43 COVID-19 patients in UnityPoint-Trinity medical centers, 13 occupy intensive care unit beds. A total of 30 of the 43 patients are unvaccinated. Read more.
Related reading
6. Rock Island and activists reach deal on police commission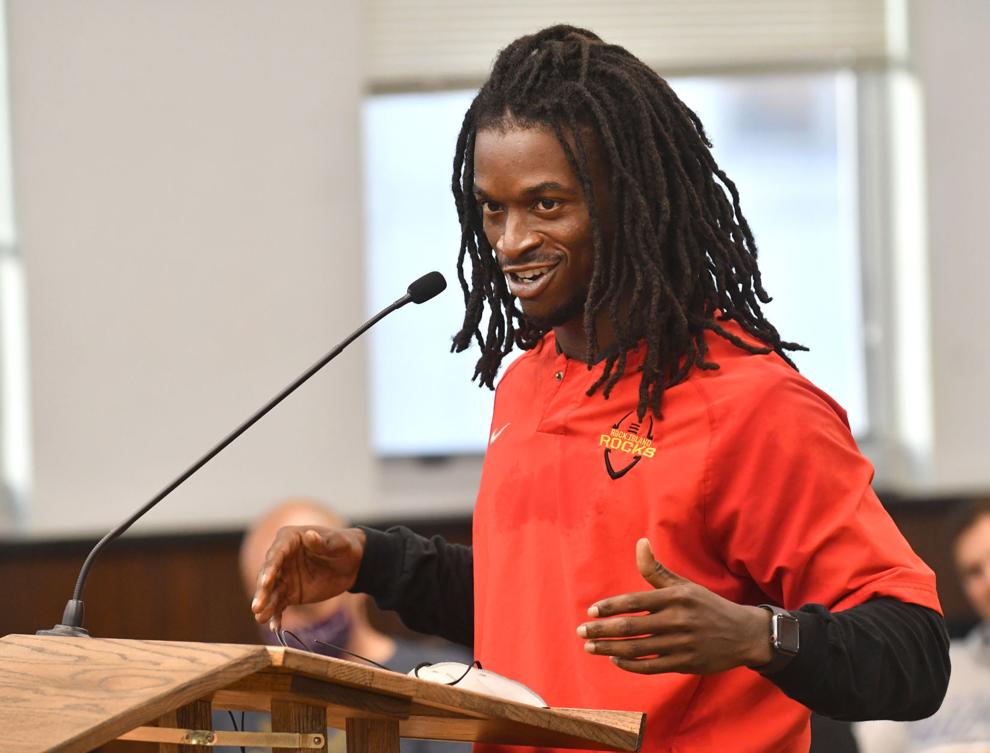 After months of negotiations and numerous drafts, Rock Island city council members on Monday approved an ordinance establishing a police-community relations commission.
Former Rock Island mayoral candidate and activist Thurgood Brooks initiated the commission following the April 1 shooting death of DeShawn Tatum as a way to ease relations between the Black community and the police department. Read more.
Trending stories
Today's top videos
Today's photo galleries