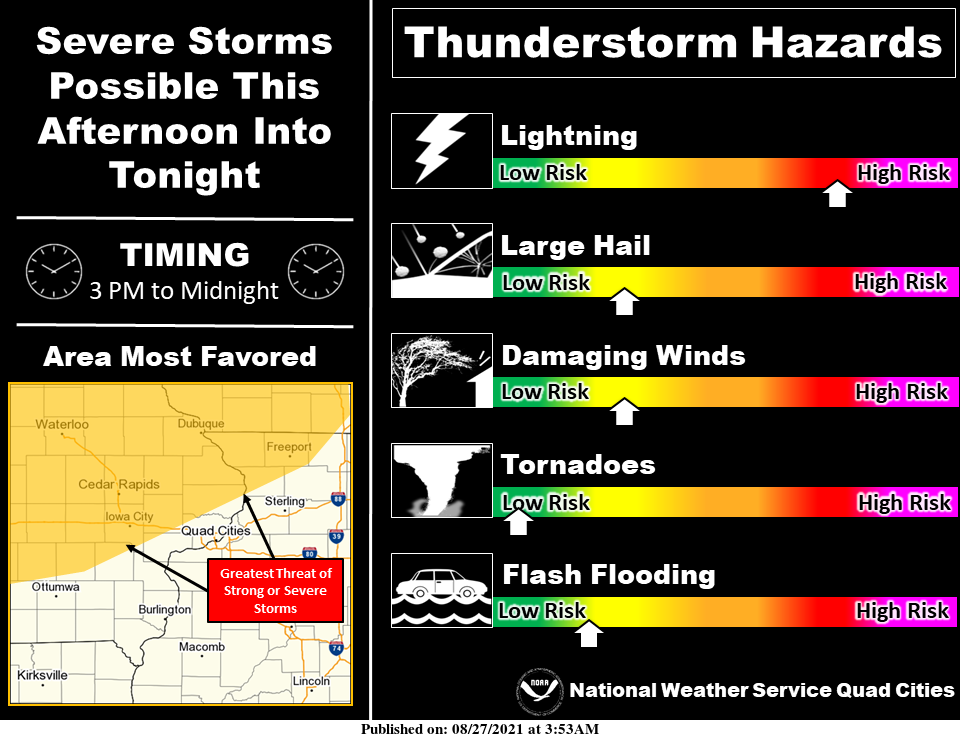 A good Friday to all. It's going to be another day of hot and humid weather along with the threat of thunderstorms. It sounds like the old Rickster is repeating himself again, does it not? That's because after a week of muggy weather with temperatures in the 90s and a daily threat of thunderstorms, today's forecast looks like this:  
The latest National Weather Service Hazardous Weather Outlook says "Thunderstorms containing heavy rain will be possible over areas along and north of U.S. 30 early this morning. A Flash Flood Watch remains in effect for this area, where storms could bring repeated rounds of heavy rain if they develop.
"Heat and humidity will persist across the area today, with peak heat index values near 100 degrees expected this afternoon.
"Severe thunderstorms will be possible mainly north of a line from Belle Plaine Iowa to Galena Illinois late this afternoon and evening.
"The Storm Prediction Center maintains a slight risk for severe thunderstorms for this area, with the primary threats being large hail and damaging wind gusts.
"High levels of heat and humidity will linger into the weekend, with peak heat index values of around 100 to 105 degrees possible Saturday afternoon.
"There will be periodic chances for showers and thunderstorms through the period. The Storm Prediction Center has a marginal risk for severe storms north of a line from Cedar Rapids to Dubuque Saturday and Saturday night. The main threat from storms would bedamaging wind gusts and large hail. The severe weather potential is more uncertain heading into next week."
1. Sunny and hot, hot, hot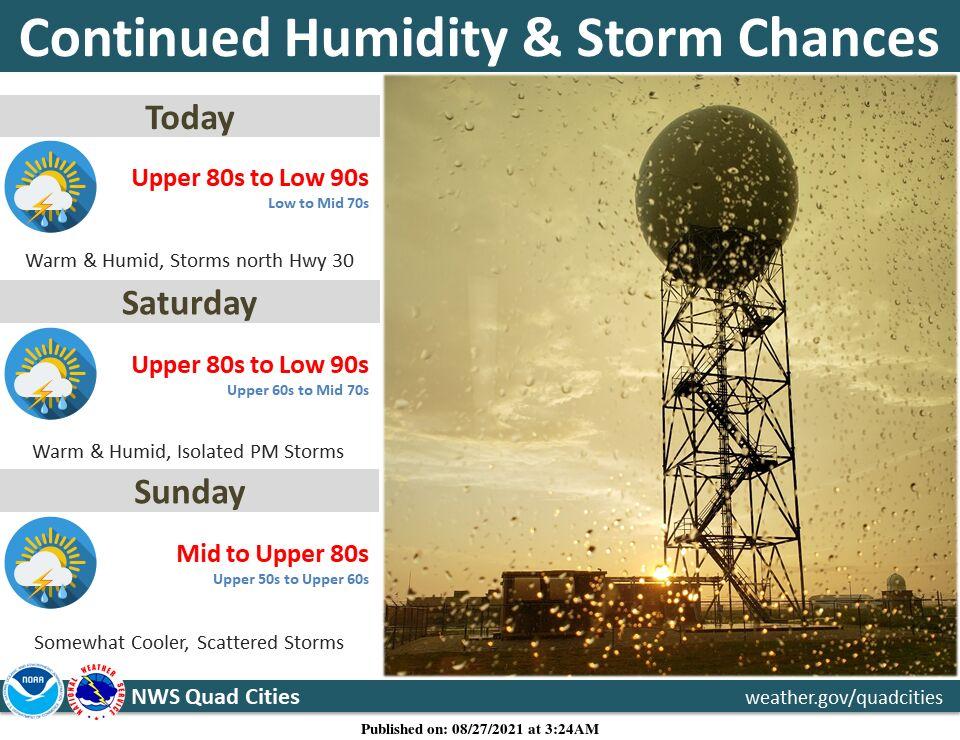 There's a 20% chance of showers and thunderstorms today. Skies will be mostly sunny with a high near 92 degrees. Heat-index values will be as high as 100 degrees. Southeast winds will gust as high as 20 mph.
Today will be partly cloudy with a low around 73 degrees.
Saturday will be sunny with a high near 92 degrees and a low around 74 degrees.
Sunday will see a 50% chance of showers and thunderstorms. Skies will be mostly sunny with a high near 89 degrees. New rainfall amounts of less than a tenth of an inch are possible with higher amounts in thunderstorms.
Sunday night brings a 30% chance of showers and thunderstorms with a low around 66 degrees.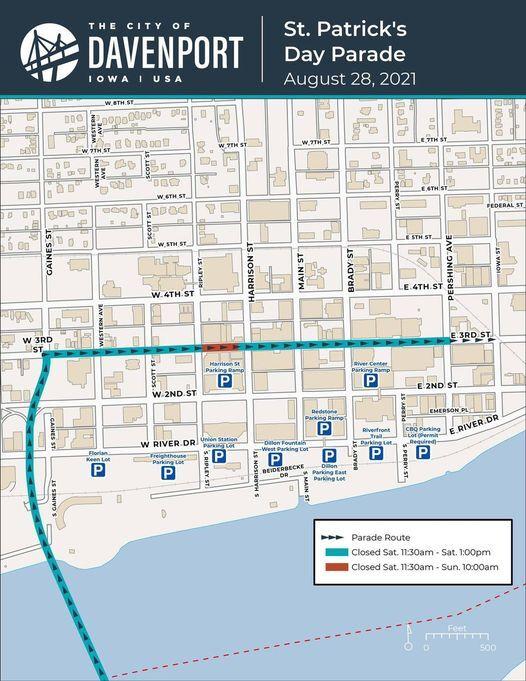 • Street closures for parade: The St. Patrick Society Grand Parade XXXV.2 will start at 11:30 a.m., Saturday, at 4th Avenue and 23rd Street in Rock Island. Floats and marching groups will cross the Centennial Bridge after traversing downtown Rock Island and head onto E. 3rd Street, where it will end by the RiverCenter. 
In addition to sidewalks to watch the parade from, there will be a handicap-accessible area in Kaiserslautern Square on E. 3rd Street to view the parade from. Iowa-American Water will set up water stations in the square as well.
See above map for road closures.
2. Nursing home vaccination mandate raises staffing fears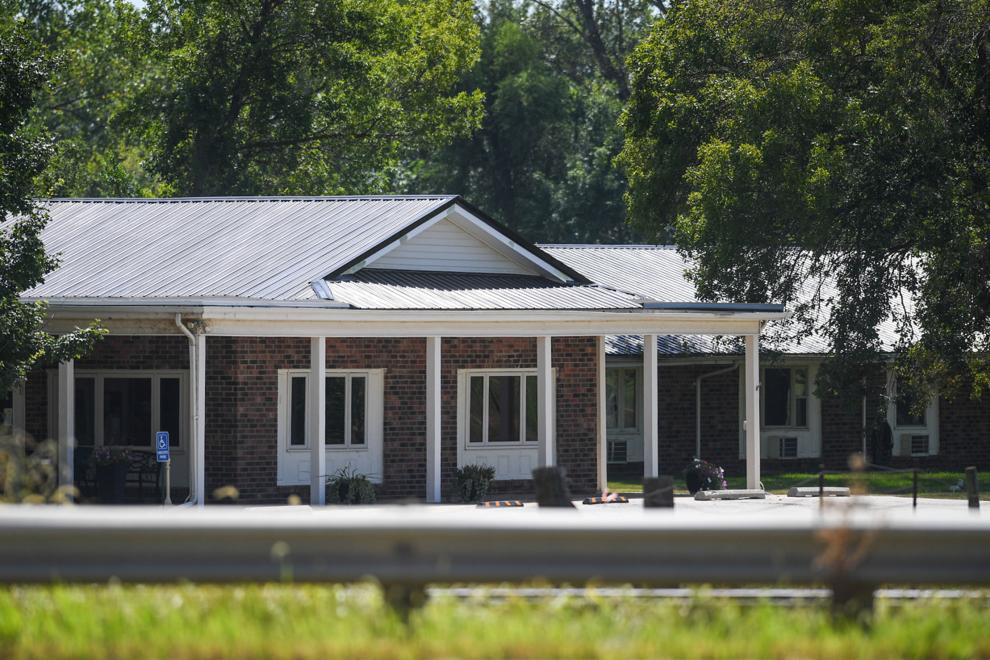 President Joe Biden announced last week all nursing homes should require staff members to be vaccinated against COVID-19 in order to continue receiving Medicare and Medicaid funding.
The CMS and Centers for Disease Control and Prevention believe a number of recent outbreaks in nursing homes can be traced to the emergence of the highly contagious delta variant and care settings with low staff vaccination rates.
"It's hard for a lot of facilities to hire employees. That mandate might really make it hard to keep employees," said Megan Howard, who has worked in a Davenport long-term care facility for 11 years.
Howard said a vaccine mandate on all employees at nursing homes and long-term care facilities could cause "some people to leave." Read more.  
3. A historic week for the I-74 bridge
With the final beam set, completion is on track for the end of the year. 
The placement of the final steel beam for the Interstate 74 bridge this week in Bettendorf represents a major milestone for the yearslong bridge construction.
"The last beam is a great place to be," George Ryan, I-74 corridor manager, said Thursday. "That's the last beam on the project ... among hundreds and hundreds of beams. Read more.
4. Davenport's longest-serving alderman to retire after being stripped of committee assignment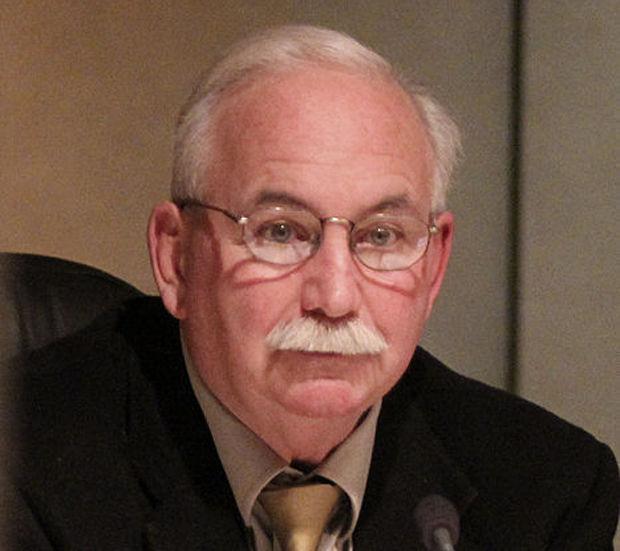 Davenport's longest-serving alderman will call it quits at the end of this year, months after being stripped of his committee assignments over controversial remarks made in April comparing "the progressive Democrat party" to communists and Nazis.
Alderman Ray Ambrose, 69, who has represented Davenport's 4th ward since 1996, will not seek a 13th consecutive term. Read more.
5. Emails show how Rock Island County auditor's office duped by scammers for $115K
It took only one email from scammers to get the Rock Island County auditor's office to wire $97,000 to a fraudulent bank account.
Six weeks later, an additional payment of $18,000 was wired, bilking the county out of some $106,103 before the account was frozen with $9,000 still in it.
Emails obtained through a Freedom of Information Act request by the Dispatch/Argus and Quad-City Times show how easy it was for criminals to steal money from the county by simply asking for the funds to be wired. Read more.
6. Meet John McFee of The Doobie Brothers. The band brings its 50th anniversary tour to the Taxslayer Center
After a year without audiences to play for, the Doobie Brothers are heading to the Taxslayer Center on their 50th anniversary tour. The rock band wasn't idle during the COVID-19 pandemic despite their separation, longtime-member John McFee said, but they're excited to get back to playing for in-person crowds.
The Quad-City Times spoke with McFee about his work while at home, and how he's feeling about returning to the stage while COVID-19 cases continue to rise. Read more.
Today's top videos
Today's photo galleries