A good Wednesday to all. It's Veterans Day, a day we honor our nation's military veterans, alive and dead, who have served or are serving in the United States Armed Forces. Thank you for your service. 
Here is today's forecast from the National Weather Service.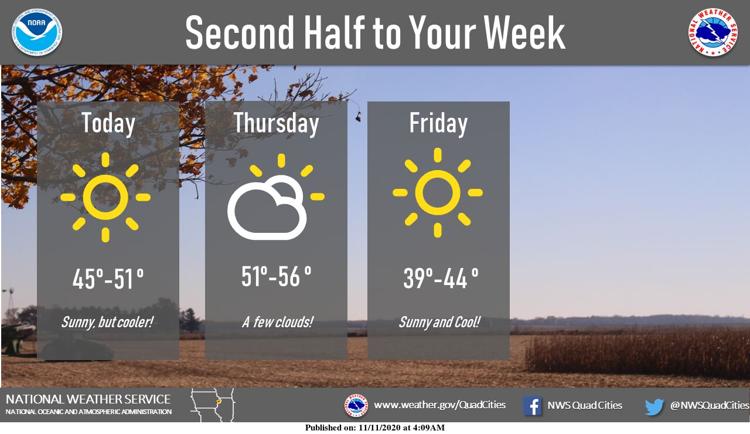 Today will be sunny with a high near 48 degrees and a low around 33 degrees.
Thursday will be mostly sunny with a high near 55 degrees. South winds between 5 to 10 mph will gust as high as 20 mph.
Thursday night will be partly cloudy with a low around 26 degrees.
2. Iowa-bound I-74 span set to open Friday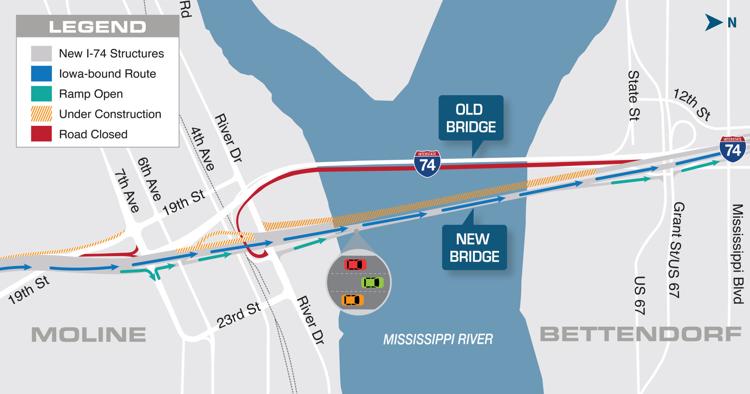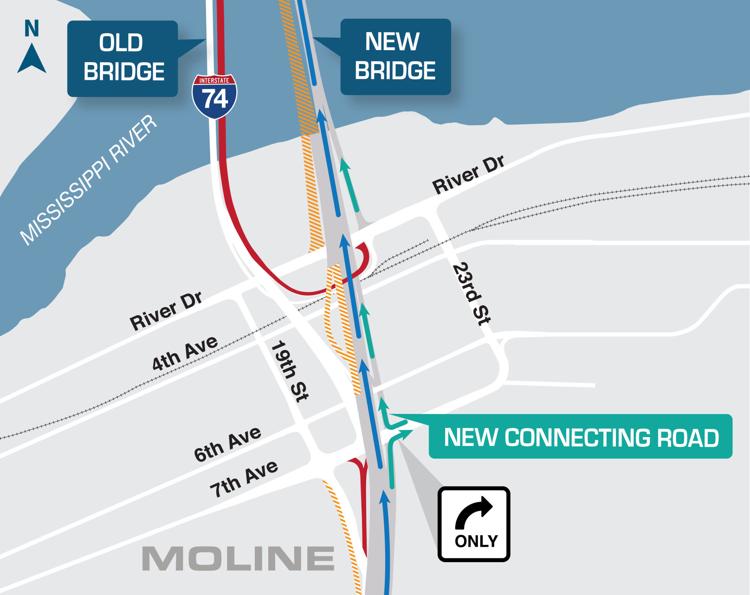 Construction crews are working to prepare the new Iowa-bound I-74 bridge to open to traffic Friday.
Weather permitting, contractors will be moving barrier walls and preparing the Iowa-bound roadway overnight Thursday to fully open the bridge before peak morning traffic on Friday.
Here is what you need to know:
In Moline, drivers going to Iowa will be able to access Iowa-bound I-74 at Avenue of the Cities, 6th Avenue, and River Drive.
Drivers going to Iowa will be able to continue onto three lanes of Iowa-bound traffic.
After crossing the river bridge to Iowa, drivers can either exit at Grant Street/U.S. 67 in Bettendorf or continue to Middle Road and Davenport.
New ramp locations in Moline
At River Drive, a new on-ramp will open to provide a more direct, and easier access to the river bridge (no more loop ramp).
The on-ramp at 7th Avenue has also moved. Drivers will be able to access Iowa-bound I-74 via the new ramp located at 6th Avenue. A new connecting road will allow drivers on westbound 7th Avenue to access the 6th Avenue on-ramp.
The speed limit on Iowa-bound I-74 will be 55 mph. The interstate will still be considered a construction zone so drivers should continue to drive with caution.
The plan is to put two-way, head-to-head traffic on the new Iowa-bound bridge, but not just yet.
Illinois-bound traffic will continue to use the old bridge and the existing detour route to 7th Avenue and 19th Street.
Drivers can continue to access Illinois-bound I-74 via the existing ramps in Bettendorf.
Illinois-bound traffic is anticipated to shift to the new bridge in a two-way configuration this winter.
3. Veterans Day parade is today in downtown Davenport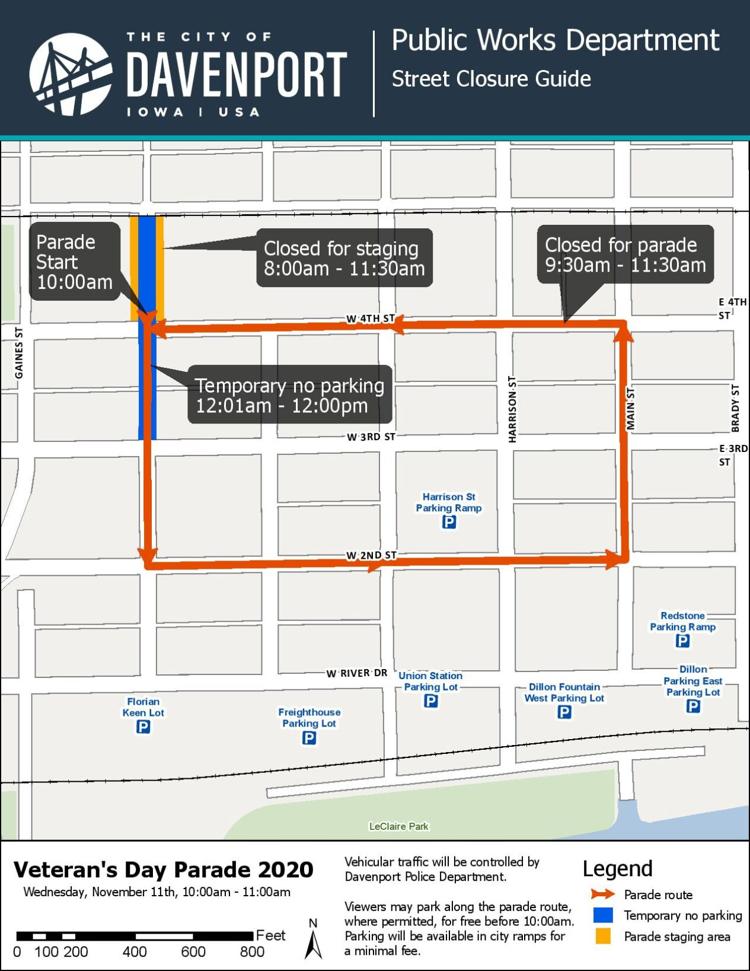 The annual Veterans Day Parade will take place in downtown Davenport at 10 a.m. today. The parade steps off from the intersection of West 4th Street and Western Avenue and proceeds through the streets of downtown. 
The Davenport Police Department will be providing traffic control along the route. Expect brief delays and detours if you need to travel downtown.
A brief ceremony at the flag poles in front of the Scott County Jail will follow the parade, honoring fallen service members.
Social distancing and masks are strongly recommended.
Bettendorf holds Veterans Day ceremony
A Veteran's Day ceremony will be held on at 2 p.m, today, at the Veterans Memorial Park shelter, 1645 23rd St.
Cookies and coffee will be available. Masks are strongly recommended.
More than 20 new names have been added to the memorial since last year for a total of 913 names.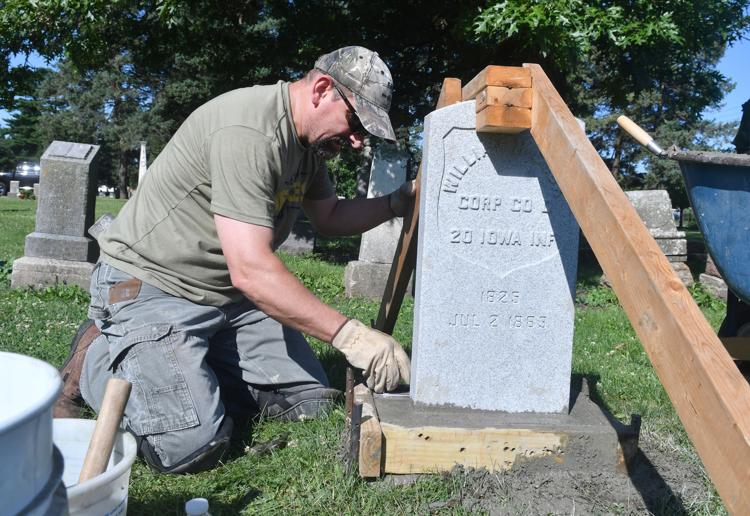 Watch now: Veterans Day messages
This video was made to explain the selfless service and sacrifices of our Veterans to elementary school age children in the local community fo…
4. Davenport woman charged in Chuck E. Cheese homicide to remain jailed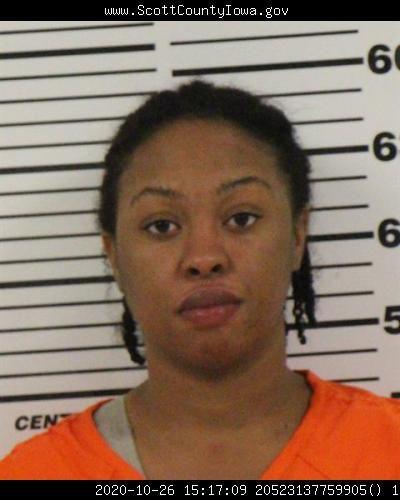 A Davenport woman charged with the shooting death of a mother of five inside Chuck E. Cheese will remain jailed with bond set at $1 million cash-only.
Treshonda M. Pollion, 24, made a telephonic court appearance Tuesday afternoon when a bond reduction was denied.
The Davenport woman is charged with first-degree murder for her suspected role in the shooting death of Eloise Chairs, 29, inside the Chuck E. Cheese restaurant in late October. Read more.
5. Scott County poll worker, Rock Island County coroner have COVID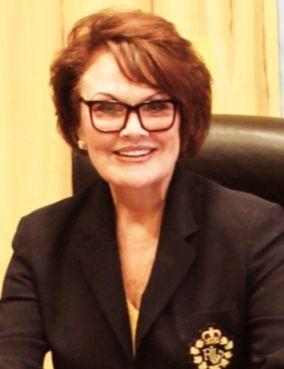 A Scott County poll worker is hospitalized with COVID-19, and those who worked near him are on alert, the county auditor said.
The man is not being identified, but Auditor Roxanna Moritz said he has been hospitalized in Iowa City since Friday. The seven other poll workers who were assigned to the same precinct were notified, she said.
Meanwhile, Rock Island County Coroner Brian Gustafson also is infected with the coronavirus and was recovering Tuesday at home.
He was quite ill at the onset of the infection but said he is feeling better and hopes to return to work next week. Read more.
More on the coronavirus in the Quad-Cities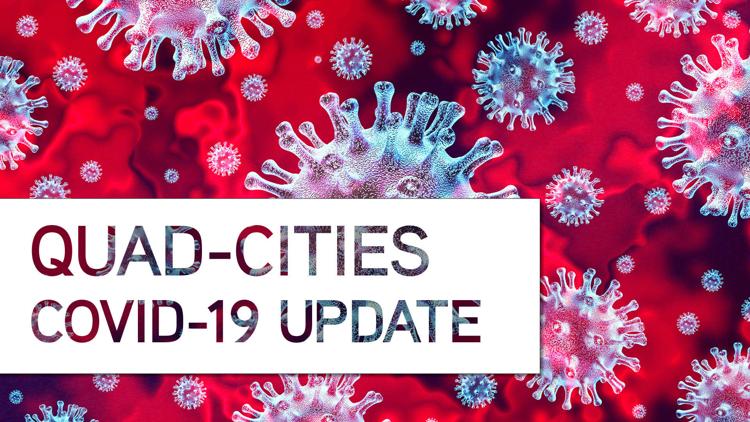 6. Second recount ordered in close 2nd District election results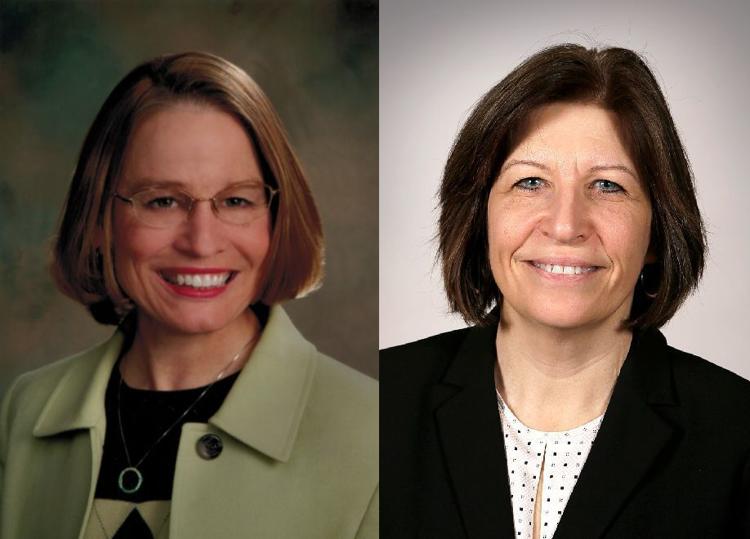 Another 4,000-plus ballots will be recounted in Iowa's 2nd Congressional District, the result of a second discovery of erroneously reported results in a race between two candidates who, as of Tuesday afternoon, were separated by 47 votes.
The latest error: Results from the lone precinct in the small town of Russell in Lucas County inadvertently were not reported, state and local elections officials said. The mistake — the result of human error, a local official said — was discovered Monday and reported to the state.
When the missing precinct results were added, the updated vote count flipped the lead in Iowa's 2nd District race between Democrat Rita Hart and Republican Mariannette Miller-Meeks. The gains made from the precinct's results pushed Miller-Meeks into the lead in the unofficial results. Read more.
Trending stories
Today's top videos
Today's photo galleries
Concerned about COVID-19?
Sign up now to get the most recent coronavirus headlines and other important local and national news sent to your email inbox daily.