A good Thursday to all. Today will be dry and milder then comes amount round of rain on Friday. Here are the weather details from the National Weather Service.
A Flood Warning continues for the Wapsipinicon River near DeWitt until further notice.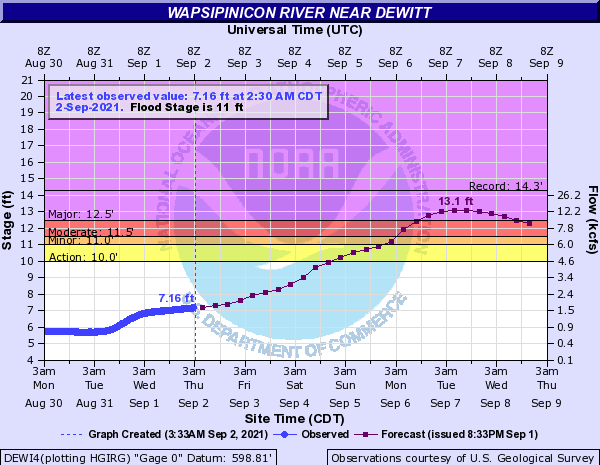 Early this morning the Wapsi was at 7.16 feet and rising. Flood stage is 11 feet. The river is expected to rise above flood stage late Sunday night and continue rising to a crest of 13.1 feet Tuesday morning.
1. A high near 80 degrees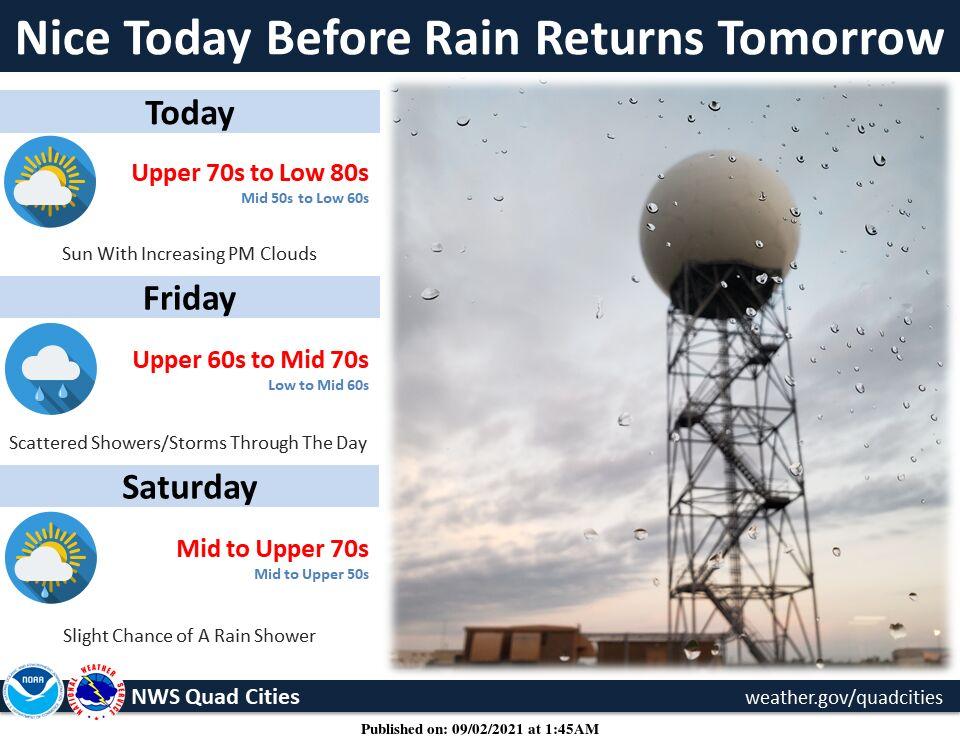 Today we'll see increasing clouds with a high near 80 degrees and a low around 61 degrees.
Friday brings a chance of showers and thunderstorms between 8 a.m. and 2 p.m., then showers are likely with possibly a thunderstorm after 2 p.m. Skies will be mostly cloudy with a high near 72 degrees. South winds around 10 mph will gust as high as 20 mph. The chance of precipitation is 70% with new rainfall amounts between a quarter and half of an inch.
Friday night showers are likely with possibly a thunderstorm before 8 p.m., then a chance of showers. Skies will be mostly cloudy with a low around 63 degrees. The chance of precipitation is 70% with new precipitation amounts of less than a tenth of an inch possible.
2. Rock Island County reports 102 new cases of COVID-19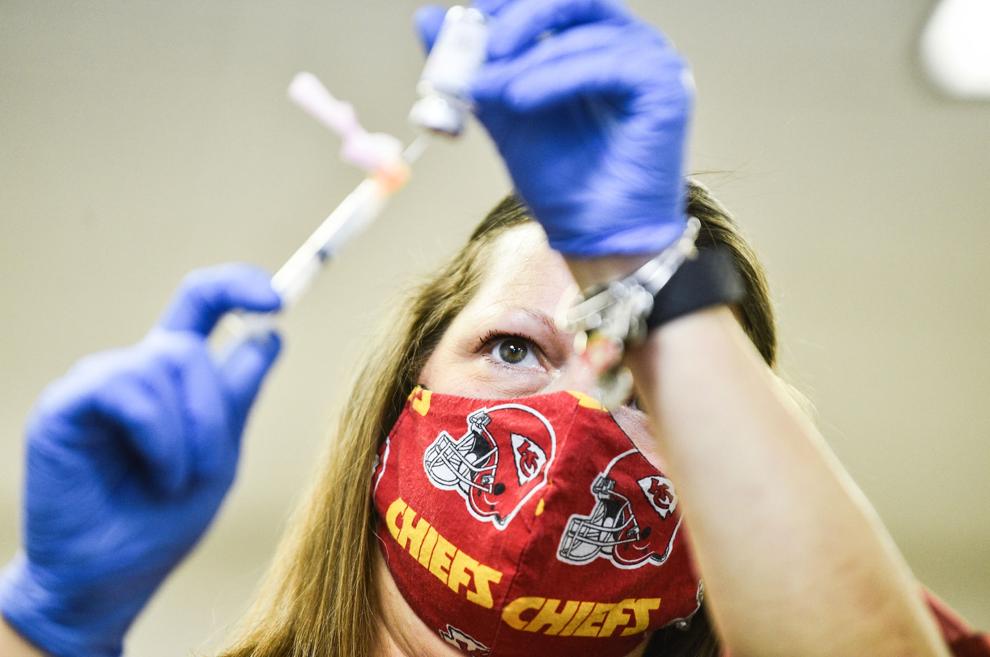 After Genesis Health System reported crowded intensive care units at its Davenport and Silvis hospitals Tuesday, rumors circulated that staffing shortages were at the root of the lack of beds.
President of Genesis Medical Center, Silvis, Theresa Main, addressed those rumors Wednesday.
"The ICU beds available in Davenport (20) and Silvis (6) remain at or near capacity. The number of high-acuity patients, including COVID-19 patients, is the reason units are at capacity, not staffing," Main wrote. "We do not transfer patients because of staffing but because the ICU beds available already have patients. This level of care requires a highly trained and available staff, and we are immensely proud of all of our team for facing daily challenges over the past 18 months."
The number of patients in Rock Island County remained high. The Rock Island Health Department reported Wednesday 45 residents are hospitalized with COVID-19.
The new report came two days after Rock Island County Health officials reported 43 patients.
The county-wide COVID-19 patient census also came one day after Genesis Health System reported an ICU crowded to the extent patients had to be transferred to other hospitals. Read more.
3. Lakes at West Lake Park are taking on water again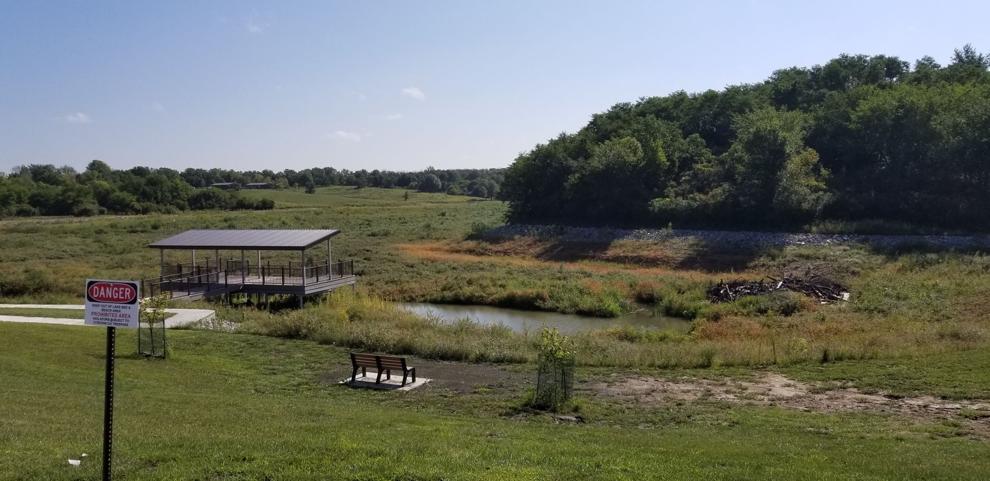 The beach is still dry, but other parts of the restored lakes at West Lake Park are taking on water.
All four lakes at the county-owned park in Davenport have undergone major restoration. Just west of Interstate 280, the park was built in the 1960s, and conservation officials said the popular reservoirs were overdue for dredging, shoreline stabilization and fish-habitat upgrades.
Work has been underway at the 620-acre property since 2019 when the lakes were drained. Wet weather conditions kept heavy equipment off the lake beds for months at a time, delaying the project timeline.
But the work now is nearly finished, said Roger Kean, executive director of the Scott County Conservation office. Read more.
4. Once the target of vandals and squatters, former Blackhawk Foundry in west Davenport is being revitalized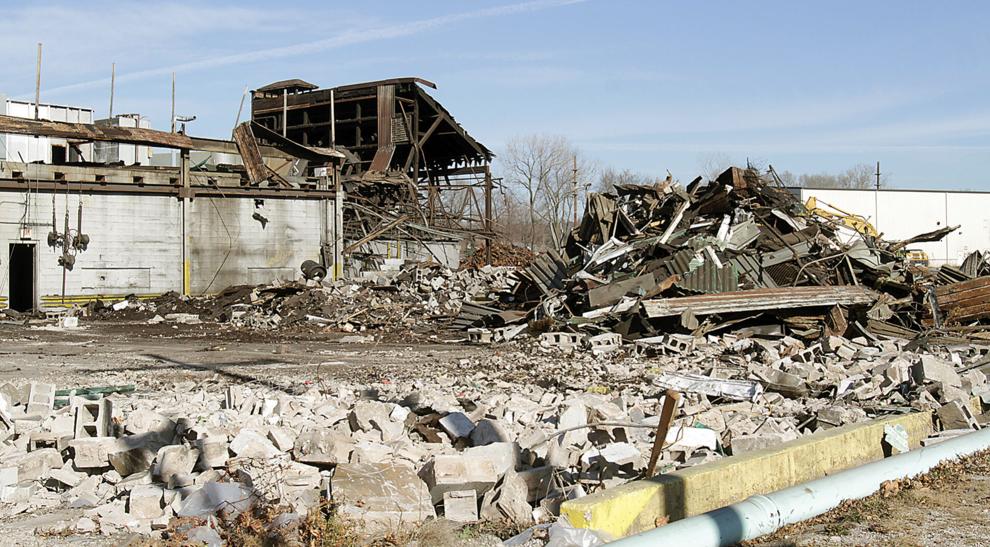 Work has begun to revitalize a long-vacant property on Davenport's west end.
The city of Davenport purchased and is in the process of redeveloping the former Blackhawk Foundry & Machine Co. site, which had been home to the iron-casting business from 1920 to 2010.
The city plans to build an auxiliary facility on the property that will provide secure storage for several city departments, including equipment for the Davenport Fire Department. Read more. 
5. Assumption unveils new football stadium tonight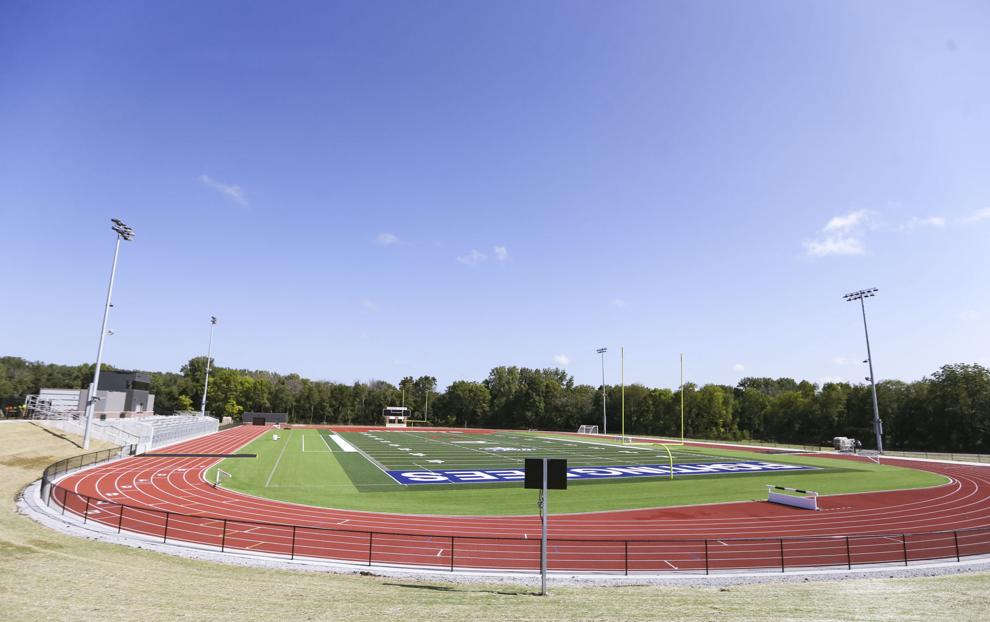 Ready or not, Davenport Assumption High School is kicking off a new era of football tonight at its "Field of Dreams."
When the Knights open the second week of the high school football season against Dubuque Wahlert around 7:15 p.m., they will play their first regular-season game at Jack and Pat Bush Stadium on the Assumption campus.
It eventually will become a 3,000- to 3,500 seat facility that Assumption shares with St. Ambrose University. Read more.
6. Don't want to run 26 miles but would like to cross the old I-74 bridge on foot? Marathon has you covered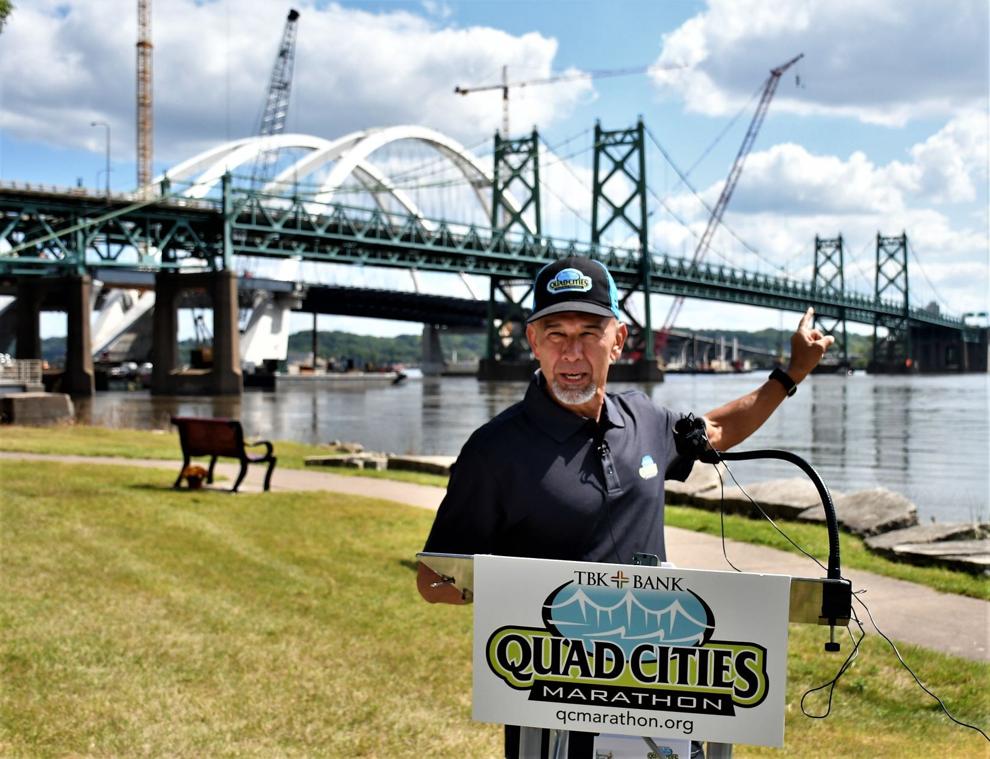 Joe Moreno's wife, Lorna, has never had the opportunity to run across the old Interstate 74 bridge. Until now.
Lorna, and anyone else signed up for the Palmer College of Chiropractic 5k portion of the TBK Bank Quad Cities Marathon, will have their first — and only — chance to run across the old span before it is demolished, Joe Moreno, marathon race director, announced Wednesday at Leach Park in Bettendorf. Read more.
Today's top videos
Today's photo galleries
High school photos from 10 years ago this week.