A good Monday to all. Many of us are at home today — some working, others learning, because of the rise in COVID-19. For those who are venturing out today, here's today's forecast from the National Weather Service. And don't forget to mask up.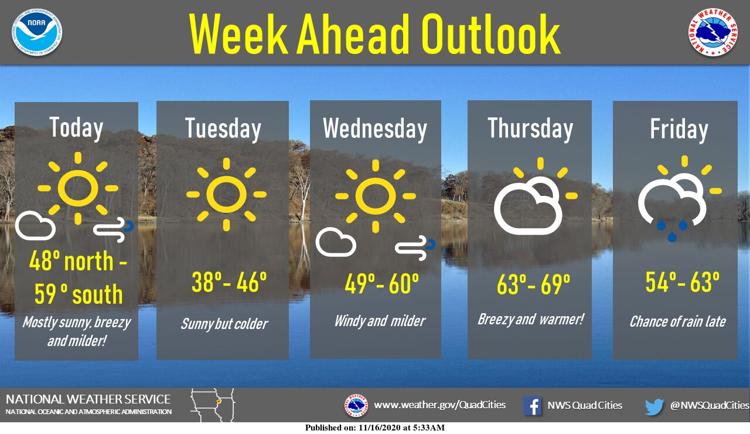 Today will be sunny and breezy with a high near 53 degrees and a low around 29 degrees. Southwest winds between 5 to 10 mph will increase to 10-15 mph in the afternoon. Winds could gust as high as 30 mph.
Tuesday will be sunny with a high near 42 degrees and a low around 30 degrees.
2. Davenport road work updates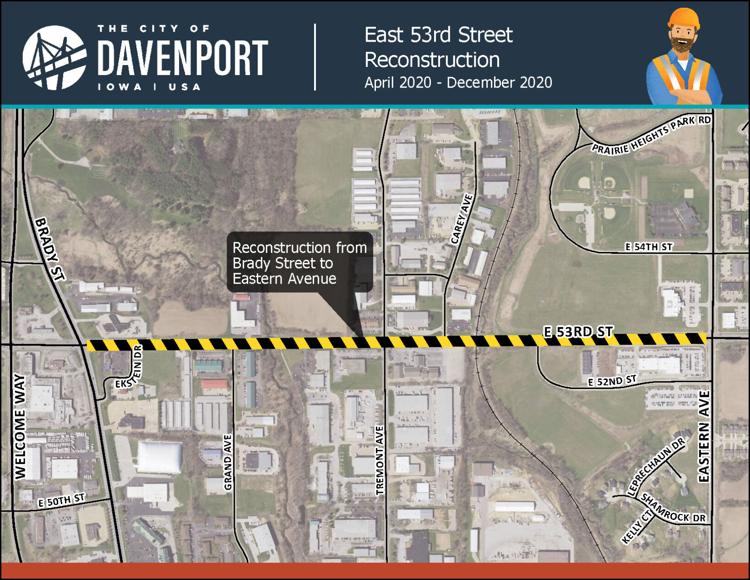 • Traffic control on East 53rd Street between Brady and Tremont streets will frequently shift this week. Public Works officials anticipate the final surface on this section to be completed by Thanksgiving. But travel will remain two lanes through the end of the construction season. Stay alert and watch for changing traffic control.
• The southbound Brady Street turn lane will remain closed through the week for reconstruction. Drivers can still turn left onto Veterans Memorial Parkway but look for possible reroutes because of work near the roundabout. 
Reinforcement work on Veterans Memorial Parkway and Jersey Ridge Road will continue on three segments this week. The section west of the roundabout on Veterans Memorial Parkway will be closed today and Tuesday followed by the closure of Jersey Ridge Road south of the roundabout. All reinforcement work required by the IDOT  should be completed by Thursday.
3. Early morning blaze damages Davenport home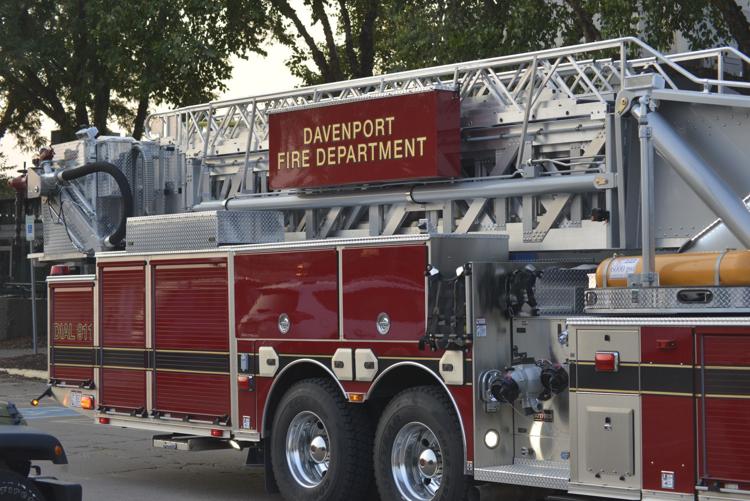 The Davenport Fire Marshal is investigating a fire that damaged a home in the 900 block of East 15th Street early Saturday.
Firefighters were sent to 916 E. 15th St. at 5:21 a.m. for a report of a structure fire.
According to the Scott County Assessor's Office electronic records, the home is a single-family, two-story frame home built in 1900.
Firefighters arrived on the scene to find fire and smoke coming from the front porch. The family was home when the fire started and was alerted by their neighbor. Everyone was able to escape.
The fire was brought under control in about 20 minutes after firefighters arrived on the scene. The fire caused extensive damage to the structure.
The American Red Cross of the Quad-Cities and West Central Illinois was notified to assist the family that was displaced.
4. More on the coronavirus in the Quad-Cities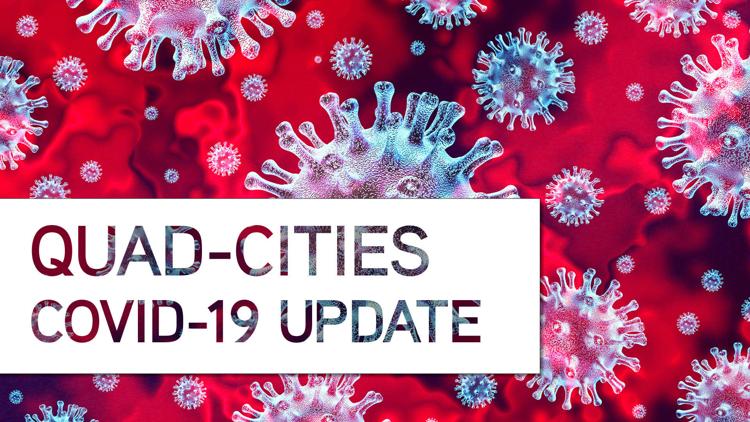 5. Family, concerned citizens gather for missing Breasia Terrell
Countless searches. Many prayer vigils. Thousands of flyers handed out and mounted to everything from gas station windows to telephone poles.
Four months have passed and 10-year-old Breasia Terrell remains missing. During much of that time the Davenport Police Department and Breasia's family remained silent.
That changed as family members, friends and concerned citizens shrugged off freezing rain and gathered under grey skies in the parking lot of Jersey Meadows Apartments in the 2700 block of East 53rd Street in Davenport on Saturday and at Vander Veer Park on Sunday.
The goal was to remind people that a little girl is still lost. Read more.
6. Remembering old Washington Square in downtown Davenport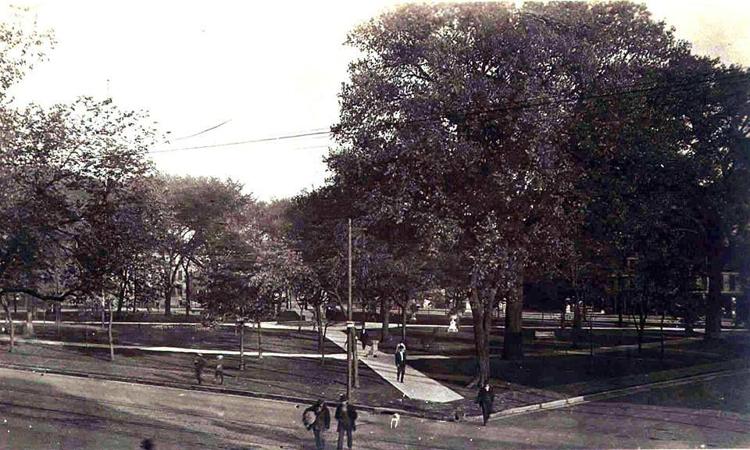 The year was 1960, and Davenport city and business leaders leaders had finally settled on a place for a new YMCA.
The Y would be a new community jewel, a combination YMCA-YWCA serving men, women and families, replacing a four-story brick YMCA built in 1908,  and providing a place for women's programs that never had a permanent home. With gyms, courts and a pool, it would fill a gap that had long existed for young people.
The site leaders wanted was Washington Square, a square block of greenspace filled with trees at the foot of the Centennial Bridge that was granted to the city in 1841 by city founder Antoine LeClaire for a public park.
Bounded by 2nd and 3rd streets on the south and north, and Gaines and Western on the west and east, the square had held special significance for the area's sizeable German population through the 1800s and into the early 1900s.
Now, as the Scott County Family Y prepares to leave its 56-year-old home filled with memories, city and business leaders are already talking about how that land might be used next.
A new Downtown Davenport 2030 plan that will be considered for adoption by the city council in December states the land "has the potential to become an anchor for the development of Downtown's Western Gateway." Read more.