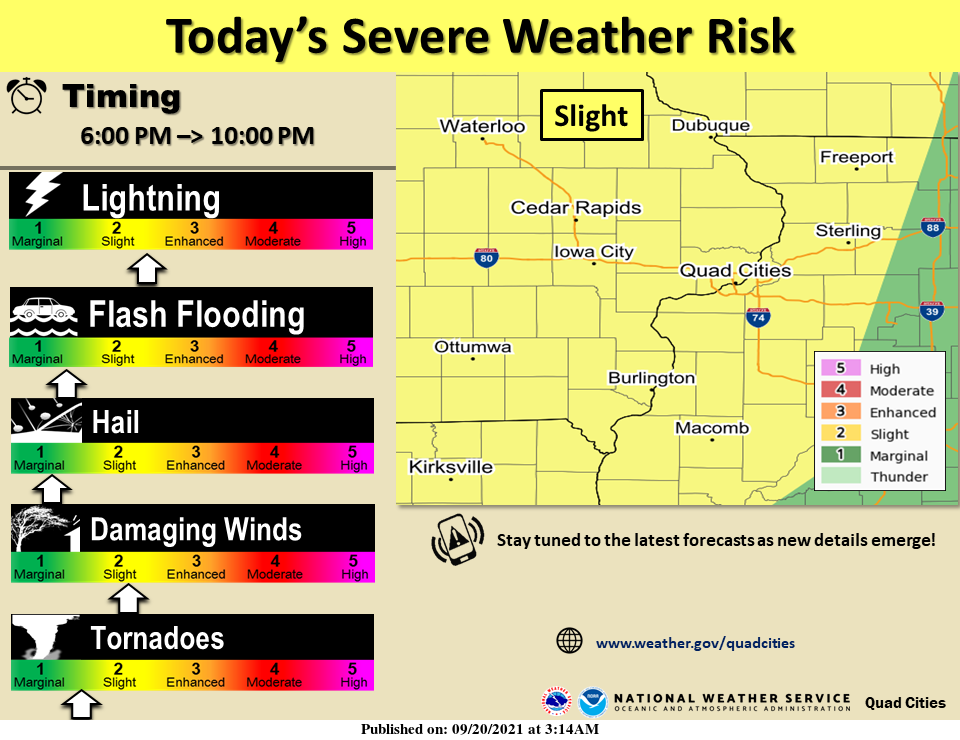 A good Monday to all. Today will be another hot day with thunderstorms later. Then things will cool down just in time for the first day of fall.
Here are the weather details from the National Weather Service.
According to a Hazardous Weather Outlook message from the NWS, "A strong cold front will be accompanied by a line of thunderstorms this evening into the overnight hours.
"The Storm Prediction Center has a slight risk for severe thunderstorms across the entire outlook area. The main risks will be damaging winds, frequent lightning, and torrential rainfall. There is a low risk for a couple of tornadoes that may develop on the leading edge of the squall line.
"The time frame for possible severe storms is from 6 p.m. to 10 p.m. this evening."
1.  Storms likely later today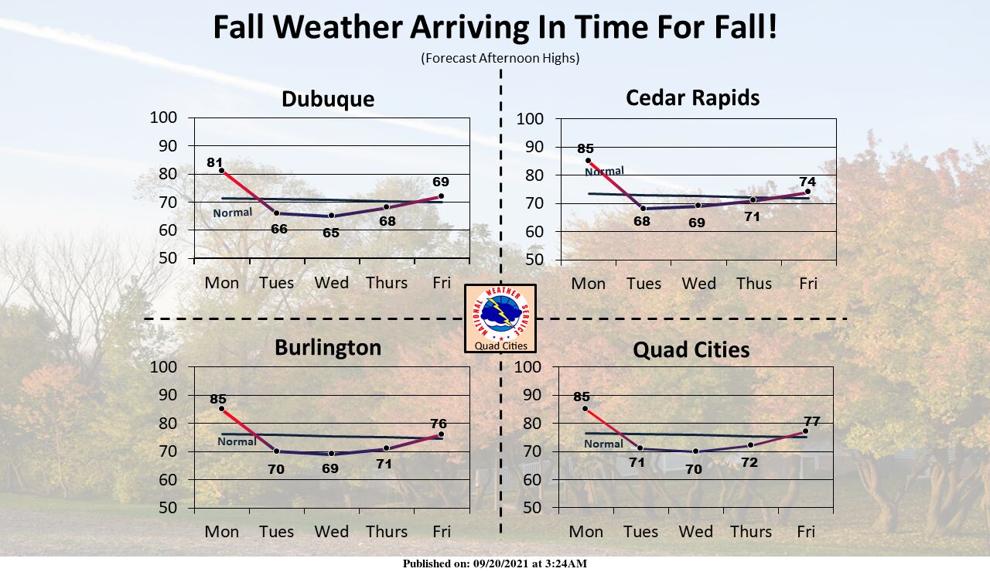 Skies will be mostly cloudy with a high near 85 degrees. South winds will gust as high as 25 mph.
Tonight showers and thunderstorms are likely before 3 a.m. Some of the storms could produce heavy rainfall. The overnight low will be around 59 degrees. Winds could gust as high as 30 mph. The chance of precipitation is 80% with new rainfall amounts between three quarters and one inch possible.
Tuesday will be mostly sunny with a high near 71 degrees and a low around 50 degrees. North winds between 10 to 15 mph will gust as high as 20 mph.
2. Division Street bridge over I-80 to close for 2 weeks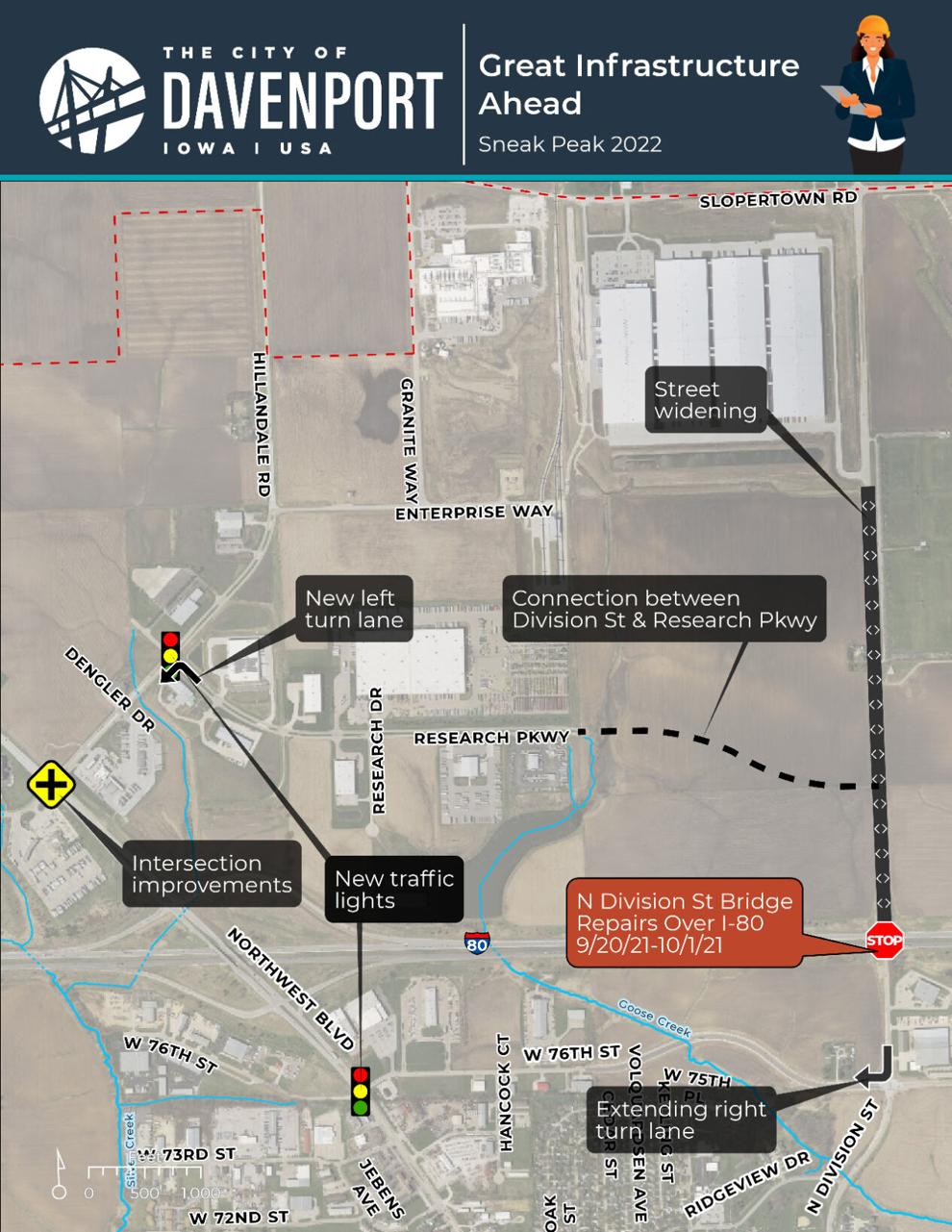 Bridge repair work on the Division Street Bridge over Interstate 80 in Davenport will require the bridge to be closed for two weeks beginning today, according to the Iowa Department of Transportation's Davenport construction Office.
Traffic would be directed to a marked detour for the duration of the project.
Other road work projects starting today include:
• Bridge inspection activities will cause the closure of the eastbound lane of Iowa 136 bridge over the Mississippi River connecting Iowa and Illinois at Clinton. Lane closures will be from 8 a.m. to 6 p.m., today through Wednesday, according to the Iowa Department of Transportation's Bridge Maintenance office.
During the closing, eastbound traffic will be detoured using U.S. 30. Westbound traffic will not be impacted.
• Construction on I-80 near the I-88 and Illinois 5/92 interchange (exits 4A-B) in East Moline will begin today. The work will be from 0.8 mile north to 1 mile south of the interchange.
Complete Asphalt Service Co. of Pittsfield is the contractor of the $96,879 project, which will route, clean, and seal the centerline and shoulder joints of I-80. Work will also include pavement striping upon completing the sealing. The work will require temporary daytime lane closures and is expected to be completed in about two weeks.
• An inspection of the U.S. 52/Illinois 64 Mississippi River bridge in Savanna will begin today. The work will require daily lane closures from 8 a.m. to 4 p.m. starting in the westbound lane before later shifting to the eastbound lane. One lane of traffic will be maintained during the inspection, which concludes Thursday.
3. Bettendorf's rent prices the highest in the Quad-Cities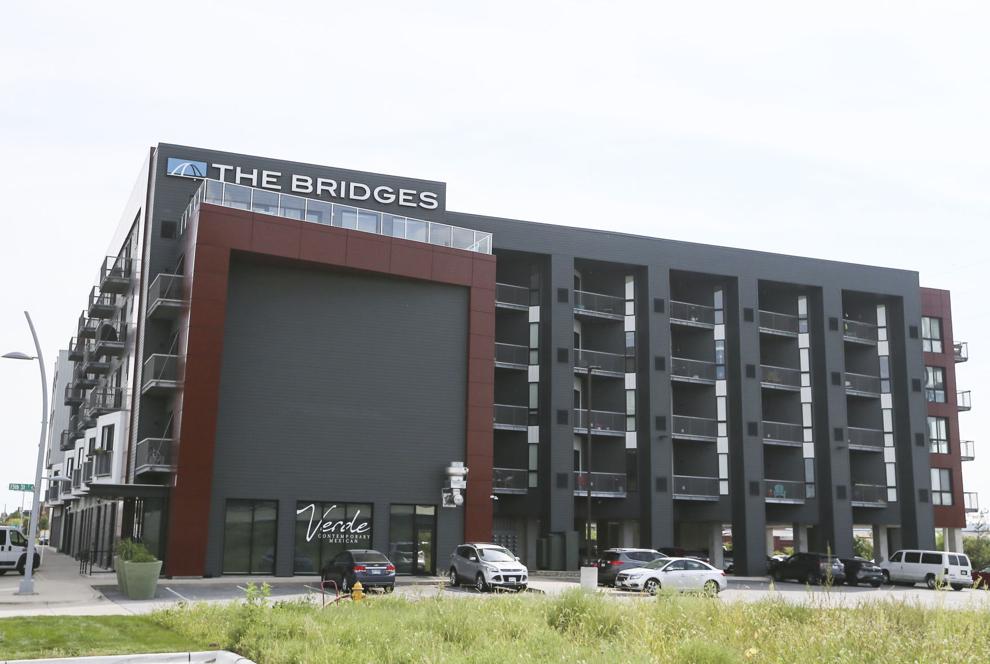 Want to rent in Bettendorf? It'll cost you. 
Bettendorf's median gross rent prices are the highest in the Quad-Cities at $914 per month, according to an ongoing Quad-City Times and Moline Dispatch-Argus analysis of rental markets in the metro. (By comparison, Davenport is second-highest at $771 per month.)
As new construction soars, especially in north Bettendorf, economists and housing experts say the city would be better served if it fostered more residences for people with lower incomes, many of whom work in Bettendorf but can't afford to live there.  Read more.
4. Rock Island High School teacher using T-shirts to let her students know she sees them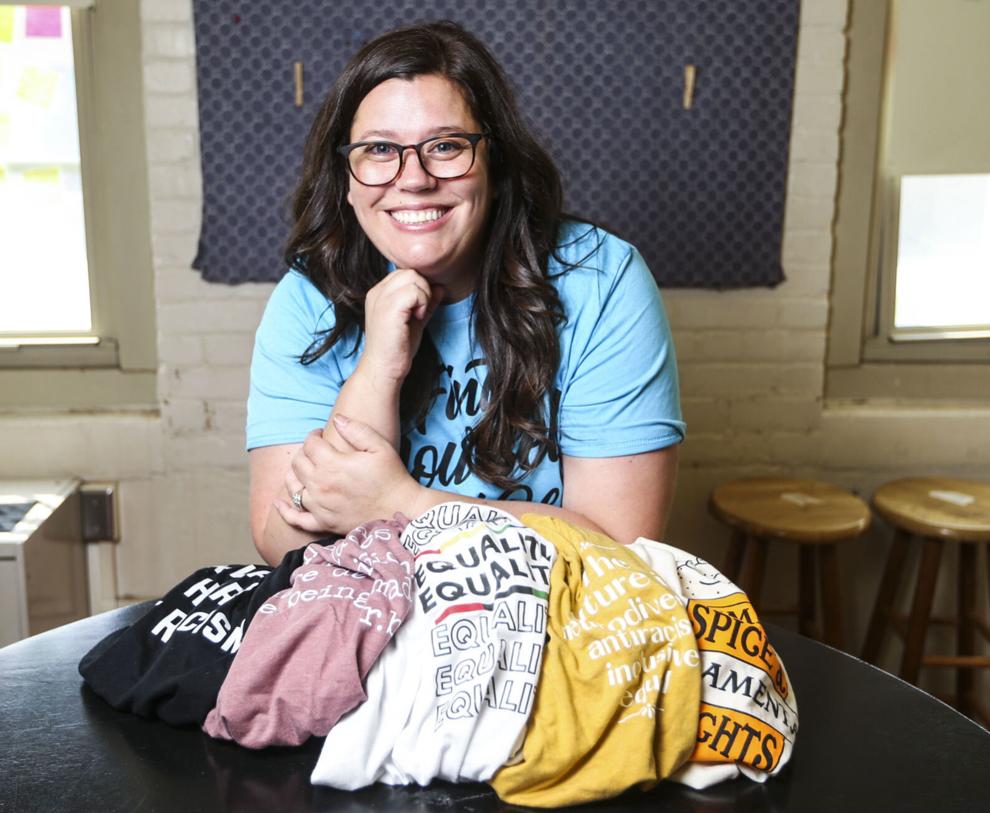 A room always carries the fingerprint of its occupant and this classroom had all four fingers and the thumb and palm print too.
To put it another way, Rock Island High School teacher Kelly Young's classroom has flair. No regimental rows of bland work desks on her turf. Traditional desks were mixed with more loungy stuff and a healthy selection of small house plants — think of a coffee shop with a tumble of secondhand furniture and color, and you're close.
Reach-new-heights type signs and posters were everywhere. They had messages like "If you believe it, you can achieve it," and "Why fit in when you were born to stand out."
The motivational messages shared space with intricate charts explaining economics, family photos, sports and music posters and a plaque in Young's honor.
Her whole classroom, what she provides for students in that room, how she addresses them — all of that is meant to make them feel seen and supported as young people, Young, who teaches consumer economics, said. Read more.
5. One person injured in motorcycle crash in Bettendorf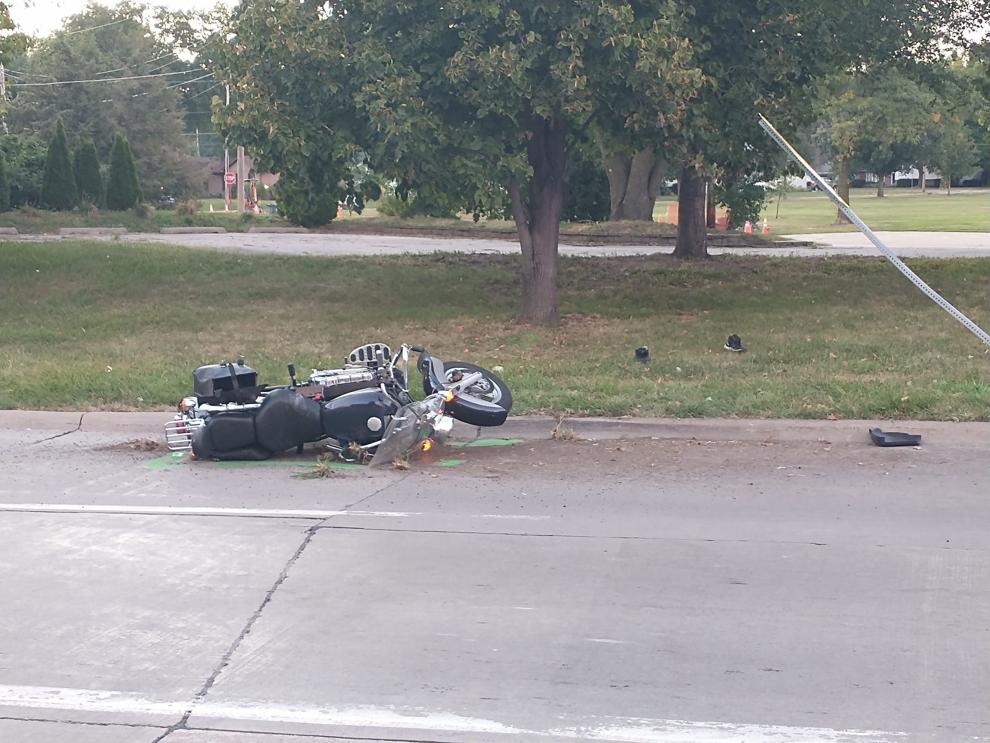 One person was injured Sunday evening in a motorcycle crash at the intersection of River Drive and Grant Street in Bettendorf.
Police at the scene said the injured person was the only person on the motorcycle and no other vehicles were involved in the crash.
The person was transported to Genesis East hospital.
Today's top videos
Today's photo galleries