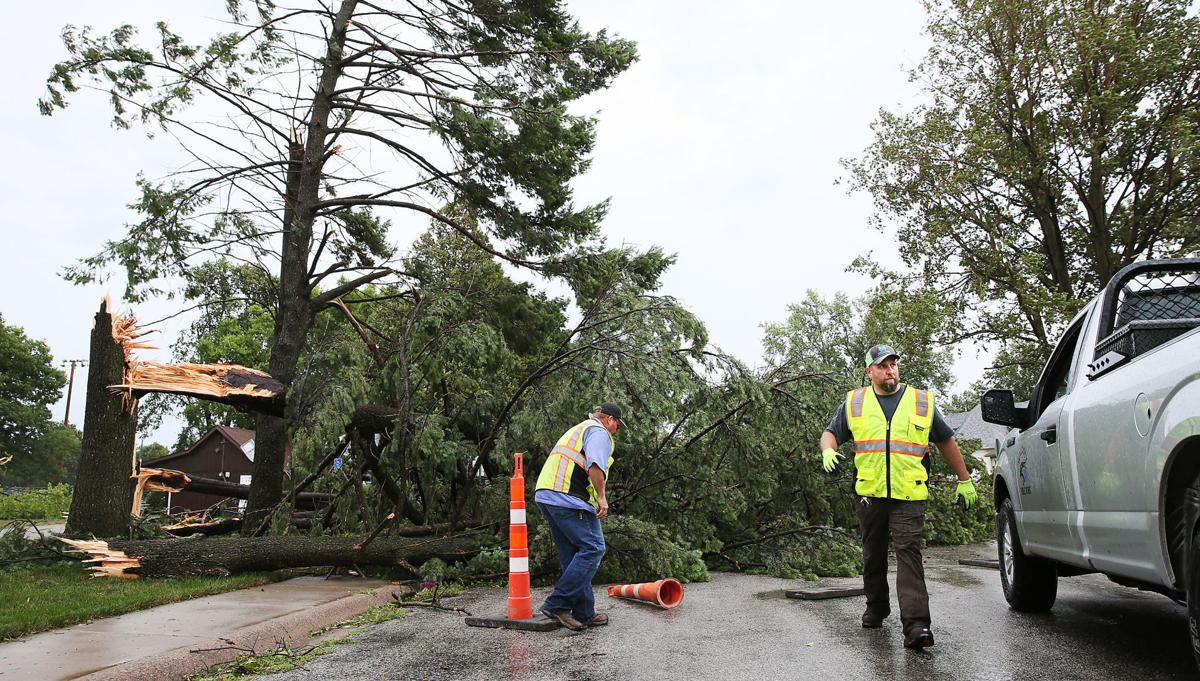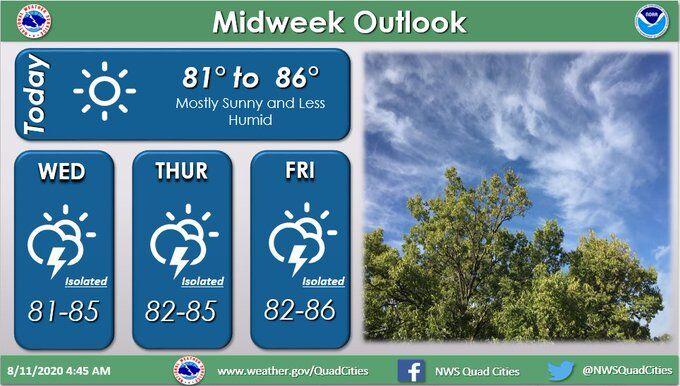 A good Tuesday to all. Just when you thought it couldn't get any worse this year with the pandemic et al, Ma Naure hits us with a derecho — with 100 mph hurricane force winds in some parts of the state — that downed countless trees, stripped houses of shingles, blew trucks off the interstate, and left almost 100,000 customers without power this morning.
Oh, what an eerie drive into work this morning. Fortunately today's forecast brings better news.
Here's the latest from the National Weather Service.
Today will be sunny with a high near 83 degrees and a low around 60 degrees.
Wednesday will see a 20% chance of showers and thunderstorms after 1 p.m. Skies will be mostly sunny with a high near 84 degrees and a low around 67 degrees.
2. Windy storm leaves ten of thousands Quad-Cities without power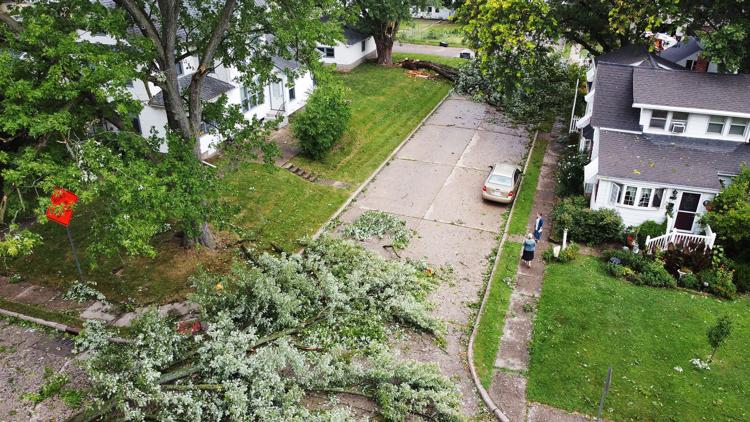 A powerful storm packing winds of 86 mph at the National Weather Service, Davenport, left nearly 111,546 Quad-Citians without power Monday afternoon, with downed trees and power lines all over the area.
The storm that slammed into the area about 1:30 p.m. and lasted about an hour was part of a rare storm known as a derecho, with winds up to 100 mph in places and power similar to an inland hurricane, according to Patrick Marsh, science support chief at the National Weather Service's Storm Prediction Center in Norman, Oklahoma. Read more.
Watch now: Storm damage in the Q-C region
3. Ramp work forces U.S. 61 detour in west Davenport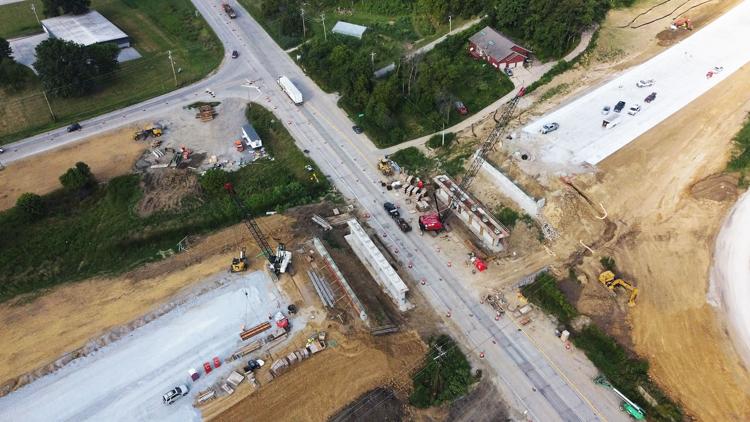 A $7.3 million construction project to rebuild the on and off ramps at Iowa 22 and U.S. 61 in west Davenport is right on schedule and should be finished at the end of this construction season.
The project to reshape and increase the size of the formerly narrow ramps with limited shoulder space began in 2019, Ahmad Abu Afifeh, a resident construction engineer for the Iowa Department of Transportation, said.
But it was only this year that Business U.S. 61 was closed in both directions because of rebuilding the overpass bridge. Drivers wanting to stay on 61 need to detour by taking Iowa 22 to the Interstate 280 West interchange where they can get back on 61.
Langman Construction, Rock Island, is the general contractor.
4. Former care facility worker says was fired for reporting COVID-19 safety violations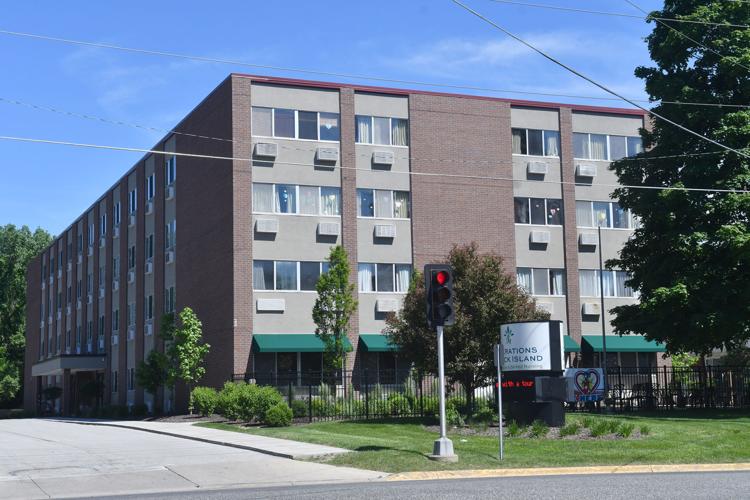 A former employee of Generations at Rock Island filed a nine-count civil suit Monday alleging she was terminated in retaliation for reporting safety violations in May.
Demetra Cruz, of Moline, filed the suit against the rehabilitation and care center, 2545 24th St., as well as managing supervisors Adra Baldwin and Julie Dunniway. According to the Illinois Department of Public Health website, the facility has had 69 COVID-19 cases, with 16 virus-related deaths. Read more.
More on the coronavirus in the Quad-Cities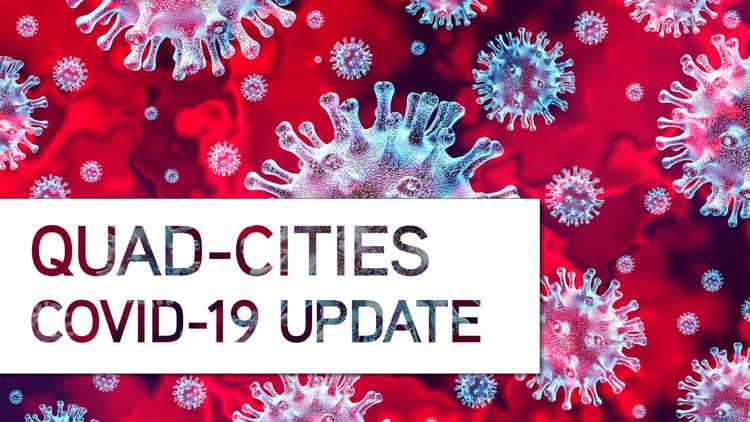 5. Video shows suspects jump from car aimed at Muscatine law center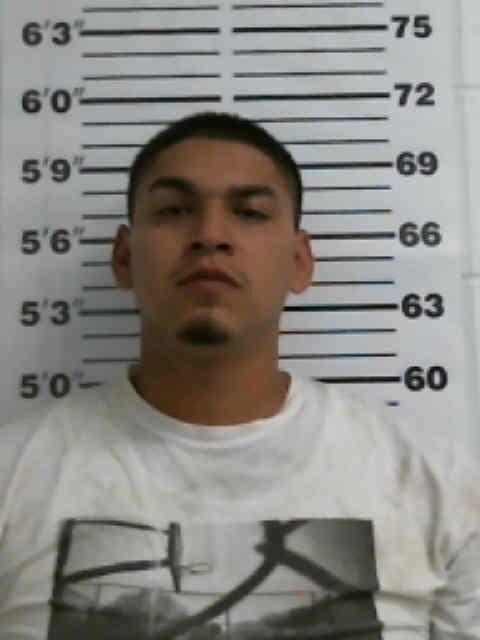 According to police reports, surveillance video of the Muscatine County Law Enforcement Center shows Gilberto Daniel Castillo III, 24, and Marc Anthony Castillo, 21, aim a vehicle at the building and jump out as the vehicle continues toward the building.
According to the complaint, at about 4:51 a.m. Sunday morning, Muscatine Police officers were advised of a crash on the patio of the public safety building, 312 E. Fifth St. The vehicle, identified as a black 2005 Nissan Armada, was previously traveling in the 300 block of East Fifth Street prior to colliding with the patio. On officers' arrival, the driver was attempting to drive the vehicle away from the scene, but was detained.
Upon review of video footage, the two were seen jumping and rolling out of the vehicle in the 300 block of East Fifth Street. The vehicle was pointed at the glass area of the law enforcement center. The area is known to have law enforcement officers inside. The vehicle was sent unoccupied toward the building, and is seen hitting an in-ground flag pole and the steps, which derailed the course of the vehicle. The vehicle then stopped between stone planters before reaching the building.
Probable cause shows the two were caught in the act, there was an admission, and were observed by officers. In a press release, the Muscatine Police Department reported it was a deliberately targeted attack and both were charged with terrorism, a Class B felony that can bring up to 50 years in prison.
No one was injured in the attempt. Officers who were inside the building arrested both men at the scene.
Gilberto Daniel Castillo III has been charged with terrorism, assault on a police officer causing injury, second-degree criminal mischief, operating while intoxicated, interference with official acts and various traffic violations. His brother Marc Anthony Castillo has been charged with terrorism, second degree criminal mischief and public intoxication.
The investigation remains ongoing.
Today's top video: First official day of high school football practice in Iowa
Today's photo gallery North football practice

Concerned about COVID-19?
Sign up now to get the most recent coronavirus headlines and other important local and national news sent to your email inbox daily.