A good Friday to all. A winter storm is forecast to move across much of the area this weekend, and will have the potential to bring greater than 6 inches of snow, a little ice and gusty winds.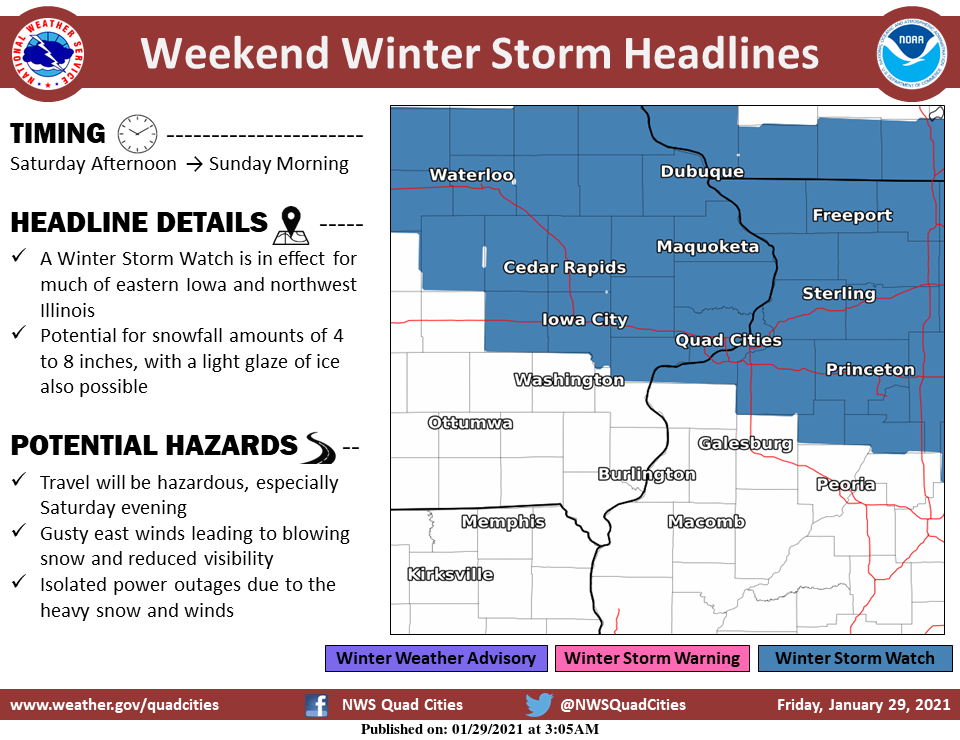 A National Winter Service Winter Storm Watch goes into effect at 3 p.m. Saturday and will in effect until 3 p.m., Sunday.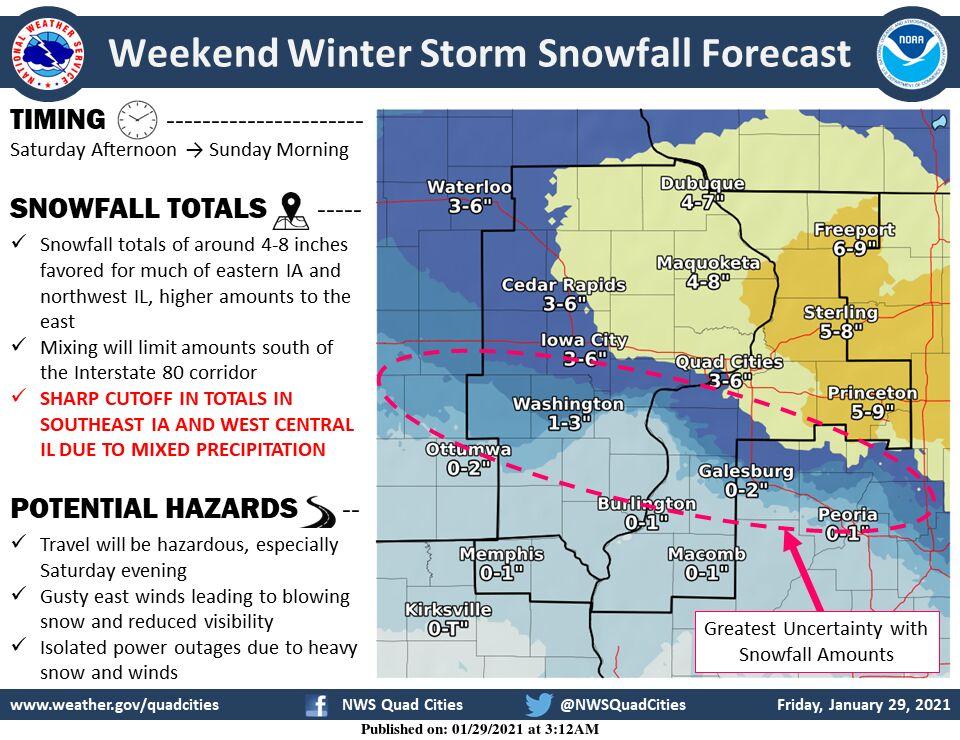 Storm details
WHAT: Heavy mixed precipitation possible. Total snow accumulations of 4 to 8 inches are favored mainly along and north of Interstate 80, and ice accumulations of a light glaze possible.
WHERE: Portions of east central and northeast Iowa and north central and northwest Illinois.
WHEN: From Saturday afternoon through Sunday morning.
IMPACTS: Travel could be very difficult.
1. Partly sunny with a high near 30 degrees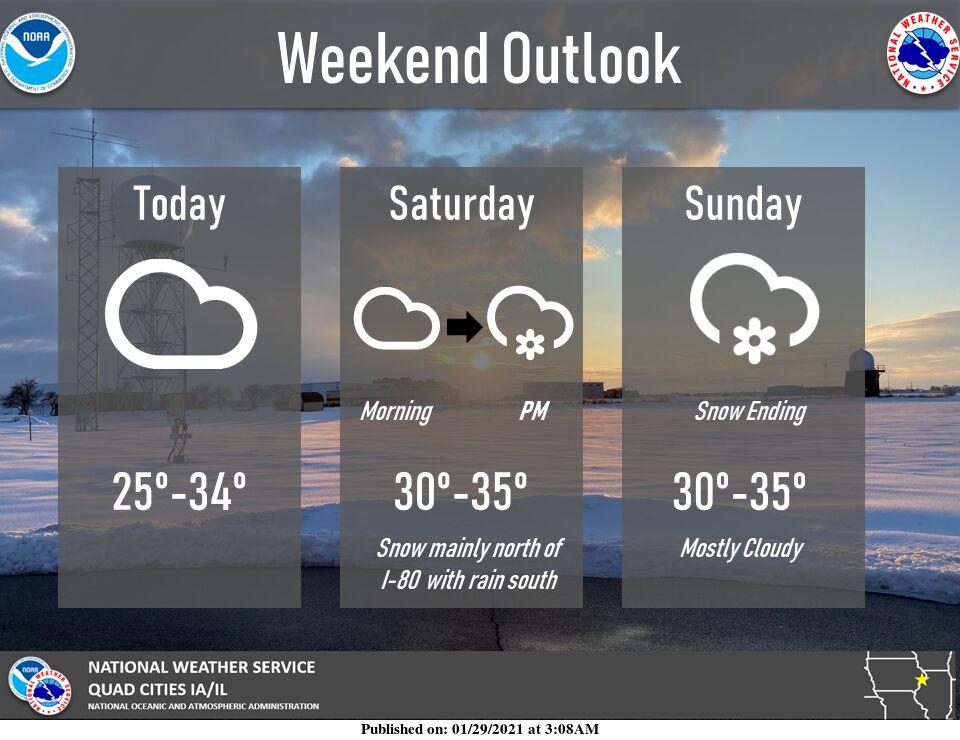 Today will be partly sunny with a high near 30 degrees and a low around 25 degrees.
Saturday there is a chance of rain and snow before 2 p.m., rain and snow, possibly mixed with freezing rain between 2 p.m. and 5 p.m., then snow after 5 p.m. The high will be near 34 degrees. It will be breezy with a southeast wind between 15 to 20 mph. The chance of precipitation is 100% with little or no ice accumulation expected. New snow accumulation of 1 to 2 inches possible.
Saturday night: Snow is likely and could be heavy at times. The low will be around 31 degrees. It will be breezy with an east wind  between 15 to 20 mph. The chance of precipitation is 100% with new snow accumulation of 3 to 5 inches possible.
Sunday: Snow is likely before noon. Skies will be cloudy with a high near 34 degrees. The chance of precipitation is 60% with new snow accumulation of less than a half inch possible.
Sunday night will be mostly cloudy with a low around 21 degrees.
2. Longtime Central coach was 'an anchor' and man of integrity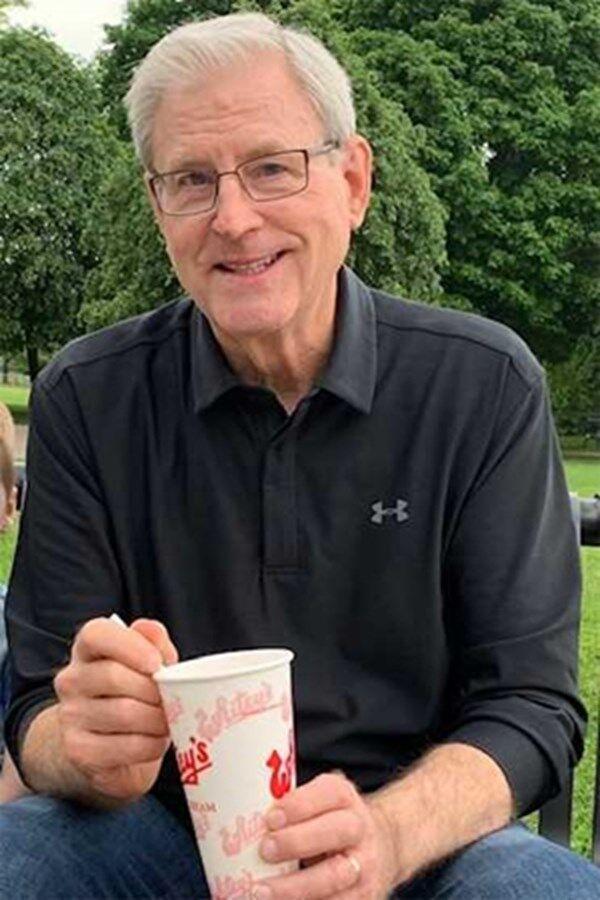 Described as a man of integrity who got the most out of every athlete he crossed paths with, the Davenport Central community is grieving the loss of one of the most successful coaches to come through its athletic program.
Randy Peters, who died Monday from complications of heart surgery at age 74, is the only coach in nearly 60 years of boys' and girls' state track and field meets in Iowa to win championships with both genders. Read more. 
3. Iowa at Illinois tips off tonight
Illinois hosts Iowa tonight in a classic Big Ten battle. Game time is 8 p.m. The game will be can be seen on FS1. Read more. 
4. Quad-City public health officials detail upcoming COVID-19 vaccination clinics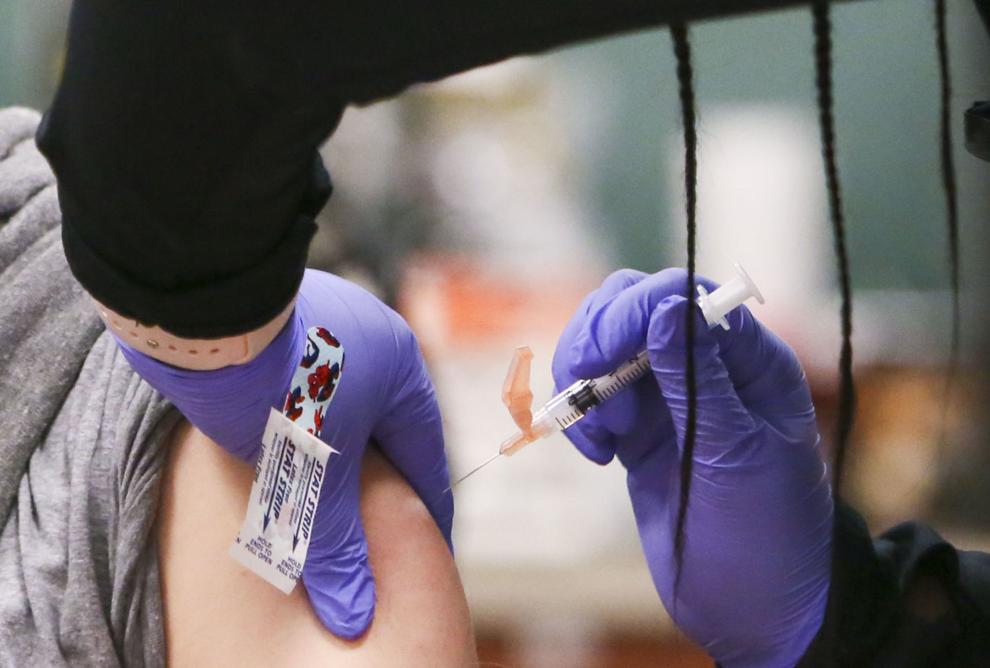 The opportunity to start the two-dose COVID-19 vaccination will once again expand, as Phase 1B vaccinations start in Scott County and Rock Island County restarts its public health vaccination clinic at the Greater Q-C Auto Auction in Milan.
A number of private retailers — like HyVee and Jewel-Osco and Walgreens — have started, or will soon start, administering the vaccine.
Both health departments even addressed the issue of those without access to online sign-up during Thursday's Q-C COVID-19 Coalition press briefing. Read more.
5. Plane damaged when wing clips snow bank while landing at Davenport Municipal Airport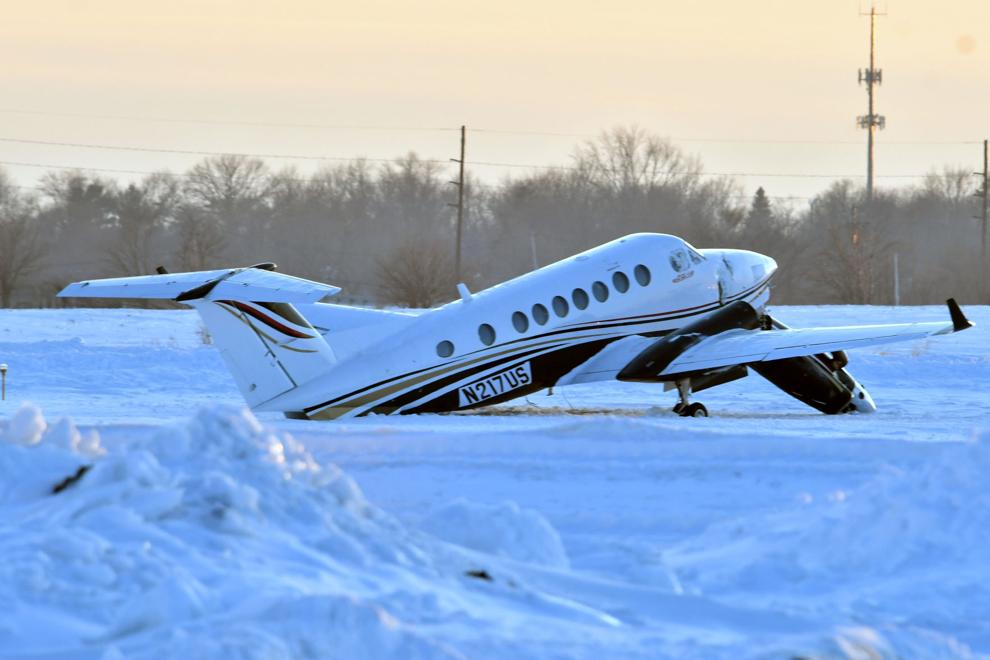 A plane being used in a training exercise was damaged Thursday when a wing clipped a snowbank while landing at the Davenport Municipal Airport, Sarah Ott, Chief Strategy Officer for the City of Davenport said in a news release.
The plane slid off of the runway, Ott said. The incident was reported at 4:09 p.m.
The two people on board the airplane were not injured and declined any medical treatment.
Ott said Davenport police and firefighters responded to the scene, and that Carver Aero, the airport's fixed base operator, was responding to leaking fuel on the runway.
The Federal Aviation Administration, or FAA, has been notified of the accident.
The plane is a 2007 Raytheon Aircraft Company B300, which seats up to 19 people. The plane is owned MM-AIR LLC of Alamo, California, according to the Aviation Database. It is marketed as the King Air 350.
Today's top videos
Today's photo galleries