Less than 2½ hours after Brian Enburg took two puffs of his inhaler and kissed his wife goodbye Friday morning, urologists removed his cancer-ridden prostate and sewed close his stomach.
By the afternoon, the 60-year-old Moline man was sleepy, but he felt "pretty good" resting in a recovery room at Genesis Medical Center-East Rusholme Street, Davenport. Instead of undergoing a traditional open surgery, which involves a 6-8 inch incision in the abdomen, Enburg opted for the increasingly popular and minimally invasive robotic surgery.
Urologists performed the laparoscopic procedure with a video camera and long, narrow instruments fed through six ports placed in small incisions in his abdomen. Patients who endure this form of surgery, paired with the assistance of robotic technology, experience less blood loss and an improved recovery, urologist Dr. Andrew Lightfoot said.
Enburg, a former smoker whose cancer was detected in May, arrived in the operating room at 7:13 a.m.; the first incision was made at 7:43 a.m.
'It's a journey'
With his back to his patient, Lightfoot sat at a console called the da Vinci Surgical System, created by Silicon Valley-based Intuitive Surgical and approved by the Food and Drug Administration in 2000.
As he watched a magnified, high-definition 3D view of Enburg's pelvis through a stereoscopic monitor, the 38-year-old physician controlled robotic arms with a pair of joysticks and foot pedals.
"It's advertised as a robot because it sounds sexier, but it's not a true robot," Lightfoot said, calling it an expensive, fancy machine. "This is just an extension of yourself that makes it a little bit easier to see what you're doing."
And with better vision comes more accurate and precise movements. In turn, the technology allows surgeons to work efficiently and save more nerves near the tissues being removed, Lightfoot said. When it comes to prostatectomies, removal of part or all of the prostate, nerve sparing may help reduce the risk of urinary incontinence and erectile dysfunction, two major concerns among most prostate cancer patients, he said.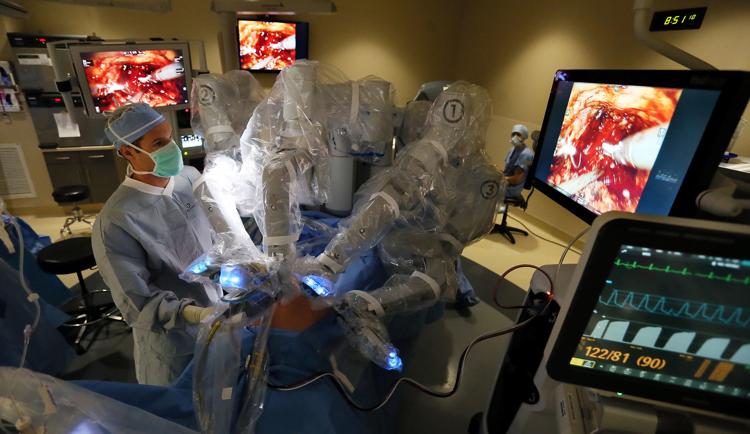 However, Lightfoot tells his patients even if he spared every nerve along their prostate, they still may experience impotency, and it could take a couple of years to recover. To combat erectile dysfunction, Enburg will be prescribed a low dose of Viagra as soon as his catheter is removed in about 10 days.
If that doesn't work, there also are penile injections, which are more powerful than oral medications. While the action of administering the injections may intimidate patients, "those who move past that tend to do very well," Lightfoot said.
About a month ago, Enburg began meeting with a physical therapist and doing Kegel exercises to strengthen his pelvic floor and control of his bladder. Once his catheter is removed, the father of three has another appointment scheduled with his physical therapist.
"Going into this, if you don't do research, you don't really know what happens at the end or how the process works," said Enburg, who hopes his openness helps others in similar situations. "We'll just have to see what happens here; it's a journey."
Tech not new here
University of Iowa Hawkeye football fans may remember the 6-foot, 6-inch Lightfoot from his days in the late 1990s and early 2000s as an offensive lineman for the Big Ten program. The Chicago-area native stayed in Iowa City for medical school and six years of residency training before completing a Fellowship in Robotic and Minimally Invasive Surgery at the University of Pennsylvania.
A member of Urological Associates, P.C. of the Iowa and Illinois Quad-Cities Region since 2014, Lightfoot has completed more than 550 robotic cases. In addition to prostatectomies, he conducts robotic surgeries for other prostate and kidney disorders.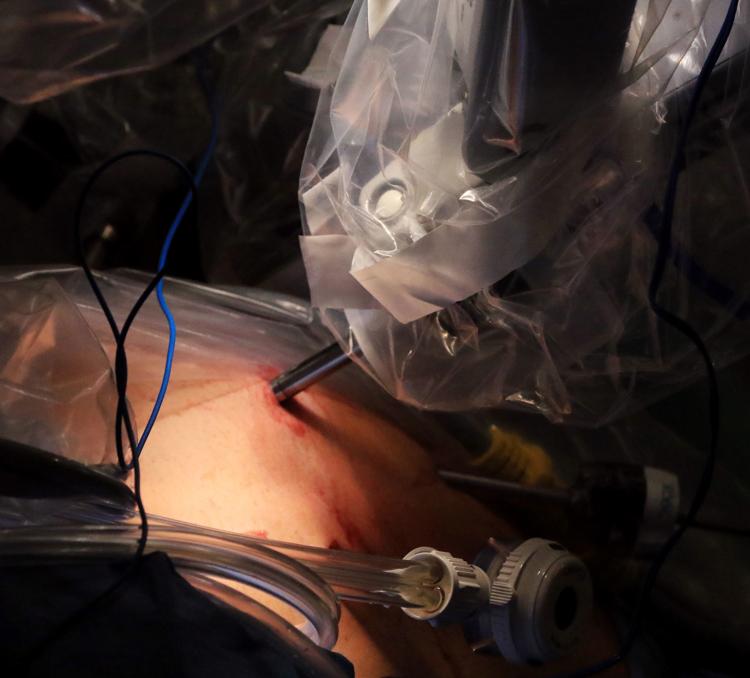 Members of the independent urology group work at Genesis Health System and UnityPoint Health facilities, but most of the robotic cases they do are at Genesis.
You have free articles remaining.
UnityPoint Health–Trinity purchased the first da Vinci system in the area and performed the first procedure with it in September 2008, spokeswoman Stephanie Dasso said. The organization currently has one da Vinci system at its Moline campus.
Meanwhile, Genesis acquired its first robotic system in 2009 and its second in 2017. A total of 16 physicians in urology, gynecology and general surgery are trained to use the technology at Genesis, which is closing in on 2,500 robotic cases.
It takes a team
Throughout Friday's procedure, Lightfoot communicated by microphone with members of his medical team, including fellow urologist Dr. Timothy Kresowik.
Following his partner's lead, he replaced tools on the robotic arms, suctioned fluids from Enburg's abdomen and placed surgical clips in certain places where Lightfoot made cuts.
"We trade off," Kresowik said. "Some days I'm on the console and some days he's on the console."

Because the prostate, a walnut-sized gland, is positioned between the bladder and the penis, Lightfoot had to clear fat tissue surrounding Enburg's bladder before puncturing it to access the prostate.
At 8:33 a.m., 50 minutes after the first abdominal incision was made, Enburg's prostate was removed.
The urologists then removed potentially cancerous pelvic lymph nodes. Reconstruction of the area, the most technical and time-consuming part of the procedure, followed. The surgeons mended severed tissues and closed the gap between the bladder and urethra, a necessary step that improves the patient's continence.
"Even though it takes longer, in my eyes, it's a much safer procedure," said anesthesiologist Dr. Ilya Volfson, who accompanied Kresowik and Lightfoot in the operating room.
Controlling pain during and after these procedures is easier, too, he said.
"A lot of times these patients are much less at risk of developing a narcotic dependence," Volfson said.
'He's forever with me'
Lightfoot sat up from the da Vinci system at 9:08 a.m., washed his hands, donned gloves and joined Kresowik at the operating table. After cleaning and suturing Enburg's abdomen, they injected a long-acting local anesthetic into his belly.
The gloves came off at 9:24 a.m.
Lightfoot predicted the cancer was contained within the prostate. He will see Enburg every three months for the next two years and every six months after that. They will monitor the level of prostate-specific antigen, or PSA, in his blood and address any other issues, primarily incontinence and erectile dysfunction.
"He's forever with me," Lightfoot said, before meeting Enburg's wife, Carla, in the waiting room. "I'm very happy with how things went."