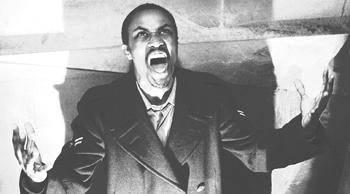 It's a story of love, heroism, humor and sacrifice … and oh, they do Shakespeare, too. The Prenzie Players, a Rock Island theater company, began in 2003 out of a deep love of Shakespeare and almost no budget, but an abundance of humor and ambition. They will open their sixth season with "Othello" on Friday at the Rock Island Masonic Temple, 420 18th St.
Founded by Cait Bodenbender, John "J.C." Luxton, Aaron Sullivan and Denise Yoder, the group prides itself on performing Shakespearean productions that are low on budget and bling but with great attention to language and emotion.
"We want to engage emotions, and we do a great deal of research to make sure that it speaks to the audience," said Bodenbender, who is directing "Othello." "What would Shakespeare do to sell it? What would he do to make it relevant? We aren't afraid of making the audience uncomfortable if it gets them involved and emotionally engaged."
A highly charged tale of jealousy, revenge and murder, "Othello" has been called Shakespeare's most intense play. It is a story of love, prejudice and the destruction of innocence.
"Choosing 'Othello' (to open the season) is something we decided at the end of last season," Bodenbender said. "Tragedy is something that lives close to J.C.'s and my hearts, and we as a group tend to do a lot of tragedies.
"With Shakespeare, a lot of times a director is trying to make a point, but it's about telling the story. 'Othello' is a story about how something dark inside someone can come out and destroy those around them. It is Othello's fatal flaw that causes him to lose everything."
'Othello' was derived for the Prenzies by Luxton, whom Bodenbender says has a natural instinct for adapting Shakespeare for the performances.
"Shakespeare seems to be a native language for J.C.," she said. "It feels like we think Shakespeare would want it. We don't ever simplify language. It's the actors' and director's challenge to get the language across."
The Prenzie Players do just that. Those who have attended previous shows have come to expect the unusual, such as speeches given directly to one audience member or action taking place in different parts of the venue.
The part of Othello will be played by a newcomer to the Prenzie Players, Julian Jarrell, who studied theater at New York University. He said he's been waiting for a chance to play this part.
"I've had my eyes on it," said Jarrell. "I think Othello is hard to pinpoint — he's an outsider, as the only black guy in this society. And his training is as a military man, so he puts all of his trust in his soldiers, but he is betrayed. I want the audience to see him as complicated as he is."
Desdemona, Othello's love interest, is played by Prenzie veteran Maggie Woolley, who finds the role a departure from the male characters she normally plays.
"Desdemona is a challenge for me, as she needs to be softer," Woolley explained. "She is full of spirit, and she represents all that is good and real and complex about love, and she dies because of it. In the beginning, everything is lighthearted, but by the end it goes down a blistering spiral, and the audience is brought in emotionally and physically."
Show dates are October 12-14 and 19-21. The cast and production staff will hold a Q&A session after the opening night performance. Doors open at 7:30 p.m., with curtain at 8 p.m. There is a matinee on Sunday, October 14 at 3 p.m., but no evening show that day. Tickets are $8 and available at the door only.
For more information on the sixth season, or to find out how to get involved with the Prenzie Players, visit PrenziePlayers.com.
What: William Shakespeare's "Othello"
Who: Presented by the Prenzie Players
Where: Rock Island Masonic Temple, 420 18th St., Rock Island
When: Performances at 8 p.m. on Oct. 12, 13, 19, 20 and 21 and at 3 p.m. on Oct. 14. Doors open 30 minutes before curtain. Q&A after Oct. 12 performance.
How much: $8 at the door.