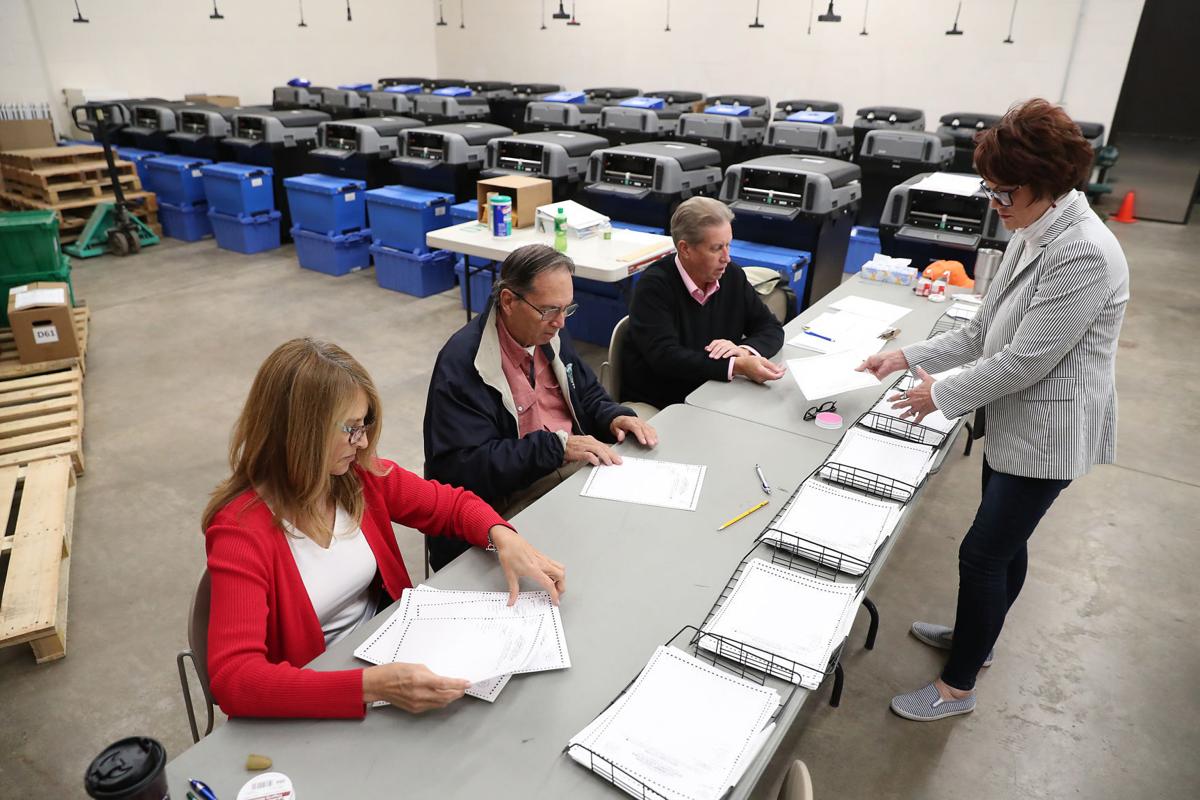 Scott County Auditor Roxanna Moritz will step down next month, ending a 14-year tenure after straining with the demands and complications of conducting safe elections during a pandemic.
Moritz, who acts as County Commissioner of Elections, on Wednesday announced she will retire April 23, earlier than anticipated and leaving a vacancy that will be filled temporarily until the next scheduled countywide election in the fall of 2022.
Moritz, a Democrat, in a statement and interview with the Quad-Cities Times, blamed the Republican-majority Scott County Board of Supervisors for lack of support of repeated requests to provide adequate staffing and training facilities for staff and poll workers.
"We were challenged with putting on elections under a new dynamic with very little support from the Scott County Board of Supervisors," Moritz said in statement announcing her retirement.
Moritz said she had advocated the last several years for adequate space to house both staff and equipment in one location.
"We do not have adequate training facilities for staff and poll workers," she said. "I have to divide my staff who have to work at two separate locations, and this fact makes it difficult to utilize staff as situations change."
Republican Scott County Supervisor Tony Knobbe pushed back on Moritz' claim that the county board has not supported the auditor's office.
"I can't think of a request she's had that we've denied," Knobbe said. "We may have asked tough questions. That's our job. The one exception, where she decided not to involve us," was accepting the $286,870 CTCL grant.
Facebook founder Mark Zuckerberg and his wife, Priscilla Chan, donated hundreds of millions of dollars to the Center for Tech and Civic Life, a nonprofit seeking to modernize U.S. elections, to funnel to local election officials across the country struggling to meet the exceptional costs of holding an election amid a pandemic.
Moritz said the grant funding saved taxpayer money for election expenses related to COVID-19, including helping pay for extra sanitation measures at polling places, expanded hours of early voting, extra wages for poll workers and other costs.
"I had some philosophical problems — I think others did, too — with the thought of a private foundation funding ... the election process, especially a foundation that's founded by somebody who is obviously politically motivated," Knobbe said. "To my knowledge, at least in my four-year tenure on the board, I don't know that we've denied requests for funding for equipment, for pay for poll workers."
Moritz said she made a mistake and thought she had the authority to do so.
"For the record, I think she's done a great job of running fair elections," Knobbe said. "I don't think it's any big secret that there's been some tension between us, especially stemming from the payroll issue last fall, but I'm certainly past that at this point. ... I'm a bit surprised of the timing of this."
Supervisor Ken Croken, a Democrat, said he shares Moritz' concern about a lack of adequate support for running county elections "in a way that enables the largest number of registered voters to participate in each election.
"Scott County has been blessed to have a highly professional auditor's office led by Roxanna Moritz," who previously chaired the Iowa State Association of County Auditors, Croken said. "Her stepping away from these duties is going to create a significant hole in our abilities to manage frequent and complex elections, and I wish her great success and happiness in the future."
Scott County Board of Supervisors Chairman Ken Beck, a Republican, said he had not been notified of Moritz' planned retirement and declined to comment.
Supevisor John Maxwell said he "regrets through these very trying times that we were not able to coordinate with her as much as we could.
"Also, there were so many moving pieces in a pandemic that it was hard to keep up with everything we needed to do," Maxwell said. "And in retrospect, maybe some future planning could have, should have happened to make the whole process a lot easier. ... It's sad to see her go in the conditions that we are in, and I would hope for her best in retirement. The thing that I think all supervisors need to do is try to do a better job moving forward."
Moritz, too, cited extensive election changes just enacted by the Iowa legislature and signed into law Monday by Iowa Gov. Kim Reynolds for choosing to step down early. The new law, which is being challenged in Iowa court, will shorten Iowa's early voting period, tighten absentee ballot rules, limit auditors' ability to establish satellite voting sites and set criminal charges for county auditors who fail to follow state rules, whether willful or unintentional.
A change in the law last year said that during public emergencies, including the one Iowa is in now due to the pandemic, 65% of polling places must be open for general elections.
Moritz said her office missed an email reminding local election officials of the requirement, and that when they did realize they had set up too few polling places, it was too late to change.
Moritz said she was not purposely flaunting the law, and fears the criminal penalties could discourage people from working as election officials or as a poll worker.
"That will only make these limitations worse," Moritz said of the sweeping changes to Iowa's election laws. "Without staff, without the right location, without being able to do things we need to do in less time is really going to be a stress. I was going to retire anyway (in December), this just cemented it. ... My office is walking on egg shells.
"The next auditor will have to deal with the same limitations," Moritz said. "My one regret is not getting the Board to better support elections."