VETERANS DAY
Scrapbook reflects life of World War I soldier
Victor Nelson was farming with his father in Cordova, Illinois, in June of 1918 when he received his induction order into the U.S. military, which was fighting a horrific war in France.
This Great War, eventually known as World War I, was a different kind of war. It was being fought on a scale never seen before.
The trench warfare meant soldiers were holed up in deep ditches that turned to mud when it rained. In addition to flying bullets, they were subject to trench foot, shell shock, blindness/burns from poison gas, lice, trench fever and flu.
Against this backdrop, Nelson, a light-haired, blue-eyed son of Swedish immigrants, reported to the Moline Commercial Club at 4:30 p.m. on June 26, receiving a "great send-off" in Moline, according to a letter he sent back to his sister in rural Cordova.
So many people crowded around the station that he "couldn't hardly get to the train," he wrote.
Nelson was 29 and in the infantry of the American Expeditionary Forces, one of 351,153 men from Illinois who answered the nation's call for what was supposed to be the "war to end all wars."
It is probably fair to say that in the minds of most Americans today, particulars of this war are hazy, if they exist at all.
As world leaders gather Sunday in Paris to celebrate the 100th anniversary of the armistice on the 11th hour of the 11th day of the 11th month, an 80-year-old scrapbook discovered in LeClaire offers a glimpse into what life was like during the war for one Quad-City area soldier.
This story comes to light via Connie Curlott, a volunteer at the Buffalo Bill Museum who, about two years ago, was handed a box of items from a storage closet to see what was worth keeping.
Through the years, the museum has received hundreds of items with no documentation about where they came from, who donated them or, in some cases, what they're about. Executive director Bob Schiffke gave Curlott the box as part of a renewed effort by the museum to get its collections organized.
At the bottom of the box she found a black book that was held together with cord and had the words "scrap book" embossed in gold. Printed on the first brittle page were the words, "Victor Nelson, 1st W. War, from Hulda, 1935." Turning the pages and reading as she went, Curlott realized what she was holding.
The book contains 18 pages of photographs, newspaper clippings, mementos and letters sent by Nelson, the second-youngest of eight children, to his sister, Hulda Peterson, also of Cordova, during the war. Hulda assembled the book in 1935.
Following his sendoff in Moline, Nelson was sent to Camp Grant, near Rockford, Illinois, for training, then to New Jersey, where he boarded a ship for Europe, according to the letters.
The next piece in the scrapbook is a post card, written in pencil, that says "France, Sept., Dear Sister, arrived safely." The next word is erased and then the words, "all OK, your brother, Victor."
Squeezed bullet out of leg
By Oct. 28, Nelson was hunkered down in the Argonne Forest, a long strip of mountainous, wild woodland in northeastern France that had for years been the site of intense military action.
Bitter fighting between German and Allied forces had erupted in the fall and winter of 1914, the summer of 1915 and, finally, the autumn of 1918. This is where several U.S. Army soldiers earned the Medal of Honor, including Sergeant Alvin C. York, whose story was told in the movie "Sergeant York," with actor Gary Cooper in the title role.
Nelson had been on the front line for nine days, spending most of his time huddled in a shell hole, as he was under fire from a sniper.
On this particular day, the sniper found his mark, hitting Nelson in the left leg.
"He shot my overcoat full of holes and at last put one in my leg," Nelson wrote in a letter home to his brother in Clinton that was published in the newspaper.
"But it didn't go in very deep as I squeezed the bullet out myself and at night crawled out and got back to a first aid station and from there was sent back to the base hospital where I am at present.
"When I was in that shell hole I used to dream of that supper I had with you the last time I saw you as my rations got pretty low along towards the last as it was impossible to bring us any food so we had to live on our own rations."
Other deaths, grisly accounts
Nelson's sister also pasted in the scrapbook published accounts from other soldiers, several very grisly.
An Albany soldier had this to say about his experience: "Money couldn't buy from me what I have seen and gone through.
"I wish you could see the field since the battle. It is just a mass of shell holes. The Germans sent over gas shells the other day for about eight hours but they didn't get any of us. We went to bed that night with our gas masks on. They are an awkward thing to sleep in."
Another clipping recounted the horrors of being in a German prisoner of war camp. It spoke of a German putting mud in the prisoners' soup, and waking them up at 4 a.m., forcing them to stand for three hours for no reason with no shoes or socks.
Other accounts reported area deaths. "From personal accounts of his comrades I can vouch he died a hero," a colonel said in a clipping from the Moline Dispatch about the death of an East Moline man. "The engagement terminated in a hand-to-hand fight."
Another death notice of a 24-year-old from Albany reported a surviving wife and 5-month-old baby.
And it wasn't always bullets.
"Like a bolt of lightning out of a clear sky came the news Wednesday afternoon from Washington, D.C., of the death of Frank L. Beach somewhere in France on October 19, 1918, of pneumonia. Oh! The sorrow of this war!"
Nelson's sister also pasted into the book a photo of the home farm, Nelson's letter of induction, the letters he sent to her (most written on the free paper and mailed in the free envelopes supplied by the YMCA), the letter sent by the War Department to the family notifying them that he had been wounded and the official dispatch of the armistice sent to soldiers in the trenches.
Nelson's early letters talk about his training —  how harsh his commander was, how hot the weather was and how he was quarantined because he got the measles.
His first letter after his "arrived safely" postcard reported that he was making his way across France and could "hear artillery fire."
There's no letter in the scrapbook to Hulda about his being wounded. Instead, he picks up during recuperation with a visit to Paris, where he had a great time.
Recuperating in Paris, coming home
Nelson describes the streets being lined with German cannons that had been stripped of loose parts for souvenirs. He also recounts a jubilant, impromptu parade through the streets with one participant dressed as Santa Claus (this was around Christmas), while others hoisted an American flag and played the trombone.
Also in the scrapbook are the menus Nelson saved from special Red Cross dinners at Thanksgiving and Christmas and a postcard from Saint-Denis, where he was hospitalized.
He also wrote about being seasick on his voyage back, the thrill of seeing the Statue of Liberty in the New York harbor and of wild celebrations in the streets.
While pasting in the letters and mementos, Hulda also wrote headlines or captions on the various pages.
"ARMISTICE SIGNED NOV. 11 AT 11:00"
The final pages contain newspaper articles about other soldiers and poems about the waste of war. The last 17 are blank.
Reading Nelson's letters, Curlott at the Buffalo Bill Museum wanted to know more. She wanted to know what became of him after the war.
Did Nelson come back to the Quad-Cities? What did he do for a living? Did he marry? Did he have children? Are there survivors in the Quad-Cities?
The Quad-City Times asked researchers at the Rock Island County Historical Society and the Richardson-Sloane Special Collections of the Davenport Public Library if they could find answers to those questions.
Their digging indicated that Nelson did, indeed, return to the Quad-Cities. He worked 46 years as a marine engineer for Moline Consumers Co., Moline, retiring in 1956. He did not marry and presumably did not have children.
He died July 24, 1981, at the former Oak Glen Home in Coal Valley at the age of 92, according to his obituary in the Moline Dispatch. Only nieces and nephews are listed as survivors, meaning his seven siblings all preceded him in death. He is buried in National Cemetery, Rock Island Arsenal.
His remains lie under a white stone, like thousands of other white stones. His remains are like thousands of others' — the men who answered their nation's call. Some gave all. All, including Victor Nelson, gave some.
World War I ends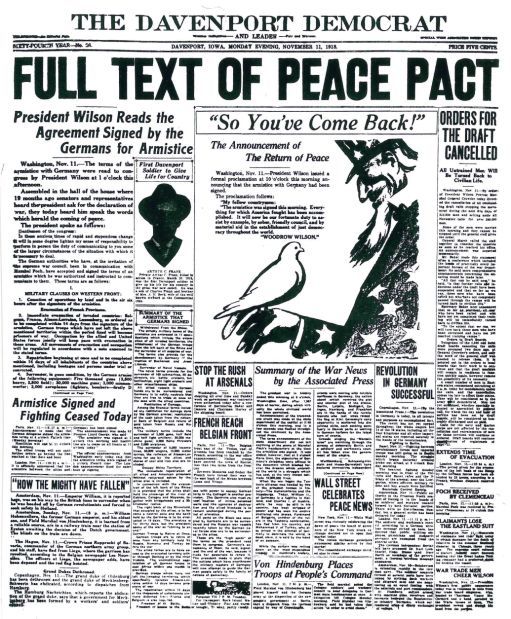 WWI 1.jpg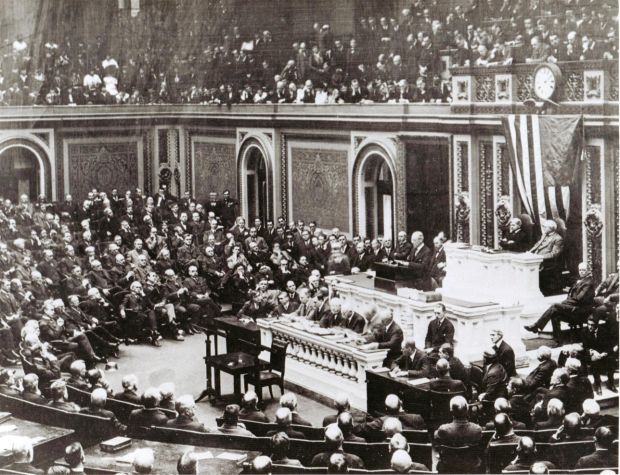 WWI 2.jpg