119 shots fired incidents this year in Davenport, community looking for solutions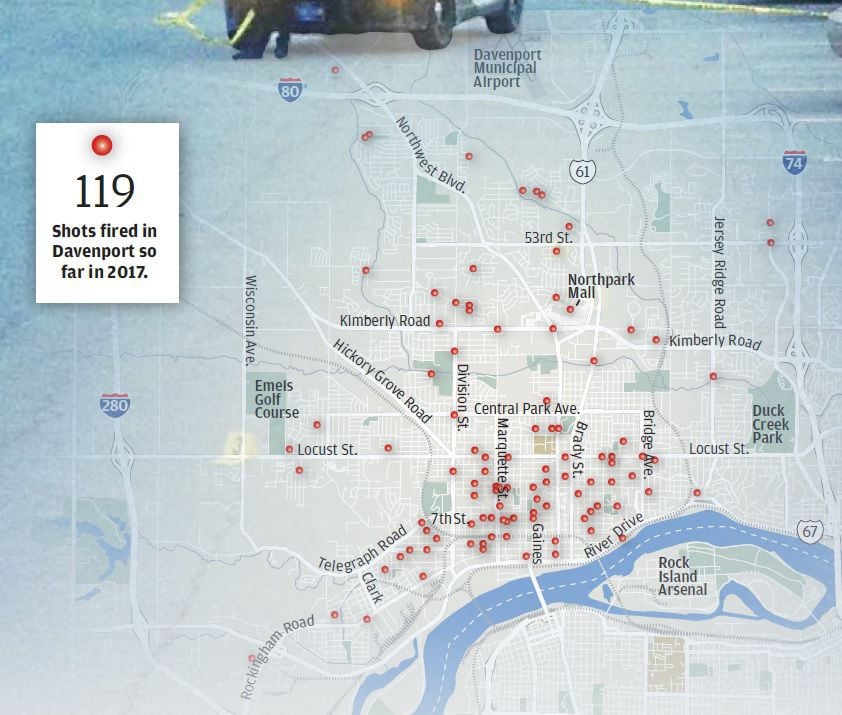 The 119 confirmed shootings in Davenport this year are not localized to one part of town, according to data obtained by the Quad-City Times.
One of the earliest shootings, which occurred on Jan. 31, happened in the parking lot outside of the food court of Davenport's NorthPark Mall. While there were no injuries, several parked vehicles were struck.
Others shots fired incidents have occurred in the 4700 block of Rockingham Road, at Centennial Park along the Mississippi River, Davenport Memorial Park on East 39th Street, and in the 5900 block of Elmore Avenue.
Davenport Police Major Jeff Bladel said that every officer in the department has been working to get the perpetrators of the gun crimes off the streets and to seize the weapons.
"Our officers are making arrests," Bladel said. "They're making good arrests. We have put a lot of resources into curbing the gun crime. It's our priority and we'll continue to work with other agencies and with the community to curb it."
One of the issues Davenport has is the bridges that lead into and out of the city, he said.
Not all of the people causing the problem are residents of Davenport, so coordinating with Rock Island, Moline and East Moline police, as well as the sheriff's departments and the federal authorities is vital, Bladel said.
Bladel said, so far, 27 individual arrests have been made related to Davenport's shots fired incidents. Of those, five were juveniles. Also, 21 people have been charged with federal gun crimes, and 16 gun permits have been confiscated.
There also have been 81 people against whom prosecutors have filed some type of state gun charge, and 16 juveniles have been arrested on some type of gun charge.
Gangs are a factor
For instance, at 4:33 p.m. Aug. 21, Zoe Ogden, 19, and Willie Hicks Jr., 20, both of Buffalo, along with Kevon Montez Jackson, 16, and Jarrett Anthony Bonnell, 17, both of Davenport, were arrested after a shooting incident at 15th and Main streets, according to Davenport police affidavits.
A single-shot sawed-off shotgun was seized during the arrests, along with a sawed-off lever-action .22-caliber rifle. The barrel of each weapon was less than 16 inches, which is considered an offensive weapon.
Police also said in affidavits that all four are members or associates of the West Side Mafia, which officers described as a criminal street gang. They were shooting at another person who is a member of a rival street gang.
Bladel and Police Chief Paul Sikorski have said the city's shootings have not been random acts. In each case, the shooters knew at whom they were shooting.
Steve Mielenhausen, principal of Madison Elementary School, 116 Locust St., Davenport, said he hears from the community about the violence and its effects.
"The kids' parents will come in and say the neighborhood is crazy, and they want it to stop," Mielenhausen said at a monthly community meeting sponsored by the Davenport Police Department's Neighborhoods Energized to Succeed, or NETS officer, Sgt. Andy Harris, that was held at Hope at the BRICK House, 1431 Ripley St. A NETS officer meets with the group once a month.
One of the effects of the violence is the student turnover rate at Madison, which is between 36 and 40 percent, Mielenhausen said.
"The parents don't feel the neighborhoods are secure," Mielenhausen said. "If we had neighborhoods more secure and safe, they'd stay. They go to where they think it's going to be safe, but you can't escape it in Davenport.
"It used to be when you read about shootings, they were south of Locust Street," he said. "But that's not the way it is anymore."
Family matters
Davenport School Board member Clyde Mayfield pulled no punches as he talked about what it is going to take to get guns out of the hands of the people -- mostly teens and young adults –- who have contributed to the 119 confirmed shooting incidents and 10 homicides in Davenport so far this year.
Speaking before a crowd of between 20 and 30 during a three-hour meeting of Boots on the Ground held Saturday at the Davenport Public Library, Mayfield said "the entire community is going to have to come together to address the problems facing the youth of the Quad-Cities."
Mayfield, a lifelong Davenport resident who owns the Greatest Grains store on Harrison Street, said people first have to understand the circumstances in which many of the young people are raised. Then each child must be treated individually because each situation and every person, even within a family unit, is different.
But the first steps, he said, are getting parents and families involved in children's lives and ensuring the children get the education they need to be successful.
"We have to get people to understand that they have to be involved on every level with their child," Mayfield told the crowd.
"It's so important to be a part of the process," Mayfield said. "Nobody will have the time to put into your child if you don't spend the time. Teachers will spend five hours a day with 30 kids."
Even going to a child's athletic events is important, he added. "A parent may have to work, but there are grandparents, neighbors, an older sibling, a significant other. Somebody needs to be there."
There are programs in schools to feed children, provide them a ride to and from school, gym time, play time, and educational programs, he said. "But is that all they need?" Mayfield asked "They need much more than that. They need somebody in the home."
And if the children are going to have any economic chance at all, he said they have to get an education.
"Education is the door to opportunity for the next 50 years," Mayfield said.
Retired Davenport Police Officer Mike Cole works for the Davenport Community School District at Keystone Academy.
Some of the youth Cole sees aren't looking to a future education or getting a job and building a career.
"They're talking about quick money, selling dope, stealing, all these kinds of things," Cole said. "We have them for six hours in that building. I'm trying to get inside their head to find out what's going on.
"Some of the kids involved in street violence or stealing cars are in my building," Cole said. "I ask them, 'Why did you do this,' and they tell me they don't really have a family. The family is the other guys out stealing cars.
"I tell them, 'Let me be your surrogate parent; invite me to something you want to go to, or come with me to something I want to do,'" Cole said.
"I took a couple of kids to the NAACP meeting a couple years ago," he said. "They never knew anything like that existed."
The issue is building positive relationships and taking the kids "down road they've never traveled before because they had no one to travel with them."
Cole understands parents already have a lot to deal with but so do the kids.
"It's one kid at a time," Cole said. "To build relationships you have to be genuine. We're not talking a Dr. Phil kind of thing. You can't approach the kids as a project. You have to build genuine relationships."
It takes a community
The Rev. Daniel Teague, founder of Boots on the Ground, said that if violence in the community is to stop, then it is the whole community that must be involved.
"We're not talking about individuals, or individual communities," Teague said. "I'm talking everybody. This affects everybody in every part of the community and not one part of the community."
While socio-economics plays a part, Teague said the issue is bigger than jobs. "But if we could show them something different, how to take a different way, and even helping them with being self-employed and creating their own jobs."
"And truthfully, that's the way to go," Teague said. "We're teaching people to work for somebody else instead of teaching them to use their minds and be an entrepreneur."
Talking about it is one thing, making the sacrifice in time, effort and money is another, he said.
"You don't have to accept what's going on around you," Teague said. "But you have to create the relationships with one another to get it done, especially when you're dealing with youth. The parents can't be there all the time, so extended family and neighbors have to be there to help. It takes a village."
The criminal justice system also is going to have to help, he said, urging a search for solutions other than charging children with crimes that will follow them for life.
"There's power in numbers," he said. "The elected officials are there to serve us. We are not here to serve them. But we can't make a change unless we're unified.
"It's cheaper to educate someone than it is to keep them locked up in prison," Teague said.
It is not a race issue, he added. "It's a community issue and those who bring race into it are trying to keep us divided."
What affects one part of the Quad-Cities is going to affect another, he said.
"If it affects us over here – eventually, it's going to cross that bridge and affect you over there," Teague said. "I'm my brother's keeper. If I don't help deal with an issue at my brother's house, soon it will be at my house.
"We've got to knock down the divisions of black and white and Hispanic," Teague said.
If all the people come together as a community, build relationships, learning about each other and where they come from, learn about their trials and struggles and where they come from, "then we can take the steps to solve the problems," he said.
But it will take real effort and real sacrifice, Teague said. "Everyone is going to have to take the time to be involved. We didn't get to where we are overnight."