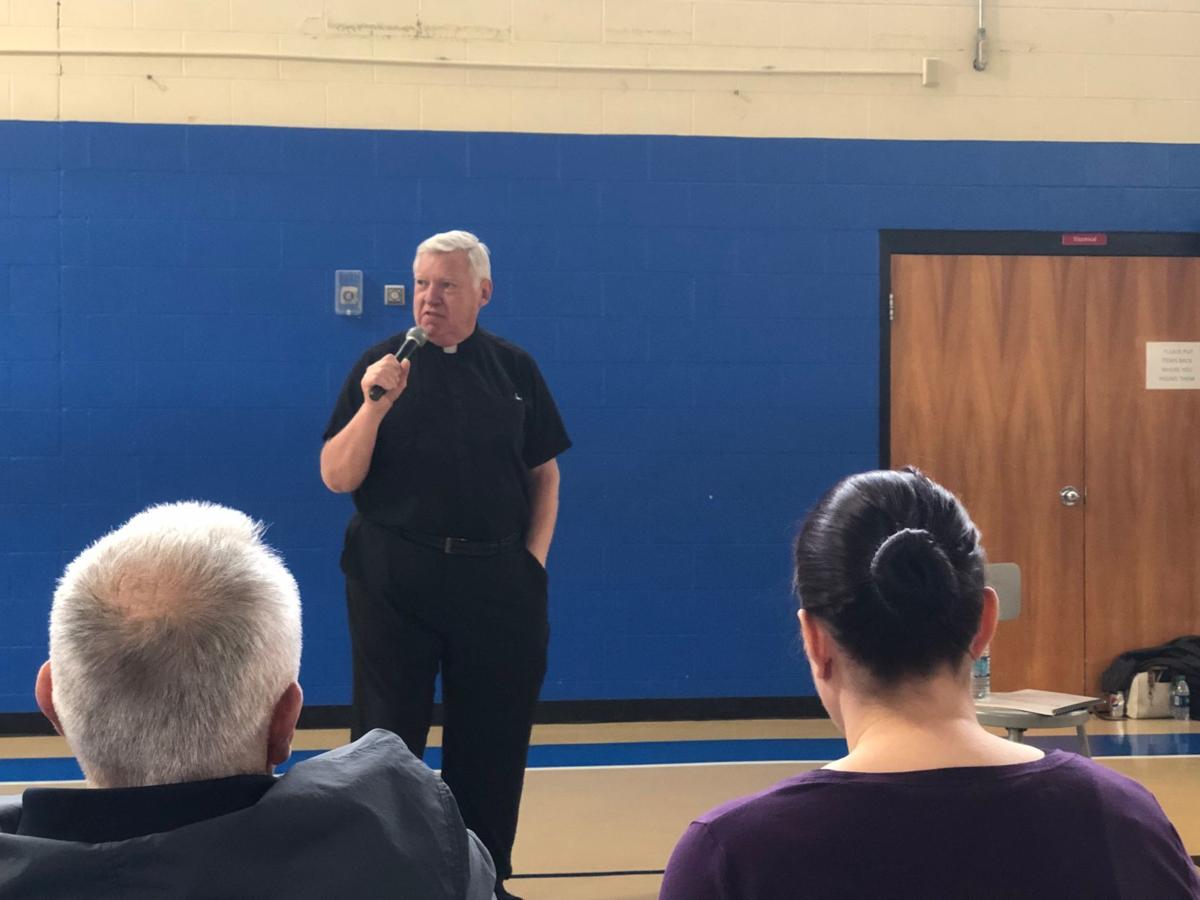 The possibility of merging the parishes and schools of St. John Vianney and Our Lady of Lourdes was discussed Sunday at a meeting at Our Lady of Lourdes school, Bettendorf.
More than 100 people attended the meeting led by the Rev. James Vrba, of St. John Vianney, the Rev. Jason Crossen, of Our Lady of Lourdes and Nikki Gartner, chief financial officer for the Diocese of Davenport.
Each referred to a PowerPoint presentation about the history of each parish and school, along with current needs and considerations.
A similar meeting was held April 14.
"We're very open to any possibilities," said Crossen, who along with Vrba answered questions from those in the audience and asked those attending to complete forms about individual opinions for the future of the Catholic Church in Bettendorf.
In 2017, Most Rev. Thomas Zinkula, Bishop of the Diocese of Davenport, asked for a committee to study the needs of the Catholic church in Bettendorf, Crossen said. Bettendorf pastors reached out to various community leaders to be involved in the Bettendorf Catholic Study Committee, Crossen said.
Bush Construction finalized a facilities assessment of Our Lady of Lourdes in February 2018. In spring 2018, St. John Vianney began its priority plan process.
Also in spring 2018, Scott County Catholic schools hired Meitler, a consulting firm, to help develop a regional plan.
In October, the Bettendorf Catholic Study Committee presented information and possible scenarios to Zinkula.
You have free articles remaining.
In winter 2019, St. John Vianney finalized its priority plan, and the Meitler study was in progress.
The Meitler study concluded in April, and information sharing began. Options include:
Relocation and new construction for Lourdes
Renovate Lourdes
Combine parishes and build new
Take no action
Build a new school
Crossen hopes a feasibility study will begin at the end of summer, and continue for six to eight months to a year.
Gartner said both are vibrant parishes that pull from the same areas of Bettendorf.
According to a Lourdes facility assessment, Lourdes issues include the lack of a sprinkler system — "We only have a sprinkler system if it rains," Vrba said — HVAC controls, exterior and interior lighting and controls, handicapped accessibility, lack of technical infrastructure, limited space for a playground and the need for a parish hall.
Both boiler systems in the church and school are on the last part of their life cycles, Crossen said.
From the facility assessment, options and costs for Lourdes are: maintain the current facility, $3-5 million; basic renovation, $6-8 million; heavy renovation, $8-10-plus million; relocation in building new, 17-24 million.
"Were the only Catholic school still in the downtown area," Crossen said. "A lot of folks on the leadership side think there should be a connection to the parish and the school."
Bettendorf Alderman Greg Adamson said Bettendorf is the fastest-growing city in the Quad-Cities. At some point, he said, the roundabout will be the center of town.