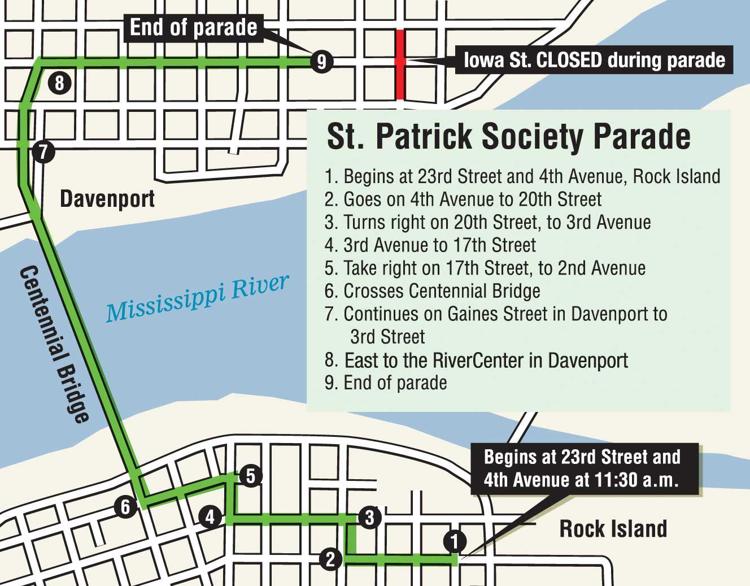 The annual St. Patrick Society Grand Parade will be Saturday, March 17.
Grand Parade XXXIII commences with a 10 a.m. Mass at St. Mary's Church, 2208 4th Ave., Rock Island.
The nation's only bistate St. Patrick's parade will step off at 11:30 a.m. at the corner of 4th Avenue and 23rd Street in Rock Island.
The parade will travel through downtown Rock Island, across the Mississippi River via the Talbot (Centennial) Bridge to W. Third Street and proceed east through downtown Davenport to the RiverCenter at E. Third and Perry streets.
A post-parade bash will take place at the RiverCenter from 1-4 p.m. Admission is by St. Patrick Society membership. Memberships can be purchased at the door.
There will be a handicapped-accessible viewing area for the parade at the RiverCenter.
Iowa-bound lanes of the Talbot/Centennial Bridge will be closed from 11 a.m. until 1:30 p.m. on parade day. Traffic across the river will alternate in the Illinois-bound lanes under police escort.
One Friday March 16, the Grand Marshal, Irish Mother of the Year, and 2018 Scholarship recipient will be introduced at the Gathering of the Clan luncheon at the RiverCenter. For reservations contact: vicquinn2016@gmail.com.
The St. Patrick Society and River Bend Foodbank are again teaming up to fight hunger in the Quad-Cities.
River Bend will march ahead of the Grand Parade collecting monetary donations. One dollar will provide five meals and 97 cents of every dollar you donate goes back into Foodbank programs.