A medical marijuana business in Rock Island County hopes to build a second location this year in the Iowa Quad-Cities.
Matt Stern, owner of Nature's Treatment of Illinois, a cannabis retail shop at 973 Tech Drive, Milan, said Monday he has applied for one of Iowa's five dispensary licenses.
If he earns the state's approval, Stern plans to break ground this spring on vacant land off U.S. 61 in Eldridge, where he has secured about three acres for the development. Under the name Nature's Treatment of Iowa, the 2,500-square-foot dispensary at 3214 S. 16th Ave. would mirror the existing one in Milan, which serves about 650 patients.
"We're going to build the same thing here if we're lucky enough to get the license," said Stern of his 250-page application.
The Iowa Department of Public Health opened the bidding process in January and closed it last week with the goal of awarding as many as five licenses by April 1. Seven entities submitted 21 applications to operate dispensaries in 11 cities, the agency reported.
The state received four proposals for potential sites in the Davenport area. An additional four applications were filed for Sioux City; three each for Des Moines and Council Bluffs; and one each for Cedar Falls, Cedar Rapids, Coralville, Iowa City, Urbandale, Waterloo and Windsor Heights. The unidentified companies paid a $5,000 fee for each application.
"I'm trying to figure out who the other three are," Stern said of his competition in Scott County. "I feel confident because we're local and we already have the business on the Illinois side of the Quad-Cities."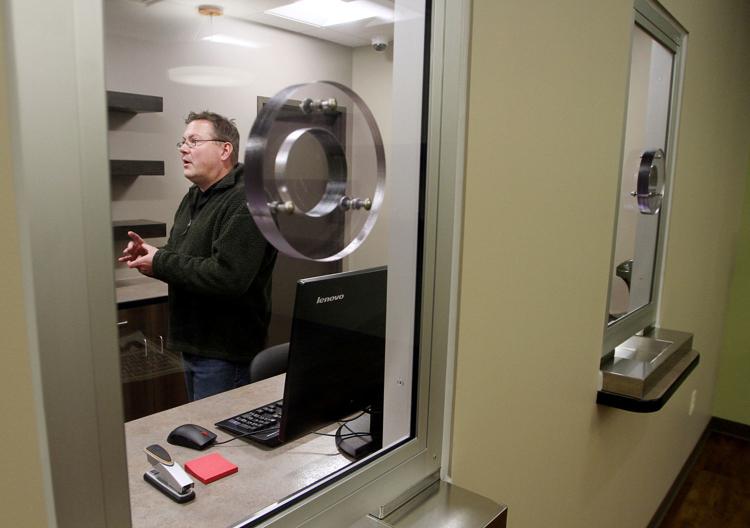 Stern's property in Eldridge sits directly next to the Scott County Sheriff's Patrol Headquarters. He said he chose Eldridge over Davenport or Bettendorf because of its proximity to U.S. 61 and Interstate 80, and the possibility of drawing patients from Dubuque and Iowa City.
Eldridge Mayor Martin O'Boyle wrote a letter of support for Stern's project to accompany his application. City administrator John Dowd said the dispensary is just "another business coming to town."
"We have no concerns about it," he said. "It's a heavily-regulated facility, and people with legitimate medical needs will be accessing it."
Iowa law allows license holders to produce and sell cannabidiol, or CBD, that has a tetrahydrocannabinol, or THC, content of up to 3 percent. THC is the plant's main psychoactive component that creates a "high." 
MedPharm Iowa in Des Moines, the state's only licensed CBD manufacturer at this point, must begin supplying dispensaries no later than Dec. 1. The same company reportedly submitted five dispensary applications.
If selected, Nature's Treatment of Iowa would begin selling product in early 2019.  
Before Iowa's Medical Cannabidiol Act took effect this past May, only patients with epilepsy were granted access to the drug. The regulation expanded access to nine more conditions:
• Multiple sclerosis (MS)
• Amyotrophic lateral sclerosis (ALS)
• Terminal illnesses with a life expectancy of less than one year
As of March 8, a total of 305 patients and caregivers had received CBD cards, according to the health department.
Stern predicts the state eventually will loosen its THC cap to treat more patients. He also thinks more people will apply for access to the drug after the state announces dispensary locations.
"Who's going to get their card until they can actually go to a dispensary?" Stern said.