It has taken a long time for Monica Coussens-Danner to muster the courage to tell her story of loss, triumph, sexism, hardship, and leadership while serving our country.
Her complicated journey started when she was a young girl living on a farm in New Liberty, Iowa with her family, raising hogs farrow to finish, and learning the lessons of hard work, sacrifice and commitment. She didn't know it at the time but it was a childhood that prepared her for a life in the military.
"I always say we grew up a generation behind everybody else is because we had to work. And that's how it was done. In the mornings, we got up to milk cows at 4:30 in the morning. And then we would go to school. We had chores that you had to do, that was the priority.
"I was out there doing chores with my siblings and father. Running the belt line silo feeder, milking cows, working pigs, and driving tractors all before 9 years old. You had a responsibility, but you also had that leadership that you didn't realize that you already had. So to me, farming helped me prepare for the military," said Danner.
Danner, who operates a cattle and crop farm outside of Muscatine with her husband Ben and their 9-year-old daughter Bailey, says that soldiers with a farming background are in demand in a combat zone.
"I've been deployed three times. Every single time I go over there. It is always the Iowa National Guard that is the best company to have with you. All the active-duty soldiers say, 'We want the Iowa National Guard," said Danner.
Monica's interest in the military sprung from her father's service in Vietnam.
"My father was drafted, (and served) in Vietnam, from '69 to '71. I kind of always dug through his medals and different things. He was an Airborne Ranger with the 173rd Airborne. But he never spoke of it. I never really understood or got to ask him a lot of questions. However, he did talk about his experience in Australia because he got malaria," Danner said.
Like so many kids from small-town America, she saw the military as a way to see the world far beyond the farm and serve a cause greater than herself.
"I just wanted to go and see the country and I wanted to go fight for my country," Danner said.
With her father's dog tags around her neck, she joined National Guard in January of 2001, after a semester at Muscatine Community College. She knew her father wouldn't be happy about her joining the Army, so she hedged her bet and joined the Guard.
"I thought I'd go National Guard, and slowly break that process in for him. So that's what I did. I signed the papers, and then I informed him, I had just turned 19." Danner said.
The Guard seemed like the 'safer choice' until 9/11 happened.
The first of her three deployments came in 2003. Her unit bounced around without a true home for 15-months supporting the 3rd Armored Cavalry Regiment, 101st Airborne and the 82nd Airborne," said Danner.
Danner stood out from both her fellow soldiers and the Muslim population of Iraq because she was a woman, a rarity in the ranks at the time. Additionally, she was a .50-caliber gunner, which was even rarer.
She said that a lot of people, in and out of the ranks, hated the idea of her behind that gun. It was shocking to people of the "Muslim Islamic faith to see a woman driving let alone having one up on top of the truck (with the machine gun) and they can see (my) hair," said Danner.
The M2 is a powerful heavy machine gun, which in Danner's case was mounted in an M900 series cargo truck. Her job was to protect the convoy.
When asked which was more difficult to wrestle, the .50 cal machine gun or cattle, she didn't hesitate to say "cattle for sure."
"They kick back, they drag you through the dirt. You gotta wait for their mama coming around the corner to nail you, to maul you. It's almost the same because you have to have your guard up. I like both. I think they both give me that experience of an adrenalin rush," she says with a big smile.
Her first deployment was the hardest of her three.
"We called it the wild, wild west because that's what it was. We did whatever we needed to do to survive," said Danner.
If fighting a war wasn't tough enough her life was made even worse by her command.
"They made my life miserable just because they didn't believe that I could do it. Because a lot of other females couldn't do it. And didn't do it. None of them did. I was the only (female) in my entire platoon," said Danner.
"I remember (coming back from) all-day missions, our faces boiled from the heat because it would get up past 120 degrees. You're driving down the road tuckered out and just caked with dust and, you're dealing with all this other sh*t around you," said Danner.
Upon their return, the normal protocol would be for her to dismount the heavy machine gun, hand it down to her driver and then clean it before getting food or rest.
On two occasions that she can remember someone from command arbitrarily ordering her team to step aside during the dismounting. "No, she has to do it by herself," recalled Danner.
The hardship wasn't the heavy gun, it was command interfering with the teamwork of her tight-knit unit.
"My driver is pissed off just like me because this is supposed to be a team thing and they're yelling at him to sit off to the side. Then I go in and we clean it every single time, tear the whole .50 cal apart and they'd be like, 'Alright, now tear it all apart again.' Okay, so I tear it all apart. 'Alright, put it back together.' 'Alright, now go mount it.' I'm thinking, are you serious? We just got back from a mission. We're exhausted. I'm dirty, I'm tired. I just want food because I haven't eaten all day. They made me do that, bring it out put it back up there a couple-three times. Then you have to take the barrels and bring those up, time it and lock load. And then they just be like, 'okay,' and walk off," said Danner.
Unfortunately, sexism wasn't a new experience for Danner. She's always been a trailblazer in a man's world. As a young farmer, she was in charge of a cattle operation that she owned with her brother. But still, she would run headfirst into old school farmers seemingly incapable of grasping the concept of a woman farmer.
All too often loss isn't segregated to the battlefield. Her first marriage only lasted two years (2004-06). She says it was a casualty of her military service, PTSD, and poor communication.
"We're too young then to go through such a traumatic event. I mean, that was crazy. That deployment, that timeframe, 9/11, it was just crazy. Nobody knew what to do. So we got divorced," said Danner.
But love would find Danner in December of 2011 when she started dating a close friend, Ben Danner. They got married five months later in May. The honeymoon didn't last long because she was deployed in July for her third tour, this time to Afghanistan. This deployment was different, this time her expertise and experience were a valued commodity and it didn't matter if she was a woman or not. She ended up helping to model security protocols for convoys operating in Afghanistan.
During that third deployment, the troops underneath her probably averaged 19-years-old. For the majority of the time, she commanded all men. "Some even called me their mom," she said with a wry smile. She led them in the field and was there for them when they just needed to talk to someone.
"That deployment is where I was respected for my rank, not as a female... I was on the road every day. I was security. We were getting blown up. Trucks are just getting hit and hit," said Danner.
It took her three tours of duty to earn a Purple Heart. She was the Security Section Sergeant and went on a call as the Convoy Commander for QRF, Quick Reaction Force. Their misson was to escort an EOD - Explosive Ordance Disposal unit for a possible IED in a known dangerous area. She was in the mine roller running in the front when it was hit by a CW-IED (Command Wire Improvised Exposive Device). She and the gunner were knocked unconscious, and driver was injuried. Despite the driver thinking the floor was blown apart, he hit the gas. When Danner woke up she ordered him to stop. They were now separated from the convoy and headed down one of the most dangerous stretches of road in Afghanistan.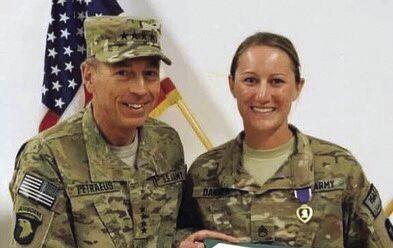 By some miracle, the convoy made it out safe and she and the gunner were medevaced to another base and later sent to a Traumatic Brain Injury rehabilitation center. She couldn't walk or barely talk when she arrived. After weeks of rehabilitation, she was able to go back to her unit. But then she hit her head again.
"I was getting really bad headaches. I was vomiting, nosebleeds, and I tried to hide it for a long time," said Danner.
Finally, she was convinced by a medic that her body was "a mess" and she had to go back through the TBI a second time. At this point, she could have easily punched her ticket and gone home, but her sense of duty to her troops was too strong. She convinced her command to let her stay and was ordered to take platoon leader responsibilities while he was preparing for movement back to states.
"I couldn't handle hearing it on the radio and not being there. That's not my job to be sitting back, my job is to be out there to be leading these guys. They don't have a lot of combat experience. So I went back," she said.
"I just think that anybody would do it. Those are my troops. If I can still walk and talk, I need to be with my troops."
She dealt with insomnia, headaches, vomiting, and nosebleeds because she thought that because she couldn't see the damage she was fine.
Like so many other warriors who have seen war, she brought her injuries home. She was supposed to get a series of tests when she got home, but fate intervened. Two days after getting home she got pregnant with Bailey.
"So I could no longer go in and get MRI and CAT scans. So I had to go through a very tough, tough pregnancy."
After Bailey's birth, doctors told her she had trigeminal neuralgia and had to take strong medication. The side-effect of that medication was more collateral damage from that roadside bomb.
"We wanted to have more kids, but the child would grown up with disabilities. So we had to make that hard decision. Unfortunately, I'm done having kids because of this," Danner said.
She and her husband choose not to dwell on the negative, instead, they see themselves as blessed. "She really is a miracle because if I would have had the MRIs, then I would have been on the medication and I wouldn't have had her."
Danner is a natural-born leader who says she would do it all over again. You can see it in the way she walks and talks. Just chatting across the family's heavy wooden kitchen table in their remodeled farmhouse her infectious energy is palpable.
The highly decorated Sergeant First Class sports a Project Semicolon tattoo on her forearm to support suicide awareness.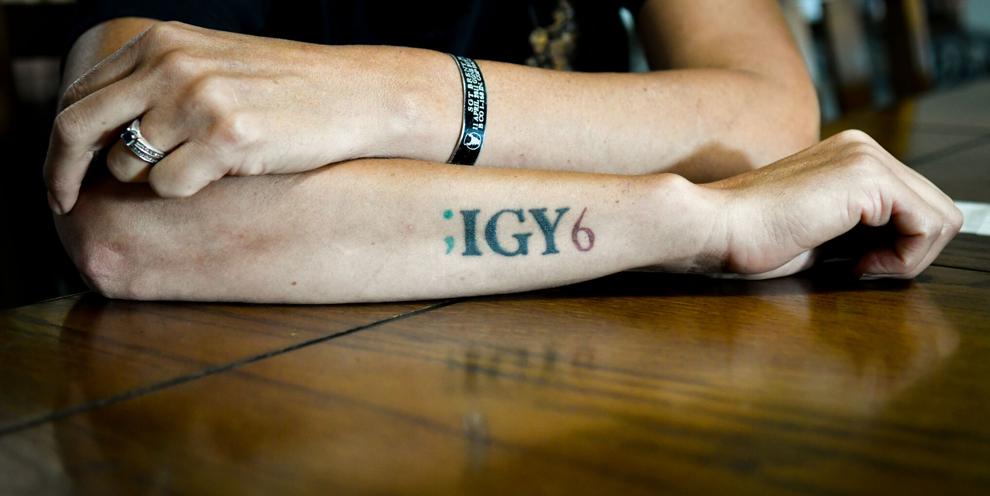 Like too many veterans she has struggled with her mental health, PTSD, and the loss of comrades to suicide. But counseling has helped her stay on track. She's tough, Iowa tough, and despite the survivor's guilt and the occasional angry outburst, she lives for her family. "I think for me it just comes down to my family, my husband, my daughter, and my horses," said Danner.
She continues to serve her country in the National Guard and her community in numerous leadership positions. It is impossible to imagine her ever slowing down or backing down from a challenge.
Despite the heavy toll of war, veteran Monica Danner has no regrets