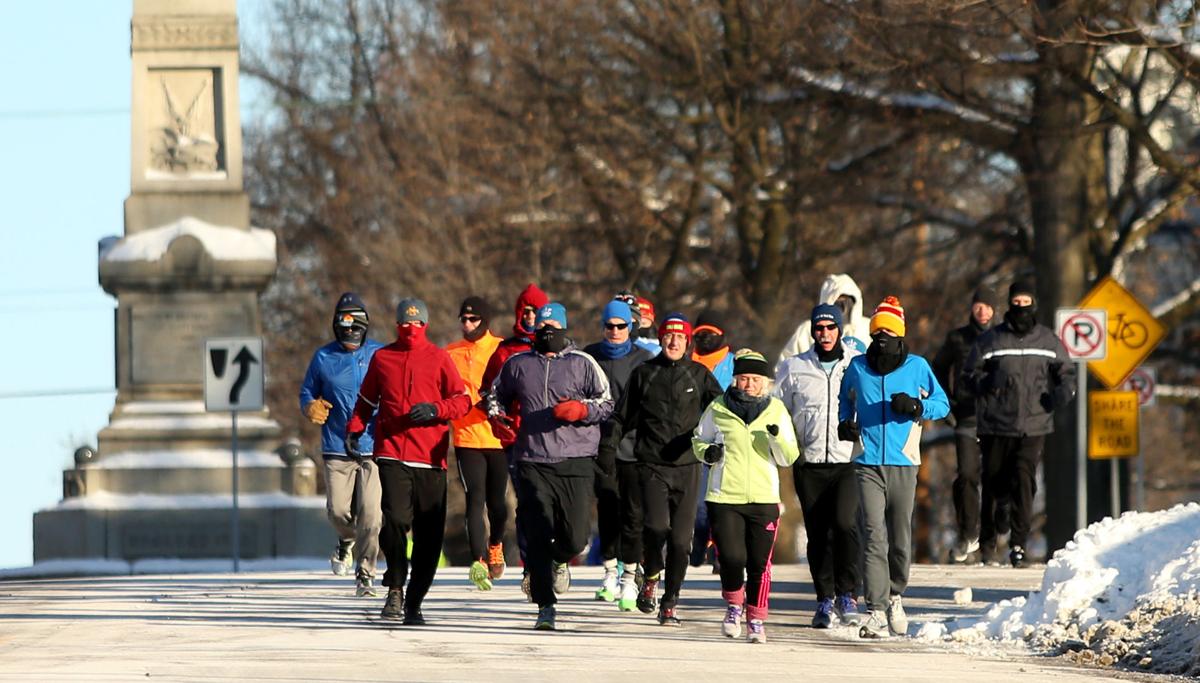 A soggy layer of sweat, snot and spit formed in at least one runner's balaclava nearly a mile from the finish line of the first 5K of 2018 in the Quad-Cities.
That's when Phil Young pulled his head covering below his chin, making it easier for him to breathe while consequentially exposing his nose and mouth to the frigid air. Although it may not be a sustainable practice in the bitter cold, it proved to be an effective move during the Resolution Run on New Year's Day in Moline — at least for Young.
"It was good," he said Thursday of his overall performance, in an uncharacteristically soft tone. "I won."
Frost masked the stubble on Young's chin and cheeks as well as his eyelashes and eyebrows when he completed the race with a time of 17:13, 34 seconds slower than his second-place finish the previous year. He blamed the weather and a nagging knee injury, which hindered his preparation, for the lapse.
Subzero temperatures deterred more than half the field of registrants. Just 65 participants finished the race this year, compared to 190 at last year's contest on Jan. 1, 2017, when the temperature peaked near 40 degrees.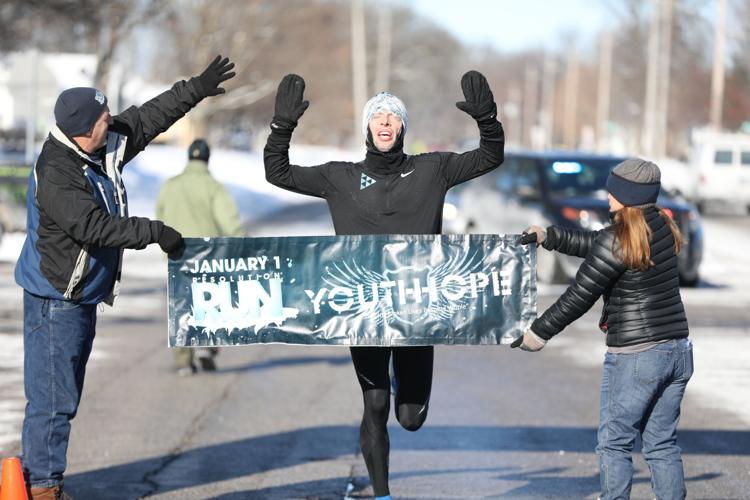 When the chill hit the air this past week, the Iowa Department of Natural Resources canceled hikes scheduled for New Year's Day at 27 state parks.
Meanwhile, hardcore runners in the region welcomed the challenge.
In Davenport, about 25 members of the Cornbelt Running Club layered themselves in moisture-wicking (non-cotton) apparel and gathered for their annual New Year's Day outing.
They met at Village Inn on Harrison Street and ran downtown on Main Street before returning to the restaurant by way of the Quad-City Times Bix 7 course, about 6.5 miles in all.
Those who did not attend, one man in the group joked, could not run the rest of the year. Once he cleared the ice from his mustache, Paul Schmidt, president of the club, expanded on his response to why he and his friends braved the harsh elements:
Treadmill vs. pavement
In addition to hats and gloves, almost all of the Cornbelt runners wore something to protect their faces. Many of them brought hand and feet warmers as well, and a few of them wrapped duct tape over the tips of their shoes to keep their toes drier and warmer longer.
Dr. Mark Lucas, a podiatrist in Bettendorf and an avid runner of 38 years, stressed the importance of wearing face masks and quality footwear when running in the cold and on icy surfaces.
Neck gaiters that cover the nose and mouth, he said, help runners heat and humidify the cold, dry air they inhale. He also advocates for the use of thicker socks, as long as they don't make the shoes too tight, restricting blood flow. Another strategy, he suggested, is to wear slightly bigger shoes to accommodate heavier socks.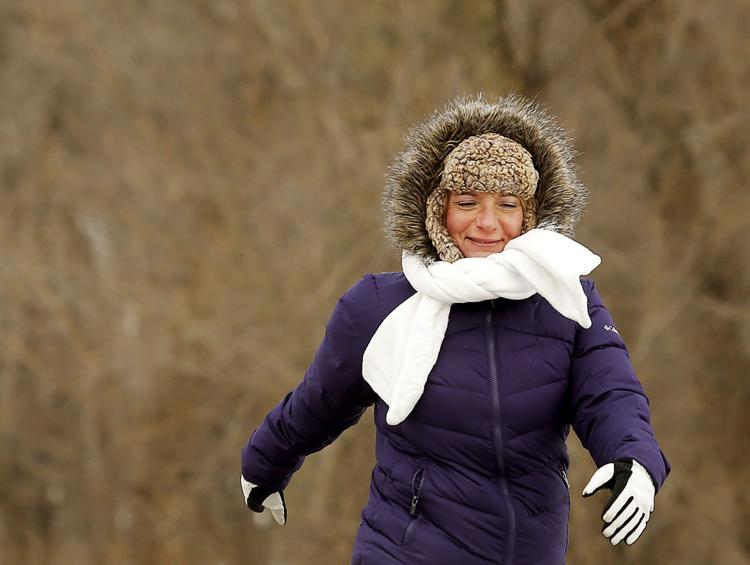 Michael Mallon of Davenport likened running in the extreme cold to running in the extreme heat, noting each scenario presents different but equal challenges. However, he finds it harder to breathe in severe cold. Mallon's optimal temperature on race day falls in the 30- to 50-degree range.
You have free articles remaining.
"Any warmer and you need to expend energy to cool," he said. "Any colder and your body uses energy to stay warm."
That explains why Mallon felt drained Monday from a "simple 7-miler."
His wife, Mary Toohill, prefers running on a treadmill once the temperature drops below 10 degrees. The personal trainer at the Utica Ridge Road YMCA struggles with asthma, so she plays it safe this time of year.
"When it gets to 10, I can't breathe," she said
It's important, Toohill added, for runners to remain cold for the first 10 to 15 minutes of every session in this weather before they break a sweat.
"I've had my eyes freeze shut before," she said. To ward off frost and fog, one of their daughters dons swim goggles.
The couple is training for the Boston Marathon this coming April.
To "freshen things up," Young trains indoors when the temperature dips to an uncomfortably cold level. Lucas, on the other hand, has "never been a treadmill guy."
Runner's high
While dressing properly is important when developing a safe and consistent running routine during the winter months, Dr. Lucas mentioned the mental challenges, too.
"It's a little game you play with yourself," he said. "If you go out there and it's 15 below and you're running, you've just eliminated your excuses for any temperature warmer than that."
The day after he won the Resolution Run in Moline, Young, who owns Fleet Feet Sports in Davenport, posted a video to his business' Facebook page about cold-weather gear. As of Friday afternoon, it had been viewed close to 8,000 times.
Accountability, several members of the running community said, motivates them to exercise outside, even when it seems unbearable.
In years past, Dan Bailey of Davenport would stop running after the Turkey Trot on Thanksgiving. But he began 2018 by running with fellow Cornbelters. He is committed to running at least one day a week this winter.
"Rather than just sitting at home," he said, "I'm trying to stay active."
For the final two weeks of December, Charlie Johnson of Bettendorf vacationed in Tampa, Florida. He ran there under sunny, 70-degree skies on Friday, Dec. 29, before returning home the next day.
As he enjoyed his post-workout breakfast Monday with his Cornbelt running mates, it appeared he had recovered from the drastic change in climate.
"The endorphins already kicked in," he said, "so I'm feeling good."
For those craving warmer temperatures, the five-day forecast looks pretty tolerable, with highs expected in the mid-30s, the National Weather Service reports.