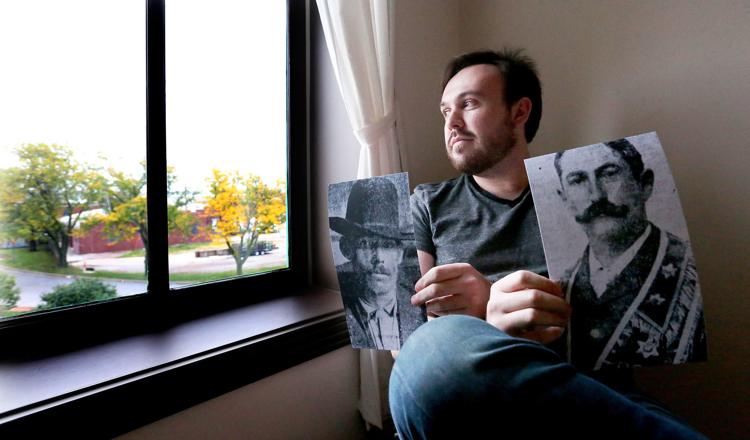 Newspapers at the time called it "The Koenig Tragedy," and it played out during August 1870 in the German immigrant neighborhood of Davenport where Mary's Tavern is now, at 2nd and Warren streets.
Two children, ages 2 and 4, were discovered dead in a home, one lying on a floor and the other drowned in a bucket of water. Their mother was found drowned in a shallow well near the home.
Did the mother take her children's lives and her own because of impending poverty, or did her husband, W.L.F. Koenig, have something to do with the tragedy?
Despite public suspicion and a court conviction of being an accessory to murder, a grand jury eventually failed to indict Koenig of any crime, and the three deaths "went without resolution as to the truth," according to a predecessor of the Quad-City Times. The children and their mother were buried at City Cemetery.
"The Koenig Tragedy" is one of 21 grim tales of unusual deaths, hauntings and the criminal underworld in Davenport and the surrounding area that are being brought to light this month in walking tours organized by the German center.
The Darker Side of Davenport tours debuted last year and were so popular — one day, 160 people showed up — that they are being offered again, with signup limited to 30 people per tour.
In brainstorming for programs that will bring people in, staff members "really tapped into people's interest" with the ghost tours, Kyle Dickson, assistant director, said.
And, actually, the tours were Dickson's idea.
He previously had interned at a mansion museum in Knoxville, Tennessee, and "everyone looked forward" to its annual Confederate ghost story tours, he said.
He thought the idea might transfer to Davenport, and it did. The fact that horrific events happen right in one's own backyard — as opposed to some big, far afield place like Chicago — is part of the draw, he said.
Because the stories are chilling, they produce the same kinds of feelings people seek in watching scary movies. The stories "kind of give people the willies," Dickson said.
And  if one wants something to do for Halloween other than attending a Haunted House, the tours are an alternative.
Research for the tour stops is done by "trolling through newspapers," Dickson said.
"We go digging back to stories that were headliners," he said.
He also has worked with area paranormal investigators and has done interviews with Arsenal historians who can talk about ghostly sightings and sounds at Quarters One, the largest living quarters on the island.
They include the apparition of a Confederate soldier leaning against a tree along the mansion's driveway. During the American Civil War, the island was the site of a Confederate prisoner of war camp, and 1,200 Confederate soldiers who died there, mainly of disease, are buried there.