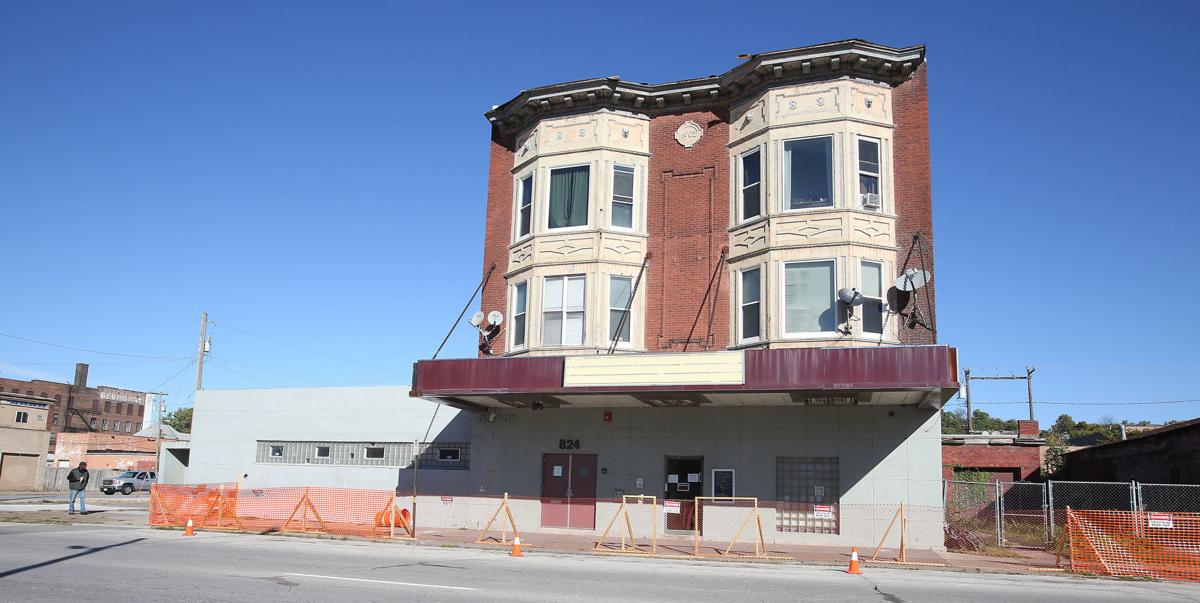 Groups that help those experiencing homelessness in the Quad-Cities area are trying to, bit by bit, eradicate the need for an emergency shelter in Davenport.
A $1 million initiative to increase housing stability in the Quad-Cities will decrease costs to public systems such as health care and criminal justice, administrators in Quad-City social service agencies said.
Christie Adamson, assistant director and Ashley Velez, executive director, with Humility Homes & Services, Davenport; and Leslie Kilgannon, director of Scott County Housing Council, said a community effort to provide prevention and other housing eventually can mean the King's Harvest Shelter, open annually Dec. 1-April 15, 2020, no longer will be needed.
Humility took the lead in an effort to ensure, within five years, the winter shelter no longer will be necessary. For a year, a task force including groups in the housing industry has addressed the issue.
"We are never going to eliminate the need for shelter," Kilgannon said. "But we can eliminate the need for that one shelter."
Other shelters will continue to address the need
Securing money and volunteers has challenged King's Harvest shelter, which for 10 years operated with volunteers only.
This year, King's Harvest administrators asked Adamson for help. She sought support from individuals and grants from non-profit organizations such as the Downtown Davenport Partnership, the Quad-Cities Community Foundation and the Regional Development Authority, collecting $70,000 to operate the shelter at West Fourth and Warren streets, with paid staff from 9 p.m. until 7 a.m. daily for the season, Adamson said.
The shelter will open Dec. 1. A meal site operates out of the facility, too. Other spaces for those in need are provided by Humility, Family Resources, Haven of Hope (formerly the St. Joseph Worker House,) Christian Care, Winnie's Place and The Salvation Army, Velez said.
But funders challenged service providers to eradicate the need for a shelter instead of "warehousing people to keep them safe," Adamson said.
"We don't want to be in this same position (needing money to open for another season) a year from now," Kilgannon said.
The Scott County Housing Council promotes coordination of and building the capacity of housing development throughout Scott County (and eventually the Quad-Cities) by focusing funders' resources, coordinating funding requests, marketing housing agencies to larger foundations and maximizing housing dollars coming into the area.
The council is the resource development arm of the Quad-Cities Housing Cluster, a consortium of bi-state not-for-profit and for-profit housing service providers and developers, lenders, funders, local governments and members of the housing industry. Cluster members collaborate to address overall housing needs and opportunities. They have worked since January on the plan.
As it is, the shelter sometimes perpetuates homelessness with little focus on helping people out of their situations, Velez said.
"No additional services have been provided and no access to additional resources has been available," she said. "There was no plan or coordinated effort for strategic outreach or case management."
Adamson said the plan is two-pronged. The first is to provide supportive services quickly to those who face eviction or homelessness. "If you aren't capable of self-resolving, you're not going to do it," she said.
The helpers, called "outreach navigators," will provide services at King's Harvest shelter and will help people develop individualized plans to obtain housing in a case-management approach, so they don't end up on the street.
You have free articles remaining.
"We know this plan can work because we've seen it work in other communities," Adamson said. A coordinated entry system created by the U.S. Department of Housing and Urban Development (HUD) puts everyone in need on a prioritized list, with community agencies working together to help those in need.
"It's all one big list of names, prioritized by how likely it is you're going to die on the streets without receiving assistance," Adamson said. "It's triaging people."
The Salvation Army is the lead agency to provide rapid rehousing, often with assistance from Quad-City hotels. A large portion of those experiencing homeless are homeless only because they have a need for a little financial assistance to resolve it, Adamson said.
"Not everyone needs to be on the coordinated entry list," she said. "Some people can resolve homelessness on their own. We can do that with a pool of funds to help with rent and transportation."
Other assistance can be provided by other funding, such as the Supplemental Emergency Assistance Program (SEAP.) Help for the chronically homeless cannot be done overnight, she said.
"It's about relationship building, she said.
Last year, King's Harvest winter shelter served 386 people. Adamson said. Of those, about 166 had some kind of income and experienced minor barriers to housing such as family conflict or other emergency, Adamson said.
Many experienced homelessness for the first time, Velez said.
Service coordinators will connect people in those situations to resources, and limited emergency financial assistance to help with rent and utilities.
Another 167 people had no income and had multiple barriers to housing such as disabilities and substance use. Rapid rehousing and service coordination will serve as a bridge to permanent housing, she said.
The chronically homeless, about 53 of the 386, had no income and multiple barriers to housing including multiple disabilities and/or medical conditions. Through Quad-City housing initiatives, they can find permanent supportive housing and ongoing service coordination, she said.
The plan is to reduce the number of people using the winter shelter by 5% this year. It will cost about $1 million to proactively help those in need, but that will save money in the long run, Kilgannon said,
"It's got to be a community-wide effort," she said. "It's achievable."
"This is a very specific, measurable goal," Adamson said.
"It's pay now or pay later," Kilgannon said.
The housing cluster seeks a coalition of community partners. The vision is for homelessness to be rare, brief and only once. Existing service providers will have the capacity to meet the reduced need and this eventually will eliminate the need for a winter emergency shelter.
Partners include nonprofit service providers, government and philanthropic groups, developers, landlords, health care providers, legal representatives, neighborhood associations and other community partners. Agencies include Humility Homes and Services Inc., United Way of the Quad-Cities, Family Resources Inc., The Salvation Army Quad-Cities Family Services, Bethany for Children and Families and Veterans Administration.