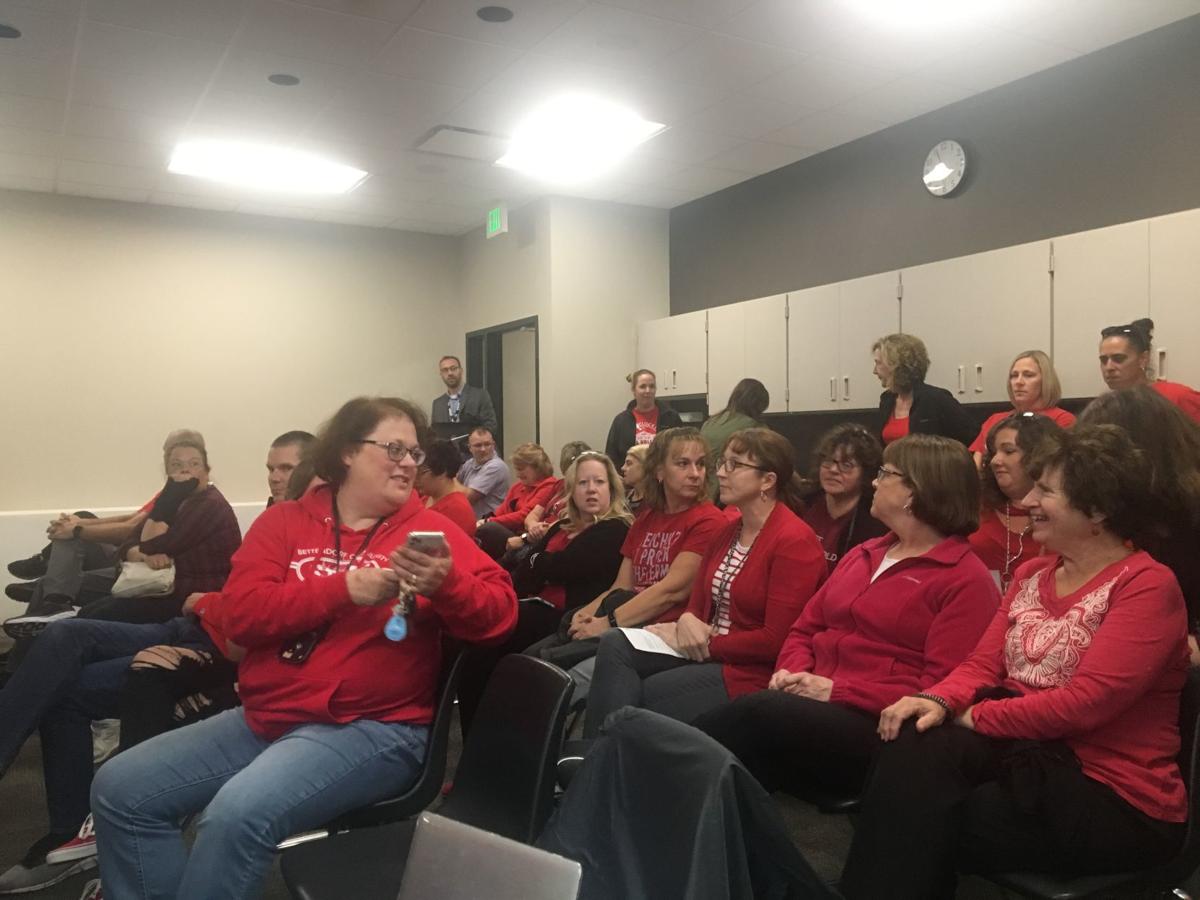 At first, there was just a small block of attendees wearing red in the back. But by the time the Bettendorf School Board meeting began Monday night, 50 people were dressed in "red for ed" to show their support for educators. 
There weren't enough seats: Many stood in a line at the back, and a few peered around a doorway. A handful sat cross-legged on the floor. 
Before the meeting, Michelle Bruty, a counselor at the middle school, said they were wearing red in support of all staff and for "one teacher in particular," given some difficult situations with student behavior recently.
BEA President Mary Heeringa, who works at the high school, said the crowd was wearing red to show their desire for a safe educational environment for teachers and students, including enough staffing and proper training. 
Before others stepped up to speak, Board President Adam Holland reminded everyone: "No specific employees or job performance should be discussed." 
You have free articles remaining.
"We are here to support a middle school teacher who has been out of the classroom for four weeks," said Sara Wells, who does not work for the district. She said she spoke because some teachers felt they couldn't since the issue wasn't on the agenda. "Our teachers end up being bullied and disciplined for doing the best that they can at the time and in the situations they are put in." 
Celeste Miller, director of communications, said the district could not confirm if a teacher was put on leave, or if there was any investigation, citing it as a personnel issue.
Typically, teachers or staff going on leave are not included on personnel sheets with hires, resignations or terminations, and other reassignments that the district presents to the board, said union representative Toby Paone, so the sheets cannot be cross-referenced to see which teacher Wells and Bruty were referencing. 
"Our number one job is to keep our kids safe, and I honestly can't say today we're able to do that," Bruty said to the board. "People are scared that if they try to take a kid out of a room … they're going to lose their job." 
In the middle of the comments, Director Board Castro asked if the staff had been trained at all, to which a few people in the audience answered "No." 
After the BEA report ended, Champion asked that the board discuss the training and policies; Heeringa said the teachers would like to know the policies, too. 
Five people, including Wells and Bruty, addressed the board. Between the five, they asked for clear policies and procedures for intervening with students, training to de-escalate students, and some freedom to intervene with students before it gets physical. 
"We owe it to our kids, and we owe it to our staff members to keep our buildings safe," Bruty said.