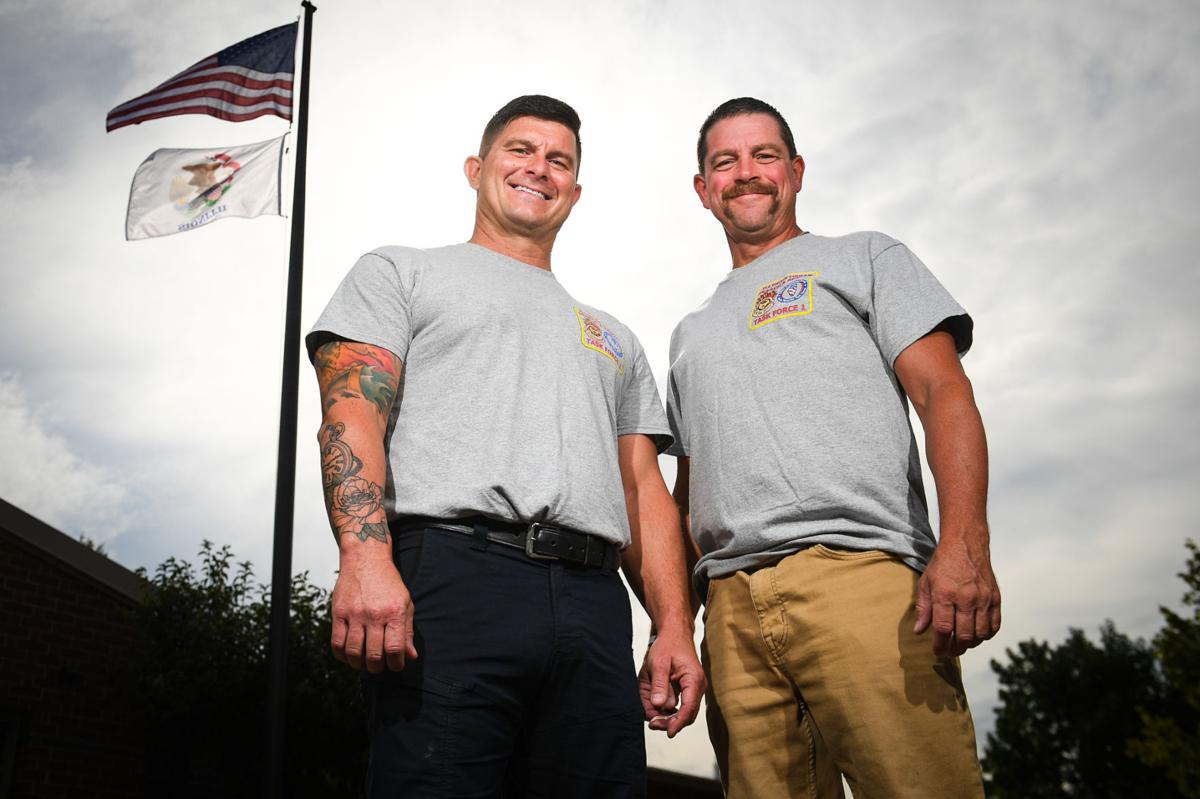 Moline firefighter Chris Elliott was loading up his camper to prep for a long Labor Day weekend of camping with his son at an antique thresher show in Mount Pleasant, Iowa, an annual family tradition.
But, as it goes for firefighters, duty called and plans changed.
Just a handful of hours later, the night of Aug. 29, Elliott and Bettendorf firefighter Matt Lawson arrived in Wheeling, Ill., near Chicago, ready to deploy the next morning to Louisiana for Hurricane Ida rescue and recovery help as part of a statewide mutual aid task force.
The two were members of a 45-person team from Illinois that cleared roads, distributed food and water, and recorded information for a search and rescue database in Louisiana.
Hurricane Ida, a Category 4 hurricane, pummeled the Gulf Coast and caused deadly flash flooding in the northeast United States. The more than 150-mph hurricane recorded some of the highest hurricane wind speeds on record in Louisiana.
The hurricane remained a Category 4 for nine hours. Lawson said in some of the areas they visited, wind speeds of 140-160 mph lasted as long as six hours. The derecho in Iowa last August clocked its highest wind speed at 126 mph, though estimated gusts could have been as strong as 140 mph.
"I was shocked at the damage," Lawson said. "We had been to tornadoes before, but it was like every house had something that affected it, whether it be the roof was gone, or I'd say, one in probably 10 or 15 were destroyed."
Thousands of National Guardsmen and other federal agency employees were deployed to help in areas affected by Hurricane Ida. More than one million people were without power in Louisiana alone.
The team Elliott and Lawson are a part of is called Illinois Task Force 1, part of the state's Mutual Aid Box Agency System (MABAS) formed after the Sept. 11 attacks to mobilize aid in case of a similar emergency in the heartland.
In three Louisiana parishes, the task force searched more than 270 square miles and assessed about 10,000 markers over the course of five days, averaging about 2,000 per day.
The team marked things like structures, people's homes, hazards and human interactions and ranked it on a red, yellow, green system to put on a FEMA map to pinpoint areas hit the hardest.
"If it was red, it's, it's pretty much destroyed," Elliott said. "If it's yellow, it's salvageable. If it's green, it's pretty much untouched."
But the job wasn't just mapping. The team handed out most of its 57 cases worth of Meals Ready to Eat and five pallets of water. When that was quickly spent, team members gave their own packed food and water.
"We did our job. We did it well. And we helped people, but there's so much more that you want to do," Elliott said.
The task force also cleared miles of road clogged with downed power lines and trees, some as large as 20-30 feet across in diameter.
One family in particular sticks with Lawson. They'd moved to rural Louisiana from Rockford, Ill. 15 years ago. After Ida, fallen power lines and trees blocked the road leading to their home, which was miles away from anywhere to get fuel or food. Lawson said they'd been stuck there for three days, and hadn't eaten anything because their food had spoiled.
"We gave them the MREs and they immediately started eating them like it was a steak dinner," Lawson said. "But we were able to clear the path so they were able to get out and get fuel, get the necessities, and he's like 'I'm going back to Rockford.' That's what he told me, 'I'm not doing this again.'"
For some in Louisiana, leaving isn't an option. Even with resources, gas stations in areas impacted by the storm rationed gasoline. Lawson said lines of cars stacked half a mile down the road idled as drivers waited to get a ration of five gallons of gas.
Lawson and Elliott emphasized that everyone they helped in Louisiana were genuinely kind — offering first responders food and water even if it was the last they had. 
"I think that I was a little naive, because I watch Al Roker in the morning and I think 'Oh it's windy there,'" Lawson said. "But then when you talk to people and they're like, 'It was the scariest thing I've ever lived through. I've been through five hurricanes and I thought I was going to die,' and you could just tell in their voice, it was a different element.
"It was a much, much more wicked storm."
Elliott and Lawson train monthly for deployments like the one in Louisiana with the task force in Wheeling. Lawson was previously deployed for Hurricane Florence and tornadoes in southern Illinois.
In Louisiana, Elliott and Lawson worked alongside FEMA teams, and teams from other states, including Ohio, Michigan, South Carolina, New York and Colorado.
Bringing back experience locally, too, is a big asset for Elliott and Lawson.
"A tornado blows through here now," Elliott said. "It's not something that happens that often, but now that we've partaken in this we can say 'Let's get some maps and let's go through these areas and let's assess these buildings.' I think it's valuable for our local departments that we get this experience."